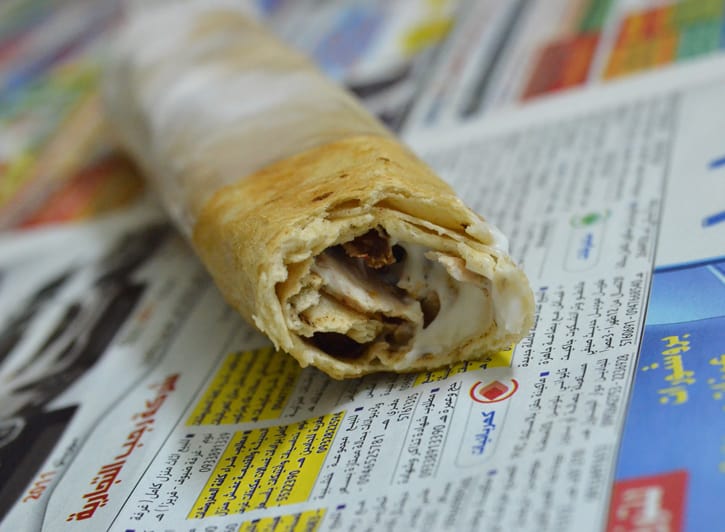 Shawarma Made Mike's Way (With Extra Garlic Mayo) 
On our trip to the Middle East last spring, Mike and I enjoyed a lot of good food.  We stuffed ourselves on home-cooked meals like molokhia (slimy green soup), kibbeh, kousa mahshi (stuffed marrow squash or zucchini), and waraq al ainab (stuffed grape leaves), but we also had our fair share of fast food favorites like falafel, hummus, and of course, shawarma.
Shawarma can be made from just about any kind of meat you can imagine, but chicken and lamb are particularly popular (chicken is my personal favorite).  Before being cooked, the meat is marinated and spiced (spices used vary from vendor to vendor), and then formed into a cone shape on a vertical rotisserie.  As the meat turns on the rotisserie, the outer layer cooks, crisping in places, and the juices are caught in a drip pan below.  The cooked meat is thinly sliced, tossed in the juices, and made into sandwiches, and then the next layer of meat cooks.
The Ultimate Meat on a Stick…Just Look at This Thing of Beauty 
When Mike and I were in Damascus, one day we were out shopping when hunger and a huge craving for shawarma hit us simultaneously.  It was kind-of early and since most shawarma shops don't have shawarma ready until around noon, we didn't think we'd be able to get shawarma.  We were in luck though.  We stopped at the first place we saw, which looked pretty good.  (TIP:  One way to find a good shawarma place is to see where the crowd flocks to.  Another way is to see how many shawarma spits they have; the more they have, the more they sell, which means they keep busy and you can probably expect them to have good food.  If all else fails, you can always ask a local where to get the best shawarma.)
The name of the restaurant was Food Palace, and yeah, I guess that is a little cheesy.  We were glad we went there though, since the shawarma was amazing.  And funnily enough, the owner is from Jacksonville, Florida!  He was a really nice guy and let us take all kinds of pictures…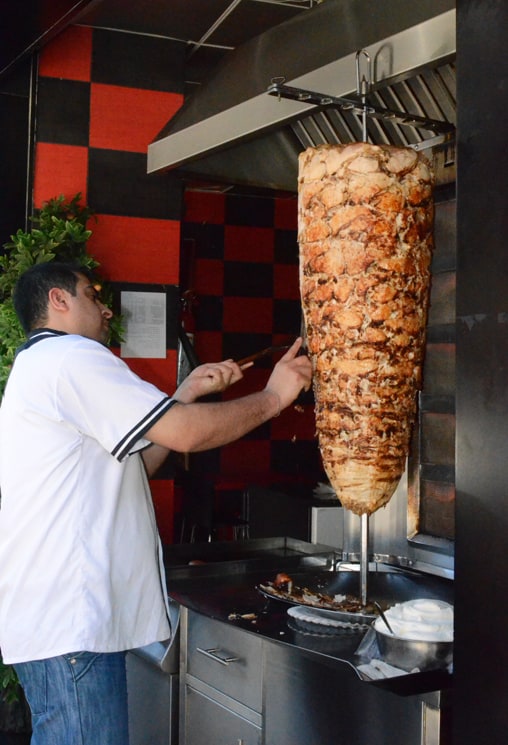 The Shawarma Master (above)
Thinly Shaving the Meat (above) 
The Drip Pan, With Clarified Butter and the Meat Juices (above)
The Art of Shawarma Sandwich Making:  1) Spread on a Little Garlic Mayo and Clarified Butter, 2) Layer on the Meat (and don't forget the pickles!), 3) Roll it Up, 4) Dip it in the Juices (above) 
 You Can Ask for Any Kind of Pickles You Like (I like mine with extra pickles!) (above)
The Sandwich is Pressed on the Griddle (above) 
Fast Food Perfection…