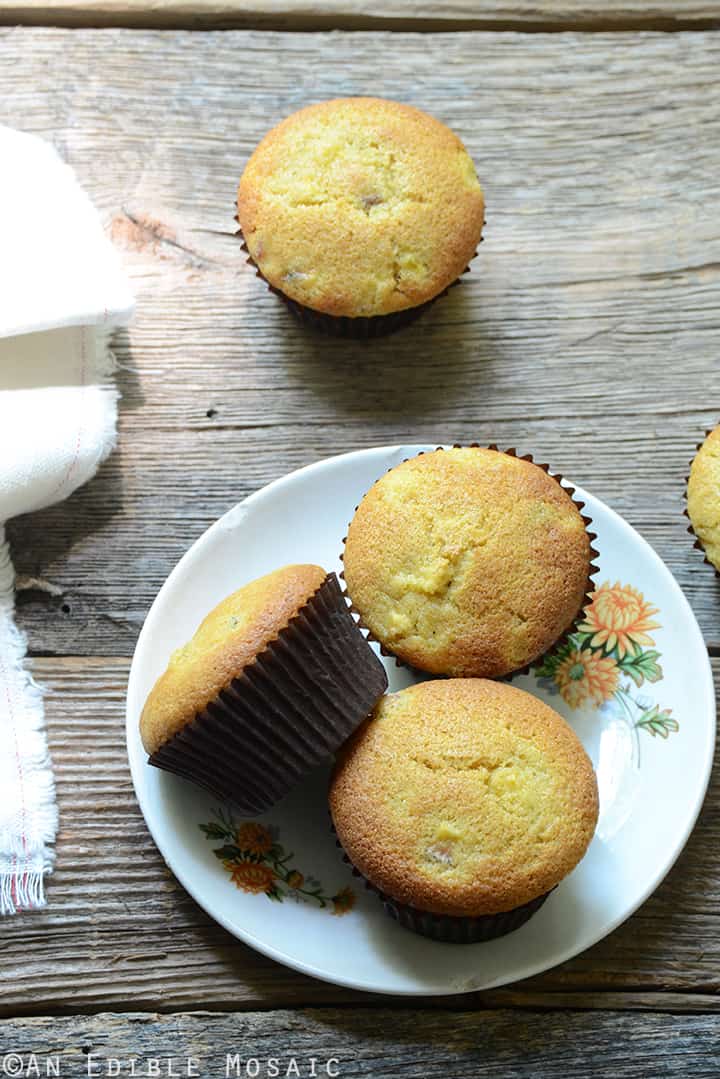 Before I made these muffins, I had in mind exactly what I wanted…a moist muffin with a soft crumb, slightly grainy cornmeal texture, vanilla-scented with a slightly caramel-y flavor, and pieces of fresh peach.
Yes, that's all, lol.
(It's a girl's prerogative to want it all, right?)
After a little experimentation, that's exactly what I got. (Ok, maybe more than a little. Let's just say, the third time is a charm. ;) )
Brown sugar adds notes of caramel, a hint of warm spices perfectly accentuates the flavor of peach, and vanilla makes these muffins smell like sweet peachy heaven. My favorite part is the contrast in texture between the crispy golden muffin tops, and their soft interior.
If you want a new take on one of summer's most beloved fruits, these muffins are it!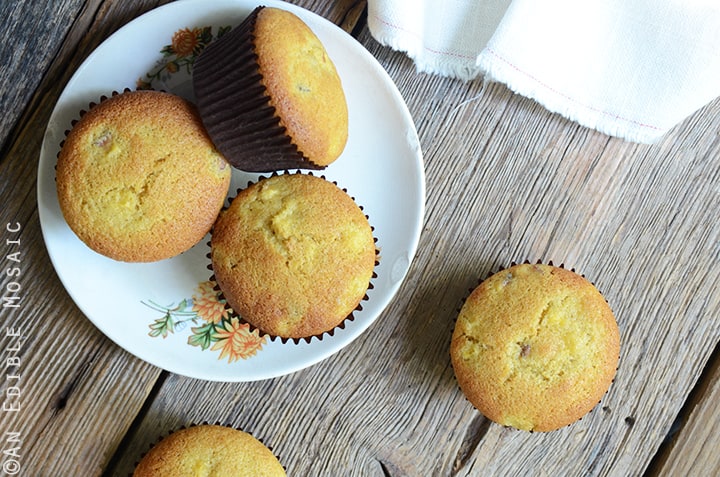 Brown Sugar Peach Muffins
Prep time:
Cook time:
Total time:
Ingredients
1 cup all-purpose flour
1 cup yellow cornmeal
2 teaspoons baking powder
½ teaspoon salt
¼ teaspoon baking soda
¼ teaspoon ground cinnamon
⅛ teaspoon ground nutmeg
2 large eggs
½ cup + 2 tablespoons light brown sugar, lightly packed
½ cup milk (I used skim)
¼ cup canola oil
1½ teaspoons pure vanilla extract
1 large ripe (but not mushy) peach, washed, pitted, and diced small (about 1½ cups diced)
Instructions
Preheat oven to 425F; line a muffin tray with paper liners.
Whisk together the flour, cornmeal, baking powder, salt, baking soda, cinnamon, and nutmeg in a medium bowl; set aside.
Use a handheld electric mixer to beat together the eggs and brown sugar in a large bowl until light and fluffy. Beat in the milk, oil, and vanilla.
Stir the dry ingredients into wet all at once, being careful not to over-mix, and then stir in the diced peach. Let the batter sit for 3 minutes (it will thicken).
Pour the batter into the prepared muffin pan. Bake until the muffins are golden and a toothpick inserted inside comes out completely clean or with just a couple crumbs, about 15 minutes.
Cool for 5 to 10 minutes in the tray, and then remove to a wire rack to finish cooling.
Update (July 28, 2014): I made this dish again and perfected the recipe so I updated this post.