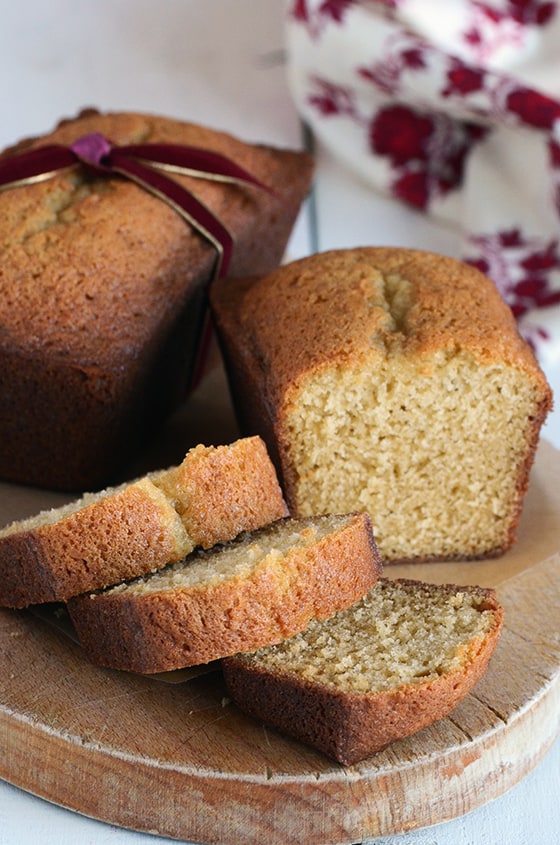 Does anyone remember butter rum flavored Life Savers candy? (By the way, what happened to those? I haven't seen them in years.) When I was a kid, my grandmother always used to have a roll (or two) tucked away in her purse, and they made an exceptional (albeit, very rare) treat when my sister and I could convince my mom to let my grandmother give us one! (I guess my mom ran a pretty tight ship, lol.)
Because of that candy, butter-rum is one of my favorite flavors, and I thought why not turn it into a cake? With its moist, dense texture and buttery flavor, this cake is very similar to pound cake but with the added lovely aroma and flavor of butter-rum. Topped with whipped cream or a drizzle of maple syrup, it makes a lovely holiday dessert, or eaten as-is, it's a wonderful afternoon treat with a cup of tea.
I'm going to be taking a little break from blogging for the holidays, but I plan to be back around the first of the year (I might sneak in a post before then if I get the chance though!).
I'm wishing all of you a joyous time with family and friends…Merry Christmas and Happy New Year! 
Butter-Rum Brown Sugar Cake
Prep time:
Cook time:
Total time:
Yield:
3 mini loaves (the mini loaf pans I use are 5¾ inches long X 3 inches wide X 2 inches deep); makes about 12 servings
Ingredients
½ cup (115 g) unsalted butter, at room temperature, plus a little more to grease the pans
1 cup (215 g) brown sugar, lightly packed
2 large eggs
1 teaspoon pure vanilla extract
1 teaspoon butter-flavored extract
1 teaspoon rum-flavored extract
½ cup (120 ml) milk
2 cups (255 g) all-purpose flour
1½ teaspoons baking powder
¼ teaspoon baking soda
½ teaspoon salt
Instructions
Preheat oven to 350F; lightly grease 3 mini loaf pans with butter.
In a medium bowl, beat together the butter, brown sugar, eggs, and extracts until light and fluffy, then beat in the milk.
In a separate bowl, whisk or sift together the flour, baking powder, baking soda, and salt.
Gradually stir the dry ingredients into the wet, being careful not to over-mix.
Divide the batter between the 3 loaf pans and bake until golden, about 25 to 30 minutes, or until a toothpick inserted inside comes out clean or with just a couple crumbs.
Cool 10 minutes in the pans, then remove from the pans and transfer to a wire rack to finish cooling.