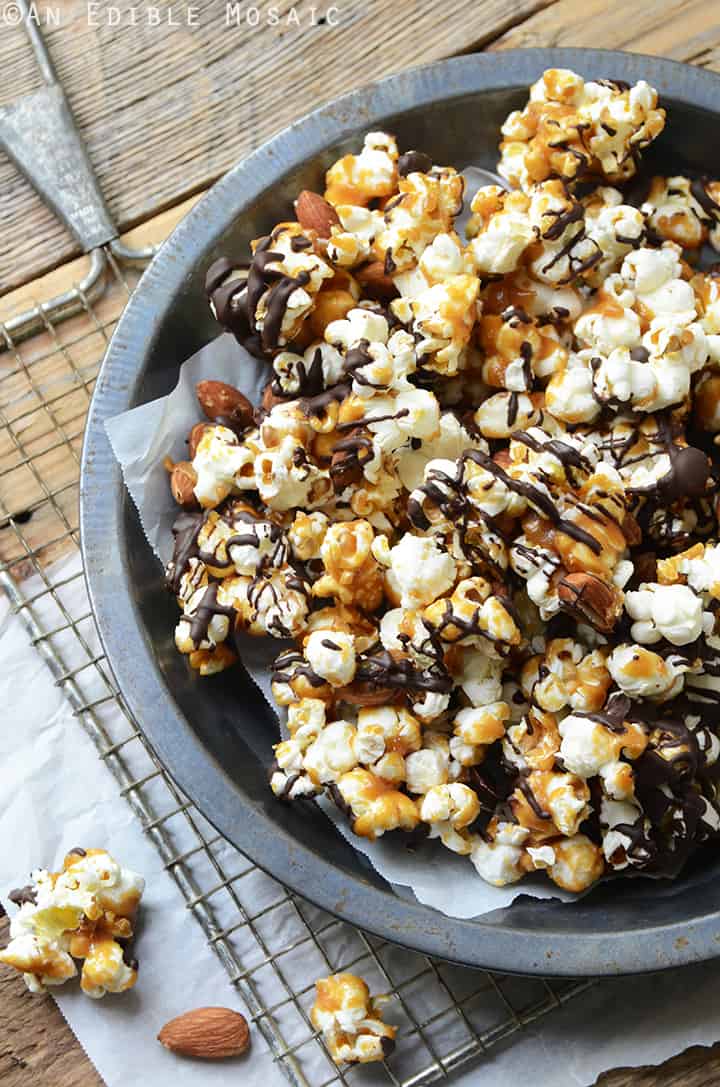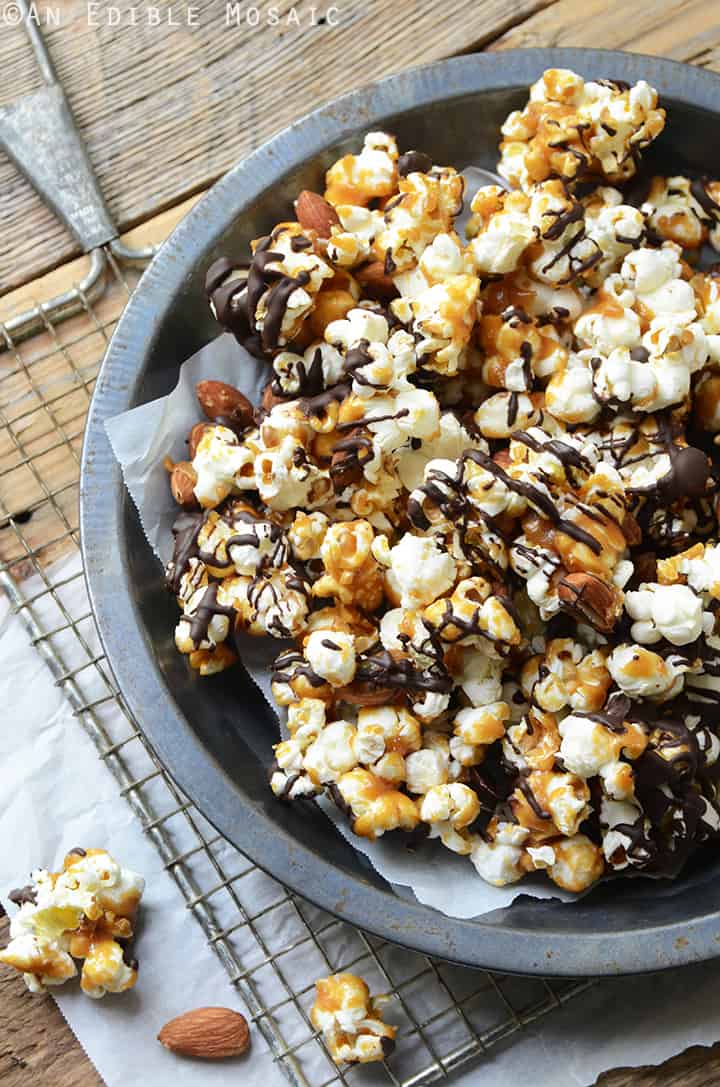 Sometimes I get a recipe stuck in my head.
For example, those Tuna Cakes I posted last time? Yeah…I've been eating them for lunch for two weeks straight. (Part of the reason is because they're delicious, but if I'm being honest, it's mostly because I've been super busy and they're a quick and easy meal if I make a double batch and individually freeze them.) The week before, I had this salad for lunch six days straight.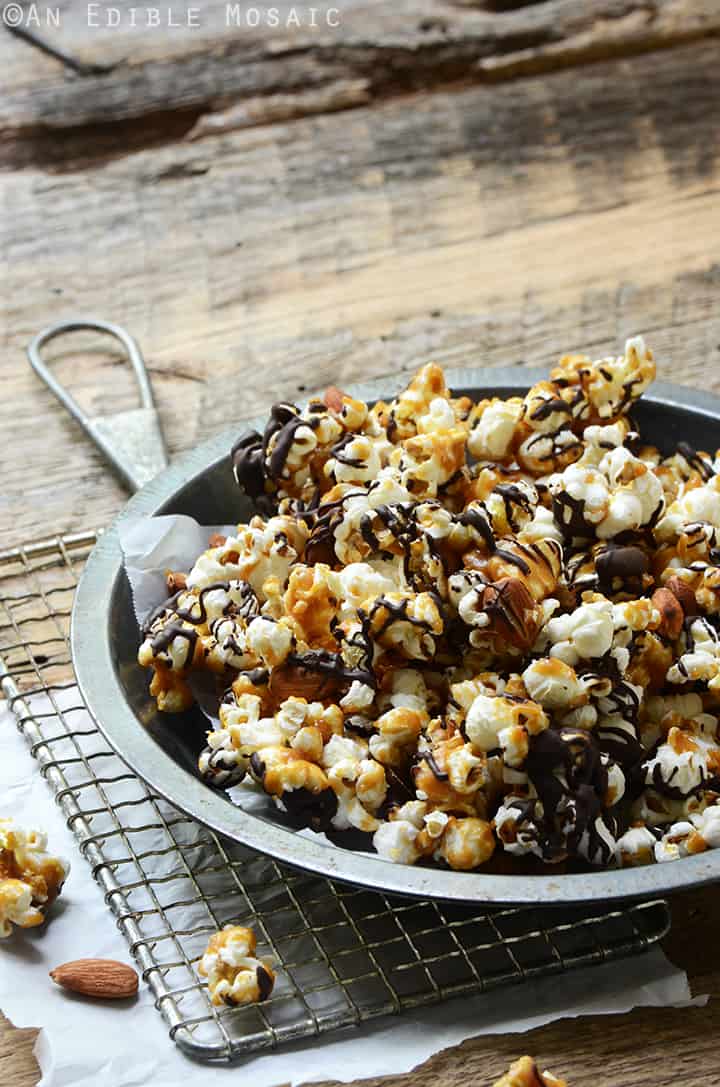 And I won't even talk about my morning oat obsession. (Yup, each word links to a different breakfast-y dish with oats.)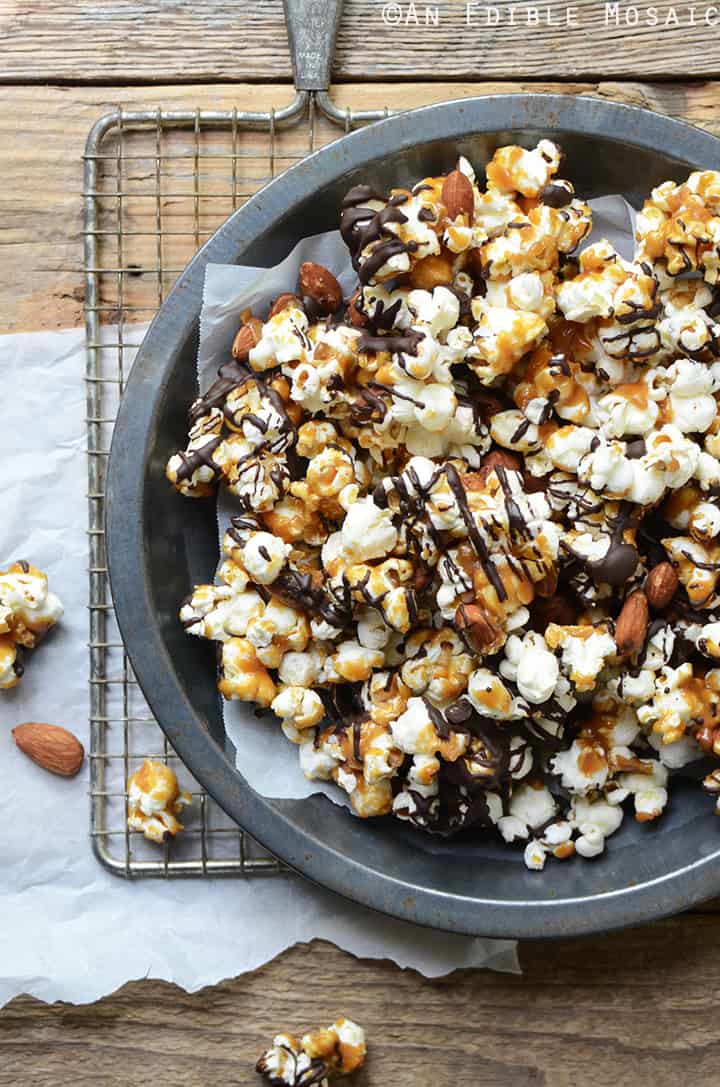 If you were reading my blog about a year and a half ago (first of all, thanks for still reading!), you might remember when I made Salted Pretzel Toffee. Since then I guess I've had butter toffee on my mind because I've made a couple of different spin-offs, my favorite being this salty/sweet popcorn. Toasted almonds add nutty crunch and a pretty drizzle of dark chocolate really takes it to the next level.
If you're looking for the ultimate movie night snack, this is it!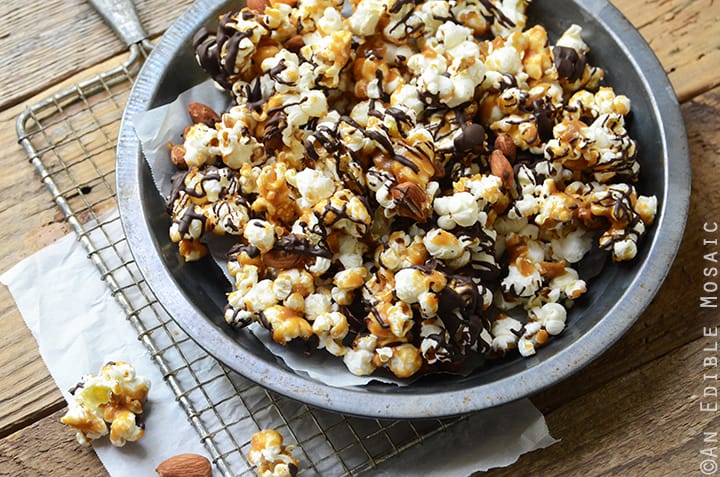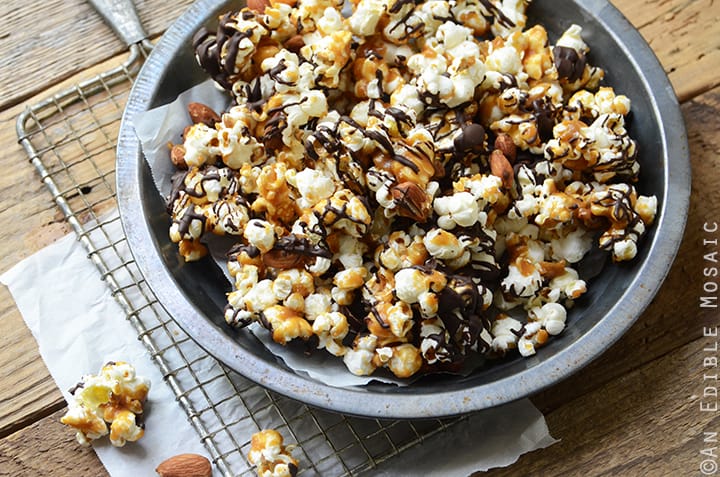 Salted Butter Toffee Popcorn with Dark Chocolate and Toasted Almonds
Prep time:
Cook time:
Total time:
Sweet butter toffee popcorn is enhanced with a touch of sea salt, crunchy toasted almonds, and a drizzle of dark chocolate.
Ingredients
12 cups air-popped popcorn (from ½ cup popcorn kernels)
1 cup whole almonds, toasted
½ cup (1 stick) unsalted butter
1 cup light brown sugar, lightly packed
1 tablespoon water
¼ teaspoon fine salt
1 teaspoon pure vanilla extract
1 teaspoon baking soda
4 oz good-quality dark chocolate
½ teaspoon coarse sea salt, lightly crushed between your fingertips
Instructions
Toss together the popcorn and nuts in a large bowl and set aside. Line a large baking sheet with parchment paper or a silpat liner and set aside.
Cook the butter, sugar, water, and fine salt in a medium-sized, thick-bottomed saucepan over medium heat until the temperature reaches 305F (hard crack stage), stirring occasionally. Stir in the vanilla and baking soda and pour over the popcorn/nut mixture.
Use two heat-safe rubber spatulas to toss the popcorn around to distribute the toffee throughout, and then spread the popcorn on the prepared baking sheet. Sprinkle on the coarse sea salt.
Let the popcorn cool and harden, and then break it into pieces (leaving it on the baking sheet for now).
Melt the chocolate in a microwave or double boiler, and drizzle it on the cooled popcorn; let the chocolate harden before removing.
Update (April 30, 2015):
 I made this dish again and snapped a few pictures, so I decided to update the photos in this post.