When I lived in Florida I had a friend who was a native Floridian. (Which might sound like an odd thing to say, but in the three years I spent in Florida, I found that a native Floridian living in Florida was a rare find…most people I came across were either from much colder states or from south of the border.) Anyway, as such, my friend was familiar with ocean fun of all sorts, including crabbing.
He took me crabbing a few different times…I'm not sure what we did wrong, but we never caught a single thing! It's ok, it was a fun distraction (I was in law school at the time) and we always ended up with a delicious meal, despite not having caught it ourselves. Most times we would stop at a local seafood store selling live crab to satiate our cravings, but sometimes we made mock crab cakes with canned tuna.
For crab cake-style tuna cakes, you can use any veggies you like. I used onion and red bell pepper in these, but in the past I've used just about anything you can think of – green bell pepper, carrot, celery, and/or corn are all great. I like to wrap and freeze them individually so they're easy to pull out and defrost for a quick meal; they make a great lunch on a bed of lettuce.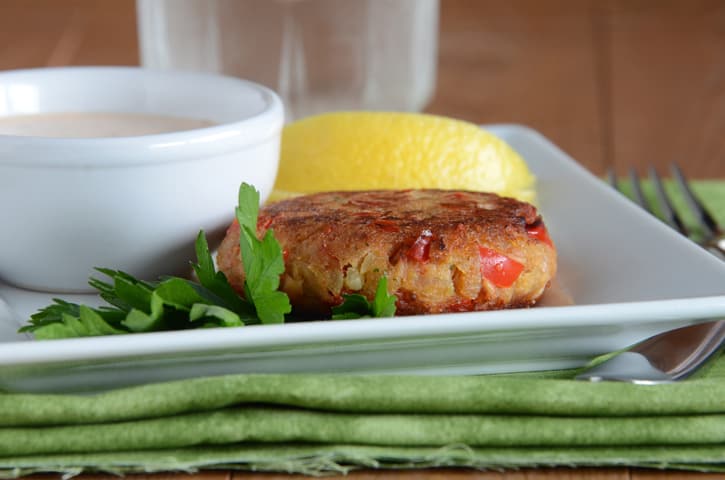 Tuna Cakes with Red Pepper & Quick Remoulade Sauce
Serves 4 as an appetizer or 2 as a meal along with some veggies and perhaps some crusty bread
Tuna Cakes with Red Pepper:
2 tablespoons olive oil
1 medium onion, minced
1/2 medium red bell pepper, minced
2 cloves garlic, minced
1 large egg, beaten
1 (6 oz) can tuna, drained
1/4 cup breadcrumbs
1/2 teaspoon salt
1/8 teaspoon pepper
Canola oil, for shallow frying
Heat olive oil in a medium skillet over medium heat; add onion and red pepper and cook until softened and starting to brown, about 7 minutes, stirring occasionally. Add garlic and cook 2 minutes, stirring frequently; cool.
Mix together the onion mixture, egg, tuna, breadcrumbs, salt, and pepper.
Form the mixture into 4 patties. Add canola oil to lightly coat the bottom of a large nonstick pan over medium heat. Add the patties and fry until golden brown on both sides, about 2 minutes per side. Transfer to a paper towel-lined plate to drain any excess oil.
Serve with Quick Remoulade Sauce.
Quick Remoulade Sauce:
2 tablespoons mayo
2 tablespoons plain Greek yogurt
1 tablespoon minced fresh parsley
2 teaspoons ketchup
1 teaspoon whole-grain mustard
1 teaspoon hot sauce (more or less to taste)
1 teaspoon lemon juice
1/4 teaspoon paprika
Pinch salt and pepper
Stir together all ingredients; store refrigerated until serving.
My favorite refreshment (lol, that's WATER, people). I get thirsty just looking at that.