This Easy Low Carb Butter Chicken Recipe is packed with flavor and perfect for weeknight dinners! Take a few minutes to marinade and grill chicken or use leftover or rotisserie chicken to save time.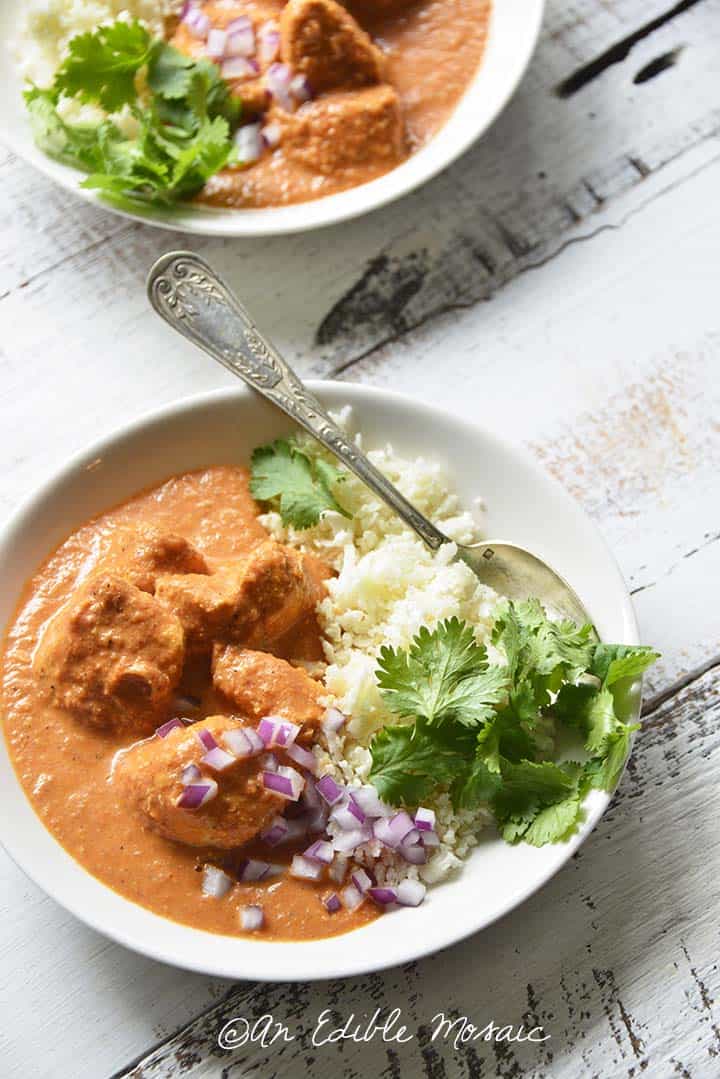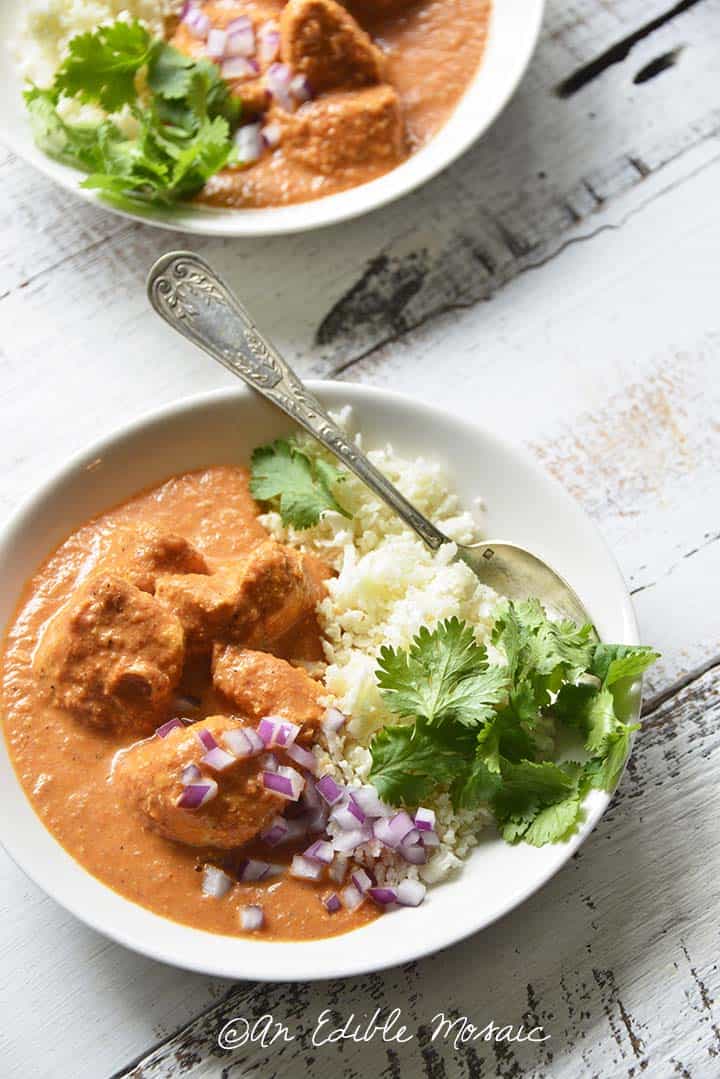 When I lived in the DC area I was completely spoiled with great food. There was anything and everything a girl could want, and most of it within a short distance.
New York-style pizza, Afghani food, Ethiopian, Greek, Pakistani, Syrian, Spanish, French, the freshest seafood, and of course, my personal favorite, truly fantastic Indian cuisine.
After I moved to Florida, it became a bit harder because the selection of ethnic fare just isn't available here, and also, the quality isn't as high. (But living in the beautiful state of Florida has its own set of perks, lol!)
Because of this I now make my favorite international dishes a lot more at home. I consider this a good thing because it allows me to remake healthier versions of my favorite recipes!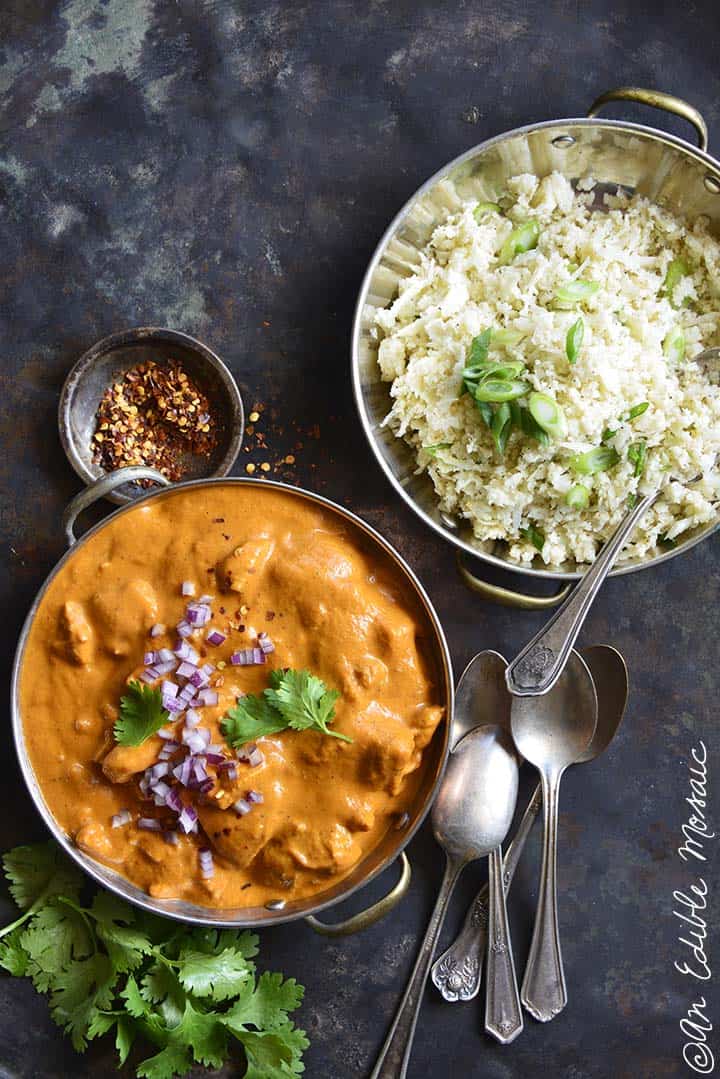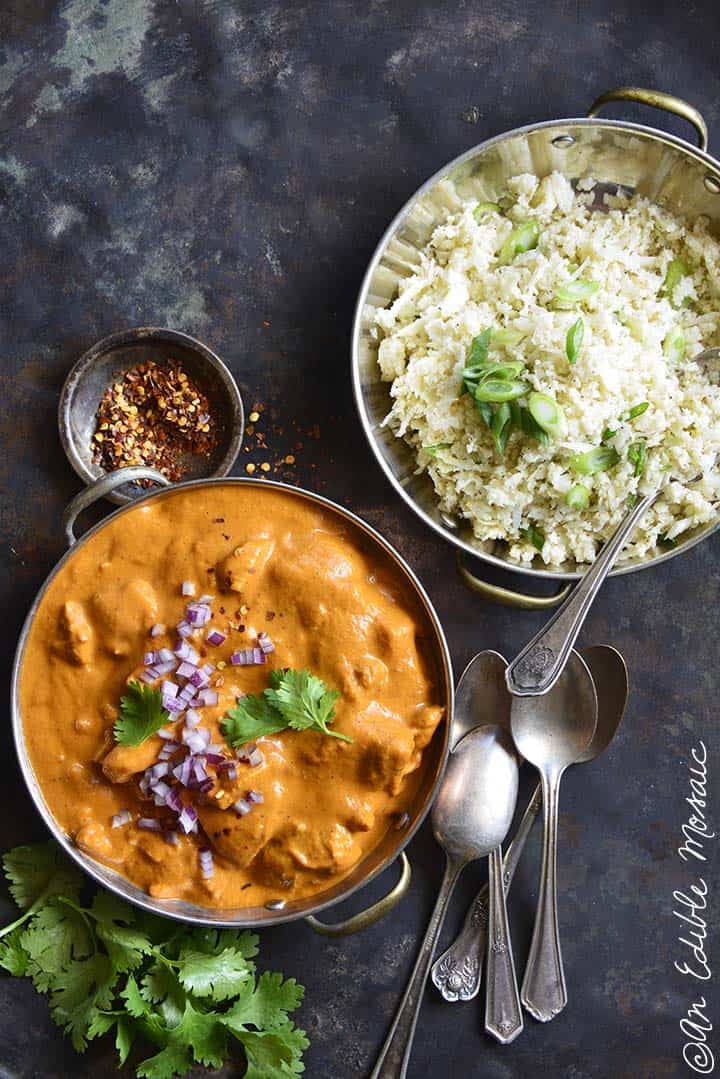 Weeknight Friendly Butter Chicken
My Easy Low Carb Butter Chicken Recipe is based on my Indian Butter Chicken (Murgh Makhani). However, I made a few tweaks to make the recipe weeknight-friendly.
Firstly, using leftover chicken or rotisserie chicken is a big time-saver.
Also, instead of making a homemade spice mix, I simplified the spices in this recipe to a good-quality store-bought garam masala blend that I buy on Amazon.
Additionally, I used less liquid in this recipe so it requires less time to cook and thicken.
Although this recipe is simplified, you'll find that it isn't lacking in flavor! I like to serve it with cauliflower rice to round out the meal.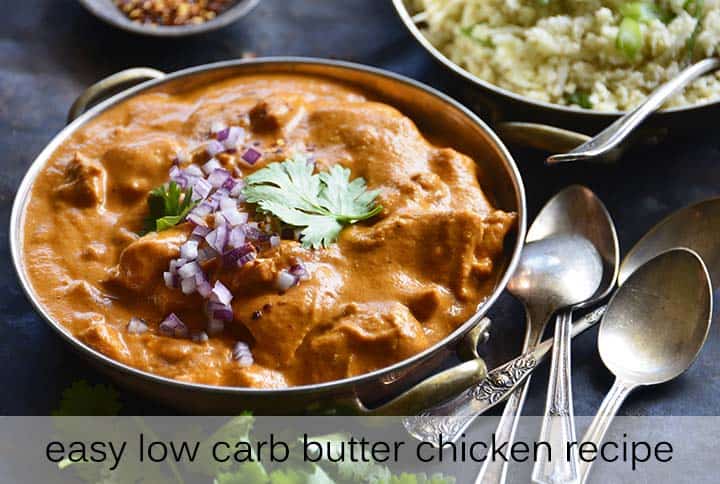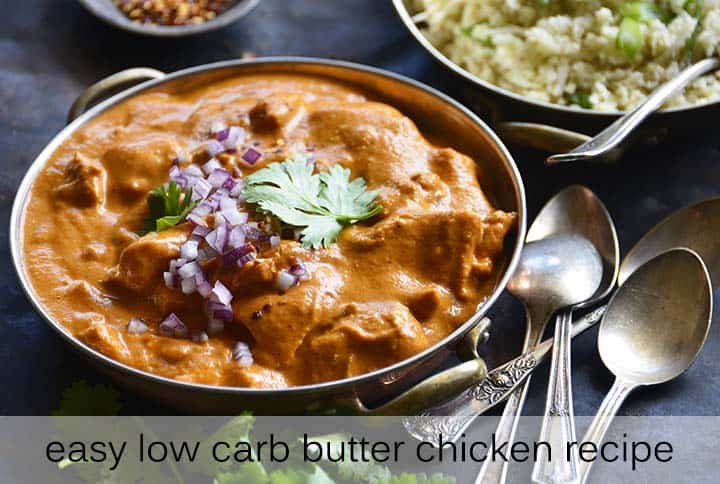 Easy Low Carb Butter Chicken Recipe
I simplified the ingredients for my Easy Low Carb Butter Chicken compared with a more traditional recipe for Indian Butter Chicken.
This is so I can keep the recipe as fast and easy as possible so it's manageable even on a busy weeknight.
Easy Low Carb Butter Chicken Recipe Ingredients
You might already have everything on hand if you have a well-stocked fridge and pantry.
Unsalted butter
Onion
Garlic
Ginger
Garam masala spice mix
Salt
Hot sauce
Tomato paste
Chicken stock
Cooked chicken (rotisserie chicken works great here!)
Heavy whipping cream
Liquid stevia
Fresh lemon juice
How to Make This Easy Low Carb Butter Chicken Recipe
I wanted a version of Indian Butter Chicken that is approachable even on the busiest of nights, and this is what I came up with.
Cook onion, garlic, and ginger in a bit of butter, and then add a few spices and chicken stock.
Let the sauce simmer a while, and then blend it up.
Add leftover chicken and a touch of cream and dinner is basically done!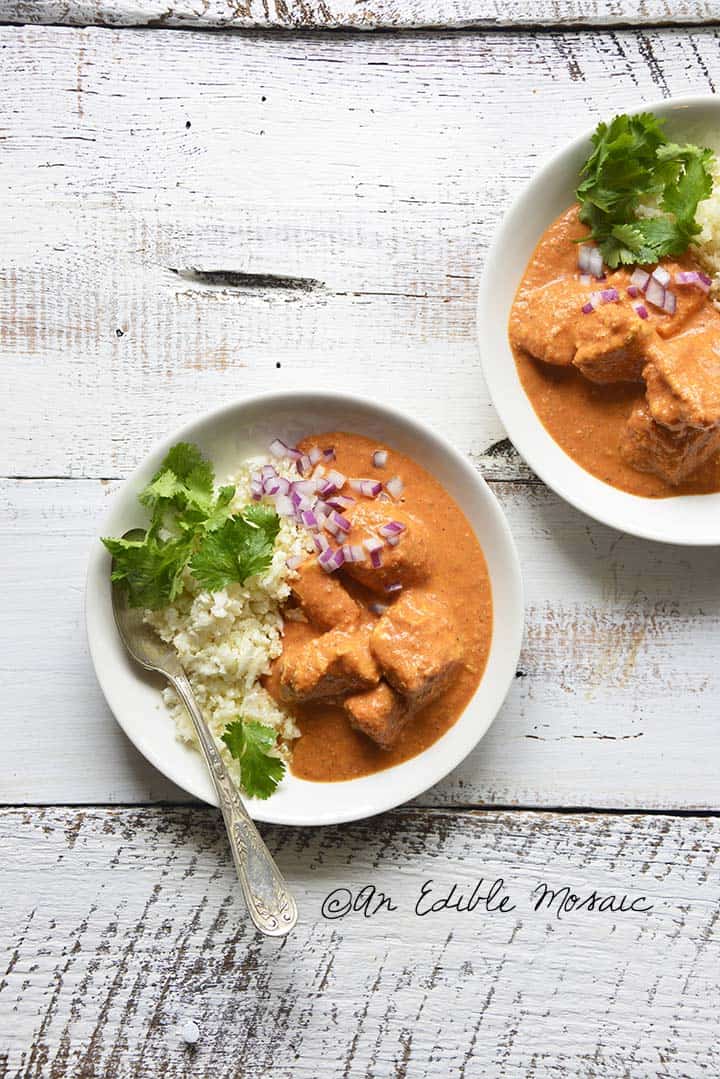 Can I Eat Indian Food on Keto?
If you go to an Indian restaurant, you can likely find a few items that are keto or low carb. Here are a few tips:
Look for meat dishes (such as tandoori chicken), cheeses (paneer is my favorite!), and non-starchy vegetables (such as cauliflower, green beans, leafy greens, etc.).
Avoid starchy items like rice and bread, and be careful of sauces, which may contain sugar and/or low-quality oils.
If you're not sure about something, ask your server! They can probably check ask the cook your ingredient questions.
An easier option to make sure that your Indian food is keto is to make homemade keto-friendly Indian food. This isn't at all as hard as it sounds. Check out my article "Low Carb Guide to Eating Out: Indian Food" on The Keto Queens for more inspiration.
In addition to this Easy Low Carb Butter Chicken Recipe, my Instant Pot Cauliflower Pav Bhaji is always a favorite, and so is Low Carb Indian Chicken Korma with Rotisserie Chicken (or Leftover Turkey).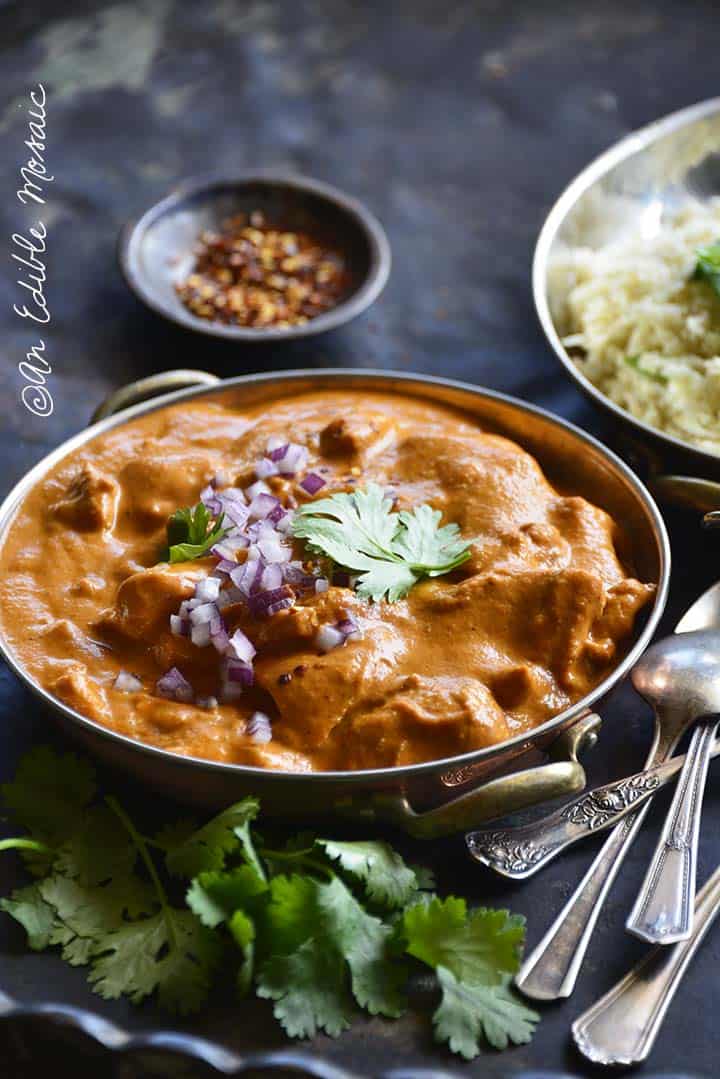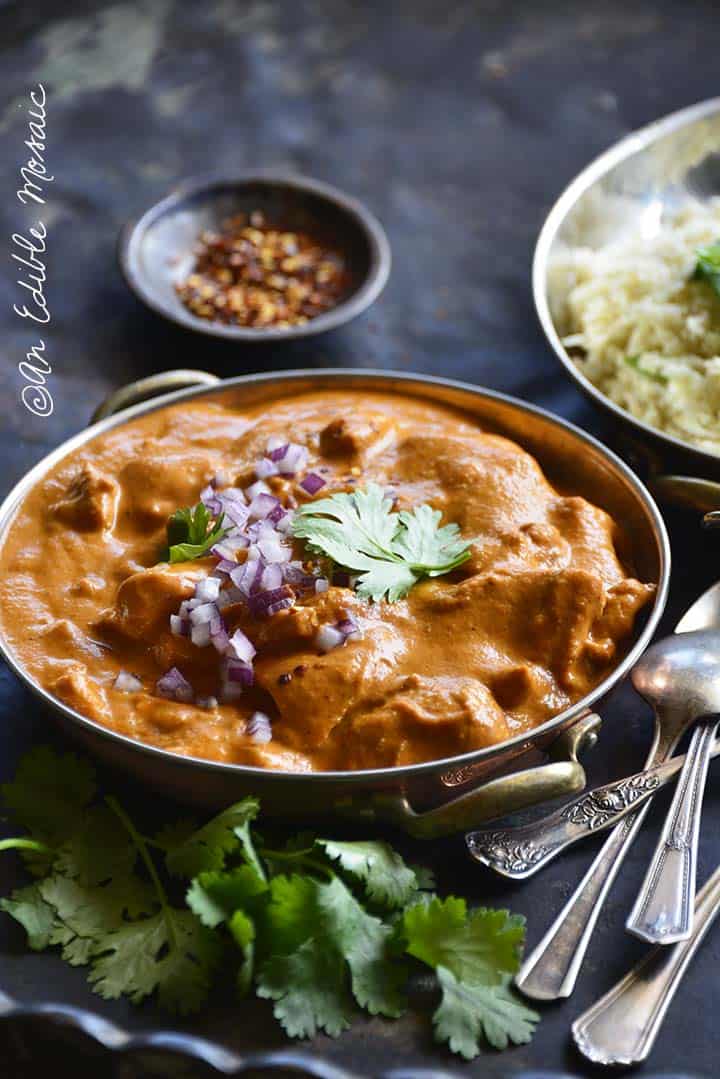 Leftover Chicken
This Easy Low Carb Butter Chicken Recipe is one of the best leftover chicken recipes out there. If you have leftover grilled chicken or a rotisserie chicken on hand, I definitely recommend trying this recipe, especially if you're a fan of Indian flavors!
How Long Does Leftover Chicken Last?
According to FoodSafety.gov, leftover cooked chicken lasts 3 to 4 days in the refrigerator (40F or below). Additionally, leftover chicken stays good for 2 to 6 months in the freezer (0F or below).
Can I Freeze Leftover Chicken?
Yes, you can freeze leftover chicken! Wrap it well and store it in an airtight container. Label it with the date and contents before freezing.
Can Cooked Chicken be Left Out Overnight?
The USDA tells us that you shouldn't leave cooked food out for over 2 hours because bacteria grows most rapidly in the temperature range of 40F to 140F.
Can You Reheat Cooked Chicken?
Yes, you can reheat cooked chicken. It should be reheated to an internal temperature of 165F or until it is hot and steaming.
Leftover cooked chicken is perfect for this Easy Low Carb Butter Chicken Recipe!
More Easy Leftover Chicken Recipes: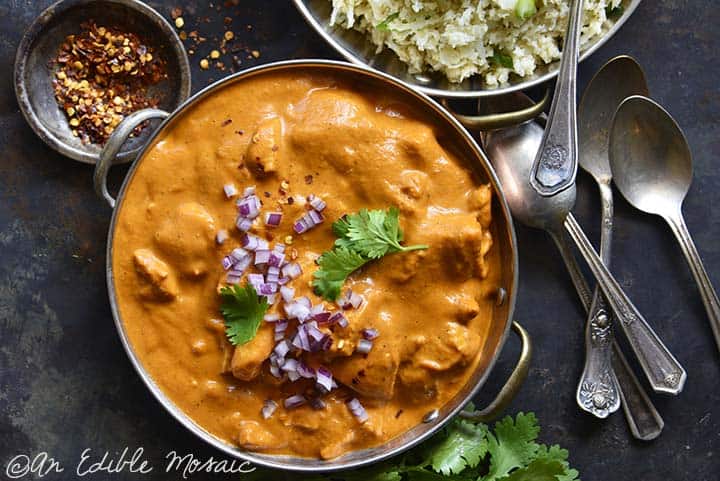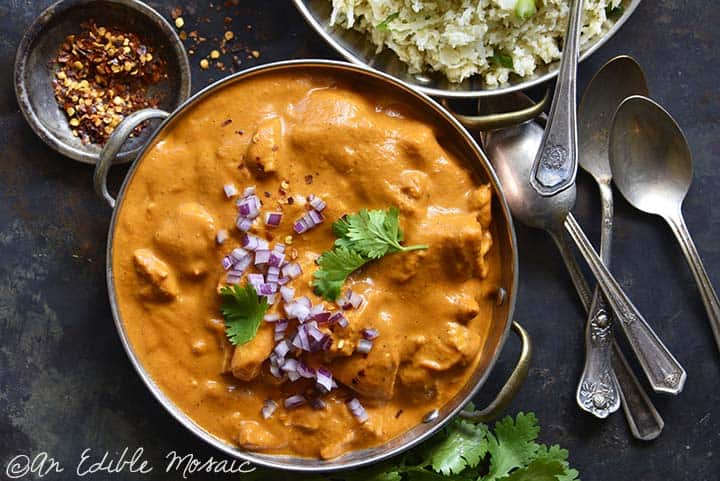 Did you make this recipe? Please rate it and leave a comment below because I love hearing from you! You can also tag @anediblemosaic on social media. To stay up-to-date FOLLOW ME on Instagram, Twitter, and Facebook. Xoxo, Faith
Easy Low Carb Butter Chicken
This Easy Low Carb Butter Chicken Recipe is packed with flavor and perfect for weeknight dinners! Take a few minutes to marinade and grill chicken or use leftover or rotisserie chicken to save time.
Ingredients
4

tablespoons

unsalted butter

1

medium onion

chopped

4

large cloves garlic

minced

1

tablespoon

fresh-grated ginger

1

tablespoon

garam masala

1

teaspoon

salt

1

teaspoon

hot sauce

or more to taste

5

tablespoons

tomato paste

2

cups

low-sodium chicken stock

4

cups

cooked chopped chicken

rotisserie chicken works well (see notes)

½

cup

heavy whipping cream

1

tablespoon

fresh lemon juice

Fresh cilantro leaves

for garnish

Diced red onion

for garnish

Cauliflower rice

for serving (optional)
Instructions
Heat the butter in a large, deep skillet over medium to medium-high heat. Once melted, add the onion and cook 5 minutes, stirring occasionally. Stir in the garlic and ginger and cook 1 minute more, stirring constantly.

Stir in the garam masala, salt, hot sauce, tomato paste, and chicken stock. Turn the heat up and bring it to a boil, and then turn the heat down to simmer and cook (uncovered) 10 minutes, stirring occasionally.

Cool slightly, and then carefully puree the sauce in a blender or using an immersion blender. Return the sauce back to the skillet over medium heat.

Add the chicken and cook until warm, about 3 minutes. Stir in the cream, stevia, and lemon juice. Turn off the heat.

Serve the butter chicken topped with cilantro and red onion, along with cauliflower rice if desired.
Faith's Tips
Net Carbs: 6g per serving
The nutrition info for this recipe was calculated using rotisserie chicken without any garnishes or side dishes.
If you don't have rotisserie or leftover chicken on hand, you can make chicken specifically for this dish. To do so, combine 1 ½ pounds of cubed boneless, skinless chicken breast with 2 tablespoons full-fat Greek yogurt, 2 tablespoons fresh lemon juice, 2 cloves crushed garlic, ½ tablespoon fresh-grated ginger, 1 teaspoon garam masala, ½ teaspoon salt, and ⅛ teaspoon cayenne pepper in a large bowl. Stir to combine, cover the bowl, and refrigerate at least 2 hours (or overnight). Cook the chicken skewered on a grill, in the oven, or on the stovetop.
Nutrition
Nutrition Facts
Easy Low Carb Butter Chicken
Amount Per Serving
Calories 174
Calories from Fat 144
% Daily Value*
Fat 16g25%
Cholesterol 47mg16%
Sodium 544mg24%
Potassium 263mg8%
Carbohydrates 7g2%
Protein 3g6%
Vitamin A 730IU15%
Vitamin C 7mg8%
Calcium 32mg3%
Iron 1mg6%
* Percent Daily Values are based on a 2000 calorie diet.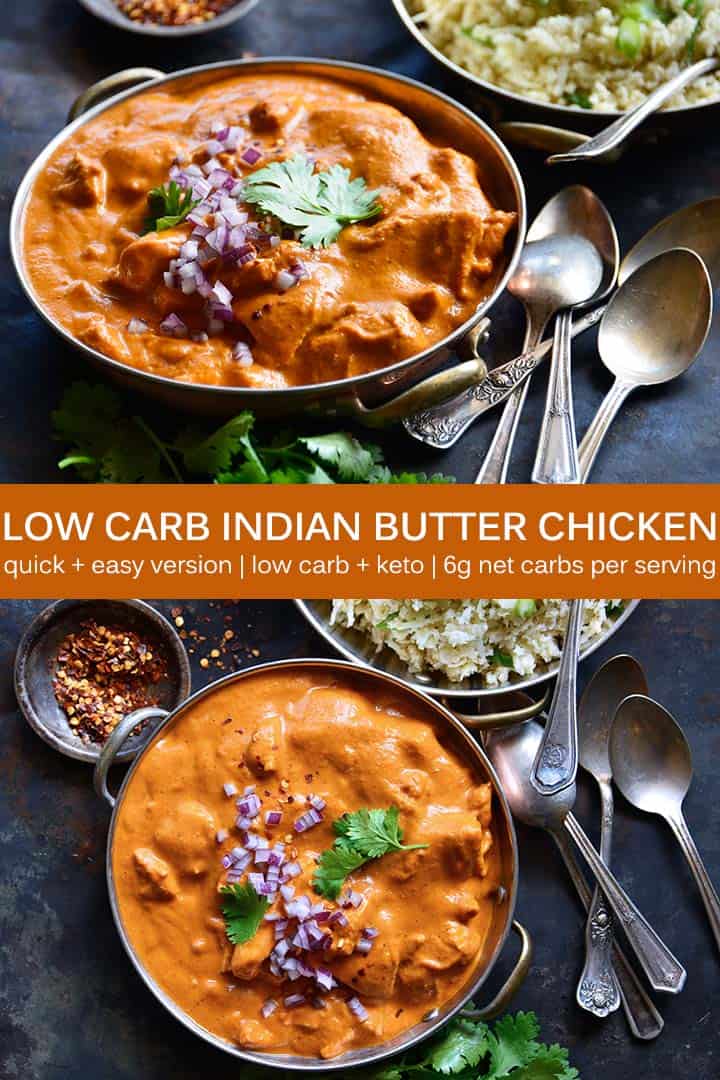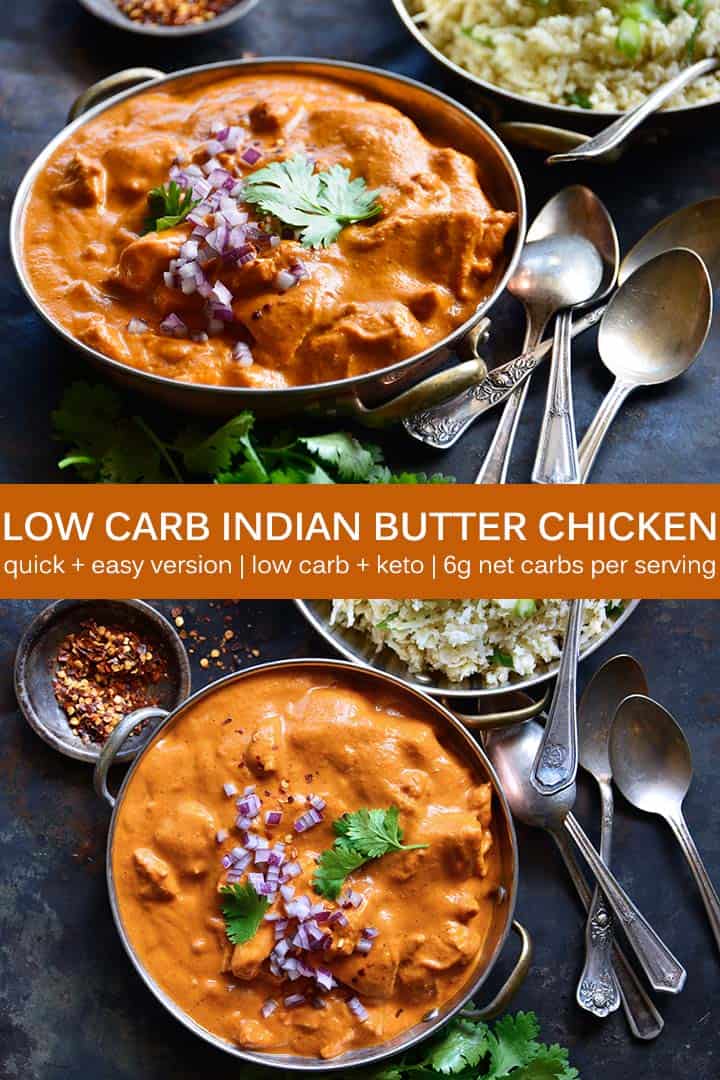 Disclosure: This post contains Amazon affiliate links to products I believe in, which means that even though it doesn't cost you anything extra, I will receive a small amount of money from the sale of these items. Thank you for helping to support An Edible Mosaic!