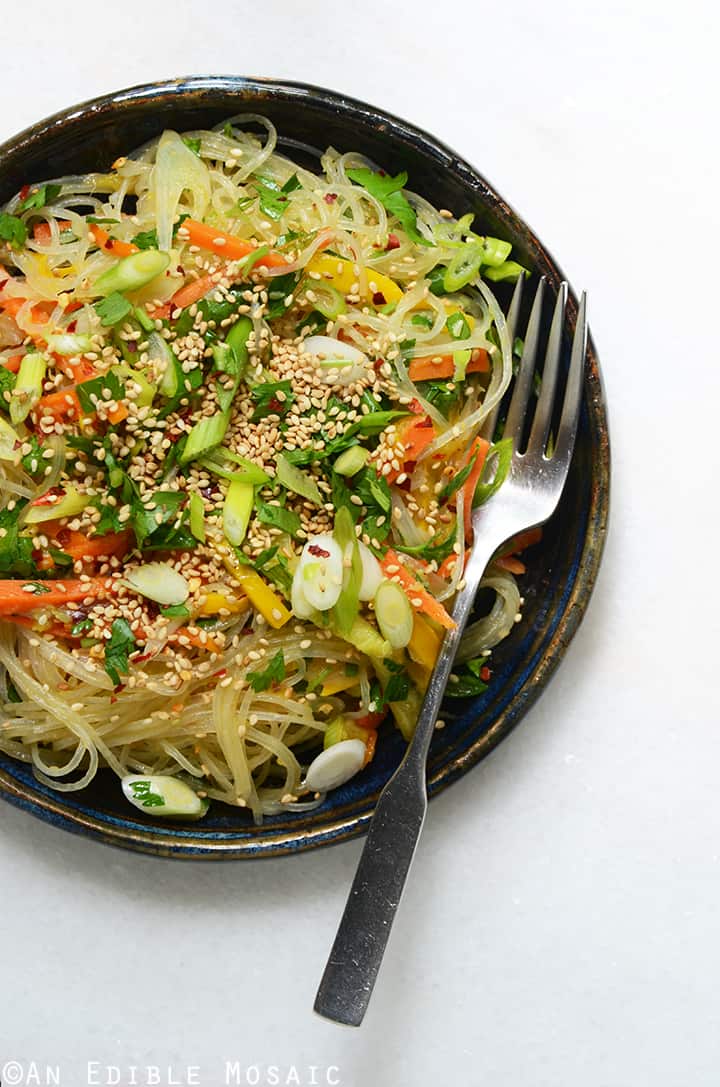 We all know that being active is part of a healthy lifestyle. Sometimes, however, it feels like a catch-22 when you and your family are so active that you're always on-the-go and there isn't even time to cook a healthy meal. Which is, of course, why so many people resort to the drive thru.
I have a different take on fast food.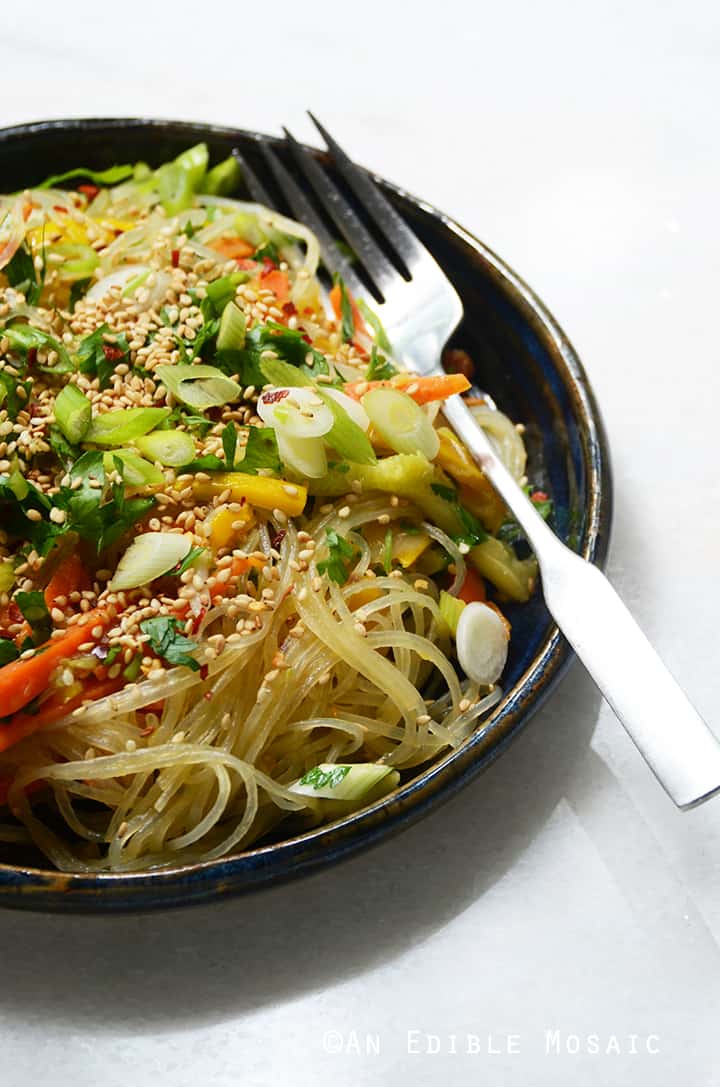 It's an arsenal of fast, healthy meal ideas that require minimal prep work and come together quicker than even a junk food run. Here are a few things I like to keep on hand:
Hard-boiled eggs
Hummus (store-bought is fine, but homemade is even better and super easy to make; check out my Quick Smoky Red Pepper Hummus)
Grilled chicken breast (for making wraps, sandwiches, salads, etc.)
Cheese sticks
Yogurt, especially Greek yogurt for the extra protein (one of my all-time favorite fast food meals is plain Greek yogurt topped with fresh fruit and a sprinkle of walnuts/unsweetened coconut/chia seeds/hemp hearts/etc.)
Cottage cheese
Almond butter or any seed or nut butter (for making a sandwich or eating as a dip with carrot or celery sticks or apple slices)
Ready-to-eat vegetables, such as carrot sticks, celery sticks, bell pepper slices, broccoli florets, etc.
Nutrient-dense snack bars that can be kept in the car for when emergency hunger strikes (GoMacro MacroBars are my newest obsession…the Apples + Walnuts flavor is my absolute favorite!)

In fact, I was so impressed by GoMacro that I wanted to feature their product and company in my June installment of A Happier Healthier You 2015. GoMacro is a family-owned company that believes in a whole food-based lifestyle. Amelia, who grew up on a small farm in England, turned to a macrobiotic diet after being diagnosed with breast cancer in 2003; her daughter Jola has been championing the macrobiotic lifestyle since then. Their company's Five Principles are pretty inspiring: macrobiotic, vegan, wholesome, sustainably sourced, and giving back.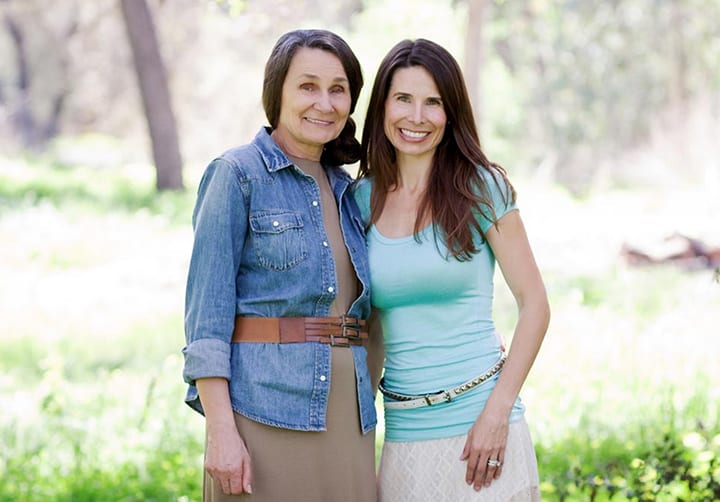 Amelia and Jola from GoMacro
To sum up what they're about, from their website,
The pursuit of health is a path of living in balance with ourselves and nature with products that have positive effects on the world.
If you're curious about the macrobiotic lifestyle, Jola explains it a bit in this Q&A…
1. What inspired you to start your own line of macrobiotic bars?
My mom, who is also my partner, was diagnosed with breast cancer and decided to go macrobiotic instead of taking the drugs. Since then what started as macrobiotic has now become a founding principle as we focus on being gluten-free, vegan, non-GMO, organic, and kosher. We strive to create a product that meets the dietary needs of everyone, which is truly what a macrobiotic lifestyle is: to find what works with your body.
2. How would you describe the macrobiotic way of eating to someone who isn't familiar with it? What are some of the health benefits of eating this way?
The macrobiotic diet emphasizes whole grains and fresh vegetables while also avoiding meat, dairy and processed foods. Macrobiotics is not only a diet but also a way of life. A belief that there is a natural order to all of life and if you live within this natural order you will create balance and harmony in your life. To achieve this, you study yin and yang principles which classify and bring order to all of life. Macrobiotics emphasize the yin and yang of food and the body. You are what you eat and eating natural foods improves your health and influences what you think. A macrobiotic diet provides all the essential nutrients while also removing toxins, reducing stress, and building your immune system and your strength in a natural way.
3. In addition to being macrobiotic, your bars are also vegan. How do the vegan and macrobiotic lifestyles correlate?
Vegans do not eat meat, fish or dairy products. Macrobiotic practitioners do not ban any food. Their teaching emphasizes eating a healthy diet which varies for each person according to their individual needs (for example, a diet will vary from a person who is gluten-intolerant to a person who is lactose-intolerant). Most practitioners find that as they transition, they eat less meat and dairy products and most eliminate it because they feel healthier. Some continue to eat a little fish, but there are no set rules. You do what makes you feel strong and healthy and that is usually leads to a plant-based diet.
4. Can you tell us what a typical day of eating macrobiotic meals looks like?
As a mother of four, my days are unfortunately challenging to completely eat all macrobiotic meals; however, I do incorporate macrobiotic principles into my everyday life, as I eat lots of veggies and whole grains like brown rice. My mother, on the other hand, grows a lot of her food so she avoids processed foods, but sometimes buys the occasional vegan protein source. She buys miso and uses that for a daily probiotic source with breakfast being a combinations of miso, oatmeal, and a bit of fruit. For lunch, she eats a salad with other cooked vegetables, sometimes adding an egg, mushrooms, etc., or makes a quiche that will last a couple of days. Dinner can be pasta, rice, occasionally potatoes, fish, vegan protein, vegan lasagna, etc. If she needs a snack, she, of course, chooses a GoMacro MacroBar to sustain her energy between meals. I typically have at least one to two GoMacro MacroBars a day due to my busy lifestyle as a mom and business woman.
5. What is one easy change anyone can make on their journey towards a macrobiotic lifestyle?
If I had one easy change it would be eat in moderation, take time to enjoy your food, and finally put thought into what you are eating and how it makes you feel. Chewing your food is one of the basic principles. When you chew, you eat less. It's an easy and simple task to do because everyone eats!
6. Your bars are as innovative as they are delicious. What's your favorite GoMacro MacroBar flavor, and are there any new flavor ideas in the works?
I would have to say that Banana + Almond Butter is my favorite flavor. I love bananas and this bar is ideal, plus the high protein gives me the energy I need to get to my next meal. We are in the process of developing a kids' line of bars, but are still in the research and development stage. We want to not only provide adults with a clean bar, but we also want to provide the entire family with a company they can trust in their pantry. We are a family run company and a kids' line resonated really well as our next step.
I wanted to make a macrobiotic recipe to share with you, and I took inspiration from a recipe video from GoMacro Network's Vegan Cooking with Michelle Angela on YouTube. The recipe is for Buckwheat Noodle Salad…
It looks pretty delicious, right? I did my own spin on that noodle salad with what I had in my pantry and fridge. I used arrowroot noodles that I had picked up from an Asian grocery store when I was looking for black tapioca pearls (to make
Iced Bubble Coffee
). It was my first time trying these noodles and I thought they were great; their taste reminded me of cellophane/glass noodles. (If you're paleo and you eat arrowroot starch, I definitely recommend trying these noodles!) The sauce is a flavor-balanced mix of garlic, ginger, vinegar, coconut aminos, and coconut sugar. And this comes together in just 15 minutes, making it a super quick and healthy fast food meal for two!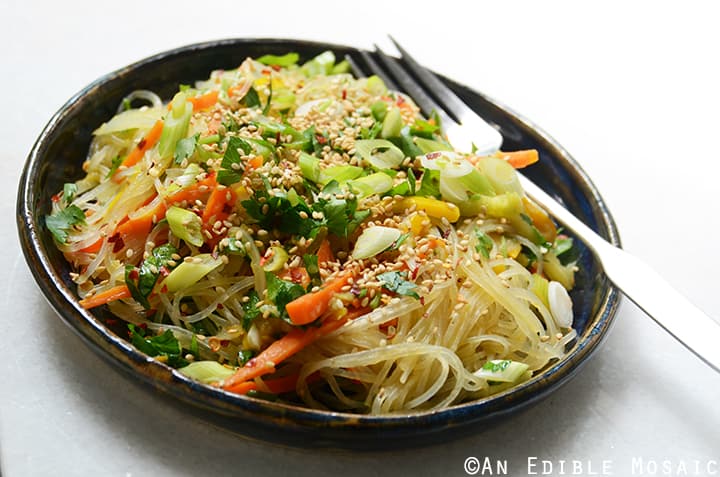 Sesame-Soy Arrowroot Noodles with Stir-Fried Vegetables
Prep time:
Cook time:
Total time:
Paleo-friendly arrowroot noodles are dressed with a flavorful garlic-ginger sauce and paired with lots of veggies. Add a fried egg on top!
Ingredients
2 oz (60 g) arrowroot starch vermicelli
1½ tablespoons coconut oil
1 medium carrot, cut into matchsticks
1 medium zucchini (green or yellow), cut into matchsticks
½ medium onion, thinly sliced
1 large clove garlic, crushed or grated
½-inch piece fresh ginger, grated
1½ tablespoons rice vinegar
1 tablespoon coconut aminos
1 teaspoon coconut sugar
½ cup chopped fresh parsley
2 scallions, green and white parts, thinly sliced
1 teaspoon toasted sesame seeds
Crushed red pepper flakes, for garnish (optional)
Instructions
Put the vermicelli in a bowl and cover with hot water; leave it until the noodles are softened (start checking them after 2 minutes). Drain and set aside.
Heat the coconut oil in a large skillet over medium-high to high heat. Once hot, add the carrot, zucchini, and onion and cook until starting to soften, about 2 to 3 minutes. Add the garlic, ginger, vinegar, coconut aminos, and coconut sugar and cook 30 seconds, stirring constantly. Stir in the noodles.
Turn off the heat and stir in the parsley and scallion.
Transfer to a serving dish and top with the sesame seeds and crushed red pepper flakes. This can be served hot or cold.
Notes
Recipe inspired by Buckwheat Noodle Salad on GoMacro Network's Vegan Cooking with Michelle Angela on YouTube.

Serving Suggestion: To get 2 servings out of this recipe, serve each portion with 1 to 2 fried eggs on top.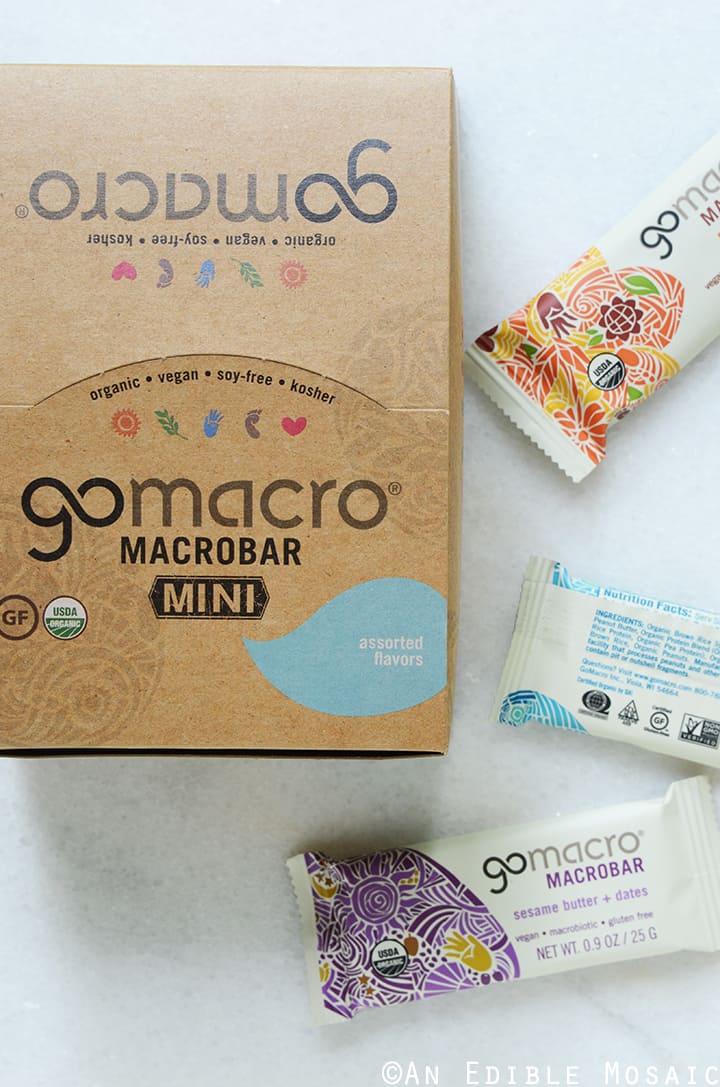 : : GIVEAWAY : :
I'm excited to be giving away a one box of GoMacro MacroBar Mini in Assorted Flavors to one lucky winner! (Thank you to GoMacro for sponsoring this giveaway!)
To participate in this giveaway, just leave a comment on this post telling me what your go-to fast food meal – either homemade or take-out.
For extra entries, you can do any of the following (please leave a separate comment for each):
You do not need to have a blog to enter this giveaway. For shipping purposes, this giveaway is only open to residents of the U.S. This giveaway ends on June 30, 2015 at 11:59 PM EST. Once the giveaway ends, the winner will be randomly chosen and notified via email. The winner will have three business days to respond with his or her mailing information, otherwise a new winner will be randomly chosen. Good luck to all!
Disclosure: GoMacro provided me with samples of their product to try, and they are providing the prize for this giveaway; as always, opinions stated are my own.