A while ago, a friend and I were at Starbucks and she ordered a chocolate muffin. Now, I admit that I've sampled a lot of baked goods that Starbucks has to offer, but their chocolate muffins – never! I was intrigued and it looked good, but I resisted ordering it.
But it got me thinking that I need to come up with a good recipe for homemade chocolate muffins…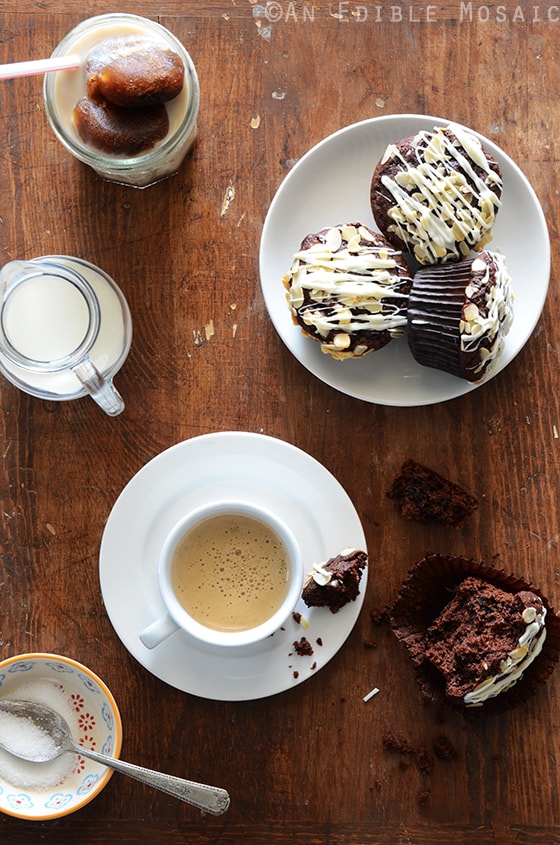 Here's a confession: the final recipe for these muffins is the fifth take.
(Sometimes recipe development goes off without a hitch, but other times fifth time is a charm...and for muffins, of all things.)
The first try had too much yogurt; the second try was more like brownies in muffin shape. I don't remember what went wrong on the third try, but I remember it wasn't good. The fourth try I actually liked, but hated the pictures (so annoying when that happens), so I ended up making them a fifth time, and of course adding a few tweaks to perfect the recipe.
I always like my muffins to be a little special, and I feel like this recipe finally fits the bill. (Speaking of special muffins, if you're looking for more inspiration, I always feel like Cooking Light's muffins are unique; take a look at their Strawberry and Cream Cheese-Filled Muffins and Sour Cream Muffins with Poppy Seed Streusel!)
Some might call these beauties cupcakes, but I'm going out on a limb and sticking with muffins because a) there is no buttercream frosting involved (and no, a little drizzle of white chocolate doesn't count), and b) these muffins have egg and yogurt, so they must be healthy (kidding!). But honestly, I'd consider these the kind of muffins that you'd have with a cup of coffee for an afternoon pick-me-up, not the breakfast kind of muffins.
To make these muffins breakfast-worthy, you can leave out the chopped dark chocolate inside and the white chocolate drizzle outside (so you're left with Dark Chocolate Muffins with Almonds). Serve with fruit and yogurt, and it's a fun way to sneak in chocolate for a once-in-a-while breakfast.
Now, like I mentioned above, I've never even tried Starbucks chocolate muffins so this recipe really isn't meant to be a copycat of them…but I will say that these muffins are pretty fabulous in their own right!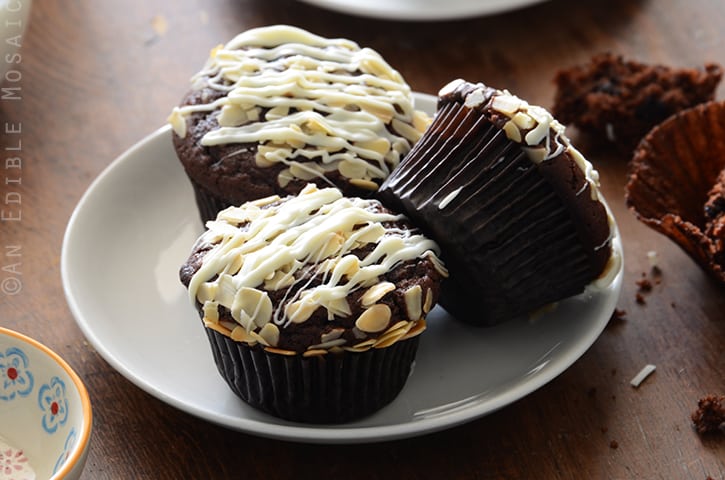 Double Dark Chocolate Muffins with Almonds and White Chocolate Drizzle
Prep time:
Cook time:
Total time:
Ingredients
1½ cups (190 g) whole wheat pastry flour or all-purpose flour
½ cup (60 g) natural unsweetened cocoa powder (not Dutch-processed), sifted
1 teaspoon baking powder
¼ teaspoon baking soda
½ teaspoon salt
4 oz (115 g) good-quality dark chocolate, chopped (or chocolate chips)
1¼ cup (250 g) light brown sugar, lightly packed (you can reduce to 1 cup if you want)
1 large egg
⅔ cup (160 ml) milk (whole or low-fat, but not skim)
½ cup (120 ml) vegetable oil
⅓ cup (75 g) plain, low-fat yogurt
1½ teaspoons pure vanilla extract
¼ teaspoon instant espresso powder, dissolved in 1 teaspoon hot water
4 tablespoons sliced almonds, toasted
2 oz (60 g) white chocolate, melted
Instructions
Preheat oven to 350F and line a muffin tray with 12 paper liners.
Whisk together the flour, cocoa powder, baking powder, baking soda, and salt in a large bowl and set aside; stir in the dark chocolate.
In a separate large bowl, beat together the sugar and egg until fluffy (about 3 to 5 minutes). Whisk in the milk, oil, yogurt, vanilla extract, and dissolved espresso powder.
Add the dry ingredients to the wet all at once and stir just to combine, being careful not to over-mix.
Pour the batter into the prepared muffin tray and sprinkle the almonds on top.
Bake until a toothpick inserted inside comes out with just a couple crumbs, about 20 to 25 minutes (be careful not to overcook). Cool 5 minutes in the tray and then remove the muffins from the tray and transfer them to a wire rack to finish cooling.
Once cooled, drizzle the white chocolate on top. Let the chocolate set before serving.