You're probably familiar with the expression April showers bring May flowers. Showers in April typically refer to rain, but this weekend the weather forecast actually called for a chance of snow! (Weather in Upstate New York is just that unpredictable.) The dreary, cold, damp weather called for something warming from the inside out so I turned to a comforting classic: French Onion Soup.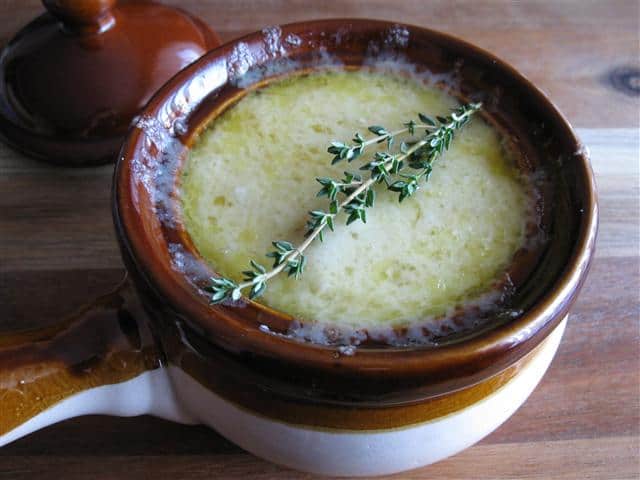 I've heard that French Onion Soup is one of the most commonly ordered soups in restaurants; this makes sense to me since I almost always order it when I see it on a menu. There's just something about the rich, broth-drenched crouton, sweet caramelized onion, and bubbly, melted cheese that make it irresistible. After eating French Onion Soup so many times in restaurants, I've realized that the homemade version makes even the best restaurant's soup pale in comparison.
Other than the patience it takes to caramelize the onions, French Onion Soup is pretty easy to make, but there are a few other tips I've discovered that turn a good French Onion Soup into a phenomenal one:
· Add fresh herbs. Fresh thyme on its own is my favorite in this soup, but a mix of fresh rosemary and thyme is also absolutely delicious.
· Use good quality beef stock. The flavor of the soup comes largely from the stock (and the onions of course), so the quality of the finished product will only be as good as what you put in. You don't have to make your own stock though; there are quite a few good quality stocks on the market.
· Don't use sweet onions. Cooking onions cook up super sweet as it is, so if you use sweet onions to start, your soup will be overly sweet.
· Season your soup with salt and pepper before you add the crouton and cheese. Otherwise it is much harder to adjust the seasoning.
· Use good quality bread, but stale is ok. The bread is toasted and then placed in the soup so it doesn't have to be out-of-the-oven fresh. But using good quality bread does make a huge difference.
· Use good quality cheese. I've made the mistake of using lower quality cheeses when making this, and the cheese always gets rubbery after broiling.

· Don't skimp on the onion or the croutons. French Onion Soup is one of those soups that I think is better when it's thicker, and by thicker I mean chock full of onions and bread. Otherwise, it's just beef broth topped with cheese. :)
French Onion Soup
(Yield: 4 small or 2 large servings)
About 2 TB olive oil (just enough to coat the bottom of the pot)
4 medium-sized cooking onions, thinly sliced (about 4 c sliced)
2 tsp fresh minced thyme
3 c beef stock
1 bay leaf
Salt and pepper to taste
Multigrain baguette (or any bread you like), trimmed to fit inside the bowls you're using to serve the soup in
About 4 oz Gruyère or Emmental cheese
2 large or 4 small oven-safe individual-sized serving bowls
Thinly slice the onion into rings or half-rings. In a medium-sized, thick-bottomed pot, heat the oil over medium-high heat until it starts to ripple, then add the onion, thyme and a pinch of salt, and stir to coat the onion with the oil. Cook for about 5 to 10 minutes until the onion starts to soften and turn color (stirring occasionally). Lower to the heat to medium-low and cook for about 15 to 20 more minutes (again, stirring occasionally) until the onions are a rich caramel color. You can add a splash of water at any point in the process if the onions start to stick to the pan too much.
Add the beef stock and bay leaf and use a wooden spoon to scrape up all the brown bits from the bottom. Let the soup simmer for about 15 minutes. Taste the soup and season with salt and pepper.
Preheat the broiler. Broil the bread on both sides until it's light golden brown. Ladle the soup into broiler-safe bowls, place the toasted bread on top of the soup, and divide the cheese on top of the bread. Broil until the cheese is melted, bubbling, and starting to brown (stay with it, this happens fast).