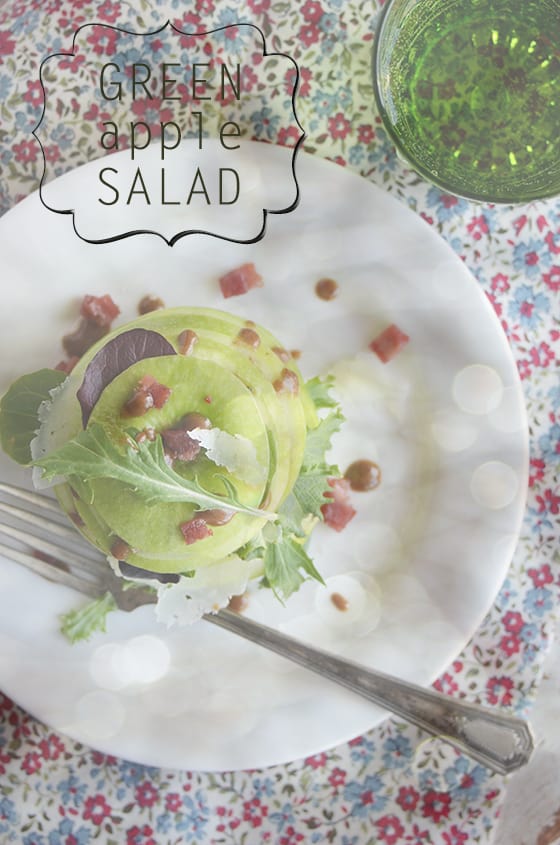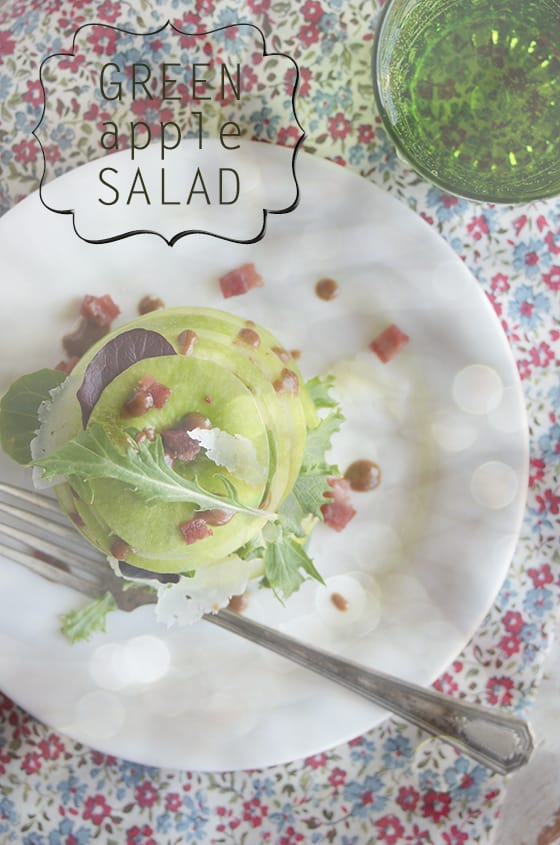 I think it might be a little weird that I don't watch TV. (Except for two shows, which I am both insanely excited about since they're starting up again soon: Game of Thrones and The Borgias.) I'll admit it's somewhat of a shame that I don't know about the latest shows on the Food Network, and that the Real Housewives of Wherever are completely lost on me (ok, so maybe that second one isn't really a shame at all). Movies are more my thing.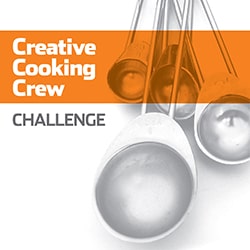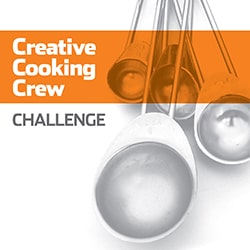 Along the lines of TV shows, this month's Creative Cooking Crew Challenge was a Chopped-style basket of mystery ingredients that we had to use in a dish. Luckily, I wasn't completely in the dark; I actually did see one episode of Chopped a few months ago in an airport. (Which goes to show, you never know what good may come from a delayed flight. I was also able to knit ¾ of an entire scarf during that layover…and I promise I'm not 90, lol.)
Back to this month's challenge. The basket contained Granny Smith apples, nut butter, vinegar, and bacon; we could also use any pantry staples we wanted. I was pretty happy with the components; beautiful Granny Smith apples with their refreshingly tart flavor have always been a favorite of mine, and I knew I wanted to keep them raw for this challenge to preserve their crisp, clean flavor. The bacon was a no-brainer for me; I went with turkey bacon because I don't eat pork (if you're looking for a fantastic nitrite-free product, Applegate Farms is my absolute favorite kind of turkey bacon…and they have it at Wegmans!).
Two ingredients down, and two to go; for the nut butter and vinegar, I wanted a theme to tie everything together. I thought about making a Thai-inspired sauce with peanut butter, rice vinegar, fish sauce, coconut palm sugar, and lime juice, but I wanted something a little different. Indian flavors came to mind; I could do a sauce with cashew butter, sugar cane or coconut vinegar, tamarind, dates, and maybe just a pinch of a spice blend like garam masala or curry.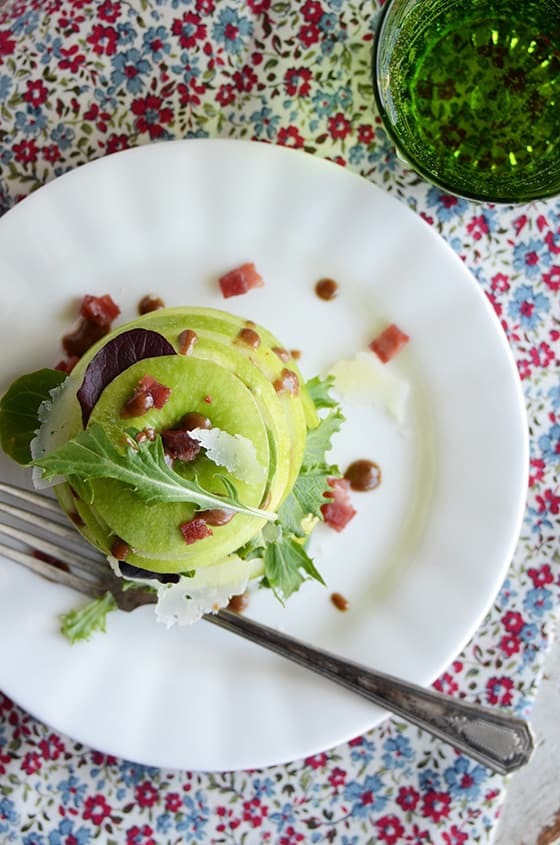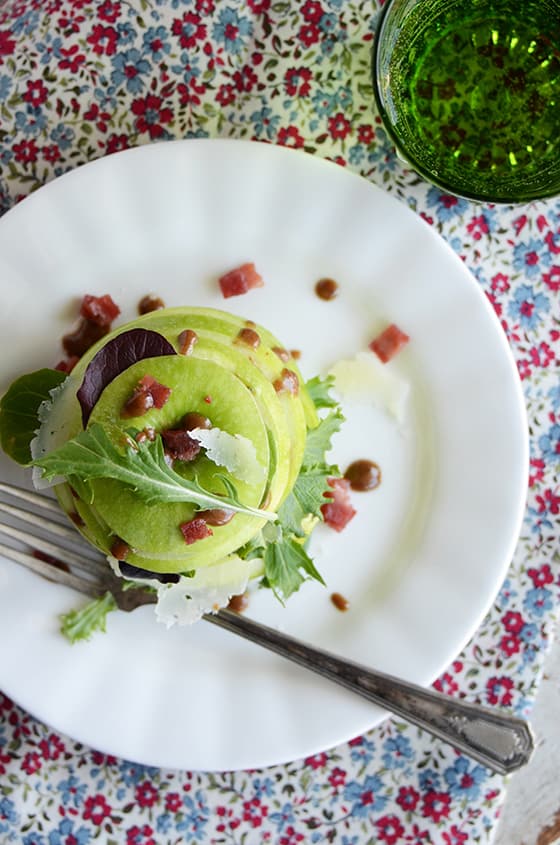 Then my mind went to Spanish flavors like Marcona almonds, sherry vinegar, and smoked paprika. I don't make enough things with Spanish flavors, so Spanish it was. I used store-bought almond butter, but of course if you prefer you can make your own nut butter with Marcona almonds (you'll only need 1 tablespoon for this recipe though). I kept my pantry items to a minimum: canola oil, lemon juice, honey, water, spices, mixed salad greens, and Manchego cheese. If you're wondering if Manchego really is a pantry item, all I can say is in my house, yes it is. At any given time my cheese drawer is full, containing a minimum of three different imported cheeses. (Right now I have an Irish Cheddar, Israeli Feta, and Spanish Manchego. And it would be four except we just polished off the last of the Ackawi last night.)
This salad is a wonderful balance of flavors and textures: tart, crisp apple; sweet, spicy, and creamy dressing; salty, buttery Manchego; salty, crisp turkey bacon.
Thanks to Joan of Foodalogue and Laz of Lazaro Cooks for another fun challenge!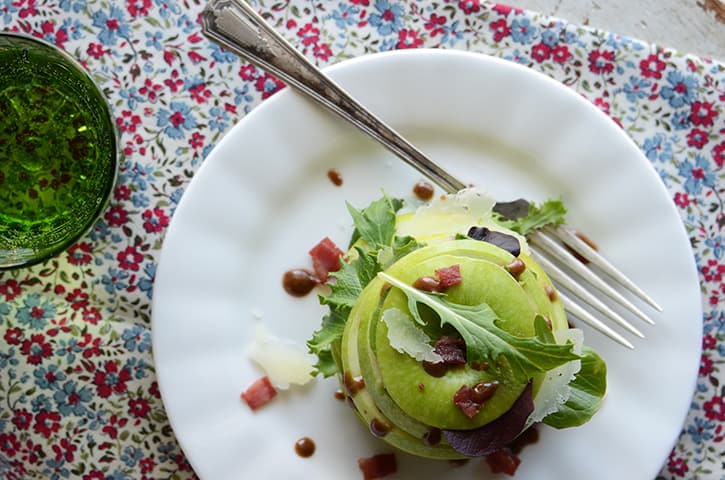 Green Apple Salad with Manchego + Spiced Almond Dressing
Prep time:
Cook time:
Total time:
Ingredients
1 teaspoon canola oil
1 strip turkey bacon, finely diced
2 medium green Granny Smith apples
2 tablespoons lemon juice added to 3 cups (710 ml) cold water
1 tablespoon creamy almond butter
1½ teaspoons water
1 teaspoon sherry vinegar
½ teaspoon honey (preferably raw, local honey)
1/16 teaspoon each fine sea salt, black pepper, cayenne pepper, smoked paprika, and cinnamon
½ cup (½ oz/15 g) mixed salad greens
1 oz (30 g) thinly shaved Manchego cheese
Instructions
Heat the oil in a small skillet over medium heat; add the bacon and cook until crispy, about 2 minutes, stirring frequently. Transfer to a paper towel-lined plate to drain excess oil; cool completely.
If you want to remove the apple cores, use a corer to do so before you slice the apples. Thinly slice the apples cross-wise into somewhere between ⅛ to 1/16-inch thick slices. Put the apple slices into the lemon water and let them sit for 5 minutes (try to keep them in the shape of the apple if possible to make assembling the salads easier). Drain the apple slices and pat them dry.
Stir together the almond butter, water, sherry vinegar, honey, and spices in a small bowl until smooth.
To assemble each salad, get out 2 appetizer-sided plates and place the bottom slice of apple in the center of each. Arrange both apples from the bottom up, adding leaves of lettuce, shavings of cheese, and drizzles of the almond butter dressing randomly throughout.
Serve.