Thank you to Castello® Moments for sponsoring this post. I am happy for the opportunity to share brands that I believe in with my readers, and I hope you enjoy my recipe for Vegetable Beef Pie with Cheesy Potato Topping with Weissbier.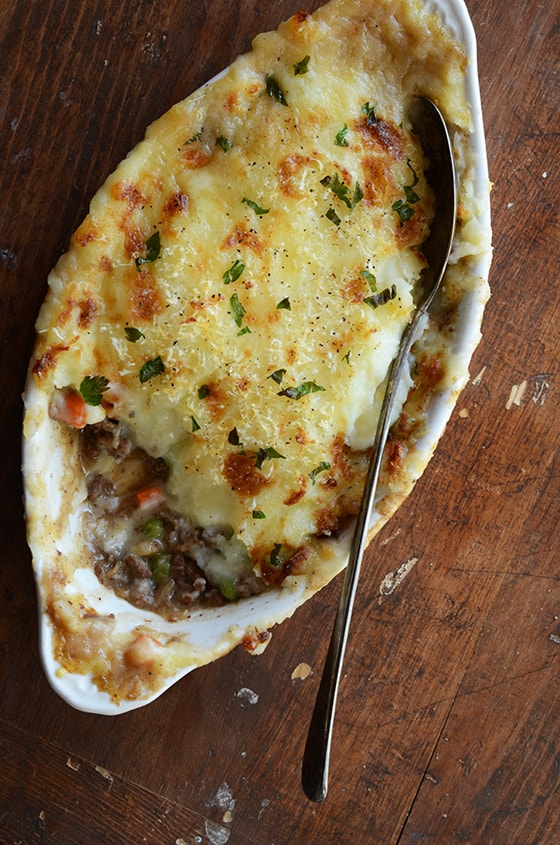 It's been a strange summer for a million different reasons.
I won't bore you with the details (yet), but let's start with the weather.
First off, it's felt like autumn for the past week or so now (especially in the unseasonably chilly evenings), and there were even brisk days in July that felt more like late rather than early summer. Not that I'm complaining; I'm a cold-weather girl all the way, but it is curious to say the least.
And instead of leaving me craving a fresh summer salad for supper, this is the sort of weather that leaves me wanting something warming…a dish like Vegetable Beef Pie with Cheesy Potato Topping fits the bill perfectly.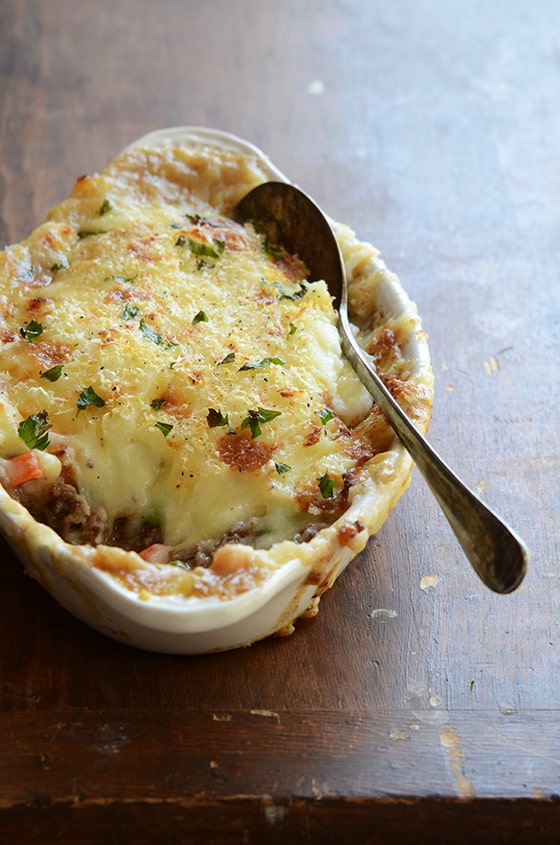 I made this meal on a damp, cold-ish day in early summer using some of the fabulous Castello® Moments Weissbier cheese. This smooth cheese has a buttery taste with hints of nutty sweetness and a faint taste of beer. It melts really well, so it was a wonderful choice for this dish. If the weather is unseasonably (or seasonably!) cool where you are, this meal is perfect.
Here are a few other delicious Castello cheese recipe ideas and serving suggestions:
Potato Gratin from Lemon Sugar
Savory Cheese Crackers from An Edible Mosaic
Cheese Tasting & Pairing from girlichef
Spinach & Cheese Bake from The Domestic Mama & The Village Cook
Cheese Inspiration & Recipes from TasteFood
Cauliflower au Gratin from Foodie Fiasco
Cheese & Jam Cookies from Fun & Food Cafe
Three Cheese Flatbread from Itsy Bitsy Foodies
German Picnic Salad from The Daring Gourmet
Roasted Sausages & Summer Vegetables with Garden Fresh Peso from My Humble Kitchen
Wine & Cheese Pairing 101 from The Roasted Root
Four Creative Crostini Recipes from Shared Appetite
Hirten Cheese Ice Cream & Stout Caramel from The Colors of Indian Cooking
I Throw a CheeseFest from The Colors of Indian Cooking
Poached Salmon Over Hirten Cheese Grits with Summer Succotash from 30A Eats
Gulf Coast Shrimp Tacos with Classic Castello & Florida Avocado from 30A Eats
Roasted Tomato Crostini with Weissbier Cheese & Fresh Basil from 30A Eats
Cheese Platter Perfection from Cooking with Books
Lemon Artichoke & Pesto Pasta from Anecdotes & Applecores
Chive, Chili, & Cheese Souffle from Camille: A Blog
Broccoli & Red Onion Quesadillas from Cooking in Westchester
Castello Moments Paignets: A Cross Between Paninis & Beignets from From Brazil to You
Triple Alps Cheese Souffle from Homemade Delish
Alpine Pizza from Fritos and Foie Gras
The Gooey Affair from The B*Critic
Triple Alps Cheese Gougeres from Blogging Over Thyme
Baked 2 Cheese Dhokla (Indian Gram Flour Cakes) from 29 Calories
Beer & Cheese Pairing from Kitchenette
Braised Short Rib French Onion Soup from Seaweed & Sassafras
Alpine Cheese & Caramelized Onion Biscuits from Nourish Your Life
Castello Moments Wine Tasting from Where and What in the World?
Castello Moments with a Toas-Tite Grilled Cheese from Where and What in the World?
Castello Chicken Couscous from Where and What in the World?
Truffle Mac n' Cheese from Where and What in the World?
Roasted Garlic, Beer, & Cheese Dip from Lizzy Pancakes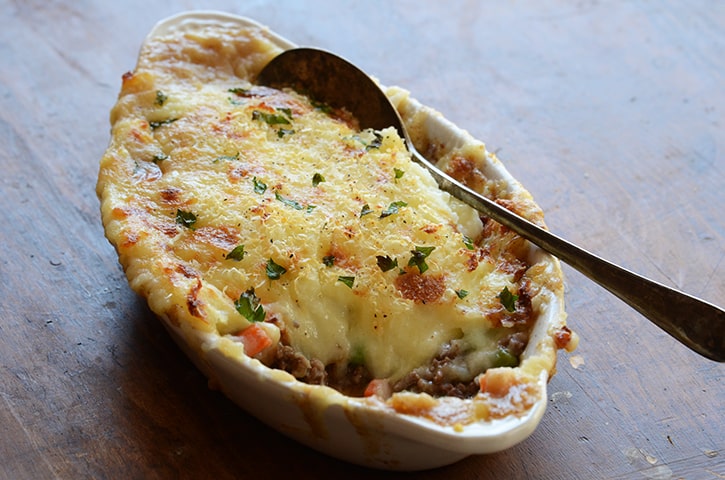 Vegetable Beef Pie with Cheesy Potato Topping
Prep time:
Cook time:
Total time:
Yield:
2 to 3 servings as a main course along with a green salad
Ingredients
Cheesy Potato Topping:
1 medium (about 8 oz/227 g) starchy potato, such as Russet, peeled and cubed
1 tablespoon butter
¼ teaspoon salt
2-4 tablespoons milk
3 oz (85 g) Castello Alps Selection Weissbier cheese, shredded
Vegetable Beef Filling:
1 tablespoon olive oil
1 medium onion, diced
1 medium carrot, diced
½ lb (227 g) lean ground beef
¼ teaspoon salt
⅛ teaspoon black pepper
1 medium clove garlic, minced
1 tablespoon all-purpose flour
¾ cup (180 ml) beef stock (or water)
½ teaspoon Worcestershire sauce
¼ cup (35 g) frozen peas, thawed
Other:
1 tablespoon finely grated Castello Alps Selection Hirten cheese
1 teaspoon chopped fresh parsley
Instructions
Preheat oven to 400F.
For the cheesy potato topping, add the cubed potato to a small saucepan and cover by 1 to 2 inches with cold water. Bring to a boil over high heat, then turn heat down and simmer until the potatoes are tender, about 5 to 7 minutes. Drain well. Mash the hot potatoes with the butter, salt, and milk until creamy. Stir in the shredded Weissbier.
For the vegetable beef filling, add the olive oil to a medium (preferable nonstick) skillet over medium heat. Add the onion and carrot, and cook 5 minutes, stirring occasionally.
Turn the heat up to medium-high, add the beef, salt, and pepper, and cook until completely browned, about 3 to 5 minutes, stirring occasionally and using a wooden spoon to break up the meat.
Add the garlic and cook 30 seconds, then add the flour and cook 30 seconds more, stirring constantly.
Add the beef stock (or water), and use a wooden spoon to scrape up any brown bits from the bottom. Bring to a boil, stirring constantly, and continue to cook for about 30 seconds more (the sauce should be thickened).
Turn off the heat and stir in the Worcestershire and thawed peas.
Pour the meat mixture into a 2-cup capacity gratin dish. Give the mashed potato mixture a stir and if it's a little dry, stir in just a splash of milk. Spread the mashed potato mixture in an even layer on top of the meat mixture. Top with the Hirten and parsley.
Bake until warm throughout, about 20 minutes.
Preheat the broiler and place the casserole under it until the top is browned on spots; stay with it, because this can happen fast.
Serve.
Win a Private Cheese Tasting in your own home - enter by clicking on the banner below. Castello Moments and this post is a collaboration between the blogger and Arla Foods USA.