So, about bananas. I've been buying them like crazy because Mike's on one of his breakfast kicks (remember his orange phase?). Lately he's been eating a banana a day for breakfast, but until about a week ago he refused to touch a banana that had a single brown spot on it. Even just the slightest hint of a brown spot and he wasn't having it.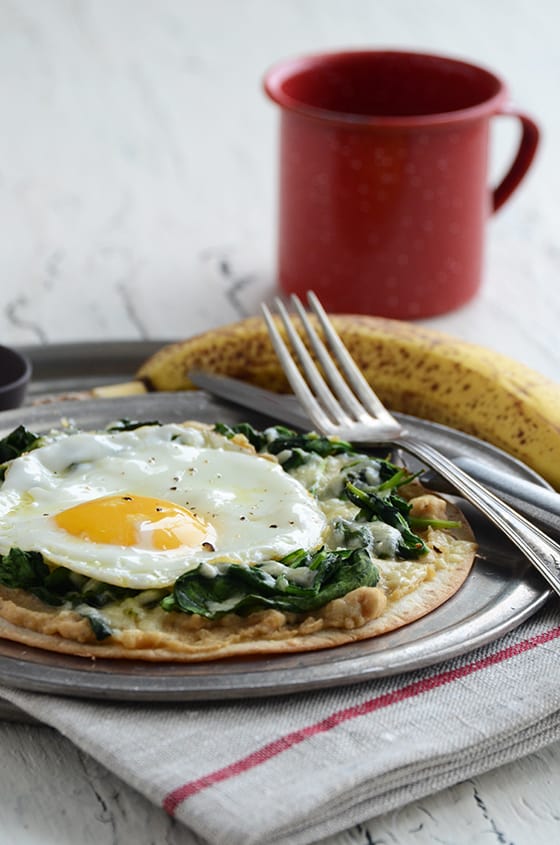 Side Note: See that pretty linen that's under the plate? It was a gift from a dear friend, the talented Lorraine from Not Quite Nigella – she has impeccable taste!
Then one day he ate a perfectly ripe banana – brown spots and all. He came up to me and announced that not only does it taste really good with brown spots, but he read somewhere that bananas with brown spots prevent cancer. It made no difference to me that I had read that and told him about it months ago; I was just happy he would now be helping me eat through our bananas once they turn ripe, instead of leaving them for me to either make banana bread with or freeze for smoothies (because there are only so many bananas I can eat myself!). Life-changing, lol.
I also sometimes get on a kick with a certain food – especially for breakfast – but my breakfasts usually vary a bit more than his do (except my pre-workout cottage cheese, which I never deviate from!). This breakfast tostada was something new for me; it was a meal that I really enjoyed (and I served it with a perfectly ripe banana on the side!). This dish is complete with a good amount of protein (hummus, cheese, egg, and even spinach!), and is a wonderful way to get an extra serving of greens in your diet in the morning (there's a full 3 cups of spinach wilted down!). Serve it with a piece of fruit for a well-balanced meal that will stick with you for at least four to five hours.
Back to bananas. People prefer them in all different stages of ripeness – I even know someone who will only eat them green! What color do you usually eat your bananas?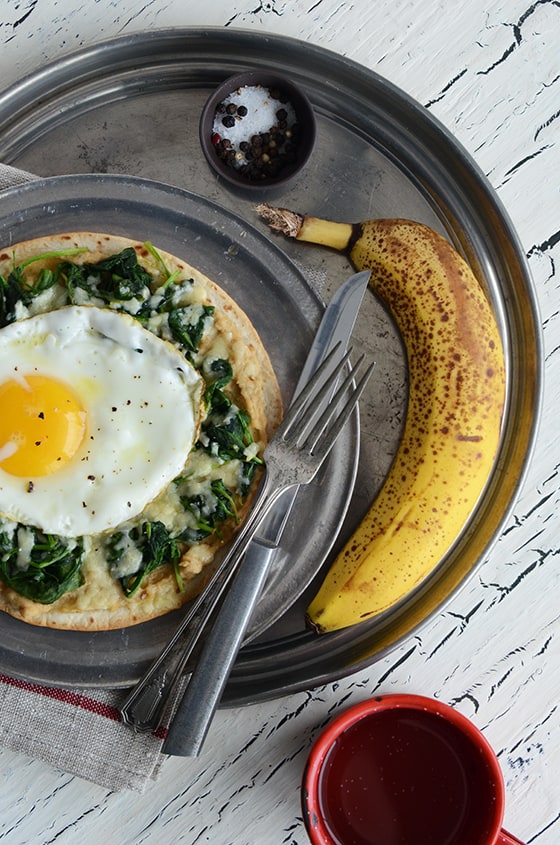 Ingredients
1 small (6 inch) soft flour tortilla (I used a Mission Fajita Super Soft Flour Tortilla)
1/4 teaspoon olive oil
4 tablespoons hummus or refried beans (I used Warm Caramelized Onion + Chickpea Spread)
3 cups (3 oz) lightly packed baby spinach
1 teaspoon water
1 pinch salt
1 pinch black pepper
1 oz (30 g) sharp cheddar cheese, shredded
1 large egg, cooked any way you want
Instructions
Preheat oven to 400F.
Brush the oil on one side of the tortilla and place the tortilla (oiled side down) onto a baking sheet; spread the hummus in an even layer on top.
Add the spinach to a medium-sized skillet over medium heat with the water, salt, and pepper. Cook until the water evaporates and the spinach wilts, about 1 minute, stirring constantly. Spread the spinach on top of the hummus, and then sprinkle on the cheese.
Bake until the cheese is melted and the tostada is warm throughout, about 8 minutes.
When the tostada is almost finished cooking, cook the egg however you want (I did sunny-side up!).
Place the egg on top of the tostada and serve immediately.
http://www.anediblemosaic.com/breakfast-tostada-with-spinach-hummus/
Disclaimer: I received the Mission super soft flour tortilla that I used in this recipe for free along with a sampling of their product; as always, opinions stated are my own.