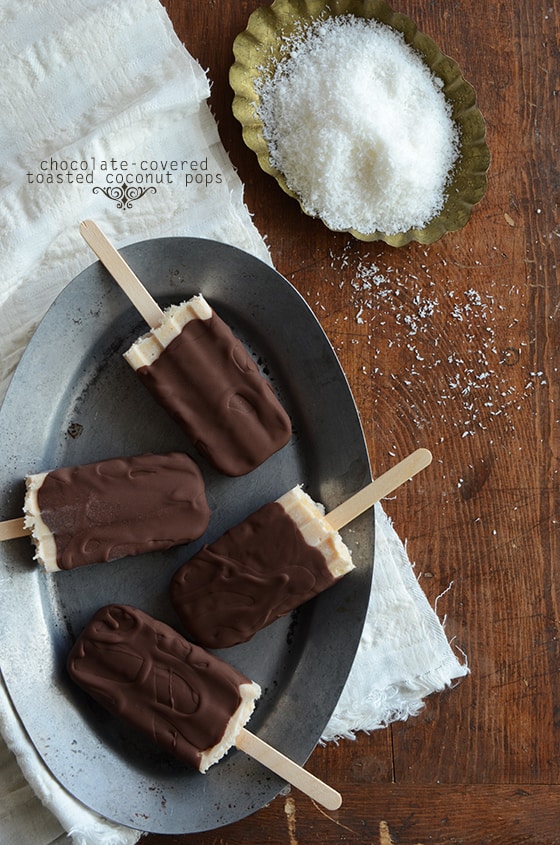 Most people I know use umbrellas in downpours.
Not me.
I always say I won't melt and shrug off the fact that I will inevitably look half-drowned after choosing not to use an umbrella; but the truth is I really can't be bothered with the trouble (which of course is really no trouble at all) of using one (although there's a quite large pretty black umbrella in my car at all times). I must be some kind of umbrella-phobe. Weird, right?
Now heat is another story. Coupled with high humidity, when temps over 85 hit me I actually do melt.
If you're anything like me, you probably spend summer with a minimum of two fans pointed at you on top of the AC running, an ice pack on your neck, a glass of ice water at the ready, and a stash of popsicles in the freezer. This is my ammo, and I use it to keep cool the same way normal people use umbrellas to stay dry (or at least drier) in the rain.
When the fabulous Billy from Wit & Vinegar invited me to take part in Popsicle Week, I jumped at the chance. (Remember when I told you it was one of my summer goals to share more of my frozen healthy treat recipes with you? I wasn't kidding.)

These pops are super satisfying if you have sweets on the mind. Toasting the coconut is what gives them a deep nutty flavor, so even though that takes the most time, don't skip that step! When you're eating them, you'll be happy you took the 20 minutes. To give you fair warning, these pops are all about the coconut in both flavor and texture; if coconut is your thing, you will love them.
The really fun thing about these pops is that the chocolate coating is nothing more than the two-ingredient Coconut Oil-Chocolate Magic Shell recipe that has been floating around the internet for a few years now (after I've played around with the ratios a bit so the recipe is exactly how I want it). (Side Note: The first time I saw the recipe for Coconut Oil-Chocolate Magic Shell was from Brownie Points via The Kitchn over five years ago.)
For those who aren't familiar with coconut oil, it melts at 76F, so when it hits a frozen popsicle it hardens immediately (because I wanted a thicker chocolate coating, I dipped more than once, and take note that subsequent dips after the first dip take longer to harden). When it hardens, it creates a beautiful crunchy chocolate shell. And really, what goes better with coconut than chocolate?
Of course you could go completely crazy with these if you want. You could dip the pops a few times (so the chocolate takes a little longer to set) and quickly before the chocolate sets, you could dip the chocolate in shredded coconut, chopped nuts, or sprinkles. I could see that being perfect birthday party food…instead of cake have a bunch of pops in the freezer ready to be coated with Magic Shell and dipped in whatever each person wants. The possibilities are endless and completely customizable.
I'm starting to think I could live off of popsicles. Anyone with me? ;)
A Note on the Popsicle Mold I Use: I've had a few people ask me lately about the popsicle mold I use. My favorite mold is the Progressive Frozen Pop Maker that I purchased on Amazon. I think it's the perfect shape for pops, and I've never had any trouble using it – the key to getting the frozen popsicles to slide right out of the mold is to briefly dip the bottom of the mold in hot water.
Ingredients
Toasted Coconut Pops:

1 1/2 cups (125 g) unsweetened desiccated coconut
1 (13.66 fl oz/403 ml) can full-fat coconut milk
1/4 cup (60 ml) pure maple syrup
1 1/2 teaspoons pure vanilla extract
1 teaspoon coconut extract (optional)
1/8 teaspoon fine sea salt

Chocolate Coating:

3/4 cup (150 g) chopped good-quality dark chocolate (see Note)
1/4 cup (55 g) coconut oil
Instructions
Preheat oven to 325F; spread the coconut out in an even layer on a baking sheet and bake until golden, about 15 to 20 minutes, stirring every 5 minutes or so. Cool completely. Whisk together the toasted coconut, coconut milk, maple syrup, vanilla extract, coconut extract (if using), and sea salt, and transfer to the fridge and chill until it has a porridge-like consistency, about 20 minutes.
Spoon the mixture into popsicle molds, making sure not to fill the molds over the "fill" line, since liquid expands as it freezes. (My molds are 2 1/2 oz/75 ml and I got exactly 8 popsicles.) Gently tap the mold a couple times on a hard surface to help any air bubbles escape, then insert the sticks.
Transfer to the freezer and freeze completely, about 3 to 4 hours, depending on the size of your popsicles and how cold your freezer is. To easily unmold the popsicles, dip the plastic bottoms in warm water and they should slide right out.
Once completely frozen and unmolded, lay the popsicles on a parchment paper-lined baking sheet and transfer to the freezer. To make the chocolate coating, melt the chocolate chips and coconut oil together in a medium bowl in the microwave or a double boiler; cool the chocolate mixture to room temperature, then dip each popsicle into it. Hold the popsicle up for a few seconds so the chocolate shell can harden, then lay it flat on the lined sheet tray. Continue this way until all the popsicles are coated.
Wrap each popsicle individually in plastic wrap and store in the freezer.
Notes
Chocolate: To keep this paleo and vegan, use dairy-free, stevia-sweetened dark chocolate.
http://www.anediblemosaic.com/chocolate-covered-toasted-coconut-pops-popsicle-week/
Disclosure: This post contains Amazon affiliate links to products I believe in, which means that even though it doesn't cost you anything extra, I will receive a small amount of money from the sale of these items, which helps me keep this site alive – thank you for helping to support An Edible Mosaic!