Sometimes spring is obvious (like when temps go from 35 degrees to 55 degrees overnight and melt three feet of snow), and sometimes it isn't quite so obvious (like when temps raise just a degree or two over the span of an entire month).
And then there are times when spring needs a little coaxing…like when it snows two feet in the span of two days at the end of March/beginning of April.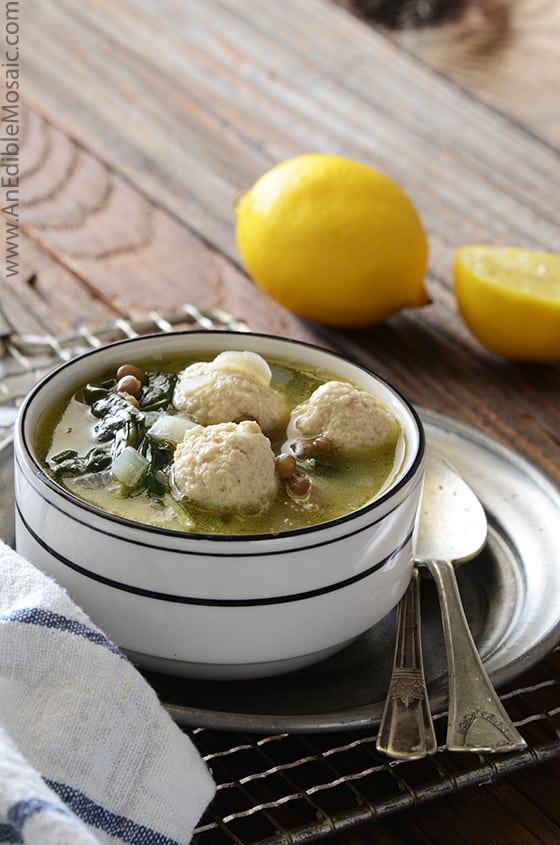 In a matter of hours, you can go from wearing a winter coat to just a t-shirt and jeans. And back again. It's not only hard to dress for the weather, but eating for the weather can be hard too. What to make when your body is starting to crave lighter meals with fresh components and bright flavors, but it's darn cold outside and you need to warm up?
This is perfect. It's soup, so warming up is a given. But because it's broth-based, features healthy ingredients like chicken and lentils, and is brightened up with spinach and fresh lemon juice, it just feels lighter, which makes it perfect for spring. Or at least simulating spring inside.
I wanted to keep this soup gluten-free, so I used almond meal and a bit of cheese as binders instead of breadcrumbs in the meatballs. It worked really well; however, if keeping the meatballs gluten-free isn't a concern, feel free to use breadcrumbs instead of almond meal. If dairy is not a concern, I definitely recommend keeping the little bit of cheese because it really enhances the flavor.
This soup is fantastic served with a nice squeeze of fresh lemon juice to brighten it up, but if you're in a comfort food mood, you can skip the lemon and go with a generous grating of cheese on top.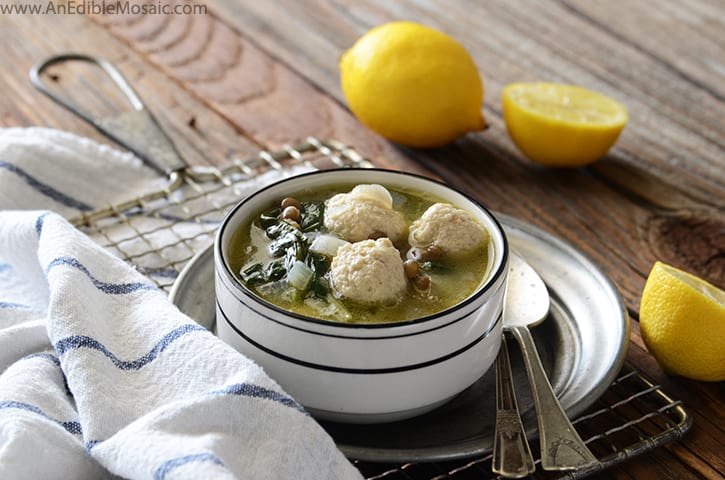 Ingredients
1 cup (210 g) dried brown lentils (or 1 1/2 (15 oz/425 g) cans no-salt-added brown lentils, rinsed and drained)
5 cups (1.2 L) water
2 tablespoons olive oil
1 large onion, chopped
3 large cloves garlic, grated on a microplane or crushed using a mortar and pestle, divided
5 cups (1.2 L) low-sodium chicken stock
1/2 teaspoon salt, divided
1/4 teaspoon black pepper, divided
1 lb (450 g) ground chicken breast
1 oz Egyptian Roumy Cheese, grated (or grated Pecorino Romano or Parmesan)
1 teaspoon Worcestershire sauce
4 tablespoons almond meal, plus a little more as necessary
6 oz (170 g) fresh baby spinach leaves
Fresh lemon wedges, for serving
Instructions
Sort through the dried lentils to remove any small stones or pieces of dirt, and then rinse with cold water in a colander. Bring the rinsed lentils and the water up to a boil in a lidded medium saucepan. Cover the saucepan, turn the heat down to a simmer, and cook until the lentils are tender but not mushy, about 20 to 30 minutes, stirring occasionally; strain. (Skip this step if you're using canned lentils.)
Heat the oil in a medium saucepan over medium-high heat; add the onion and sauté for 3 minutes, then add 2/3 of the garlic and cook 1 minute more, stirring constantly.
Add the chicken stock, 1/4 teaspoon salt, and 1/8 teaspoon black pepper, bring up to a boil, and then turn the heat down slightly to simmer.
Meanwhile, combine the ground chicken breast, remaining 1/3 of the garlic, grated cheese, Worcestershire sauce, almond meal, and the remaining 1/4 teaspoon salt and 1/8 teaspoon black pepper in a large bowl. Combine the mixture with your hands, being careful not to over-mix. You can add a bit more almond meal if necessary so that the chicken mixture forms little balls when pressed together.
Shape the chicken mixture into small balls (I use a 1 1/2 teaspoon-sized scoop) and drop the balls into the simmering stock. Cover and cook until the meatballs are cooked through, about 10 minutes.
Add the cooked lentils and cook until warm, about 1 minute, and then turn off the heat and add the spinach. Stir the soup until the spinach is wilted.
Serve the soup with fresh lemon wedges to squeeze on top, if desired.
http://www.anediblemosaic.com/lentil-soup-with-spinach-and-mini-chicken-meatballs-gluten-free/