This recipe for Fluffy Seltzer Water Pancakes with Quick Spiced Maple-Pear Compote makes a lovely festive brunch that comes together in less than 30 minutes.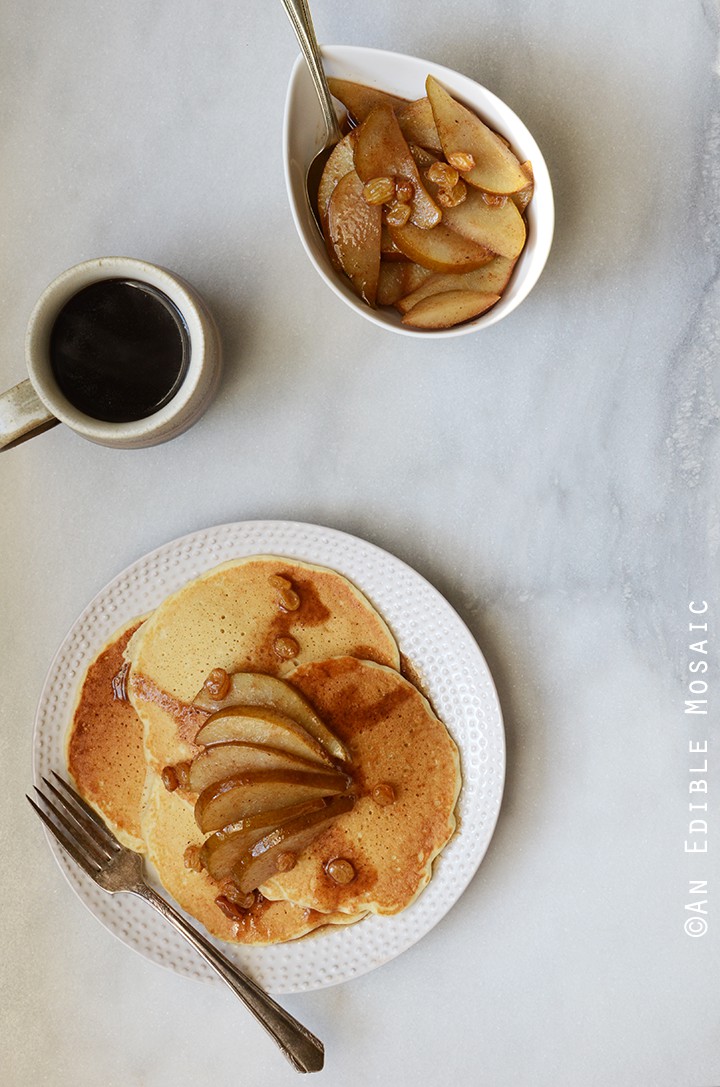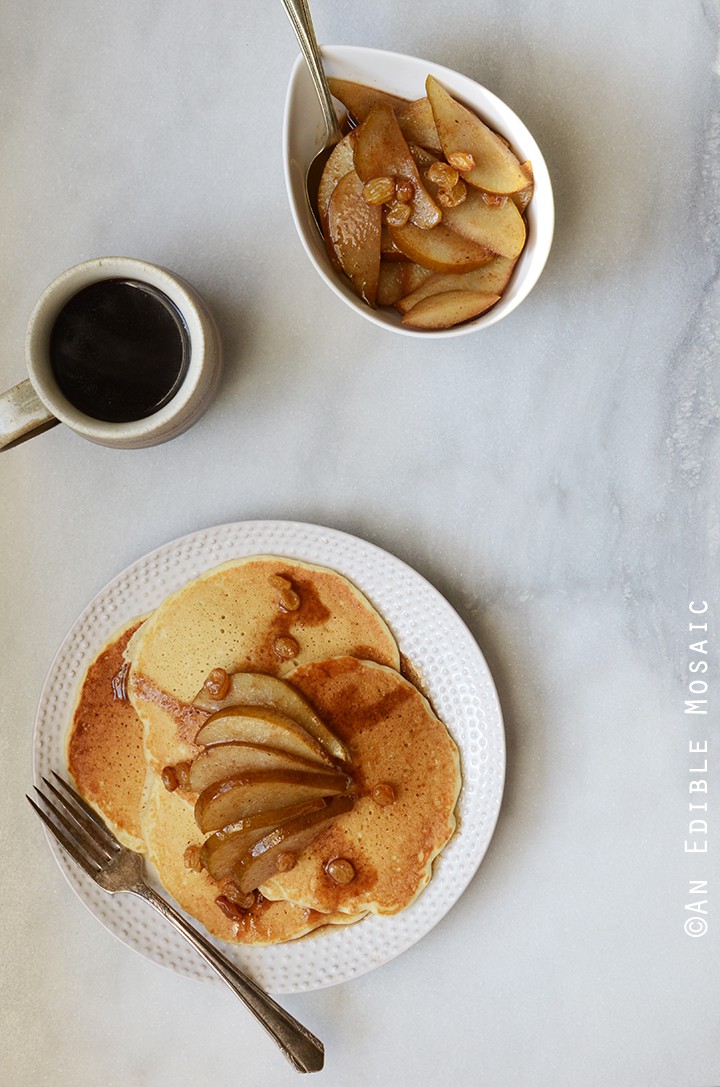 In my family, Thanksgiving Day eats are special from the very beginning. Dinner is served around 5 or 6pm, so we usually sit down to brunch mid-morning. Brunch is special, but always quick to make because of course dinner is the main event.
Sometimes a breakfast casserole will be on the brunch menu, like Cinnamon Bun Bread Pudding. Or sometimes eggs with toast and homemade Apple-Onion Chicken Breakfast Sausage. We've also had "Everything" Cheese Pastries with a quick fruit salad. But pancakes or waffles always seem to be everyone's favorite.
Pancakes occasionally get decked out with add-ins like chocolate chips, blueberries, or coconut flakes, or flavored of pumpkin spice or gingerbread. Other times, we just want a really great light and fluffy pancake recipe that can serve as a blank slate for topping with something special, like a quick homemade fruit compote.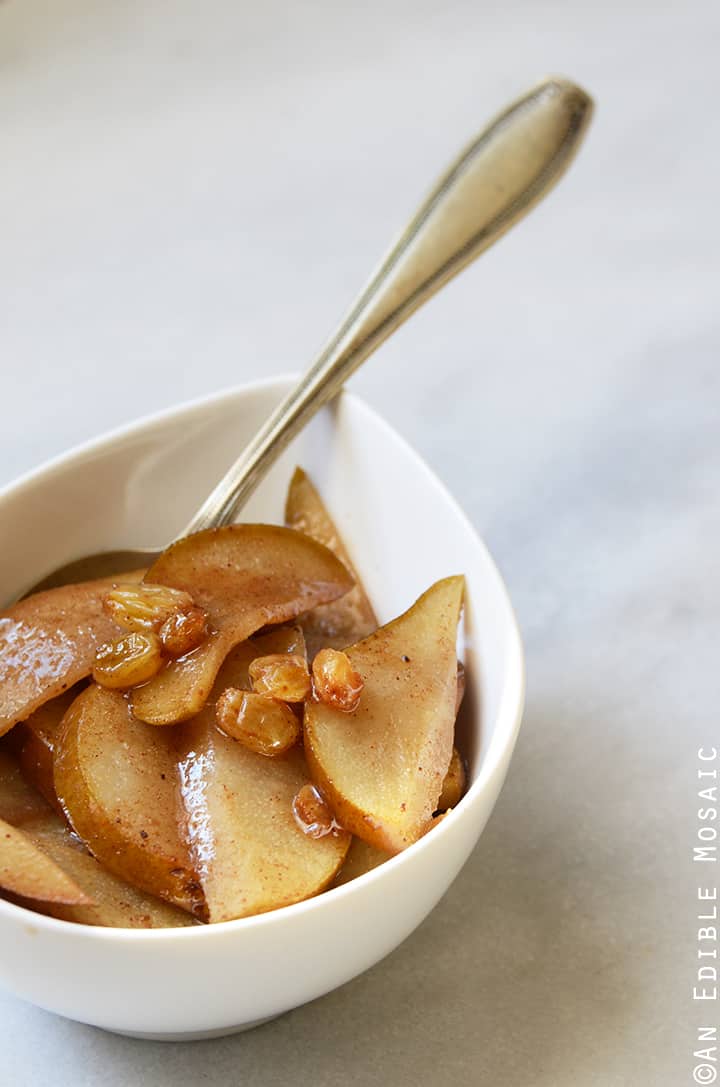 This pancake recipe yields light and fluffy pancakes every time. There are a couple tricks, but they're easy ones, I promise. First of all, be sure not to over-mix! That is the cardinal rule that people break when making pancakes. And secondly, don't skip the seltzer! You want the bubbles here.
In this recipe I used Vintage® Seltzer, which is free of calories, sugar, fat, and sodium. It's great for when you just want a little bubbly, even for cooking. I picked up a 12 pack of Vintage® Seltzer cans, which are convenient size for baking and cooking, and of course whipping up a festive mocktail as well. I found it in the beverage aisle that carries bottled and flavored water from my local grocery store; you can use the store locator to find where it's sold near you. And you can head over to this page if you'd like a coupon.
Do you have a go-to holiday brunch item or do you switch up the menu every year?
Fluffy Seltzer Water Pancakes with Quick Spiced Maple-Pear Compote
Prep time:
Cook time:
Total time:
Yield:
8 pancakes, about 3 to 4 servings
This recipe for Fluffy Seltzer Water Pancakes with Quick Spiced Maple-Pear Compote makes a lovely festive brunch that comes together in less than 30 minutes.
Ingredients
Quick Spiced Maple-Pear Compote:
2 medium firm pears, quartered, cored, and thinly sliced (I used Seckel pears)
½ cup (120 ml) water
2 tablespoons maple syrup
2 tablespoons golden raisins (sultanas)
1 tablespoon unsalted butter
¾ teaspoon pumpkin pie spice mix
1 pinch salt
½ teaspoon pure vanilla extract
Fluffy Seltzer Water Pancakes:
½ cup (120 ml) milk (I used 1%)
1½ teaspoons apple cider vinegar
1 large egg
1 tablespoon butter, melted
½ teaspoon pure vanilla extract
1 cup (128 g) all-purpose flour
1 tablespoon sugar
1 teaspoon baking powder
¼ teaspoon baking soda
¼ teaspoon salt
½ cup (120 ml) Vintage® Seltzer Original flavor
Instructions
For the compote, add the pears, water, maple syrup, raisins, butter, spice mix, and salt to a medium-sized skillet over medium heat. Bring to a boil and cook (uncovered), until the pears are tender and the liquid is syrupy, about 8 to 10 minutes, stirring occasionally. Stir in the vanilla and set aside.
Meanwhile, make the pancakes. Put the milk in a medium bowl and sprinkle the vinegar on top. Let it sit 3 minutes to curdle, and then whisk in the egg, melted butter, and vanilla. Whisk together the flour, sugar, baking powder, baking soda, and salt in a medium bowl. Whisk the milk mixture and the seltzer into the dry ingredients, being careful not to over-mix (a few lumps are fine and you don't want to mix out all the bubbles).
Preheat a griddle over medium heat. Once hot, scoop a slightly scant ¼ cup of batter onto the griddle and cook until golden on both sides, about 2 minutes per side, flipping once. Transfer the pancakes to a parchment lined baking sheet and cover with a clean kitchen towel to keep warm while you cook the remaining batter the same way.
Serve the pancakes warm with the pear compote on top.
Follow Vintage Seltzer on 
Twitter
, 
Facebook
, 
Pinterest
, and 
Instagram
, and tag @DrinkVintage on Instagram to receive a $1 off coupon!
I was selected for this opportunity as a member of Clever Girls and the content and opinions expressed here are all my own.