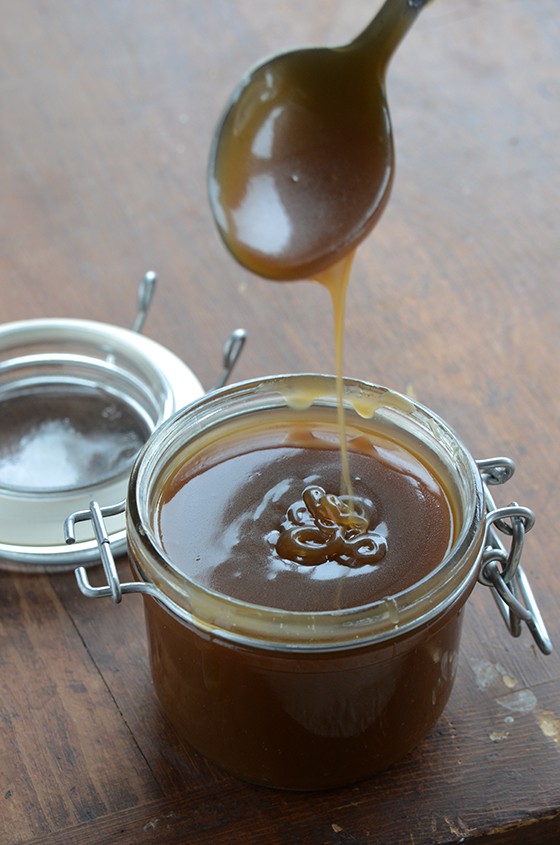 I know you're going to see this caramel and think I'm a liar.
You'll think it was made with naughty things heavy cream, white sugar, and bricks of butter.
I don't blame you; this caramel sauce is pretty amazing. Rich and golden, lusciously velvety. And I will tell you that it's sweet, but not cloyingly so, with a touch of salt, a subtle smokiness, and a hint of coconut. How could it be made with anything but those wicked (lol!) ingredients?
Looks are deceiving like that.
As it happens, there isn't a drop of heavy cream or a grain of white sugar, and there's only one tablespoon of butter in the whole recipe. Oh, and there is a vegan option as well. Be still my fluttering heart.
Just think of the possibilities with this recipe:
Coffee (Hello iced coffee season…and homemade frappuccinos!)
French toast, pancake, and waffle topping
Ice cream and frozen yogurt topping
Oatmeal, yogurt, and pudding topping
Fruit drizzle or dip (It's a perfect "fondue", especially after chilling in the fridge overnight – see the photo at the bottom of this post.)
Filling for homemade chocolate-caramel candies
Filling for sandwich cookies or layer cakes
Spread for toast
Pleasure that comes from eating it off a spoon
I would feel guilty about introducing you to this not-so-guilty pleasure right before beach season, but I don't. Reach for this caramel sauce instead of its cousin that's laden with heavy cream and white sugar, and I think you'll be just as satisfied.
Ingredients
1 (14 oz/400 g) can full-fat, unsweetened coconut milk
1/4 cup (60 ml) pure maple syrup or honey
1/4 cup (50 g) coconut palm sugar
1 teaspoon pure vanilla extract
1/2 teaspoon coarse sea salt
1 tablespoon unsalted butter
Instructions
Combine the coconut milk, maple syrup (or honey), and coconut palm sugar in a medium saucepan over medium-high heat.
Bring to a boil, then turn heat down so it doesn't boil over, and boil until thickened, dark amber in color, and reduced to between 1 to 1 1/4 cups, about 15 minutes, whisking frequently. (The cooking process is all about evaporating off the extra liquid. Because of this, it could take longer depending on the weather; I made mine on a dry day, but I would expect the cooking process to take a bit longer on a humid day.)
Turn off heat and whisk in the vanilla, salt, and butter until smooth.
Cool completely, and then use or store in lidded glass jar in the fridge for up to 3 weeks.
Notes
Recipe inspired by my recipe for Vegan Sweetened Condensed Coconut Milk.
Vegan Option: Use maple syrup (instead of honey) and use a vegan "butter" spread (instead of butter). If you go with a vegan "butter" spread, you may want to start with a bit less salt at first and add more to taste.
http://www.anediblemosaic.com/salted-coconut-caramel-sauce-paleo/
This sauce should keep for up to three weeks stored in a lidded glass jar in the fridge. After refrigerating overnight, it will thicken slightly and become opaque like the photo directly above (note that even after refrigerating this sauce does not need to be reheated to have a caramel sauce consistency; in fact, I don't recommend reheating it since this may change the texture). The other photos that show the caramel's darker color were taken on the same day it was made; either way it tastes amazing.