Have I ever mentioned that I went through a random egg-averse phase in college? Yup, it's true. I went four years without eating so much as a single egg on its own.
I think it was the sight/smell of eggs at the cafeteria on campus that turned me off to them because I went back to my previous egg-loving ways just about right after graduation.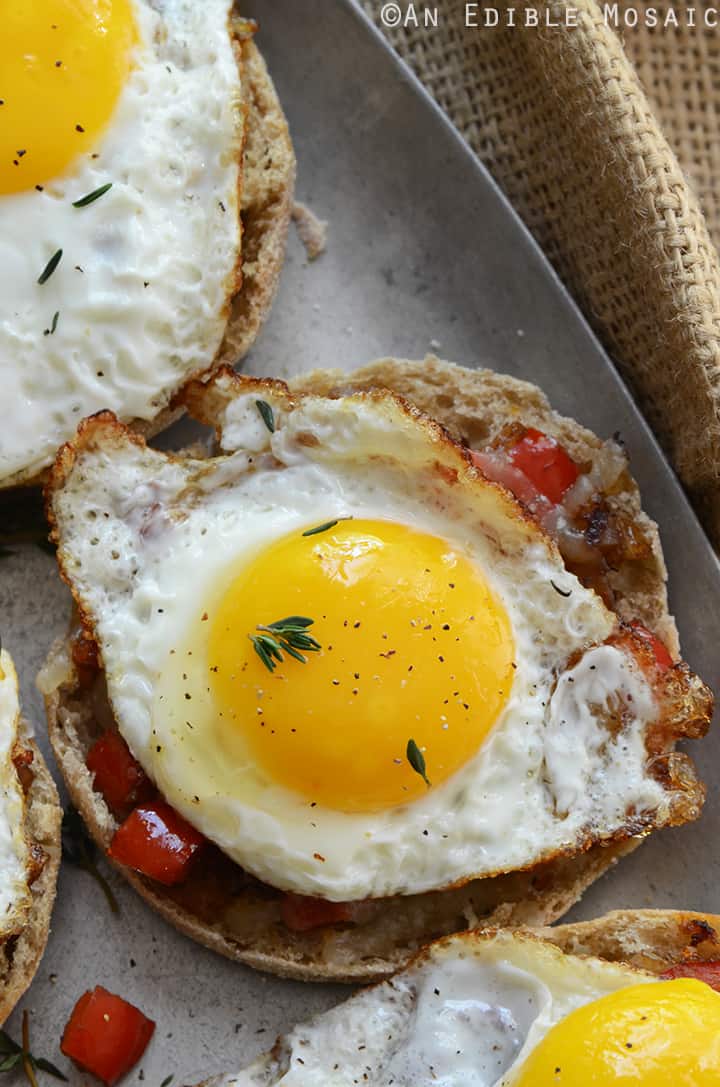 And I think almost every day since then I've been making up for my lack of eggs during that time. These days I'm game for eggs any meal of the day, any day of the week.
Let's talk brunch for a quick minute. One of the best things about a breakfast/lunch mélange is that it can easily go sweet or savory. Or better yet, you can subtly do both sweet and savory with a combo of naturally sweet veggies and savory spices. Top it with a sprinkle of cheese and runny egg yolk, and I can't think of a better way to celebrate brunch, especially when you add Cobblestone Bread Co. Wheat English Muffins.
My Cheesy English Muffins with Smoky Balsamic Red Pepper Compote and Fried Eggs is definitely special enough to serve for an occasion that deserves something special, but the fact that it's ridiculously easy to make will be our little secret. And to trim about half the cooking time off on the morning you want to make it, you can prepare the Smoky Balsamic Red Pepper Compote up to three days in advance (just keep it in the fridge until using, and FYI, you might want to make a double batch because it is also fabulous spread on sandwiches!).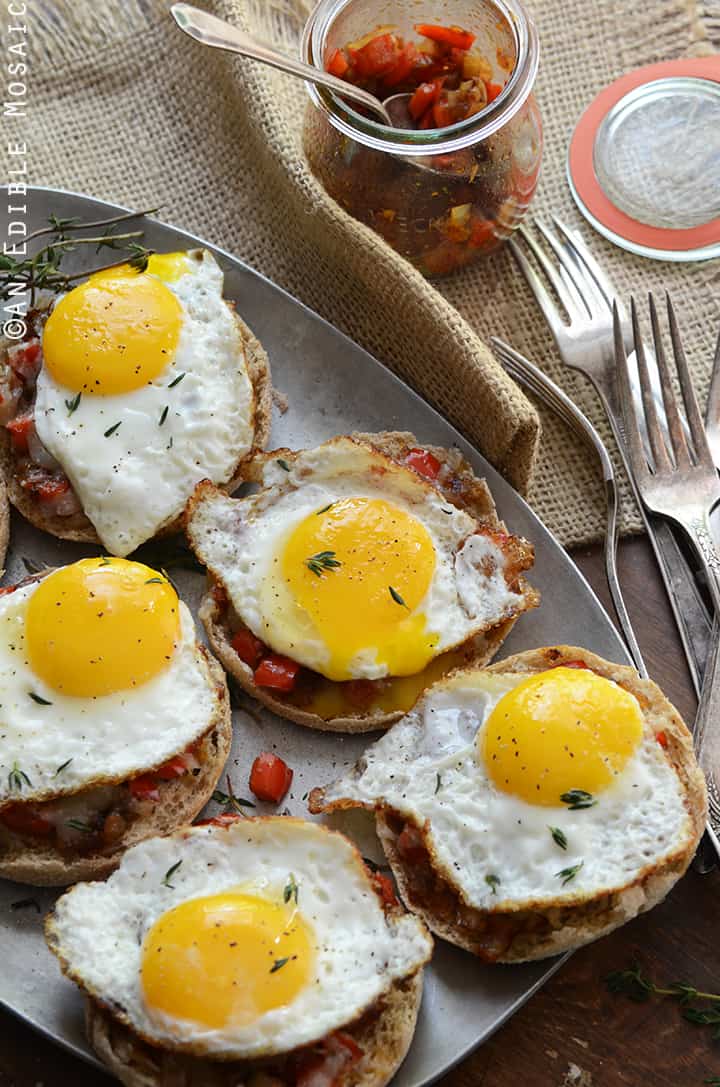 That's what happens when you use great-quality ingredients; an impressive meal becomes incredibly easy to put together!
Share with us…what's your favorite (impressive, but easy!) brunch dish?
For more inspiration, check out 22 Ways to Make Breakfast Exciting Again on Kitchen Daily!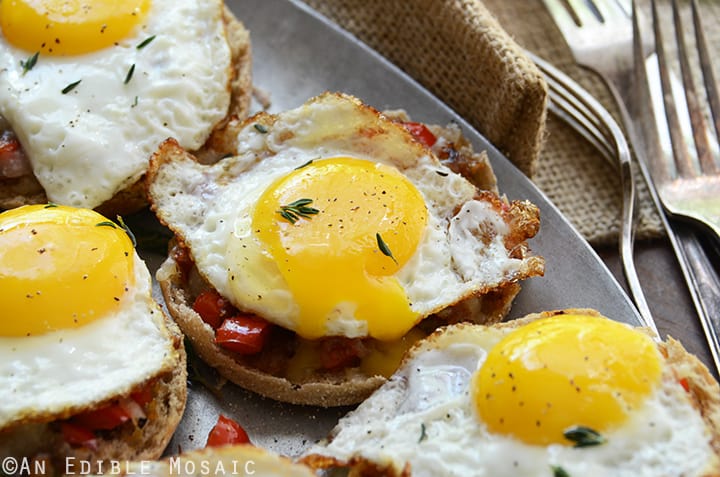 Cheesy English Muffins with Smoky Balsamic Red Pepper Compote and Fried Eggs
Prep time:
Cook time:
Total time:
Impress your brunch guests with this beautiful, easy to make egg dish!
Ingredients
Smoky Balsamic Red Pepper Compote:
2 tablespoon olive oil
1 medium red bell pepper, diced
1 medium yellow onion, diced
1 large clove garlic, crushed or grated
¼ teaspoon crushed red pepper flakes
¼ teaspoon smoked sweet paprika
¼ teaspoon fine sea salt
1 tablespoon good-quality balsamic vinegar
Other:
Instructions
Preheat oven to 375F.
For the compote, heat the oil in a large skillet over medium heat. Add the bell pepper and onion and cook until softened and starting to caramelize in spots, about 10 to 12 minutes, stirring occasionally and turning the heat down as necessary so the pan doesn't get too dry and start to burn. Stir in the garlic, crushed red pepper flakes, paprika, and salt and cook 30 seconds, then add the vinegar and cook 30 seconds more. Remove from the heat.
Spread 1½ tablespoons of the compote on each English muffin half and sprinkle the cheese on top. Place the English muffin halves on a baking sheet and bake until the cheese is melted, about 5 minutes.
Meanwhile, fry or poach the eggs.
To serve, place 1 egg on top of each English muffin half. Sprinkle a few fresh thyme leaves on top and serve immediately.
Disclosure: I received the Cobblestone Bread Co. product that I used in this recipe for free, and I also received compensation for this post from Cobblestone Bread Co. via AOL Media. I am happy for the opportunity to share brands that I believe in with my readers, and I hope you enjoy my recipe. As always, opinions stated are my own and are not indicative of the opinions or positions of Cobblestone Bread Co. or AOL.