Fresh cherries have flooded the markets and of course I wasted no time buying my share, which basically means that every time I'm out and about I pick up another bag (or two). 
(I've even been looking for errands to run just to have an excuse to go out and pick up some more…definitely a windfall for Mike, who not only loves cherries, but now views standing in lines at the post office and bank a thing of the past…at least until the end of cherry season. ;) )
So what do I do with all my loot?, you might be wondering.
In addition to eating fresh cherries by the fistful, I like to toss them into salads, roasted vegetables, or marinades, and also use them as a topping for ice cream, yogurt, cottage cheese, or oatmeal. They are also delicious added to a smoothie or even a bowl of cereal...and of course they're a beautiful addition to baked goods.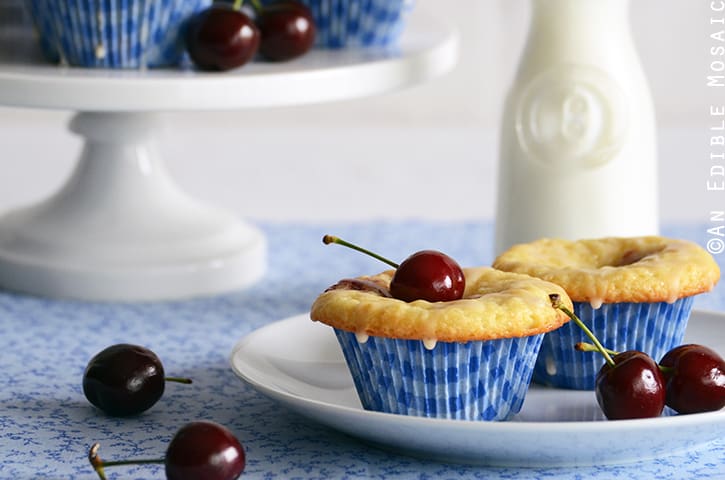 My inspiration for these little lovelies was a combination of cheese Danish pastries and my strawberry shortcake cupcakes. For these cupcakes, I decided to add sour cream to the cake batter (which was a slight adaptation of my recipe for classic yellow cake), and I filled the cupcakes with cream cheese and homemade cherry filling. I used fresh cherries to make the filling, but any kind of berries you like would be delicious; in a time crunch, store-bought preserves would also work well.
If you haven't tried sour cream cake I definitely recommend it…it's gloriously rich and moist with a very tender crumb. You could even make this cake on its own and glaze it with a simple vanilla glaze (recipe below), or serve it topped with fresh berries and whipped cream.
Cherry-Vanilla Cheese Danish Cupcakes
Prep time:
Cook time:
Total time:
Ingredients
Cherry Filling (Makes about 1⅓ cups total):
1 lb (about 3 cups) fresh or frozen sweet black cherries, pitted and halved
½ cup water
¼ cup sugar
2 tablespoons cornstarch, mixed with ¼ cup cold water to form a slurry
Sour Cream Cake:
1½ cups white sugar
½ cup canola oil
3 large eggs
1 cup light sour cream
2 teaspoons vanilla bean paste or pure vanilla extract
2 cups all-purpose flour
1½ teaspoons baking powder
¼ teaspoon baking soda
¼ teaspoon salt
4 oz cream cheese (low-fat is fine), cut into 18 pieces
Vanilla Glaze:
½ cup (2 oz) powdered sugar
2 teaspoons water
1 teaspoon pure vanilla extract
Instructions
For the cherry filling, in a small saucepan over medium heat, cook the cherries, water, and sugar (uncovered) until the cherries are softened, about 10 minutes, stirring occasionally. Add the cornstarch slurry and cook another 1 to 2 minutes, stirring constantly (the mixture will thicken). Cool to room temperature, then chill in the fridge while you make the cupcakes (it will thicken more as it cools).
For the cupcakes, preheat the oven to 350F and line a muffin tray with paper liners. With a handheld electric beater, beat together the sugar and oil, and then cream in eggs until light and fluffy (about 2 minutes). Beat in the sour cream and vanilla. In a separate bowl, mix together the flour, baking powder, baking soda, and salt. Gradually the stir dry ingredients into wet until just combined, making sure not to over-mix.
Fill each cupcake liner with about ¼ cup of batter (they should be about ¾ full). Add a scant tablespoon of cherry filling to each, and then add one piece of cream cheese, pushing it down slightly.
Bake for 20 to 22 minutes, or until golden around the edges and a toothpick inserted into a cupcake comes out clean or with just a couple crumbs.
Cool for 5 to 10 minutes in the tray and then remove to a wire rack to finish cooling completely before glazing.
For the glaze, in a small bowl, whisk together all ingredients, then drizzle over the cooled cupcakes.
Let the glaze set before serving.