If you're looking for a new treat for your holiday cookie platter, these Cranberry-Chocolate-Almond Thumbprint Cookies are perfect!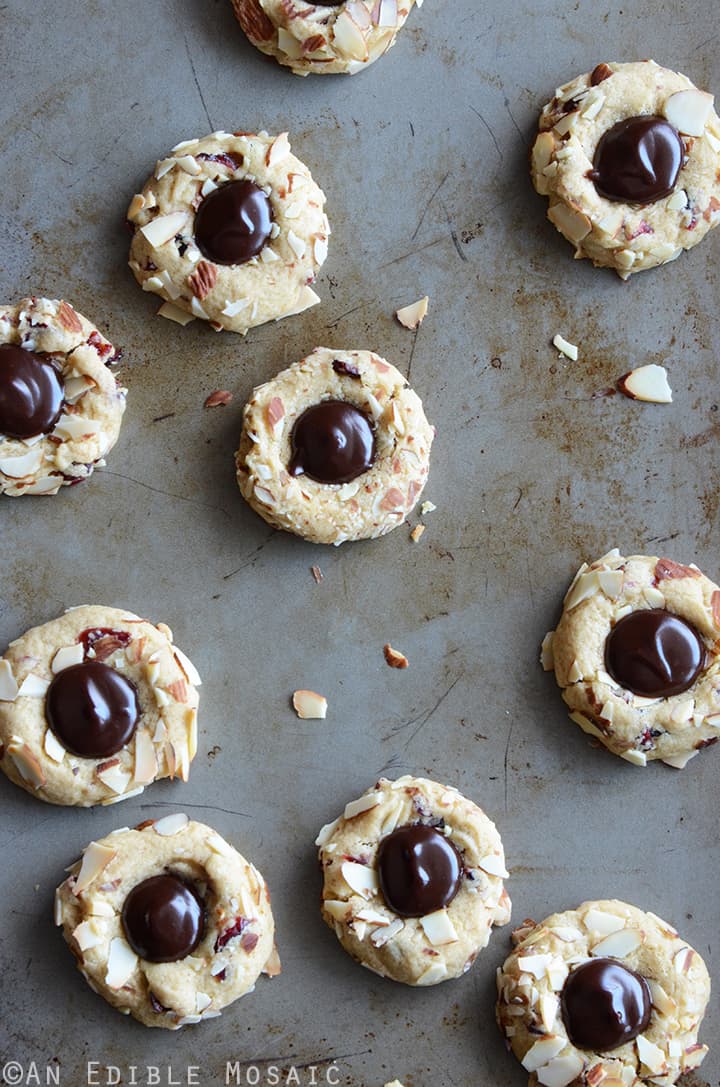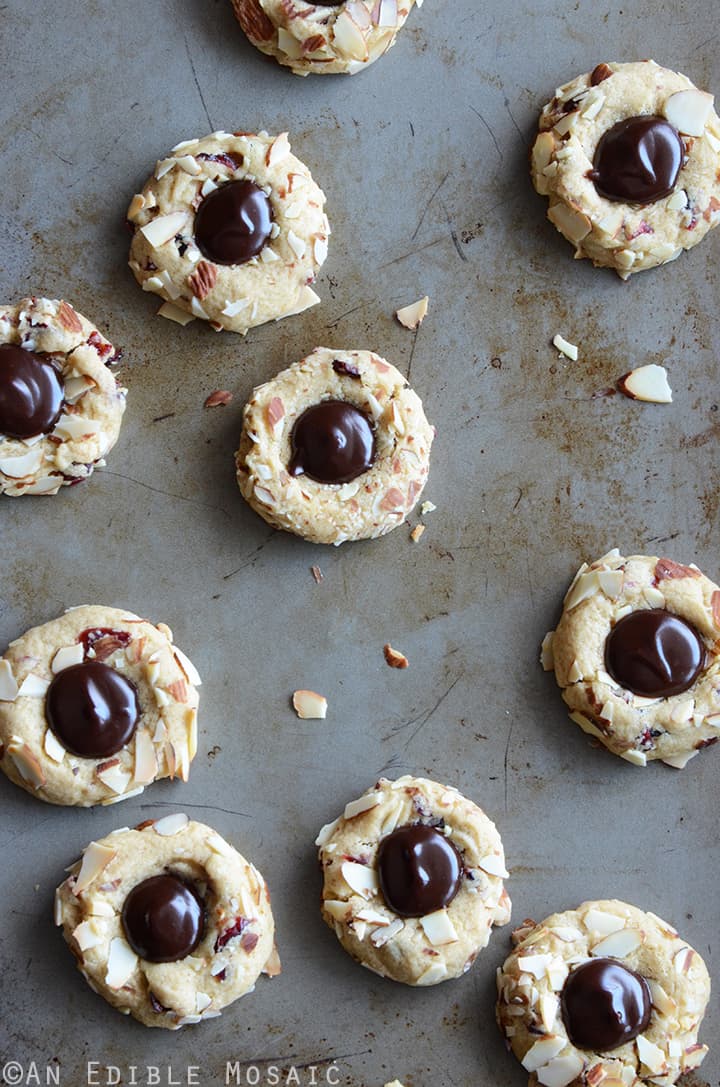 Things are about to get cookie crazy around here.
Ok, not really, but they should. And in a perfect world (read: where calories don't at all for the entire months of November and December), cookie crazy would be my life right now.
So instead of making festive cookies and candy round the clock, for the most part I'm whipping up holiday smoothies, making healthy homemade candy (like chocolate peanut butter cups and walnut fudge), and well, keeping my apple-a-day tradition alive. But there's a method to my madness. Ladies, I know you get me; if I'm good most of the time, it means I can splurge on occasion.
I'd call Thanksgiving a worthy occasion.
I don't know what your family usually puts out on our Thanksgiving dessert table. I'm going to wager a guess and say that some kind of pie (probably apple and/or pumpkin) is involved, and if not, then maybe pumpkin in another form. And then maybe a couple other smaller desserts, like homemade cookies or candy.
If that sounds about right, and you have about an hour to spare today or tomorrow morning, whip up these beautiful cookies. They're festive (with jewel-toned cranberries), but a little unexpected (with the addition of mahlab), and completely delicious. They'd be like shortbread if it weren't for the egg in the batter. They're not quite like regular chocolate chip cookies either though; I adore chocolate chippers, but only on the first day they're made. Not so with these little thumbprints. They stay fabulous stored in an airtight container at room temperature for up to a week.
And if you don't have time to whip them up for dessert tomorrow, just make them the next time you want to try a lovely new cookie. They are perfect for the holiday season!
Cranberry-Chocolate-Almond Thumbprint Cookies
Prep time:
Cook time:
Total time:
Yield:
About 2½ to 3 dozen cookies
Ingredients
½ cup (110 g) light brown sugar, lightly packed
4 tablespoons (57 g) unsalted butter, slightly softened but not melted
1 teaspoon pure vanilla extract
1 large egg
1¼ cups (160 g) all-purpose flour
½ cup (40 g) dried sweetened cranberries, chopped
¼ teaspoon salt
¼ teaspoon mahlab (see Note below)
½ cup (60 g) sliced almonds, coarsely chopped
⅓ cup (65 g) good quality semisweet chocolate chips
1 tablespoon butter, diced
½ tablespoon milk
Instructions
Preheat oven to 350F; line 2 large baking sheets with parchment paper or silpat liners.
Cream together the sugar and butter in a large bowl; beat in the vanilla and egg until light and fluffy. Stir in the flour, cranberries, salt, and mahlab.
Cover the dough with plastic wrap and chill briefly until it's stiff enough to roll into balls, about 15 to 20 minutes.
Pour the chopped almond into a shallow bowl. Use a 1 tablespoon-sized scoop to measure out the dough; roll the dough into balls and then lightly roll them in the almond (don't overdo it with the almond; you don't need to completely coat the cookie).
Arrange the cookies about 1 inch apart on the prepared sheets. Gently press your thumb into the center of each to create an indentation.
Bake until the cookies are set and light golden on the bottom, about 10 to 12 minutes, rotating the trays once.
Immediately after removing from the oven, use the rounded side of a 1 teaspoon-sized measuring spoon to re-form the indentation in each cookie. Cool completely.
Once cool, melt the chocolate in a microwave or double boiler; stir in the butter until melted, and then stir in the milk.
Spoon about ½ teaspoon of the chocolate into the well in each cookie. Let the chocolate set before serving.
Notes
Where to Find Mahlab: This spice is available at Middle Eastern grocery stores, specialty spice shops, and many gourmet food stores…and I've even seen it at Penzeys Spices.
Recipe updated November 30, 2013, with special thanks to Carolyn T of Tasting Spoons.