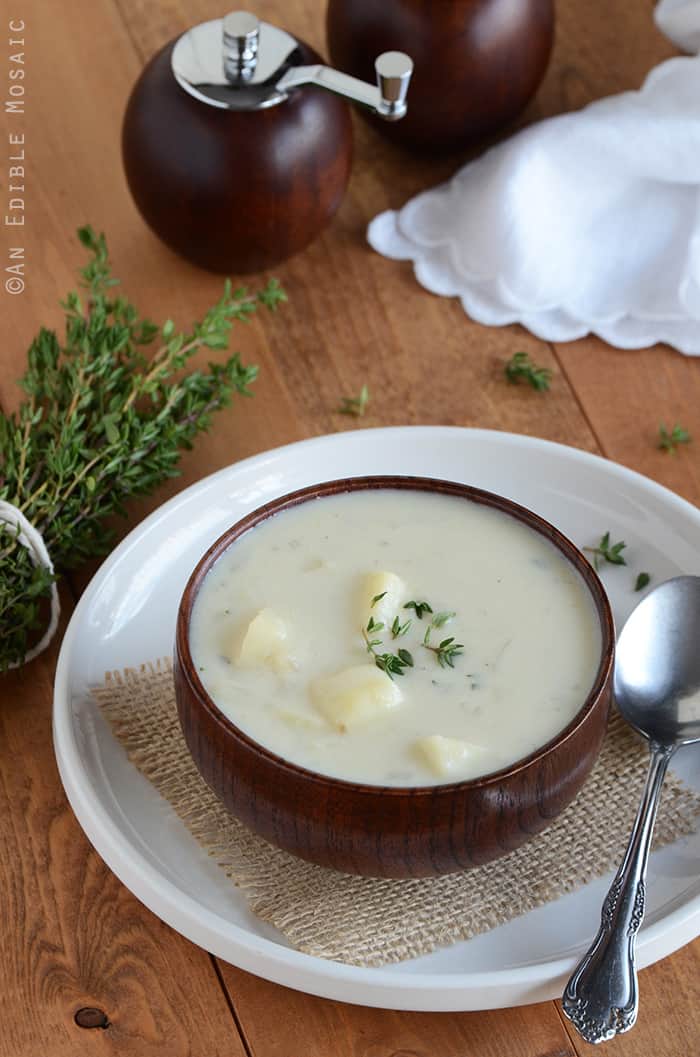 I am always amazed at how good onion and garlic sautéing in a little butter smell.  Not only is this the start to almost every incredible recipe, but its enticing aroma permeates the whole house and makes people wonder just what delicious magic you're brewing up.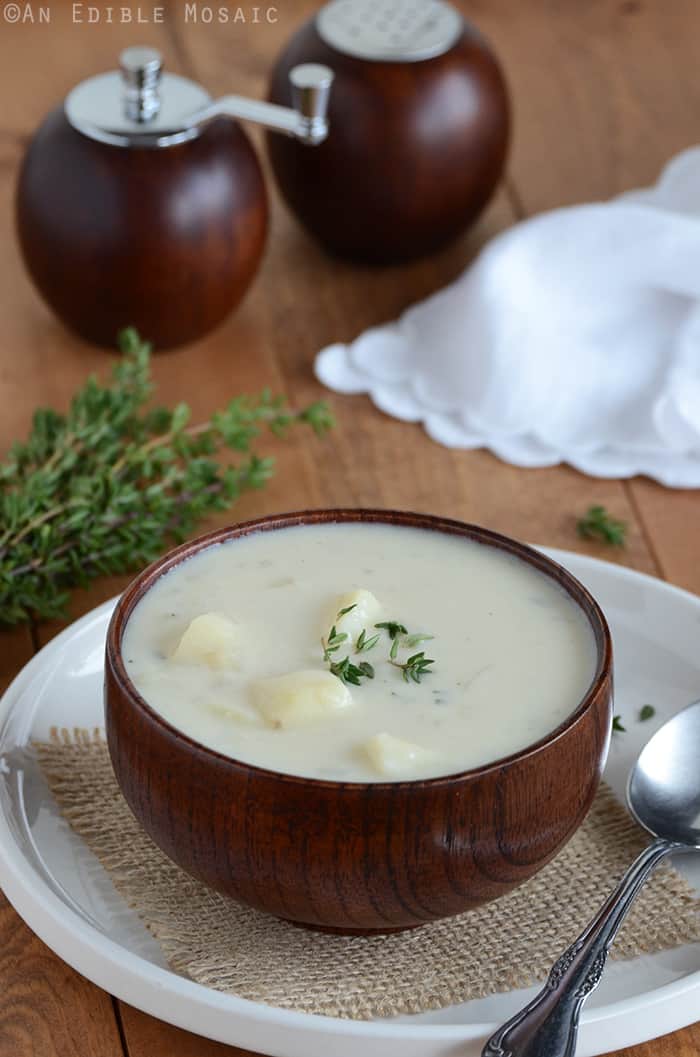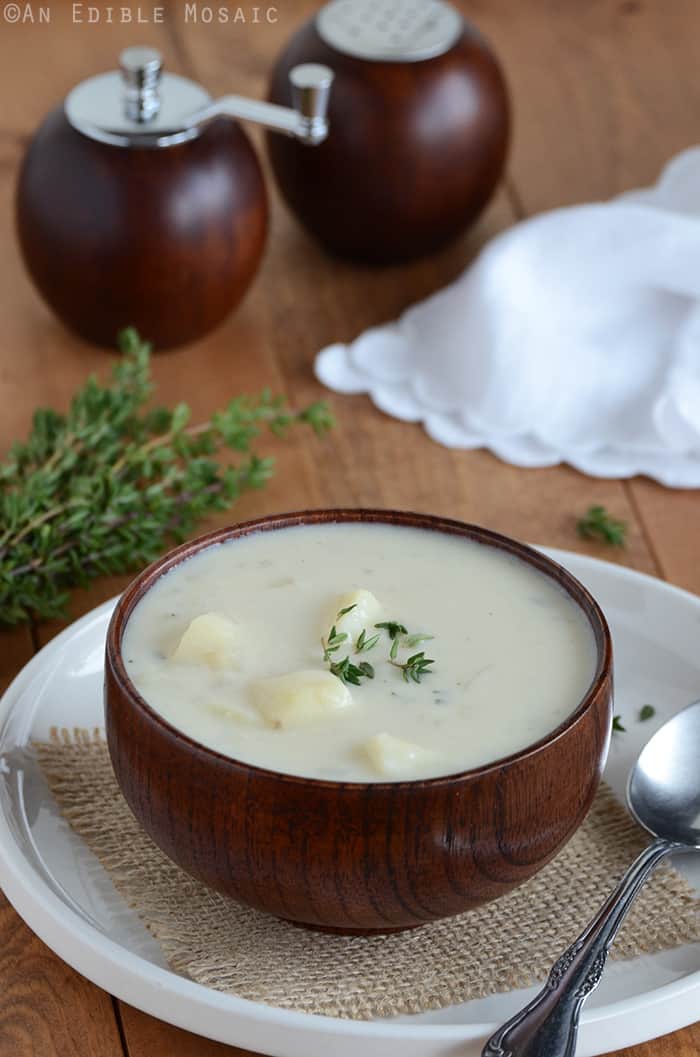 I can't even remember how many times Mike has come home when I'm sautéing onions and garlic and said, Wow, it smells great in here…what are you making?  It's almost embarrassing to say that it's just onion and garlic!
This soup highlights the flavor of sautéed onion and garlic, and pairs that with creamy potato and a sprinkle of fresh thyme to brighten everything up.  It's a winter cure-all, really.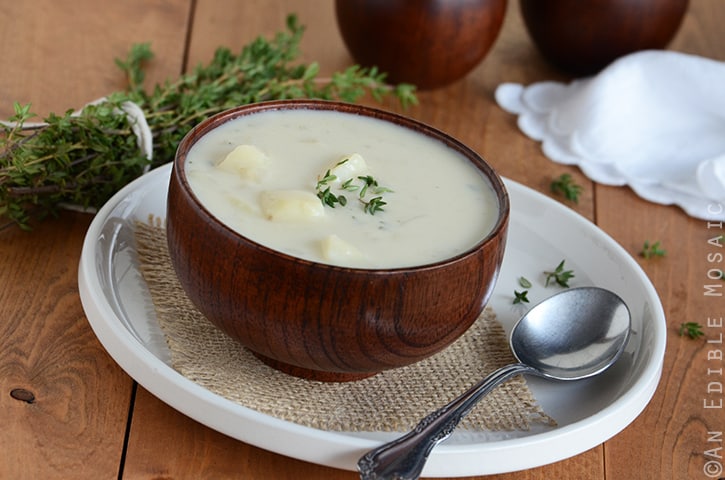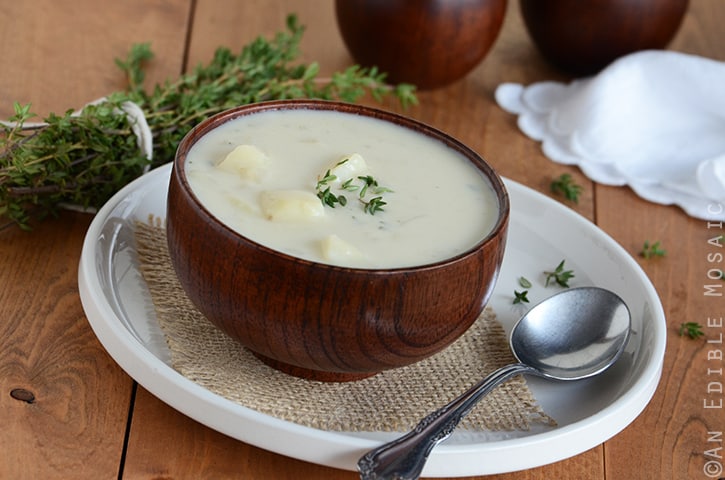 Creamy Potato Onion Soup
Prep time:
Cook time:
Total time:
Ingredients
3 medium potatoes (about 1 lb), peeled and cubed
3 tablespoons all-purpose flour
3 cups milk (I used 2%)
2 tablespoons canola oil
1 tablespoon unsalted butter
2 medium onions, diced
2 large cloves garlic, minced
2 teaspoons minced fresh thyme leaves
2 cups low-sodium vegetable stock
1 bay leaf
¾ teaspoon salt
⅛ teaspoon black pepper
Instructions
Put the potatoes in a medium pot and cover with cold water by about 2 inches; heat over medium to medium high heat until the water boils, then turn the heat down to medium-low and cook the potatoes just until fork-tender, about 5 to 7 minutes. Drain the potatoes and set aside.
Whisk together the flour and milk in a small bowl and set aside.
Heat the oil and butter in a medium saucepan over medium heat; when the butter is melted, add the onion and cook until soft and just starting to brown, about 5 to 7 minutes, stirring occasionally. Add the garlic and thyme and cook 1 minute, stirring constantly.
Add the stock, bay leaf, salt, and pepper and bring to a simmer.
Add the milk/flour mixture and bring up to a boil, whisking frequently. Once boiling, cook 1 minute, whisking constantly, then turn off heat and stir in the potatoes.
Use a potato masher to mash a few of the potatoes in the soup (if you want a completely smooth soup without any pieces of potato you can puree the soup using a blender, food processor, or immersion blender).
Taste and season with additional salt and pepper as desired; serve.