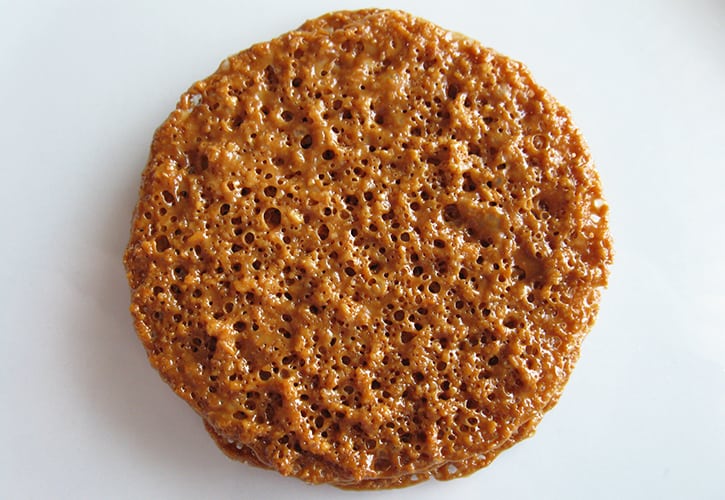 The first time I had these cookies was last Christmas when my husband ordered them from an online bakery after one of his friends suggested them. They might not look like anything spectacular, but I'm telling you, these cookies are addictive. They have a nutty, caramel flavor and when you add a drizzle of chocolate (or sandwich two of them together with chocolate), they will have you coming back for more…which may or may not be a good thing.
Anyway, after having them for the first time, I was on a mission to find the perfect recipe and make them myself.
I found this recipe on the Food Network and at first the only adaptation I made was to omit the orange zest. (I forgot to buy an orange…it worked out okay though, since I'm actually not a huge fan of the chocolate/orange flavor combo.)
Although the end result was melt-in-your-mouth amazing and lovely to look at as well, I had a major mishap while making these. I made the batter and let it sit to cool as instructed. Then when it was cool enough to handle, I went to scoop it and it was hard and crumbly! I scooped the batter into little crumbly balls and baked the first tray like that, thinking that perhaps it was how the batter was supposed to be.
It turns out I couldn't have been more wrong…the cookies held their "ball" shape and didn't flatten out or turn caramel colored. I have no idea what I could have done wrong, but it must have been something important! In an attempt to save the cookies I added water to the batter. I actually ended up adding quite a bit of water (I didn't measure but I think it was around 1/3 cup), so that in the end the batter had a consistency like Cream of Wheat. I re-scooped the batter and baked the cookies and (very surprisingly!) they came out perfect.
Once the batter has been "saved" (by adding water), it will resemble Cream of Wheat porridge.
Compared to many cookie recipes, these are a bit more time-consuming to make, but they are definitely worth the work. They're gorgeous. Delicate, thin, and crispy, with a nutty, caramel/butterscotch flavor…and the chocolate really makes the perfect addition!
Florentine Lace Cookies
Yield:
About 5 dozen 3-inch cookies, or 2½ dozen 6-inch cookies
Ingredients
1¾ cup (about 5 oz/140 g) sliced, blanched almonds
3 tablespoons all-purpose flour
¼ teaspoon fine salt
¾ cup (150 g) white sugar
2 tablespoons heavy cream
2 tablespoons light corn syrup (see Note below)
5 tablespoons (70 g) unsalted butter
½ teaspoon pure vanilla extract
Water, as necessary to "save" the batter
2-4 oz (60-120 g) semisweet chocolate, chopped
Instructions
Place a rack in the center of the oven and preheat the oven to 350F; line a baking sheet with a silicone baking mat or parchment paper.
In a food processor, pulse the almonds until finely chopped, but not pasty. In a bowl, stir together the powdered almond, flour, and salt.
In a small saucepan, add the sugar, cream, corn syrup, and butter and cook over medium heat (stirringly occasionally) until sugar is dissolved and it comes to a rolling boil; once boiling, continue to boil for 1 minute. Turn off heat and stir in the vanilla.
Pour the liquid sugar mixture into the dry almond mixture and stir to just combine. Set aside for 30 minutes or until cool enough to handle. (At this point I needed to add water so that the batter took on a "Cream of Wheat consistency". The amount needed will vary, so you will have to use a bit of finesse; see the photo above for guidance.)
Scoop scant teaspoonfuls (I used just over ½ teaspoon and it worked well…the cookies ended up being about 3 inches in diameter) of batter onto the prepared baking sheets, leaving about 4 to 5 inches between each cookie because they spread out a lot.
Bake one pan at a time (this is the Food Network's recommendation), until the cookies are thin and an even golden brown color throughout, about 8 to 10 minutes, rotating the pan after 5 minutes. (Make sure that the cookies are browned throughout before removing them from the oven…otherwise they won't have the desired crispy texture.)
Once the cookies are out of the oven, slide the silicone mat or parchment paper off the baking sheet and allow the cookies to cool completely before removing from the parchment/silicone. Continue this way until the batter is gone.
Melt the chocolate either in a double boiler or in the microwave. You can drizzle the chocolate on top of the cookies or sandwich it between two cookies (don't sandwich too much chocolate in between the cookies because it will ooze out). Allow the chocolate to set before storing.
Store in an airtight container at room temperature.
Notes
Recipe adapted from
Food Network's Florentines recipe
.
Substitutions for Corn Syrup:
You could probably use golden syrup or honey in place of corn syrup in this recipe.