Healthy packed lunches are easy to whip up and don't have to be boring!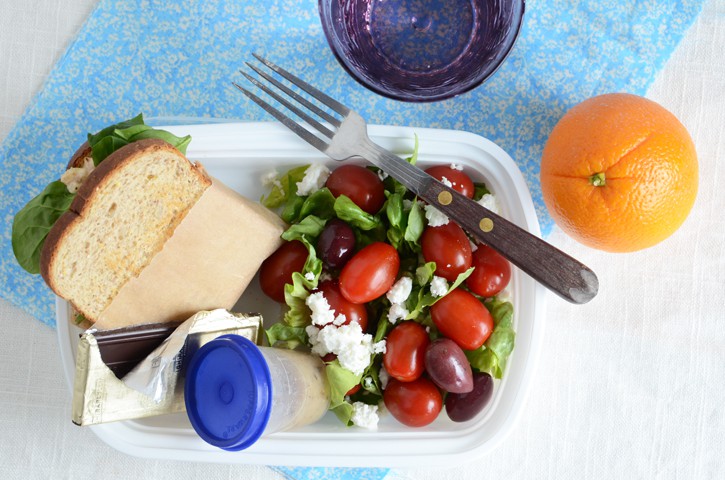 There's no avoiding packed lunches.  Most of us make them on almost a daily basis, either for ourselves, our spouses, or our kids.  I'm a big advocate of eating at home or packing a lunch rather than eating out during the week (at least most of the time), because not only does it save money, but it also makes it easier to eat healthier.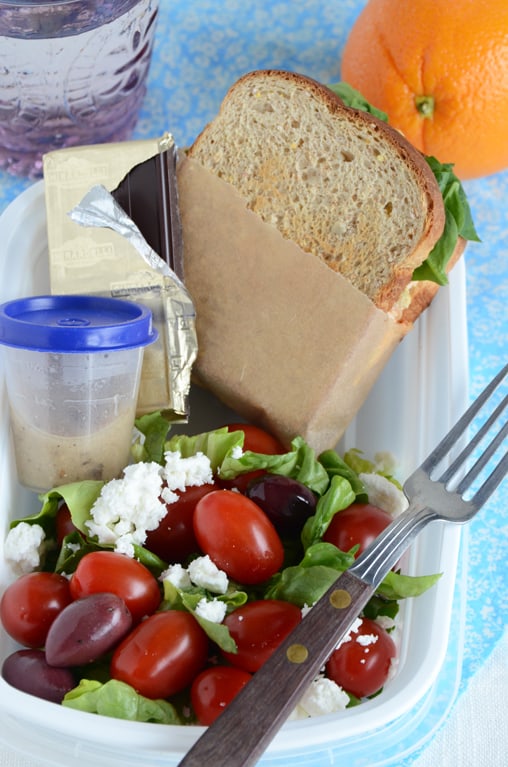 If you're looking for new healthy ideas to spruce up your lunchbox, 22 Healthy Lunch Ideas by Cooking Light is a gem of an article.  It offers healthy meal suggestions, like Spelt Salad with White Beans & Artichokes (I love spelt – also called faro – but I have bulgur wheat and wheat berries on hand and I'm thinking of using one of them as a substitute to make this), Little Italy Chicken Pitas (the flavors in these pitas – balsamic vinegar, sun-dried tomato, garlic, and basil, to name a few – sound fantastic and the name really makes me miss NYC!), and Fresh Tomato Soup (it has been way too long since I've packed a thermos for lunch!  For some reason, I lean towards cold packed lunches and forget that it really isn't any harder to pack a hot lunch).  The article also has quite a few lunchbox tips on nutrition, using up leftovers, and smart packing.
Here's the breakdown of what was in my healthy lunchbox, which included lean protein, a serving of whole grains, a serving of vegetable, a serving of fruit, healthy fats, and a little something special…
Sandwich:  Tuna Salad (Made With Greek Yogurt, Herbs, and Spices) With Spinach on Multigrain Bread
Protein:  I chose tuna because it's a great source of protein (just be sure to buy your tuna from a sustainable fishery, such as American Tuna…or you can make a Vegetarian Mock "Tuna" Salad).  I also like chicken breast or even hummus spread on a sandwich.  Whole beans (like chickpeas) work well in wraps since they don't fall out as much as they do in sandwiches.  Lean, low-sodium turkey from the deli is also a favorite of mine.
Bread:  I used two small slices (about 50 calories each) of multigrain bread.  (Why not get a serving of whole grains in, right?)  I also like to use whole grain wraps or pitas.
Veggies:  Here I kept it simple with just some spinach because I had a salad on the side, but you can add any veggies you want to your sandwiches.
Condiments:  Using Greek yogurt, herbs, and spices to make the tuna salad packs a lot of flavor with minimal calories and fat.  (Greek yogurt also adds more protein!)  Mustard is also a great choice.
Side #1:  Veggies 
Veggies:  I made a little side salad with lettuce and grape tomatoes, but any raw veggies you like will work.  In general, veggies are the only component of my salads that I don't measure or keep an eye on how much I'm adding.  I try to use other things sparingly (like cheese, nuts, and dressing), since it's easy to rack up calories and fat with these things.
Healthy Fat:  I added three olives and dressed the salad with one serving of olive oil vinaigrette.
Other Additions:  I added one tablespoon of feta cheese, which added the perfect amount of extra flavor.
Side #2:  Fruit
I had an orange, but any whole, raw fruit is good.  I actually saved this for a mid-afternoon snack since I was pretty full after my sandwich and salad.  (And I needed to save room for my chocolate.  ;) )
Dessert:  Dark Chocolate
This is my indulgence of choice.  I usually go for somewhere around 70% cacao because I like it deep and dark (and it's a complete windfall that dark chocolate is full of antioxidants and reported to be heart-healthy; for more info on the health benefits of dark chocolate, see WebMD, Cleveland Clinic, or About.com Longevity).  The best thing about dark chocolate is that two little squares like this usually keep my cravings for sweets at bay for the remainder of the day.
To Drink:  Water 
I'm a water junkie.  It is my beverage of choice; to me, absolutely nothing quenches my thirst and refreshes me like water.  I use other beverages (like tea or coffee) to suppliment my water when I want to change it up a little.
What are some of your favorite things to pack for lunch?