This paleo version of Korean Barbeque Beef (Bulgogi) is super flavorful and comes together fast enough for a weeknight dinner.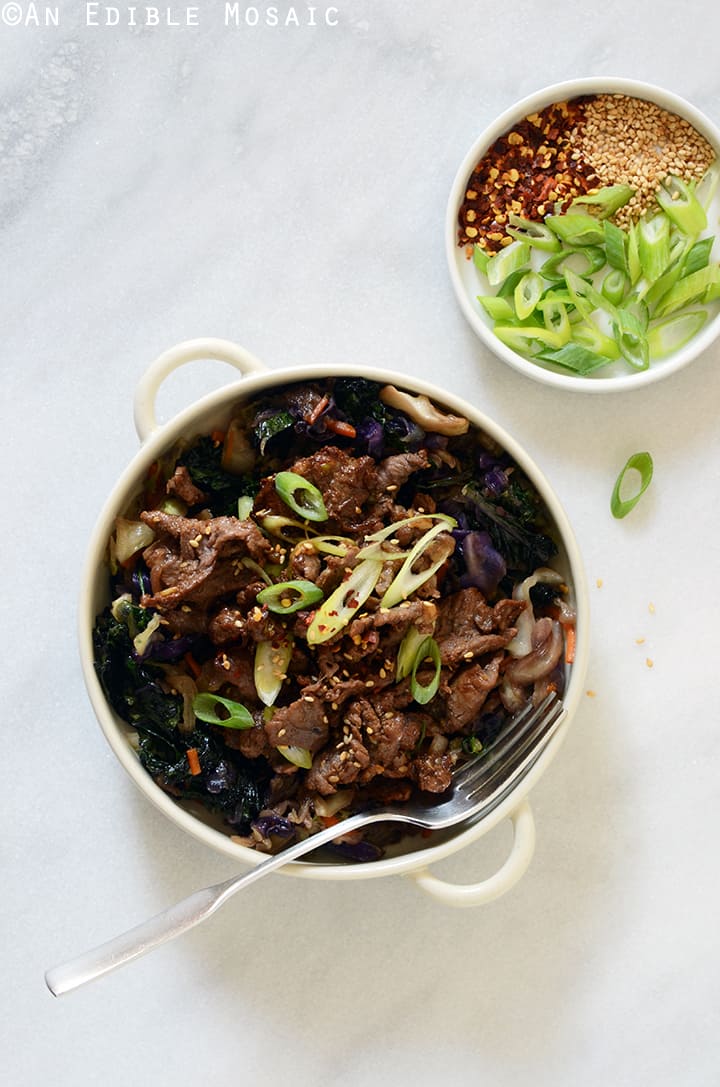 I can't remember whether or not my mom consciously taught me how to cook. I think it was more a case of her cooking family dinners for us every single night (on weeknights things like fish, broccoli, and rice or beef goulash or BBQ chicken with pasta salad and greens beans, and on weekends things like roast chicken or pot roast), and me watching her in the kitchen.
Of course I also learned from a variety of other sources (TV, magazines, friends, etc.), but I credit my mom with laying my foundation for and expectation of good food.
I can relate when Chef Thomas Gosney talks about his fond memories of time spent as a child in the kitchen with his grandmother and the comfort foods he enjoyed growing up in Pennsylvania Dutch country. Growing up with the opportunity to spend time in the kitchen watching your loved ones cook is an experience like no other. I'm excited to be featuring Chef Gosney in this month's installment of A Happier Healthier You 2015.
Chef Gosney has had a pretty impressive career. He has extensive experience working as an AAA Five Diamond Chef, and has also had multiple nationwide TV appearances. He has worked as a private chef for high-end clients with vast nutritional needs, and his clientele includes Shaquille O'Neal during his championship career. After frequently being asked for cooking advice, Chef Gosney is sharing detailed step-by-step cooking techniques in his cookbook Method of Procedure, which I think is a great tool for people who want to learn how to cook instead of just learning a specific recipe.
Chef Gosney was kind enough to answer a few questions for us…
1. For someone just learning how to cook, what cooking method (or methods) should they learn first?
Stocks and soups; breads and cakes; how to sear meat and cook it properly, letting it rest the proper time.
2. What method of cooking takes the most practice and patience to master?
Braising takes time and practice. Baking is an exact science and will take some patience. Soufflés can be tricky at first.
3. What healthy foods or meals are in your repertoire for nights when there isn't much time to cook?
Fish is quick and easy and doesn't usually take more than 10 minutes to prepare. Salad dressings can be made in a blender in no time and paired with anything you have in the refrigerator.
4. What were your favorite foods growing up in Pennsylvania Dutch country? 
Chicken Corn Chowder is great comfort food especially on a cold day. Chicken and Dumplings is also a yummy favorite. Shoo Fly Pie is a great molasses pie that most people don't know about and is wonderful if prepared correctly.
5. What does a typical day of eating look like for you?
Green juice in the morning, not a lot of carbs during the day because they tend to make me tired. Lots of proteins and tons of soups and veggies. Dessert is fruit…I love ripe seasonal fruit!
6. During your time as private chef for Shaquille O'Neal, what was his favorite meal?
Definitely his mother's Macaroni and Cheese and Fried Chicken; I made it on special occasions and holidays and it is true comfort food.
There were a few dishes that stuck out to me when I was deciding what to make from Method of Procedure. The Espresso Herb Peppercorn Crusted Bison Ribeye Steak sounds pretty tasty and the Cashew Ginger Butternut Squash Soup would be absolutely perfect for fall. Remembering the homemade teriyaki sauce in my fridge, I decided on the Bulgogi recipe though.
Now, I should probably mention that I've never had Bulgogi before and I can't speak as to the authenticity of this recipe…but it is pretty delicious! My version is paleo too; I served it on a bed of ginger and garlic-sautéed Earthbound Farm Organic Crunchy Slaw Wok Blend, but it would also be great along with Cauliflower Rice.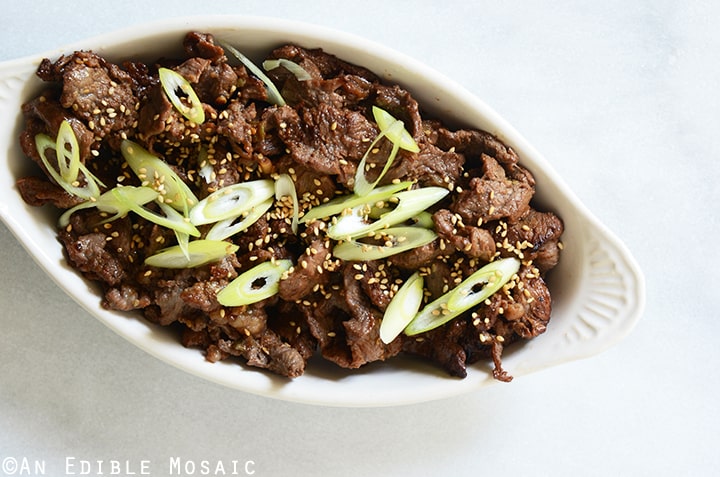 Korean Barbeque Beef (Bulgogi)
Prep time:
Cook time:
Total time:
This paleo version of Korean Barbeque Beef (Bulgogi) is super flavorful and comes together fast enough for a weeknight dinner.
Ingredients
2 lbs (910 g) ribeye steak, trimmed of excess fat and very thinly sliced across the grain
3 tablespoons homemade paleo teriyaki sauce (or any kind of teriyaki sauce you like)
2 tablespoons avocado oil or light olive oil
2 scallions, white and green parts, thinly sliced, plus more for garnish
2 teaspoons sesame seeds, plus more for garnish
Crushed red pepper flakes, for garnish (optional)
Instructions
Combine all ingredients in a large bowl; cover and refrigerate 2 to 4 hours.
Before you want to cook the meat, let it sit at room temperature for 15 minutes.
To cook the meat, heat a large skillet over high heat. Once hot, sear the meat in batches.
Transfer the meat to a serving dish and sprinkle more scallion, sesame seeds, and crushed red pepper flakes on top.
Serve the meat along with lettuce leaves to wrap the meat in; on top of a bed of ginger and garlic-sautéed greens; or along with Cauliflower Rice.
Notes
Recipe inspired by Thomas Gosney's recipe for Korean Barbeque (Bulgogi/Kalbi) in Method of Procedure (Xlibris; April 2015).

: : GIVEAWAY : :
I am excited to be giving away a copy of Method of Procedure to one lucky winner!
To participate in this giveaway, just leave a comment on this post telling me your favorite thing to cook or bake. If you want an extra entry, please leave a separate comment telling me what recipe you struggle most with making.
You do not need to have a blog to enter this giveaway. For shipping purposes, this giveaway is only open to residents of the U.S. This giveaway ends on October 1, 2015 at 11:59 PM EST. Once the giveaway ends, the winner will be randomly chosen and notified via email. The winner will have three business days to respond with his or her mailing information, otherwise a new winner will be randomly chosen. Good luck to all!
Disclosure: I received a copy of this cookbook for free from Chef Gosney's publicist, and they are also providing the cookbook for this giveaway; as always, opinions stated are my own. This post contains Amazon affiliate links to products I believe in, which means that even though it doesn't cost you anything extra, I will receive a small amount of money from the sale of these items, which helps me keep this site alive – thank you for helping to support An Edible Mosaic!