Parsnip lends an earthy sweetness similar to roasted chestnuts to this maple-sweetened, cinnamon-spiced Parsnip Cake Recipe with Maple Buttercream.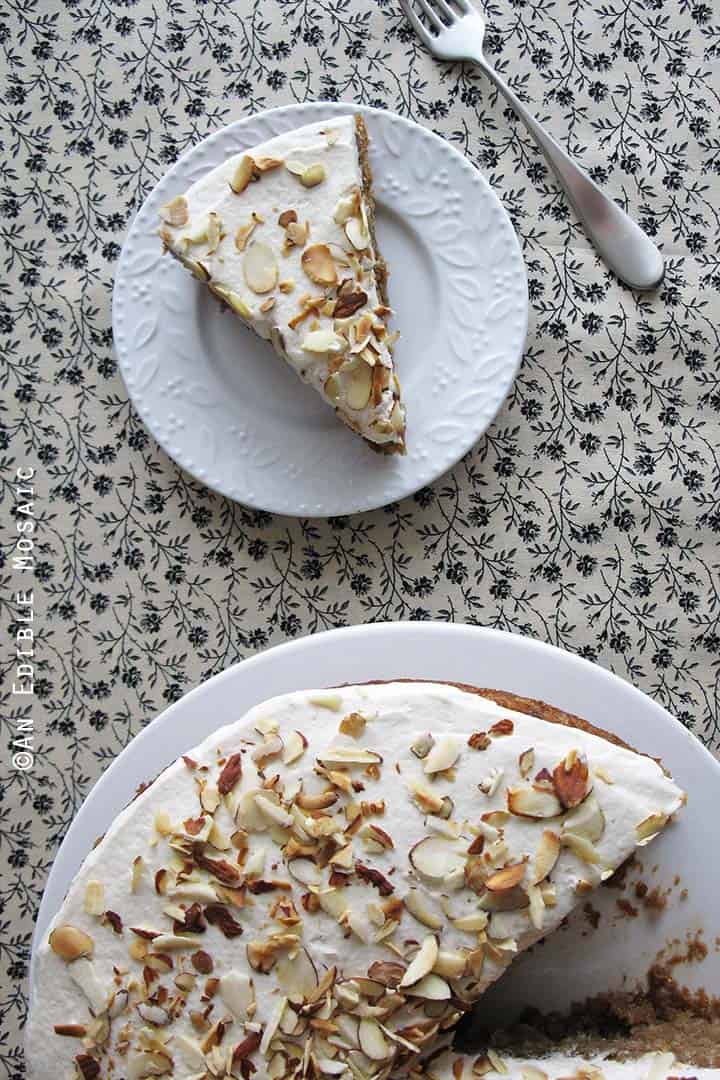 I think I remember Ina Garten once saying that dessert is the most memorable part of dinner. She's so right, dessert is the real deal breaker.
Dessert is the course that takes an ordinary dinner and makes it wonderful or a good dinner and makes it outstanding.
Like most people out there, I'm a dessert lover, so I was thrilled to recently receive a copy of Michel Richard's Sweet Magic to review. The name of this book immediately drew me in. After reading it, I realized just how appropriately named it is. What else but magic could cause a few simple ingredients to come together so harmoniously?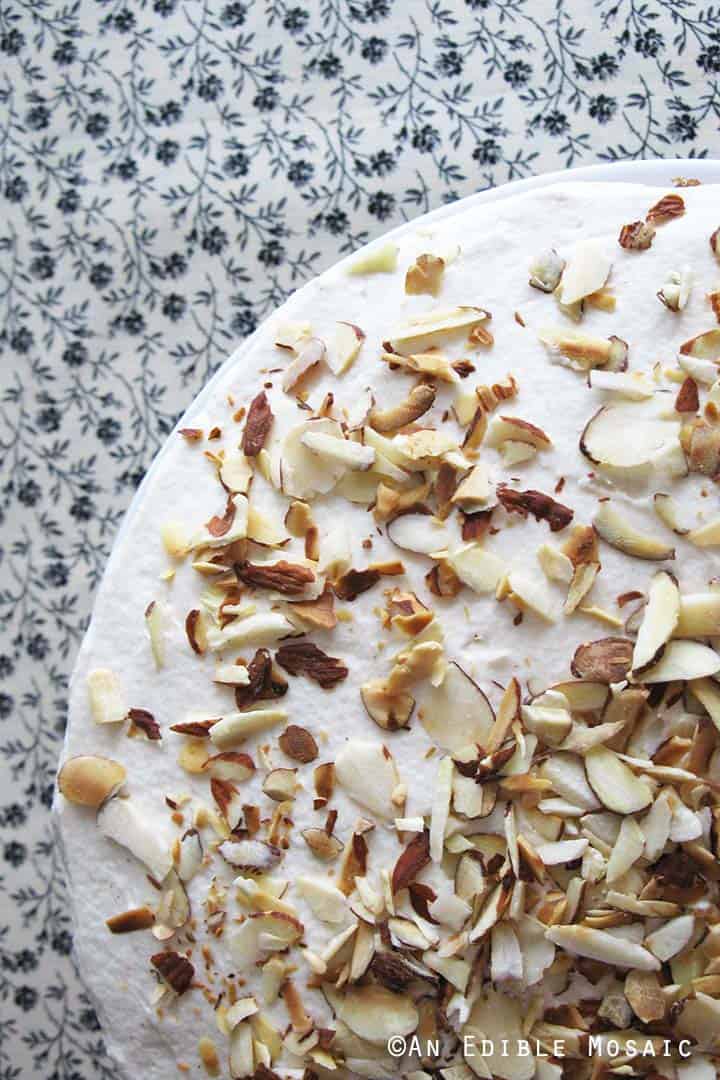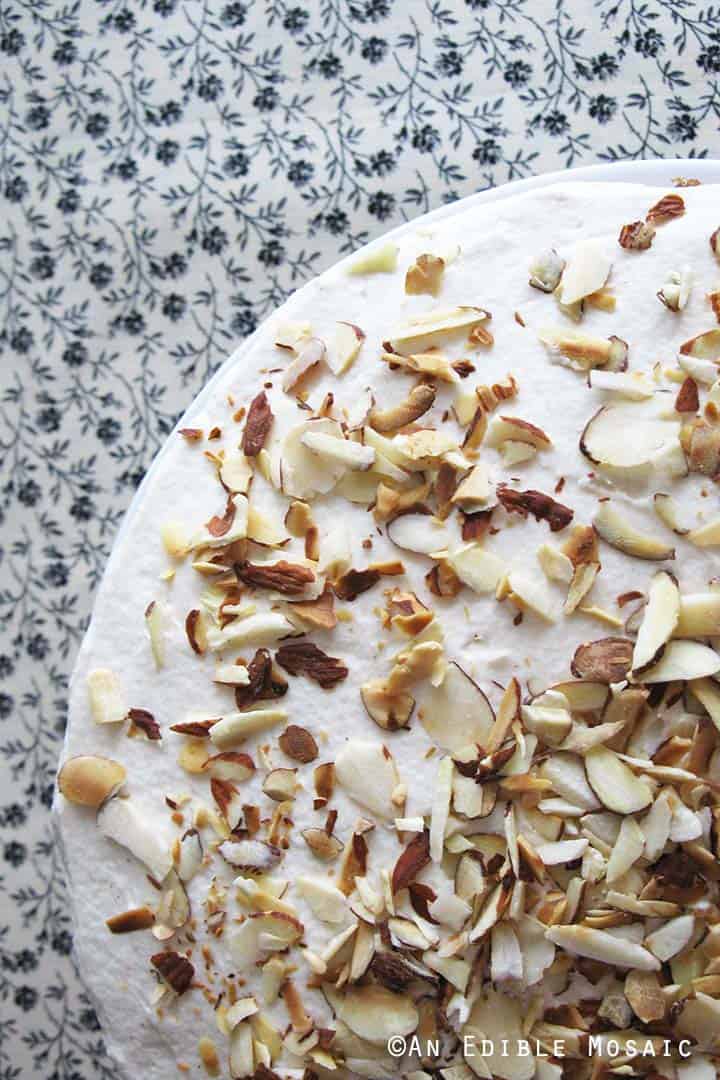 Sweet Magic Cookbook by Michel Richard
The first question everyone (ok, maybe nine people out of ten) asks me when I tell them about a new cookbook is, are there pictures?
In order to be fair to you, Dear Reader, I have to tell you that there are no photographs at all in this book (don't despair! Please read on). But the book is full of delightful, unique illustrations that Michel drew himself, including the adorable cover illustration! Multi-talented, right?!
Something that really impressed me early on when reading this book was Michel's view on sugar in sweets. When making desserts, he uses sugar more as a seasoning to highlight other flavors in a recipe, rather than as a main ingredient. Michel says that this allows him to reduce the amount of sugar in a recipe without sacrificing flavor or satisfaction. Absolutely brilliant, no?
Although it is chock full of fantastic recipes, this book is more than a mere cookbook. Michel's personal history is reflected in his cooking and throughout the charming anecdotes contained in this book.
He started his career as a pastry chef in France, and this book includes recipes for classic French lovelies like Rum Apple Crepes, Cherry Clafouti, and Gallette de Rois (Kings' Cake). He later moved to the U.S. and incorporated many new recipes into his repertoire, which is reflected in the American desserts he shares, like Macadamia Chocolate Chip Cookies and Lemon Cheesecake Ice Cream.
I found Michel's thoughts on the cultural differences in cookies to be very interesting. Michel says "Another dessert revelation was the cookie. You have so many of them. I was not raised in a cookie culture. True, we had our madeleines, tuiles, sacristains, and macarons, but not real cookies like in America – the kind that cries out for a glass of milk alongside…"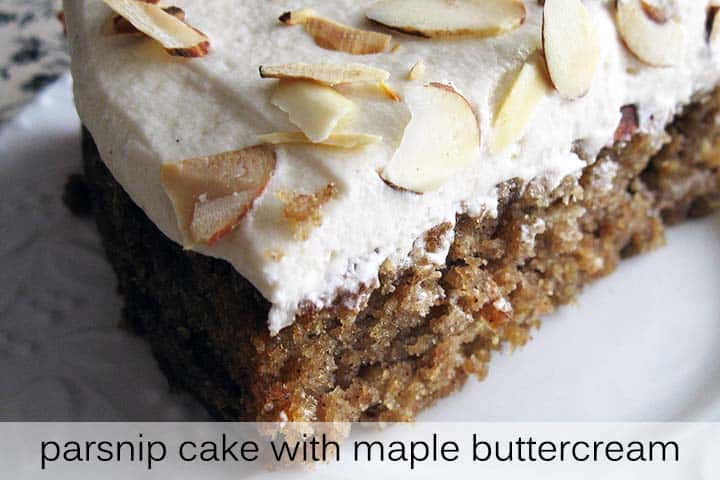 Parsnip Cake Recipe with Maple Buttercream
As always is the case for me, the hardest part of reading this cookbook was deciding what to make first.
Although, perhaps it wasn't quite as hard as usual this time; just read Michel's description of his parsnip cake: "When cooked, parsnips have a flavor and consistency that reminds me of the sweetest roast chestnuts. Grating them gives the cake the mouthfeel of shredded coconut. Add maple syrup for earthy sweetness and aromatic spices, and you have a lovely cake that has one other special quality; if you ask the people around your table what is in it, no one will ever be able to guess."
I was enamored with the use of maple syrup and after reading that description I really had no choice but to make this fabulous cake.
This Parsnip Cake Recipe is beautiful and the flavors marry so nicely. It's reminiscent of carrot cake but a bit earthier. Despite its humble appearance I think this is quite a special cake.
And Michel is right, the ingredient comes as quite a surprise to those who taste the cake. I asked the eight people who tried this cake and no one was able to guess that parsnip was the secret ingredient!
What is Parsnip? What Does Parsnip Taste Like?
Before I get to the recipe, I want to talk a little bit about parsnip, since it is an altogether gorgeous vegetable. It looks like a white carrot!
I like to think of parsnip as a carrot all dressed up in a lovely white winter gown. Its texture is a bit woodier than carrot, which is why I like to shred parsnip if I'm going to use it raw in a salad.
Eaten raw its flavor is very refreshing and palate-cleansing. Slow-cooked in a soup or stew, the texture of parsnip turns soft like carrot but not mushy like potato.
Parsnip has a heady aroma of fresh, bright flavors. To me it smells like a mix of ginger, parsley, and celery. It really is a beautiful aroma (and for some reason it has an effervescence that reminds me of 7-Up soda).
More Cake Recipes That Have Fruit or Vegetables:
Did you make this recipe? Please rate it and leave a comment below because I love hearing from you! You can also tag @anediblemosaic on social media. To stay up-to-date FOLLOW ME on Instagram, Twitter, and Facebook. Xoxo, Faith
Parsnip Cake Recipe with Maple Buttercream
Parsnip lends an earthy sweetness similar to roasted chestnuts to this maple-sweetened, cinnamon-spiced Parsnip Cake Recipe with Maple Buttercream.
Ingredients
Maple Meringue Buttercream:
Instructions
For the Cake:
Preheat oven to 350F; butter and flour a 9-inch cake pan.

In a large bowl, whisk together the maple syrup, canola oil, eggs, and ginger.

In a medium bowl, whisk together the almond flour, all-purpose flour, cinnamon, baking soda, and salt.

Gradually stir the dry ingredients into wet, then fold in parsnips.

Pour into the prepared cake pan and bake about 38 minutes, until a toothpick inserted in the center comes out clean.

Cool completely before frosting.
For the Buttercream:
In a double boiler, whisk together the egg whites and maple syrup. Heat until the sugar is dissolved and the mixture is warm (about 140F), whisking frequently, about 3 to 5 minutes.

Transfer the egg white mixture to the bowl of a stand mixer fitted with the whisk attachment and beat on high speed until the mixture is thick and glossy, about 5 to 7 minutes.

Add the vanilla bean paste, salt, and cinnamon, then beat in the powdered sugar.

Add the butter and cream cheese piece by piece while beating; stop beating when the buttercream is thick and smooth.

Once the cake is cooled, frost it with the buttercream and decorate the top with sliced almonds if desired.
Faith's Tips
Adapted from Michel Richard's recipe for Maple Parsnip Cake with Maple Meringue Frosting in Sweet Magic.
Nutrition
Nutrition Facts
Parsnip Cake Recipe with Maple Buttercream
Amount Per Serving
Calories 489
Calories from Fat 252
% Daily Value*
Fat 28g43%
Cholesterol 53mg18%
Sodium 181mg8%
Potassium 247mg7%
Carbohydrates 55g18%
Protein 7g14%
Vitamin A 336IU7%
Vitamin C 6mg7%
Calcium 105mg11%
Iron 1mg6%
* Percent Daily Values are based on a 2000 calorie diet.
This post was first published on An Edible Mosaic on January 3, 2011. I updated it with more information on August 20, 2020.
Disclosure: This post contains Amazon affiliate links to products I believe in, which means that even though it doesn't cost you anything extra, I will receive a small amount of money from the sale of these items. Thank you for helping to support An Edible Mosaic!