If you're craving pizza, but want to keep things on the lighter side, this Healthy Flatbread Pizza Recipe is the way to go! Pistachio, rosemary, and ricotta create an elegant flavor profile, but you can use the same method and customize the toppings to make it your own.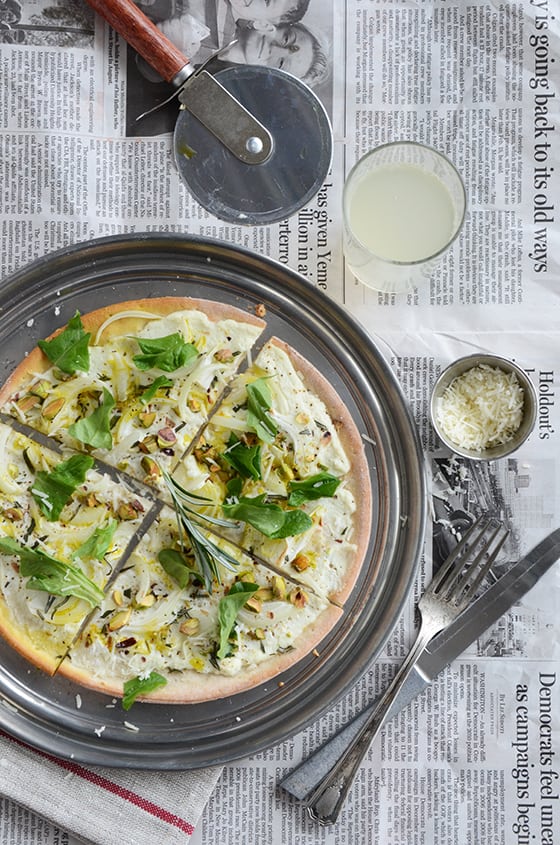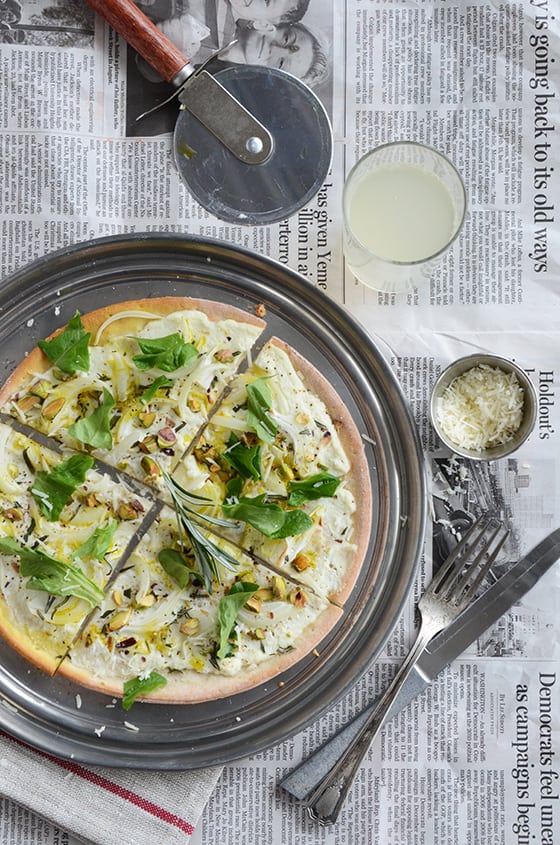 What's your favorite style of pizza? Deep-dish? Thin-crust? Thick and chewy?
Pizza is such a regional food here in the U.S., I'm guessing your answer might be different based on where you live.
But what about flatbread? It's hard to pinpoint an origin for flatbread! But I will say, I had a few similar things in the Middle East, including Manaqueesh (Za'atar Spiced Flatbread) and Sfeeha (Spiced Meat Flatbread). Both recipes use a yeasted dough and are basically small hand-held pizzas.
I don't know the origin of flatbread, but I know it's delicious!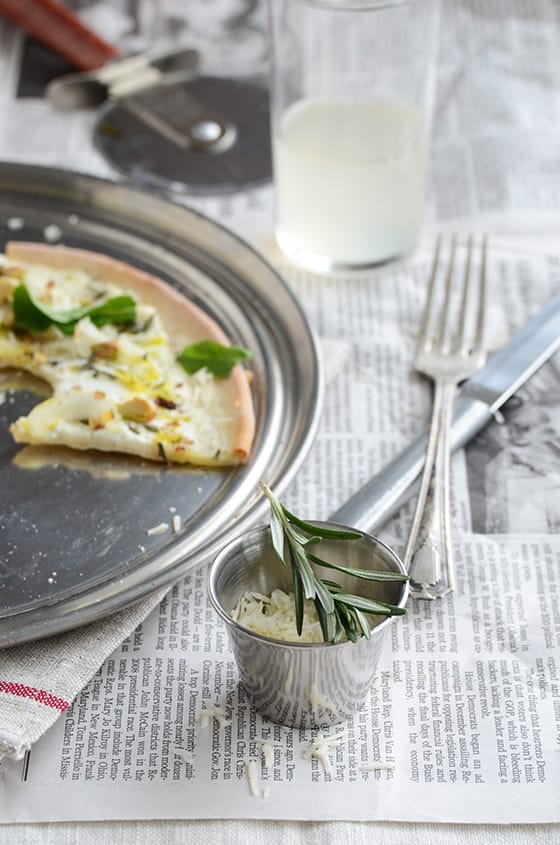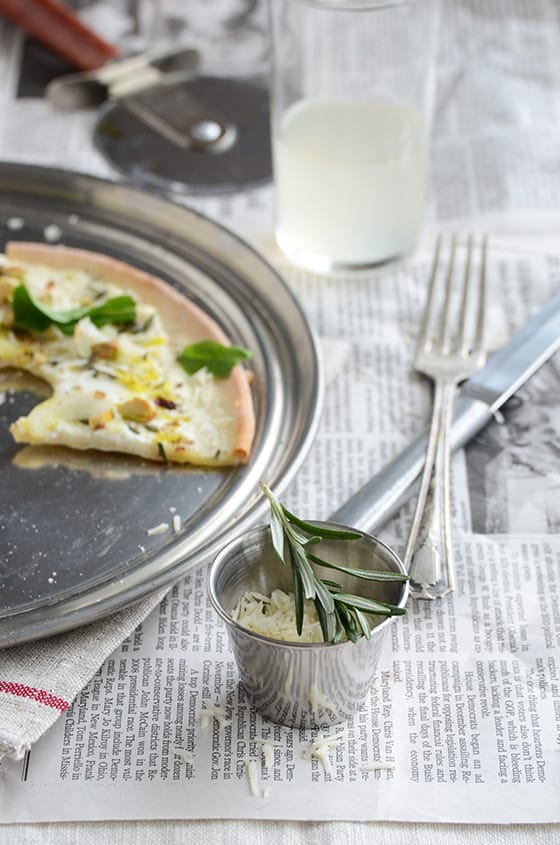 I recently discovered that rosemary is fantastic paired with pistachio. And of course cheese doesn't hurt either.
Healthy Flatbread Pizza Recipe
This Healthy Flatbread Pizza Recipe is easy to make! I used a few simple ingredients to flavor this flatbread: ricotta cheese, white onion, pistachio (whole pistachios and pistachio oil), fresh rosemary, Parmesan cheese, and fresh arugula. It made a very elegant flavor combination with minimal effort!
And if that flavor profile isn't your thing, you can easily customize the toppings to suit your tastes.
Here are a few more flatbread topping ideas:
Tomato sauce, mozzarella cheese, and fresh basil
Cooked taco meat, cheddar cheese, and salsa
Wilted garicky spinach and feta cheese
Roasted red pepper and goat cheese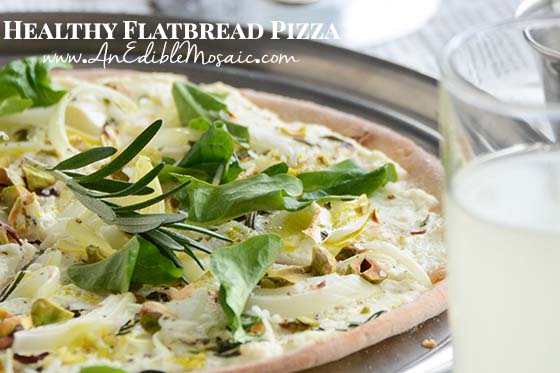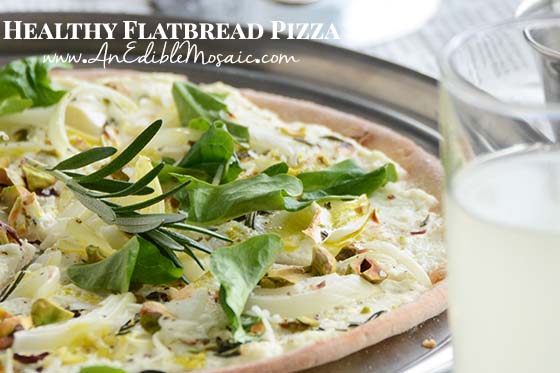 A Refreshing Drink to Serve with Flatbread
Never in a million years would I have thought that I would get excited about vinegar. Vinegar, of all things. Either my life has gotten that dull (lol!) or this vinegar is really that exciting. An eternal optimist, I'm going with scenario two, lol.
A couple months ago I received a few oil and vinegar samples from Vom Fass. Right away the name intrigued me; it means "from the cask" and to me it conjures up an old-world, artisanal feel. I don't know what I was expecting when I tried the samples, but whatever it was, everything I tried exceeded all my expectations. Scratch that; everything blew my mind.
2 Teaspoons Calamansi Vinegar + 1 Cup Sparkling Water = Ultimate Refreshment
Calamansi Vinegar Spritzer Recipe
I started with the Waldburg Balsam Calamansi Vinegar. Vom Fass recommends adding 2 teaspoons of this vinegar to 1 cup of sparkling water. I'm not altogether unfamiliar with concoctions like this. (I've been drinking ginger switchel in the morning for a long time now.) But still, I wasn't sure I'd like it. I chalk my skepticism up to the fact that any time someone tells you to add a shot of vinegar to your drinking water I guess it's normal to be a little leery at first.
So anyway, since I'm all about trying anything once I happily obliged. I measured out my vinegar and water, gave it a quick stir, and then it was bottoms up. Or maybe more accurately, I took a little sip with trepidation.
The lovely calamansi scent hit me first; it was beautifully bright and citrusy. One taste and I was completely hooked; hands-down, it is the most refreshing beverage I've had in a long time. Its flavor is fresh and citrusy with subtle flavor notes, and the bubbles from the sparkling water made it perfect.
It tastes like the best fancy soda you've ever had, only minus the sugar and plus the fact that it's actually refreshing to drink. (Soda always leaves me thirsty for water, not feeling refreshed.) The wee sample bottle I received was the first to disappear from my pantry, as I couldn't help make this drink just about daily.
Pistachio Oil - A Perfect Finishing Touch for Flatbread
Now onto the Vom Fass treat I used in today's recipe: Pistachio Oil. Open this bottle and you'll think you died and went to heaven!
Its sweet, nutty aroma is nothing short of captivating. And if you're anything like me, you'll find yourself thinking of new ways to use it that the rest of the day.
I've been using this oil a lot lately in different dishes, and I'm finding that it can be the perfect finishing touch for both sweet and savory dishes. It certainly added the perfect special something to this classy Healthy Flatbread Pizza!
More Flatbread Recipes to Try:

Did you make this recipe? Please rate it and leave a comment below because I love hearing from you! You can also tag @anediblemosaic on social media. To stay up-to-date FOLLOW ME on Instagram, Twitter, and Facebook. Xoxo, Faith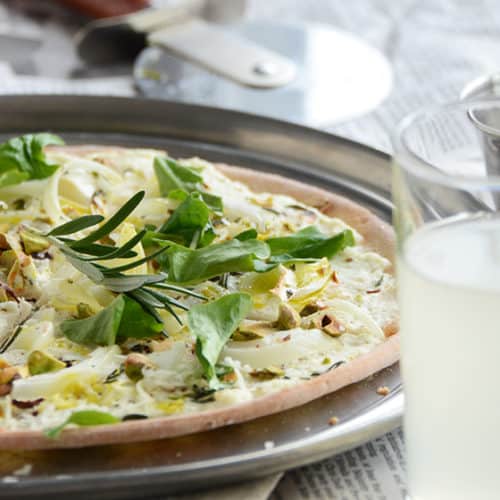 Pistachio Rosemary Healthy Flatbread Pizza Recipe
If you're craving pizza, but want to keep things on the lighter side, this Healthy Flatbread Pizza Recipe is the way to go! Pistachio, rosemary, and ricotta create an elegant flavor profile, but you can use the same method and customize the toppings to make it your own.
Ingredients
1

pre-made thin pizza crust

about 10 inches

4

tablespoons

ricotta cheese

¼

small white onion

thinly sliced

1

tablespoon

pistachios

shelled and coarsely chopped

1

teaspoon

fresh rosemary

chopped

1

pinch

salt

1

pinch

black pepper

1

teaspoon

pistachio oil

1

teaspoon

fresh grated Parmesan cheese

for garnish

A few arugula leaves

torn (for garnish)
Instructions
Preheat oven to 375F. If your pizza is frozen, read the pizza crust directions to see if you need to thaw it first or not (the directions on the package I used said the frozen crust I used didn't have to be thawed).

Spread the ricotta onto the pizza crust, then top with the onion, pistachio, rosemary, salt, and pepper.

Bake until the pizza crust is crisp and the onion is starting to brown
in spots, about 7 to 10 minutes.

Drizzle on the pistachio oil and top with the Parmesan cheese and arugula.
Faith's Tips
This recipe serves 2 as an appetizer.
Nutrition
Nutrition Facts
Pistachio Rosemary Healthy Flatbread Pizza Recipe
Amount Per Serving
Calories 153
Calories from Fat 72
% Daily Value*
Fat 8g12%
Cholesterol 16mg5%
Sodium 160mg7%
Potassium 114mg3%
Carbohydrates 14g5%
Protein 6g12%
Vitamin A 134IU3%
Vitamin C 1mg1%
Calcium 85mg9%
Iron 1mg6%
* Percent Daily Values are based on a 2000 calorie diet.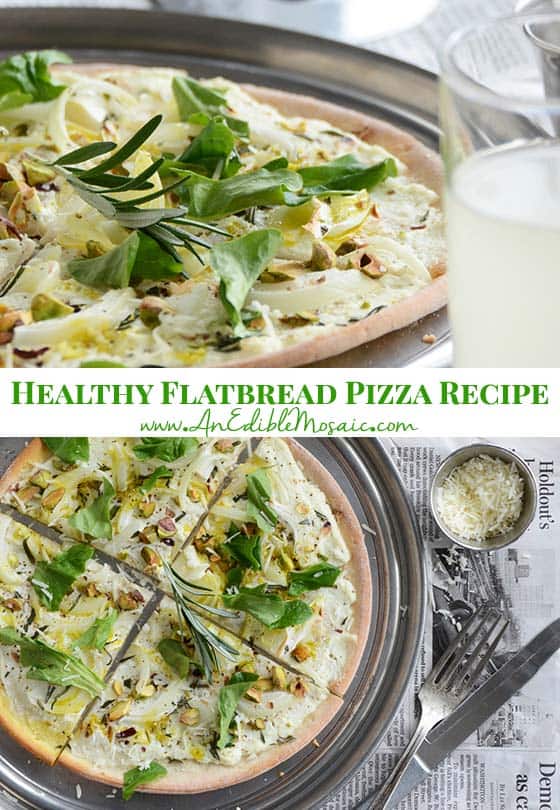 : : GIVEAWAY : :
One lucky winner will receive the Vom Fass Classic Variety Sampler Set pictured above! It includes samples of the following products: FassZination Hazelnut Oil; Waldburg Balsam Raspberry Vinegar; Chili Infused Sunflower Oil; Waldburg Balsam Mango Vinegar; Styrian Pumpkin Seed Oil; Waldburg Balsam Apple Vinegar; Agora Extra Virgin Olive Oil; Aceto Balsamico 'Gold' Vinegar.
To participate, you can do any of the following; please leave a separate comment for each so I can count them as separate entries:
Leave a comment telling me the most refreshing beverage you've ever had (other than pure water!).
Leave a comment telling me how you'd use pistachio oil.
Share this giveaway on Facebook and leave a comment here telling me.
Tweet this giveaway on Twitter and leave a comment here telling me.
You don't need to have a blog to enter this giveaway! This giveaway ends Tuesday, January 15, 2013 at 5AM EST. After that the winner will be randomly selected and notified by email. Good luck to all!
This post was first published on An Edible Mosaic on January 8, 2013. I updated it with more information on April 20, 2020.
Disclosure: I received a sampling of Vom Fass products to try for free from Vom Fass, and they are also sponsoring this giveaway. As always, opinions stated are my own. This post contains Amazon affiliate links to products I believe in, which means that even though it doesn't cost you anything extra, I will receive a small amount of money from the sale of these items, which helps me keep this site alive – thank you for helping to support An Edible Mosaic!