Before I went on vacation the wonderful people at Redpack sent me a sample of their products to try, including a can of whole peeled tomatoes and a can of crushed tomatoes. I was pretty excited because I've been buying Redpack products for a while now, so I know firsthand just how fantastic they are (and in the colder months when fresh tomatoes are mealy and tasteless, canned tomatoes are a staple in my kitchen). Instead of using the tomatoes to make something like sauce, chili, or soup, I wanted to delve into something a little less ordinary. Ketchup came to mind, and once I had the idea it just wouldn't go away.
I've always heard that homemade ketchup is infinitely better than the store-bought stuff, but I like regular ketchup well enough and I really didn't think much of it. But after eating the homemade version I can safely say that if I have time to make it, I will never buy the store-bought stuff again. In honor of my newfound love, I made oven-fried potato wedges, or more appropriately, vessels to soak up my homemade ketchup. BEST.FRIES.EVER.
(The potato wedges are super easy to make and for anyone who wants the recipe, here's what I did: Preheat the oven to 450F and brush a baking pan with a generous coating of olive oil. In a shallow bowl, combine a little all-purpose flour and seasoned salt. Cut starchy potatoes into wedges and toss in the seasoned flour, shaking off any excess. Arrange the potatoes in a single layer on the prepared baking pan and bake until crispy outside and tender inside (about 25 minutes), flipping once halfway through.)
I should tell you that this ketchup recipe was a bit of trial and error for me, as I didn't get the recipe exactly right from the very beginning. What I didn't realize is that making ketchup isn't like making BBQ sauce: you can't just put everything in a pot and boil it down. The tomato solids get in the way. On my second attempt at this recipe I drained the solids out and it worked like a charm. But I didn't have the heart to just throw the solids out (after all, it is still edible food!), so I spread it on a plate, drizzled it with olive oil, and called it tomato pâté. No one was the wiser. ;)
(In case you're wondering, as far as taste goes, the tomato pâté tasted great. The only issue was that the texture was a bit…hmmm…I guess tree bark-like is the best way to put it. Anyway, I don't think it would be noticeable mixed into a tomato sauce or tomato-based soup, or made into a dip with cream cheese, sour cream, and spices. I think I'll try the dip next time since I still don't think I'll have the heart to throw the solids out, lol!)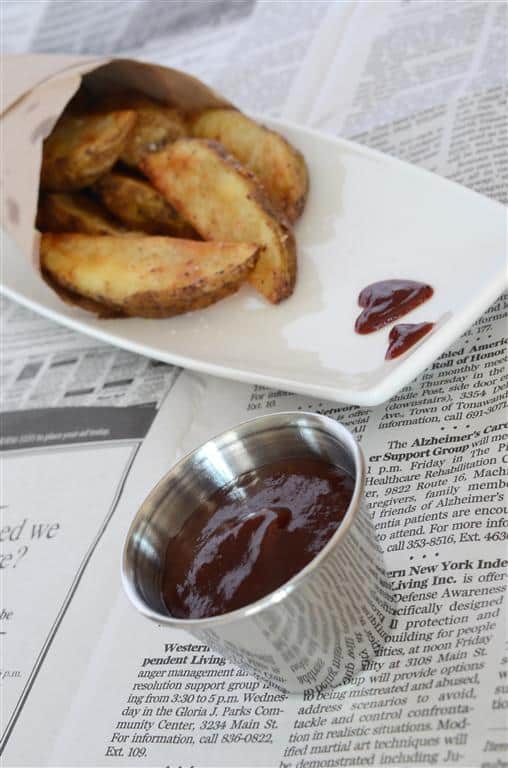 Homemade Ketchup (And Tomato Pâté)
(Yield: About 1 c ketchup and 1/2 c tomato pâté)
1 (28 oz) can crushed tomatoes in puree (I used Redpack)
1 large stalk celery, diced
1 medium-large onion, diced
2 large cloves garlic, minced
1 bay leaf
1 tsp coarse salt
3/4 tsp mustard seeds (or 1/2 tsp mustard powder)
1/4 tsp black pepper
1/4 tsp allspice
1/8 tsp cayenne (more or less to taste)
1 whole clove
1/2 c apple cider vinegar
1/3 c dark brown sugar, lightly packed (or 1/3 c light brown sugar plus1-2 tsp molasses)
3 oz tomato paste
1 tsp lemon juice
Combine crushed tomatoes, celery, onion, garlic, bay leaf, salt, mustard seeds, black pepper, allspice, cayenne, clove, and 1 c water in a medium saucepan. Bring to a boil, then turn heat down to a simmer, cover the pot, and cook 30 minutes, stirring occasionally. Cool.
Transfer sauce to a blender along with 1 c water and puree until smooth. Drain through a cheesecloth-lined colander placed over a bowl to catch the liquid below; wring cheesecloth to remove as much liquid as possible. (The solids that remain in the cheesecloth is your tomato pâté, just spread the pâté on a plate and drizzle with olive oil; the liquid will be made into ketchup.)
Transfer the liquid back to the saucepan. Add vinegar, brown sugar, molasses, and tomato paste and bring up to a boil; turn heat down to a simmer and cook (uncovered) until it reaches your desired thickness (it took me about 50 minutes), stirring occasionally at first, then stirring frequently as it thickens, and stirring constantly at the end. (Be careful not to overcook because it scorches easily at the end; also, note that it will thicken quite a bit upon cooling, especially after being refrigerated.)
Turn off heat and add lemon juice, then taste and season with additional salt, pepper, sugar, and lemon juice as desired.
Cool completely, then store refrigerated in an airtight container.
Ketchup spices, clockwise from 1 o'clock: coarse salt, mustard seeds, black pepper, cayenne (red), allspice (brown), bay leaf, and a whole clove (center).
Now on to the giveaway! The generous people at Redpack offered to give away a prize pack to one lucky reader. The prize includes everything you see…
1 large storage tin that's made to look like a can of Redpack tomatoes, 1 (28 oz) can of whole peeled tomatoes in thick puree, 1 (28 oz) can of crushed tomatoes in thick puree, a pizza cutter, a pasta utensil, a rubber spatula, a can opener, a couple magnets, and a few recipes featuring Redpack products.
You don't need to have a blog to enter this giveaway! To participate, you can do any or all of the following; please leave a separate comment for each so I can count it as another entry:
1) Leave a comment here letting me know your favorite thing to make with canned tomatoes.
2) Add me to your RSS feed and leave a comment here letting me know (to do this, go to the top right corner of my website and click where it says "Posts"). (Or just let me know if you're already an RSS subscriber.)
3) Become an email subscriber (to do this, go to the top right corner of my website and click where it says "By Email"; after that you will be able to enter your email address). (Or just let me know if you're already an email subscriber.)
4) "Like" me on Facebook and leave a comment here letting me know. (Or just let me know if you already like me on Facebook.)
5) "Like" Redpack on Facebook and leave a comment here letting me know. (Or just let me know if you already like Redpack on Facebook.)
This giveaway ends Thursday, April 28th at 12AM EST; after that the winner will be randomly chosen and notified by email. Good luck to all!
Disclaimer: I received this product to sample for free, courtesy of the kind people at Redpack, but as always, opinions stated are my own.