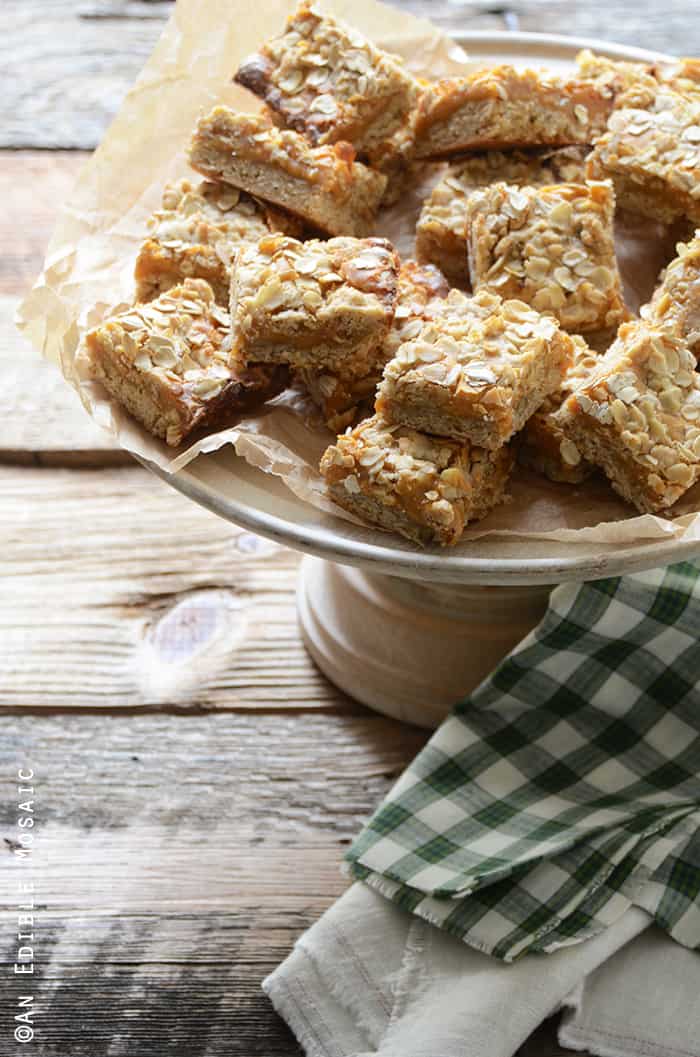 I remember going to Christmas cookie exchange parties with my mom when I was pretty young.
I'll admit, other than the cookies (of course) it was a pretty boring affair. I always enjoyed the loot that we went home with though; it was fun to get to sample a variety of things without actually having to make 20 different recipes.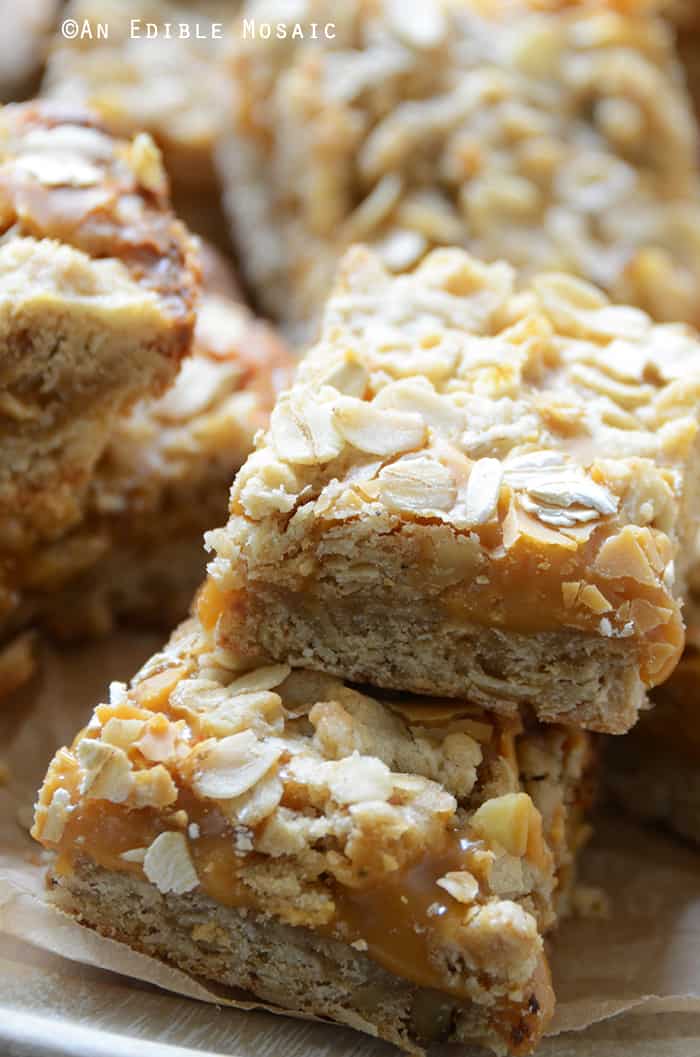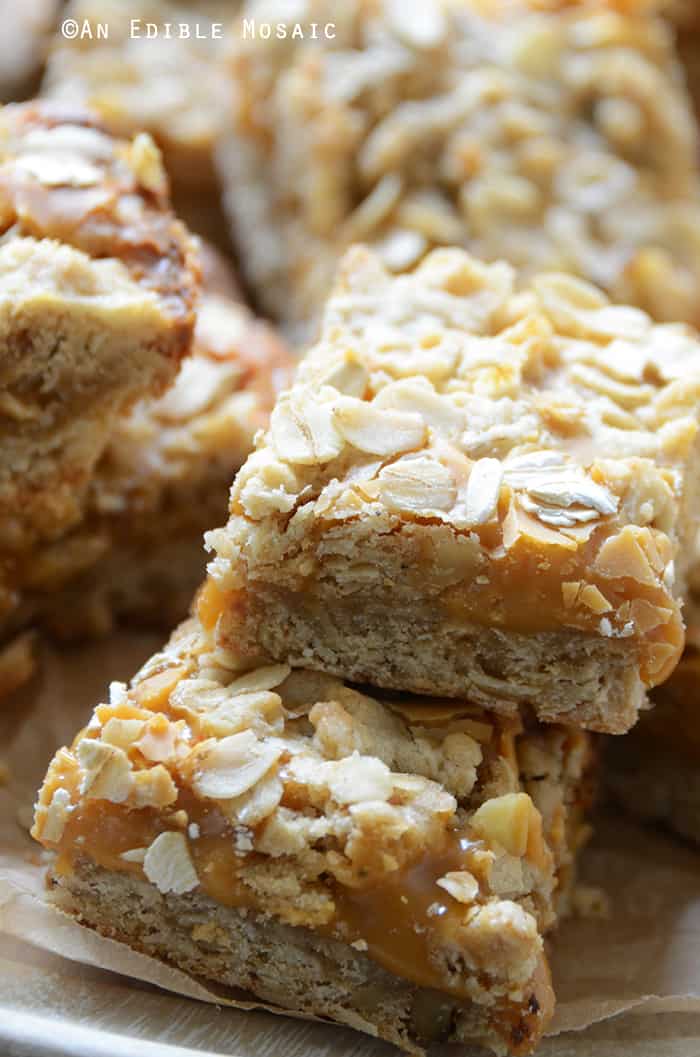 I haven't been to a cookie exchange party since the mid-'90's, which makes me wonder if they're a lost tradition. It's sad, really, because in hindsight I can see how ladies would love them. You get to meet up with a group of friends and socialize, and then go home with goodies. But on the flip side, you have to spend a day baking up a few batches of your favorite cookies to take with you…maybe people just don't have time for that anymore. (Or maybe this tradition is still going strong and I need to grab a group of friends and start it up in my area!)
Anyway, most people I know still bake cookies around the holidays to share with their families and friends, even if they don't go to cookie exchanges. And if you are going to a cookie exchange, well, this recipe just might save the day. It makes quite a few servings with minimal effort and it's easy to double or even triple the recipe so you can knock out a ton of baking all at once. And if you whip up a batch of Salted Butterscotch Oat Bars for a holiday party, I would wager a guess that before the night is out these sweet/salty treats will have disappeared.
These are a new-to-me holiday cookie, but they remind me quite a bit of Scotch Chippers (you know, the oatmeal cookies with butterscotch chips), which is a retro favorite of mine. I saw the recipe for Butterscotch Bars on Cooking Light and knew I wanted to put my own twist on them and add them to my holiday repertoire. Just take note that these bars are very rich, so cut them small. You can leave off the sea salt at the end, but anyone who's a fan of salted caramel will go crazy for it.
What's your favorite holiday cookie?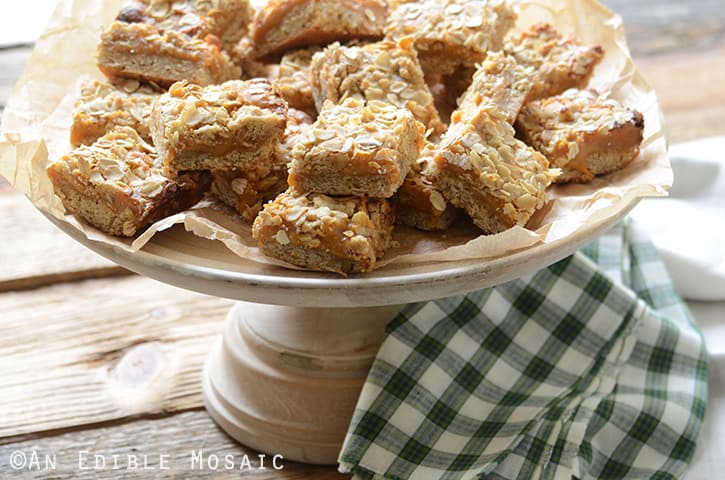 Salted Butterscotch Oat Bars
Prep time:
Cook time:
Total time:
Yield:
1 (9 by 13-inch) pan, about 32 servings (I make 3 cuts the long way and 7 cuts the short way)
Ingredients
¾ cup (160 g) lightly packed light brown sugar
12 tablespoons (170 g) unsalted butter, at room temperature, plus more to grease the dish
1 large egg
2 teaspoons pure vanilla extract
2 cups (255 g) all-purpose flour
2¼ cup (180 g) old-fashioned rolled oats, divided
½ cup (55 g) toasted walnuts, chopped
¾ teaspoon fine salt, divided
½ teaspoon baking powder
¼ teaspoon ground cinnamon
1 (14 oz/396 g) can sweetened condensed milk
1 (11 oz/311 g)) bag butterscotch chips
Sea salt (such as fleur de sel), for sprinkling on top
Instructions
Preheat oven to 350F; line a 9 by 13-inch glass dish with 2 pieces of parchment paper so that they hang over the edges (so you can easily pull the bars out later). Grease the inside with butter.
Stir together the brown sugar and butter in a large bowl, and then stir in the egg and vanilla extract. Stir in the flour, 2 cups oats, walnuts, ½ teaspoon salt, baking powder, and cinnamon.
Spread ⅔ of the oat mixture into the bottom and slightly up the sides of the prepared dish.
Melt the sweetened condensed milk, butterscotch chips, and remaining ¼ teaspoon salt together in a double boiler or microwave until smooth. Spread onto the crust, and then sprinkle the remaining oat mixture and remaining ¼ cup oats on top.
Bake until golden brown, about 20 to 22 minutes. Transfer to a wire rack and cool completely; sprinkle a little sea salt on top and cut into small squares. Store any leftovers in an airtight container at room temperature.