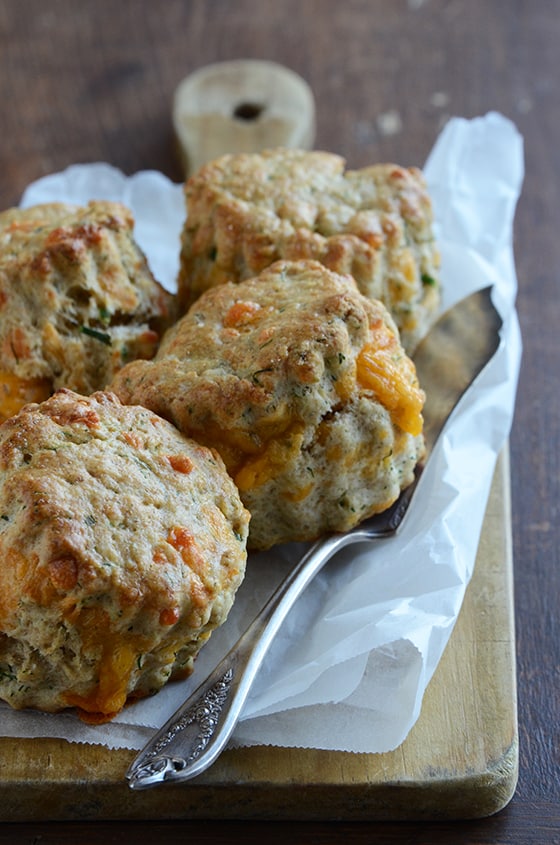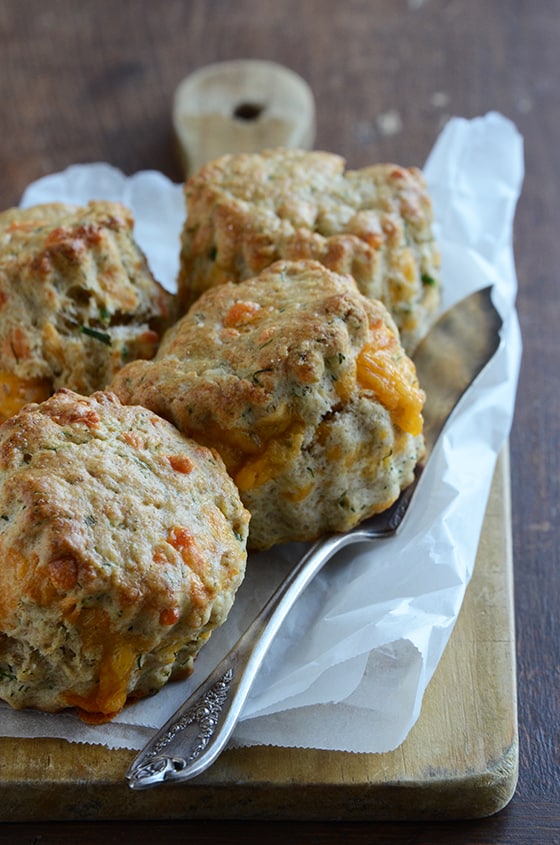 I have an aunt who absolutely goes nuts if you use her toothpaste and don't roll the tube up from the bottom.
And my mom – she's like the princess in the children's story The Princess and the Pea when it comes to a grain of salt or sugar on her kitchen floor. She sweeps her kitchen religiously three times a day and loses it if she steps on a single grain. I have no idea how she feels them, lol.
One of my best friends will only drink coffee in a lidded reusable plastic cup, even at home. No idea what's up with that.
I have my fair share of pet peeves/quirks too.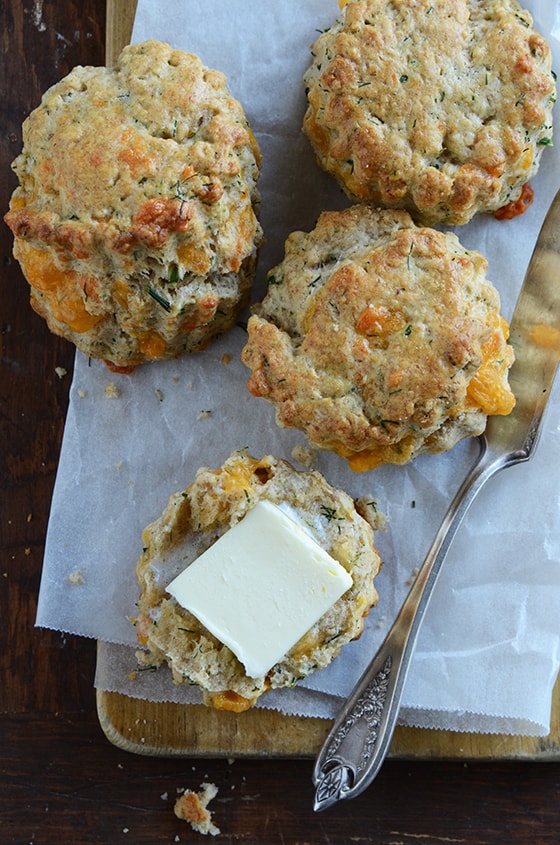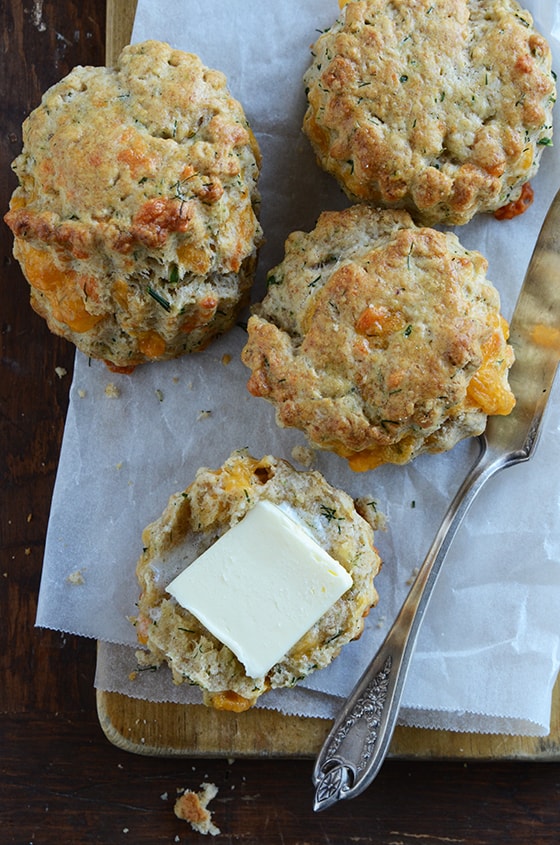 I detest crumbies of any kind, and along those lines I'd rather enjoy a cookie over the kitchen sink than at the kitchen table. (Yeah, I know…hello, Monica, lol.)
I like to buy my fresh herbs by the (HUGE) bunch, although it's usually way more than what I need. But they're much cheaper, and in my experience they stay fresher longer!
I absolutely hate wasting food, for like 1,000 different reasons.
Going back to my points above, since I buy huge bunches of fresh herbs and hate wasting food, I'm always looking for new ways to integrate them into recipes.
Enter these scones. I feel like I've become the scone-making-queen as of late. I don't know why, other than the fact that they're ridiculously easy to make, fun to eat, completely customizable, and perfect to include in a weekend brunch. They're always polished off by the end of the meal!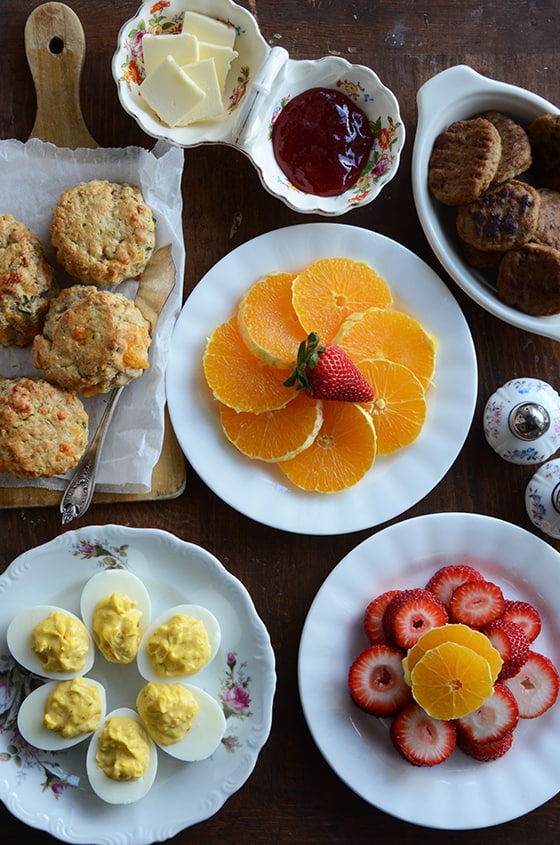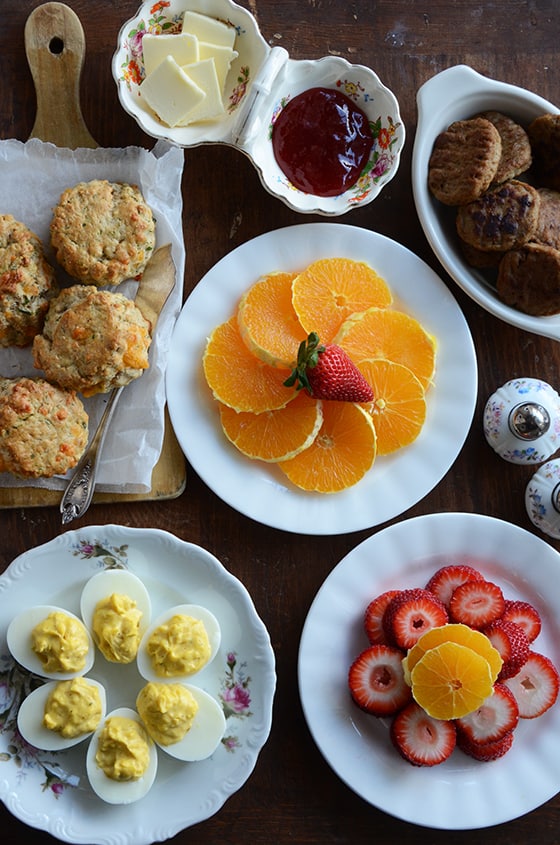 Here's the brunch that these scones were part of a while ago…I shared it on Instagram too!
This version of scones makes use of aromatic fresh dill. I also had sharp cheddar on hand, so into the mix it went, and turned out to be a great addition. I recommend serving these scones warm with butter and jam even though they're savory, since the sweetness of jam makes a lovely contrasting flavor.
For more inspiration, here are a few fabulous-looking scone recipes from around the web that I have bookmarked:
Toasted Almond and Cherry Scones from Cooking Light
Cinnamon Honey Scones from Eats Well With Others
Best Berry Scones from Vintage Mixer
Grain-Free Dark Chocolate Cherry Scones from Nom Nom Paleo
Whole Wheat Blackberry Ricotta Scones from 101 Cookbooks
The Best Scones from Erika Kuever on The Hairpin
If you have a favorite scone recipe, please feel free to share a link in the comments below!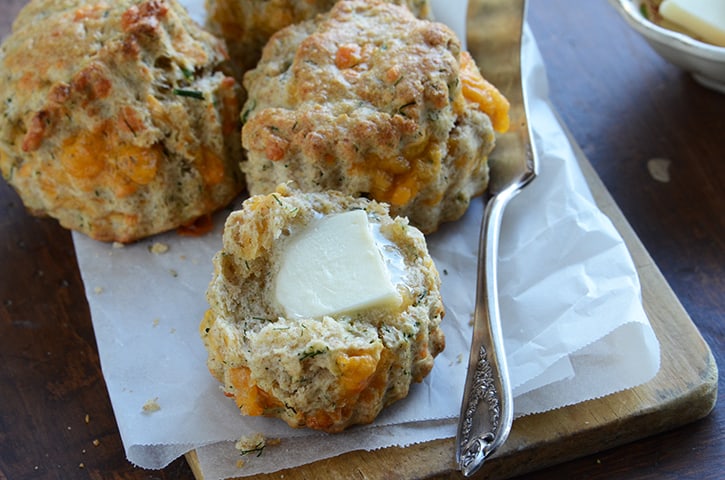 Savory Cheddar-Dill Scones
Prep time:
Cook time:
Total time:
Ingredients
1¼ cups (150 g) all-purpose flour
¾ cup (90 g) whole wheat flour
1 tablespoon baking powder
1 teaspoon sugar
½ teaspoon salt
6 tablespoons (85 g) butter, chilled and diced
¼ cup (6 g) fresh minced dill
1 large egg, lightly beaten
½ cup (120 ml) heavy cream, plus a little more if needed
2 oz (60 g) sharp cheddar cheese, shredded
2 tablespoons milk, for brushing on top
Instructions
Preheat oven to 450F and line a baking sheet with parchment paper or a silpat liner.
Whisk together the flours, baking powder, sugar, and salt in a large bowl. Cut in the butter with a fork or using two butter knives until it looks like coarse meal. Sprinkle in the dill; stir in the egg and ½ cup cream, adding more cream 1 tablespoon at a time as needed until the dough comes together but isn't too wet (you shouldn't need more than 2 additional tablespoons of cream). Use your hands to mix in the cheddar, being careful not to over-process.
Shape the dough into a ball, then flatten it into a disk; wrap it in plastic wrap and chill 10 minutes in the freezer.
Turn the dough out onto a lightly floured surface. Roll or press the dough out to a circle about 7 to 8 inches in diameter and ¾ inch thick. Use a floured 2½ inch round cookie cutter to stamp out the scones, then gather up the dough scraps and repeat as necessary (you should get about 8 to 10 scones).
Transfer the scones to the prepared baking sheet, lightly brush the tops with a little milk, and bake until puffed and light golden brown on top and bottom, about 14 to 16 minutes.