These Thai-Inspired Street Dogs boast some of my favorite Thai flavors like peanut, garlic, and ginger in a tasty slaw! What could be better for topping hot dogs?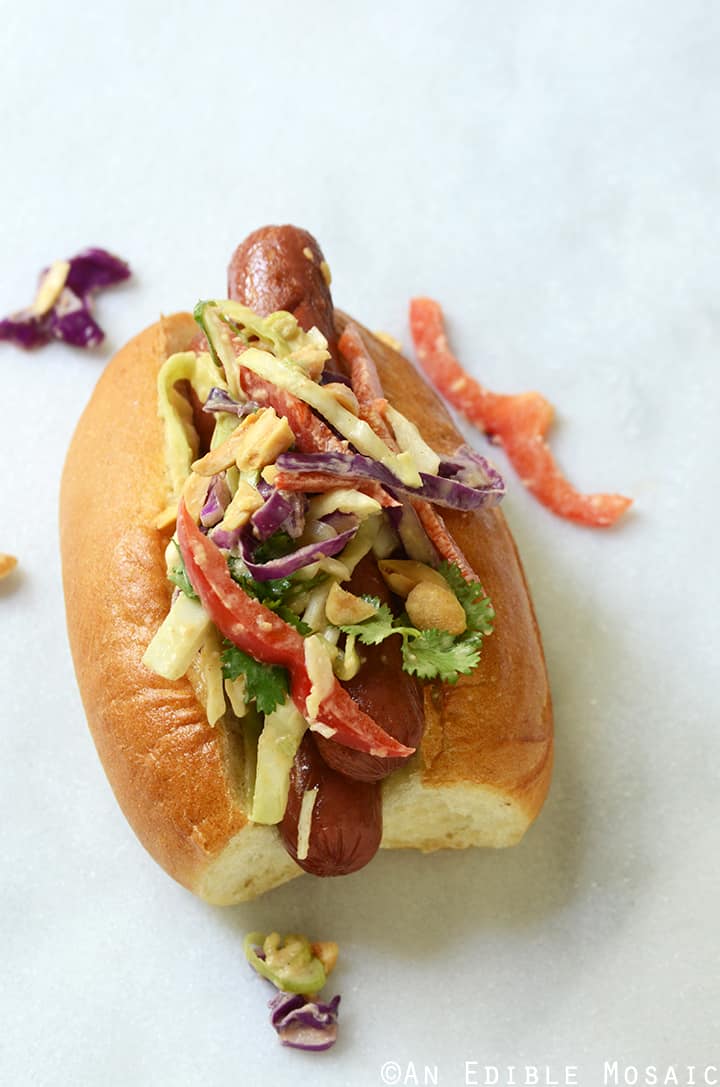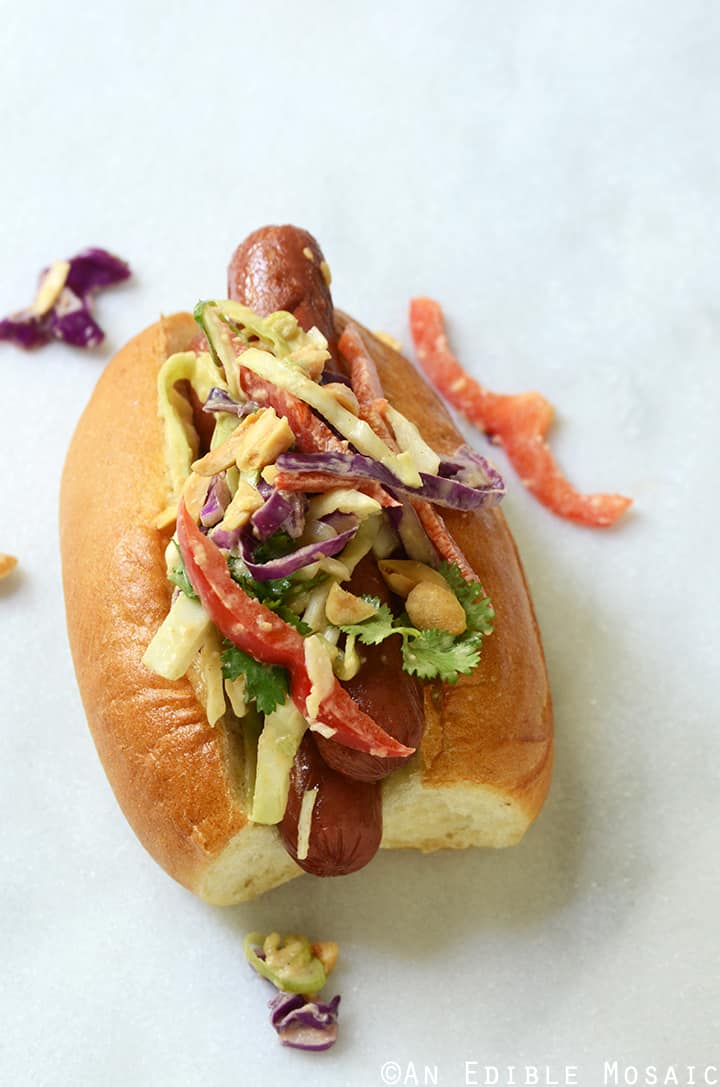 I am a street food junkie, especially when I travel. I think there's no better way to get to know the cuisine of a different culture than to jump head-first into the food the locals enjoy. (Plus street food has the added benefit of being much more affordable, which means you get to sample more…right?)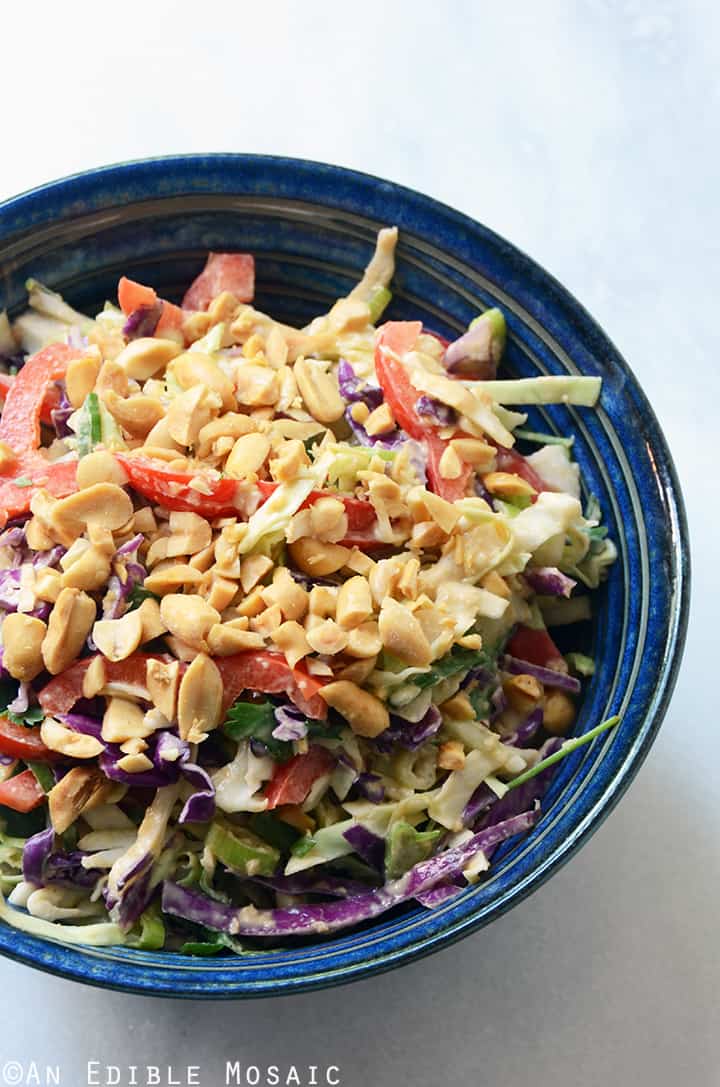 Street food in Thailand is incredible. When my husband and I were in Phuket, we visited the local weekend market three days in a row because we were hooked on the food (ok, the shopping was pretty fun too). There was so much to sample and we didn't come across a dish we didn't like. One of our favorites was the variety of meat served on a stick (because we all know food on a stick is just more fun).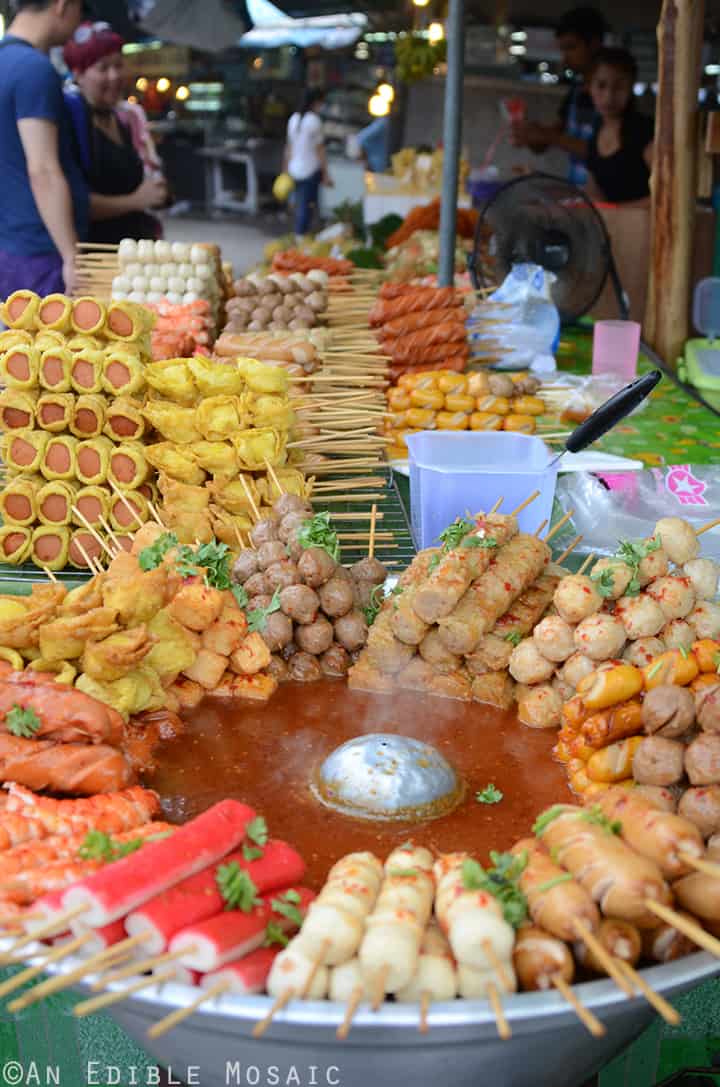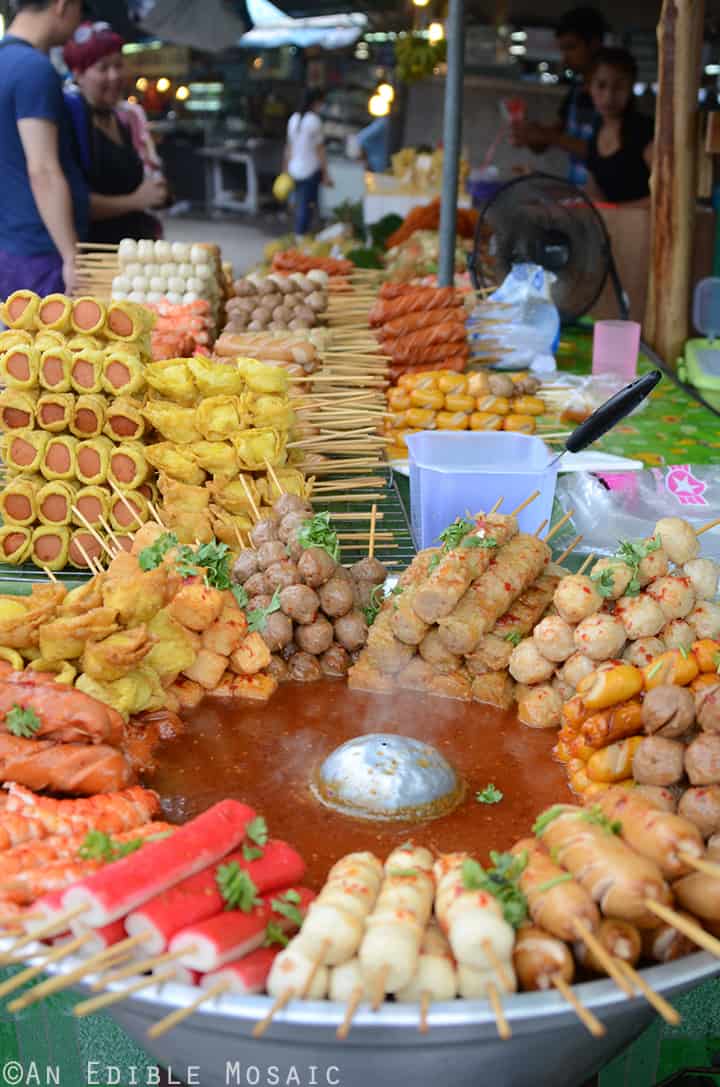 Here (above) is some of the variety of food that my husband and I saw served on a stick at the local weekend market in Phuket, Thailand (you can see more street food in Thailand in this post).
Even the hot dogs on a stick were good at the market in Phuket, dipped in a sweet/spicy Thai sauce. Truthfully, we don't have hot dogs often around here (maybe once a summer…twice max), but when I get a hankering for them, nothing else will satisfy. They're one of the quintessential American summer staples, after all. My husband and I don't eat pork, so we go for the organic uncured beef dogs (yum). Turkey or chicken sausage would also be great for this recipe.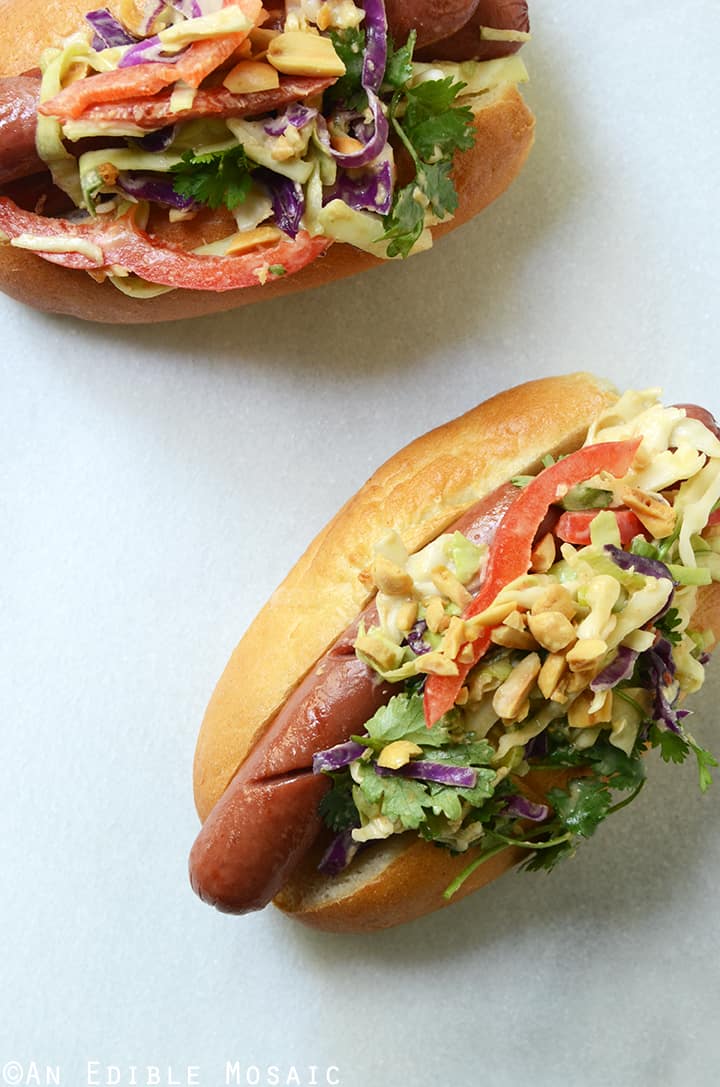 But here, the beauty of this recipe is in the simplicity of the slaw. I used Earthbound Farm Organic Crunchy Slaw Street Taco Blend, which is a blend of red and green cabbage with fresh cilantro. Now, this little gem of an ingredient is a win for me for several different reasons. First of all, it's top-quality organic produce from a brand that cares about their farmers, their consumers, and the environment. And secondly, slicing cabbage is basically my worst chore ever, so I'm happy for the timesaver and the fact that I don't have to slice it myself. See what I mean? It's a win on so many levels.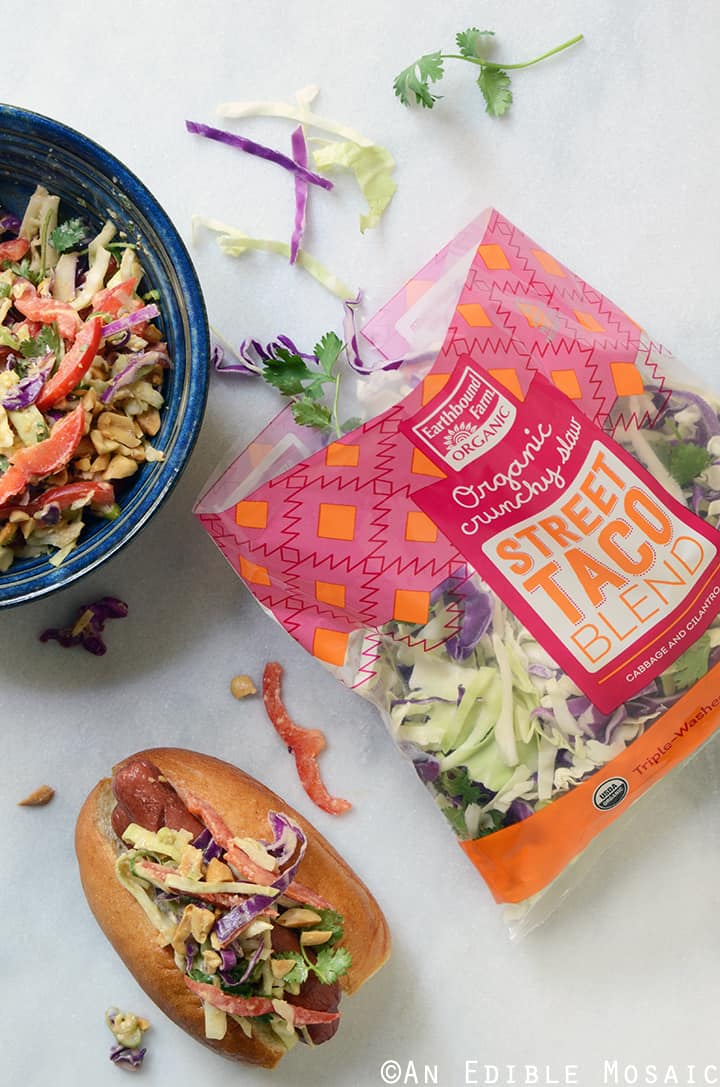 Now, about the slaw's dressing, which might as well be the nectar of the gods. I drew inspiration from Thai flavors like peanut, fish sauce, garlic, and ginger. The components are pretty basic, but the flavor profile is spot-on, and balanced in a way that Thai cuisine achieves so beautifully. I'm not usually overly tempted to sample my food during a photo shoot, but I admit I kept sneaking spoonfuls of this slaw. Let's just say, you should probably play it safe and make a double batch.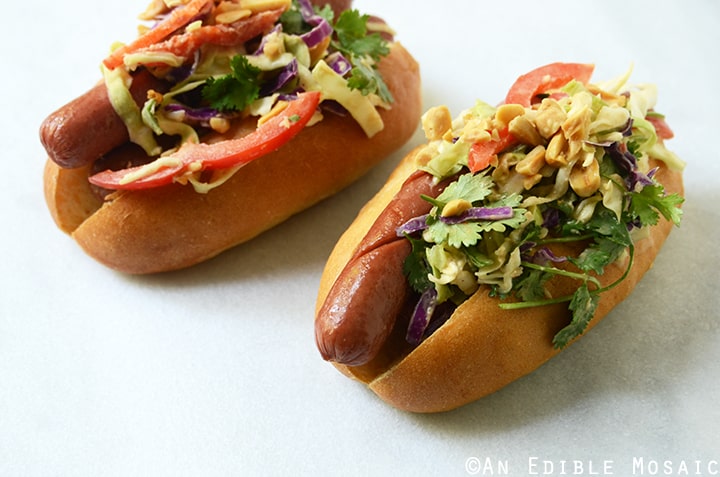 Thai-Inspired Street Dogs: Grilled Hot Dogs with Peanutty Garlic, Ginger, and Cilantro Slaw
Prep time:
Cook time:
Total time:
These Thai-Inspired Street Dogs boast some of my favorite Thai flavors like peanut, garlic, and ginger in a tasty slaw! What could be better for topping hot dogs?
Ingredients
Slaw:
3 tablespoons creamy peanut butter
3 tablespoons water
1 teaspoon soy or tamari sauce
1 teaspoon fish sauce
1 teaspoon rice vinegar
1 clove garlic, crushed or grated on a microplane
1½ teaspoons fresh ginger, grated on a microplane
¼ teaspoon crushed red pepper flakes (more or less to taste)
1 (9 oz/255 g) bag Earthbound Farm Organic Crunchy Slaw Street Taco Blend
1 red bell pepper, thinly sliced
2 scallions, green and white parts, thinly sliced
2 tablespoons peanuts, chopped
Other:
8 organic uncured beef hot dogs
4 top-split buns
Instructions
For the slaw, whisk together the peanut butter, water, soy or tamari sauce, fish sauce, vinegar, garlic, and ginger, and crushed red pepper flakes in a large bowl. Stir in the slaw blend, bell pepper, and scallion. Sprinkle the peanuts on top.
Grill the hot dogs.
To serve, place 2 grilled hot dogs into a top-split bun and top with a generous amount of slaw.
Store any leftover slaw refrigerated for up to 2 days.
Disclosure: I received the Earthbound Farm products that I used in this recipe for free, and I also received compensation for this post. I am happy for the opportunity to share brands that I believe in with my readers, and I hope you enjoy my recipe. As always, opinions stated are my own.