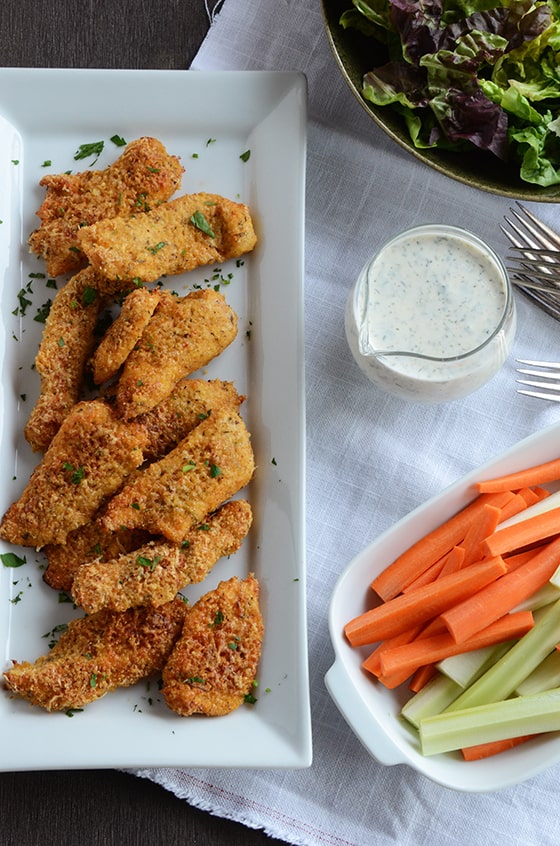 When I worked at a pizzeria during high school, one of my absolute favorite things to eat on break was a chicken finger (aka chicken tender) sub with blue cheese. Of course, being a kid and running around like a banshee during work (that pizzeria was always busy!) meant there weren't ramifications for eating such an indulgent meal now and then (read: more often than not).
Just one of the fun (haha!) aspects of growing up is the fact that you can no longer eat everything you want with reckless abandon and expect it not to take its toll.
I still like chicken fingers, but now I like them a little healthier.
How about baked instead of deep-fried, grain and gluten-free, and even better tasting than the original? Not to mention that this meal comes together in just 30 minutes, making it perfect to throw together on a busy weeknight. While the chicken is in the oven you can throw together a salad, cut up carrot and celery sticks, or get out the fixings to make homemade subs/sandwiches/heros/hoagies/whatever you want to call them. Serve them with something like Homemade Buttermilk-Herb Dressing for dipping and what more could you want?
Just a heads-up, for this recipe, freshly grated Parmesan cheese must be used instead of pre-grated. This is because when you grate the Parmesan (preferably on a microplane, which grates the cheeese so it's very fluffy), it gives the cheese quite a bit of volume, and we need it to coat all the tenders…not to mention, the flavor of fresh-grated is so much better!
Ingredients
1 tablespoon olive oil, divided
1 large egg + 1 large egg white
2 tablespoons milk (any kind you like)
1/2 cup (65 g) almond meal
1 oz (30 g) freshly grated Parmesan cheese
1 teaspoon garlic powder
1 teaspoon onion powder
1 teaspoon dried Italian herb mix
1/2 teaspoon paprika
1/4 teaspoon salt
1/4 teaspoon black pepper
1 lb (450 g) boneless, skinless chicken breast halves, cut into 3 by 3/4-inch strips
Instructions
Preheat oven to 425F; drizzle 1/2 tablespoon olive oil on a large baking sheet and spread it around.
Lightly beat together the egg, egg white, and milk in a shallow bowl.
Stir together the almond meal, Parmesan cheese, garlic powder, onion powder, Italian herb mix, paprika, salt, and black pepper in another shallow bowl.
Dip each chicken strip first in the egg mixture, letting the excess drain off, and then in the almond meal mixture, lightly pressing the mixture into the chicken.
Arrange the coated chicken on the prepared baking sheet so they're not touching; drizzle the remaining 1/2 tablespoon olive oil on top.
Bake until the chicken is lightly browned and fully cooked (there should be no pink in the center when you cut into it), about 15 minutes, rotating the pan once. (If your chicken is fully cooked and you want it more browned, you can run it under the broiler for a couple minutes – but watch it closely because it can burn fast!)
Serve with salad and/or carrot and celery sticks, or use the tenders to make a homemade chicken sub/sandwich/hero/hoagie.
Notes
http://www.anediblemosaic.com/baked-chicken-tenders-gluten-free/