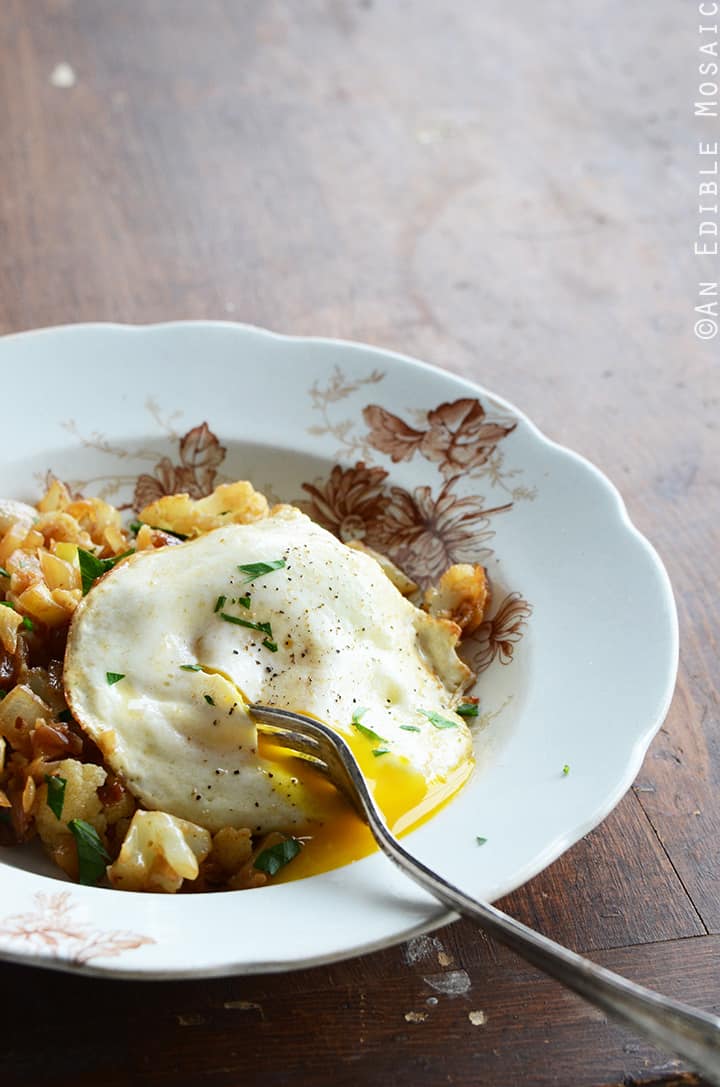 Syrian or Lebanese?, Mike asked me late one evening, wondering what I was in the mood for.
Syrian! A glimmer in my eyes, I replied instantly, already excited at the prospect.
(Side Note: Something you might not know about Mike is that he was born here in Kuwait and left the country as a young child with his family to live in Syria – his mother's homeland – after the Iraqi invasion of Kuwait in the early 1990s. He still has several childhood friends here.)
That night, Mike and I were going out to dinner with one of his friends that he had reconnected with since we moved here. Life is funny like that…reconnections from our past are unexpectedly interwoven with new experiences.
As we drove to the restaurant through the dusty, crowded streets of Kuwait I had no idea the desert oasis that awaited us.
The lot was so full we had to park the car at the end, in a spot that wasn't really a spot, half of the car on the pavement and the other half in the surrounding sandy soil. We walked through the parking lot and up the steps of the restaurant, and I couldn't help but feel as though we were transported to Damascus. A beautiful stone geometric star-shaped pool inlaid with a mosaic design like those found in Al Azem Palace in Damascus sat outside, the sound of its gurgling water creating a calming mood and the slight mist it gave off refreshing those passing by. I don't know if it was my imagination, but I could have sworn I smelled jasmine.
We walked in and the first thing I noticed was how spacious it was. It looked like a Damascene courtyard. There were more fountains and the walls were decorated in the ablaq architectural style of rows of fluctuating dark and light-colored stone that is so popular in Damascus. High ceilings, comfortable chairs, linen tablecloths. The atmosphere welcomed us in and we felt at home.
Our wait staff wore what Mike told me was traditional Syrian attire; they were all male, but quite diverse despite that, saying they were from Palestine, Egypt, and a few other places that escape my memory now. And friendly. They were so friendly. Mike chatted with them in Arabic, talking and laughing, especially with our main waiter – who, like Mike's father, is from Palestine – for a good long while.
Seconds after being seated we were greeted with cool water and flatbread served with two dips: one thick, creamy, and yogurt-based with cucumber and mint, and the other green olive-based and more like tapenade. Hot bread on a huge round wicker tray was always being brought by our table. Any time I'd politely decline, saying I still have bread, the waiter would insist, pointing to a round loaf and saying, But this is hot! How could I resist steaming hot, fresh bread? I couldn't. And it didn't need hummus, labneh (yogurt cheese), or anything else to be completely delicious.
The salads and appetizers arrived, and the wait staff served us our portions at the table. I think the waiter must have been nervous because half of the tabbouleh that was meant for my plate ended up on the table beside it. He looked mortified, and I brushed it off, saying I do that all the time at home. He smiled. Another of our waiters looked just like a young President Obama. I told Mike and Mike told the waiter, who beamed a brilliant white smile as if we had just handed him a huge check. It totally made his day.
The fattoush was perfect, fragrant and full of whole herb leaves that I could recognize and a few I couldn't. The tabbouleh was just as tabbouleh should be: tart, crisp, and all about the pretty parsley chiffonade. The hummus was light and creamy. I had Fatayer bil Sabanekh (spinach pies) as my main, and I was perfectly satisfied without meat. Mike ordered half a chicken cooked over charcoal and his friend ordered chicken kebabs. Being offered tastes of each, I tried everything. It was all outstanding. The chicken kebabs reminded me of the ones my beautiful Syrian mother-in-law Sahar made for me one night when we were visiting Mike's family while they were still in Damascus. We were grilling and everyone else was having lamb kebabs, but Sahar knew I don't eat a lot of red meat and much prefer chicken, so she made them special. She's incredibly thoughtful like that.
Mike and his friend both smoked fruit-scented tobacco hookahs after dinner; Mike, as always, had apple (toofah) and his friend had grape (ainab). I sipped strong mint tea. Mike's friend brought over a beautiful plate of sweets from the dessert buffet. I wish that I had room to indulge because they looked divine.
A while later, our head waiter came by and with a big smile, whispered something into Mike's friend's ear. There was some disagreement and then nodding. The waiter walked away and Mike asked what he had said. Everything is on the house, his friend replied with a look of astonishment.
We were touched. This is the Syrian hospitality that I remember so fondly during my time in Damascus. The thoughtfulness, welcoming attitude, and being nice just for the sake of being nice that I have seen time and time again exhibited in Syria's beautiful people. I don't know if I've ever mentioned it on my blog, but back when Mike and I were first married and we were on our honeymoon in Damascus we were out shopping one evening at Souk al Hamidiyah and wanted to grab a taxi home, but it was getting late and we were having trouble finding one. Finally a taxi pulled over, but the driver had his sleeping daughter, who looked about two years old, in the backseat. He asked if this was ok and we said it was; I was careful not to disturb her in the backseat and Mike took the passenger seat in the front. Mike and the driver chatted about life in Syria and how the driver was having trouble making ends meet. He asked about Mike and I, and Mike happened to mention in passing that I was from the US. The chatter continued the entire way. When we pulled up to our destination, the driver absolutely refused payment from us, saying we were travelers there and guests in his country, as if he had been the very one to invite us. The driver, a perfect stranger, who was having trouble making ends meet and had a little girl and a wife to feed.
I was speechless. I know these are not anything close to the stories of Middle Eastern brutality that you hear on the news – they are quite the opposite, actually; but these are, in fact, my own firsthand Middle Eastern experiences. And I thought you had the right to know.
As I sat in that breathtaking Syrian restaurant that truly was a little slice of Damascus here in Kuwait, I choked back a lump in my throat as I thought of Syria now. If you know someone who is Syrian, I want to tell you that even if they are away from immediate danger and aren't in Syria, even if their immediate family isn't in Syria, and even if they don't talk about Syria often, their heart is probably broken for their ravaged homeland. Show them a little extra kindness and keep them in your thoughts and prayers; knowing the kind-hearted nature of Syrians, I'm sure they'd do it for you in return.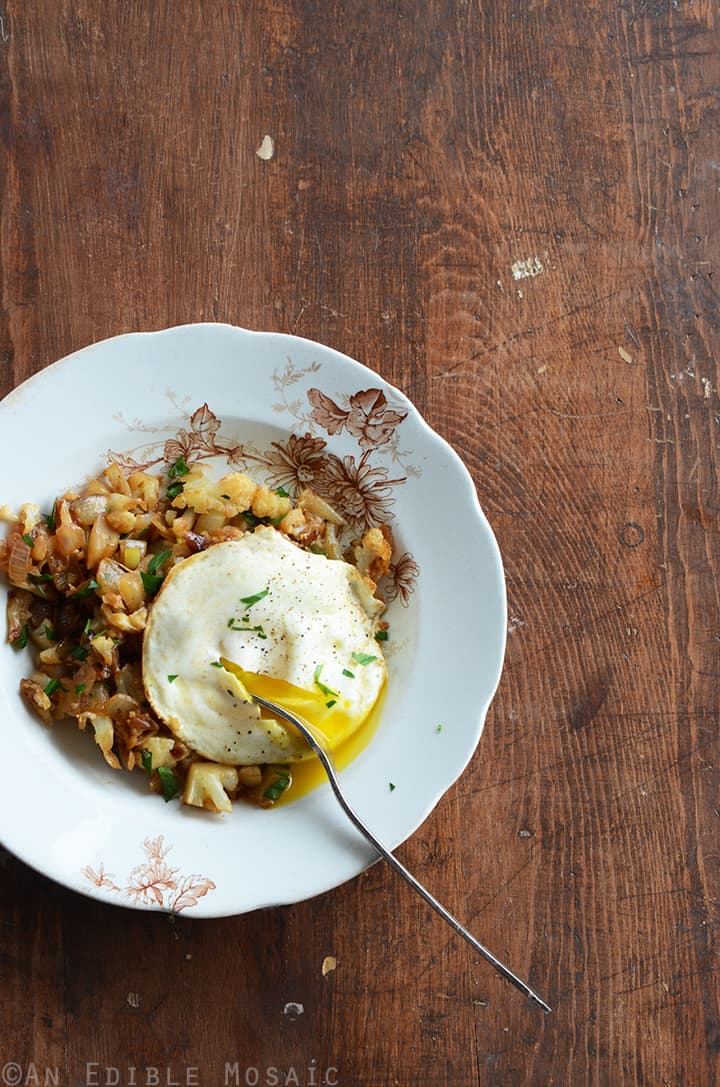 So, what does this Cauliflower Hash have to do with Syria or with that experience? Not much, save one thing. Like the cuisine of Syria that I have grown so fond of, this meal is a celebration of a few simple, unadorned flavors that shine brilliantly when they're combined. This meal isn't fancy or pretentious; it's nourishing, delicious comfort food, or what I like to call Syrian-style comfort food. Add a fried or poached egg on top and it's a full meal that doesn't get any better.
Enjoy it with someone you love.
Ingredients
2 tablespoons olive oil
3/4 lb (350 g) cauliflower, chopped into small pieces
1 medium onion, diced
1/4 teaspoon smoked paprika
1/4 teaspoon salt
1/8 teaspoon black pepper
3 tablespoons water
1 large clove garlic, minced
2 teaspoons lemon juice
2 teaspoons minced fresh parsley leaves (for garnish)
Fried eggs, for serving (optional)
Instructions
Heat the oil in a large skillet over medium-high heat; add the cauliflower and onion in an even layer and let it cook without stirring until it takes on a little color on the bottom, about 2 to 3 minutes.
Give it a stir, then add the smoked paprika, salt, black pepper, and water. Cover the skillet and cook until the cauliflower is fork-tender but not mushy, and has taken on a golden color, about 3 to 5 minutes.
Turn the heat down to low, add the garlic, and cook 2 minutes, stirring constantly.
Stir in the lemon juice and cook until evaporated, about 30 seconds.
Serve with the parsley sprinkled on top, and add a fried egg if you like.
http://www.anediblemosaic.com/cauliflower-hash-a-beautiful-experience-at-a-syrian-restaurant-in-kuwait/
P.S. I'm hoping to return to that beautiful restaurant soon and take pictures of everything to share with you!