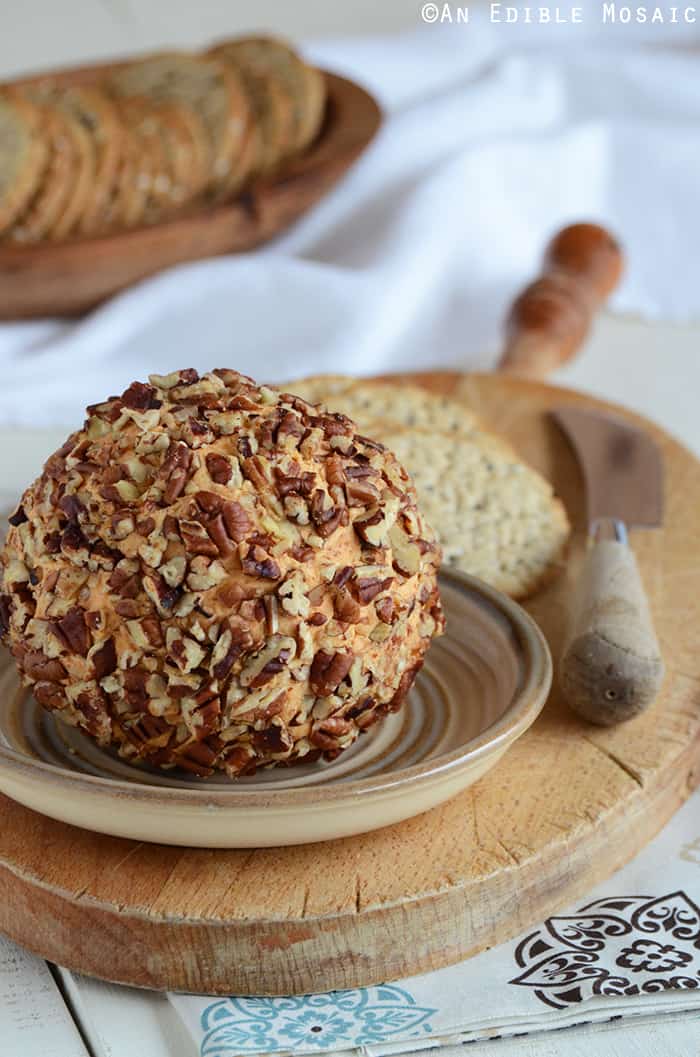 At any party that my mom threw when I was growing up I remember a cheese and cracker tray being present. (Hmm, I guess it isn't such a big surprise that as an adult I'm a cheese fiend, now is it, lol?) Between my sister and I, I was always the one who my mom delegated the job of arranging the cheese tray. And I didn't mind at all.
So now, when I'm hosting or going to a party and in need of a dish to pass, my mind wanders for a bit and then settles on a cheese tray. This month's 5 Star Makeover theme was Tailgate Party and of course this is what came to mind. Thanks to Natasha and Laz for hosting the event!
To make things more interesting, I like to spice up my cheese trays…and a cheese ball is a fun way to (literally) add some spice. I usually do a mix of cream cheese and some kind of sharp hard cheese that's been shredded, and the result is a soft, spreadable cheese. This cheese ball is slightly tangy and very flavorful with the spices used, but no one spice really overpowers another, and toasted pecans on the outside provide a fantastic crunch. In the end it reminds me of what I think of as pub cheese or pub spread.
There are so many different flavor variations that you can experiment with here. Crisped and crumbled turkey bacon and fresh minced scallion create a whole different experience. Or swap out cheddar for blue cheese, add minced fresh herbs instead of the Worcestershire and spices, and serve grapes along with the crackers. The possibilities are endless.
Ingredients
8 oz sharp cheddar cheese, shredded
8 oz cream cheese, room temperature
8 oz farmers cheese (no salt added)
2 teaspoons Worcestershire sauce
1 teaspoon sweet paprika
1/2 teaspoon onion powder
1/4 teaspoon salt
1/8 teaspoon black pepper
1 cup toasted pecans, chopped
Instructions
Pulse together all ingredients in a food processor until it forms a smooth paste.
Divide the mixture in half and roll each half into a ball. Put the cheese balls on a paper towel-lined plate, cover with plastic wrap, and refrigerate for 8 hours or overnight.
Before serving, roll each ball in pecans and them sit at room temperature for 45 minutes; serve with crackers.
http://www.anediblemosaic.com/cheddar-cheese-ball-appetizer-or-cheddar-pub-spread/