Mike and I were recently snowed in due to some crazy winter weather.  Over a period of a couple days we had over three feet of snow dumped on us and there was even thunder and lightning!  (See below for some snowy pictures.)  I didn't mind for three reasons:  it was a gorgeous winter wonderland out there, I got to spend time alone with my hubby (what's more romantic than being snowed in with your love?), and I got to make one of my ultimate comfort foods – chicken and dumplings – for dinner.  It was absolute perfection. 
On an entirely different note (but also completely related to this time of year), the wonderful people at CSN recently contacted me to sponsor a giveaway.  The prize is a $65 gift card to use on any CSN website.  If you're new to CSN, I encourage you to check out their site…they have everything from shoes to stools to sling backpacks.  And with Christmas just around the corner I love internet shopping…how else could I manage to shop in my pajamas while snowed in, avoid the mad rush, and be able to bake cookies at the same time I'm shopping?  
To participate in this giveaway, just leave a comment on this post telling me if it snows where you live.  This giveaway ends December 13, 2010 at 9PM EST; after that, the winner will be determined randomly and notified by email.  Good luck to all!
Chicken and Dumplings
(Yield:  4-6 servings)
6 c low-sodium chicken stock
1 medium-large onion, diced
3 medium-large carrots, diced or cut into rounds
2 large stalks celery, diced
1 bay leaf
2 tsp minced fresh thyme
1/4 tsp dried, powdered sage
2 TB all-purpose flour mixed with 1/4 c water to form a flour slurry
2-3 c cooked, shredded chicken
1 c frozen peas, thawed
1/4 c minced fresh parsley
Salt and pepper
Dumplings:
2 c all-purpose flour
2 tsp baking powder
3/4 tsp salt
3 TB trans fat-free vegetable shortening (such as Crisco)*
1 c milk
In a 5-quart pot with a lid, combine chicken stock, onion, carrot, celery, bay leaf, thyme, sage, 1/2 tsp salt, and 1/8 tsp pepper.  Bring up to a boil, whisk in the flour slurry, and turn heat down to a simmer.  Cover the pot (leaving the lid slightly ajar) and simmer 15 minutes, stirring occasionally. 
In a medium bowl, whisk together dry ingredients for dumplings; use a fork to cut shortening into flour; do not completely combine shortening and flour, there are some larger pieces about the size of peas.  With a wooden spoon, stir milk into flour/shortening mixture, being careful not to overmix.
Drop dumpling dough by slightly heaping tablespoonfuls into simmering soup; cover and cook about 10 minutes, until dumplings are puffed and a toothpick inserted into the center of one comes out clean.  Stir in chicken, thawed peas, and parsley, and cook a couple minutes until warmed throughout.  Taste and season with salt and pepper as desired.
*I used shortening so the dumplings would have a light, fluffy texture; I haven't tried it, but you could probably use butter instead of the shortening if you prefer.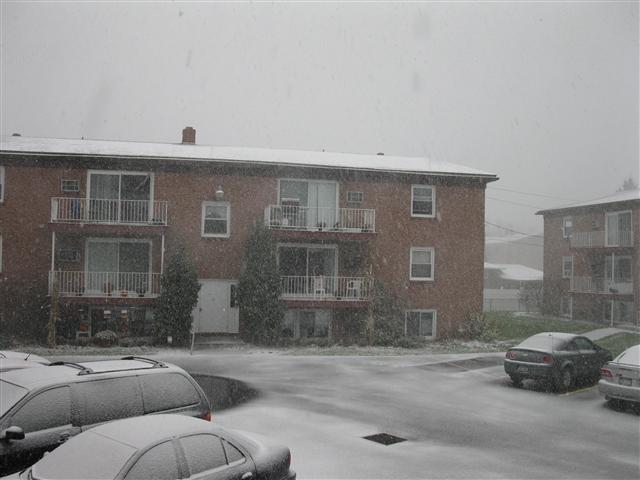 And So It Begins (As a point of reference for how much snow we got, my car is the one in the front on the left.)
The Next Day…But It's Not Done Yet (My car is in front…it's getting buried!) 
The Third Day (All that can be seen of my car is the mirror!)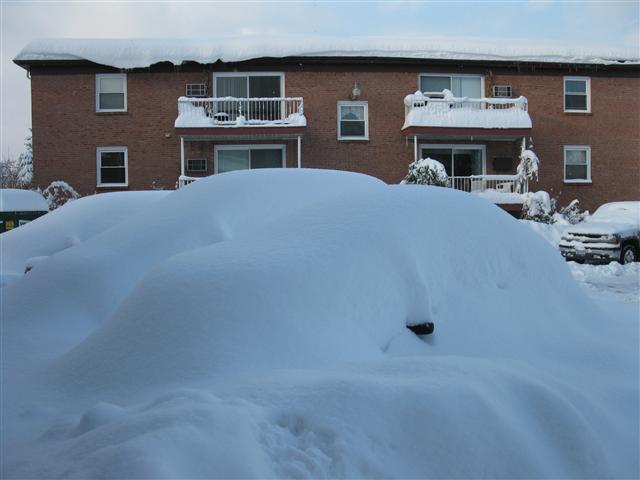 I Had to Go Down For a Close Up of My Car 
The View Off My Balcony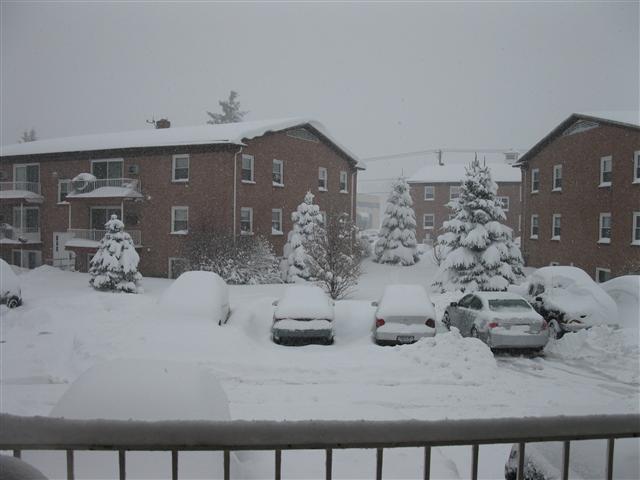 A Winter Wonderland
 Time to Warm Up…