Soft cake that's aromatic with warm spices and brown sugar is swirled up with a rich, creamy maple cinnamon frosting to make this Gingerbread Cake Roll recipe something truly festive and special.
I've always loved those pretty roll cakes, the ones that look like a giant Swiss roll (or Ho Hos or Yodels…whatever you want to call them!). You slice into them and they have beautiful swirls of cake and frosting.
My first experience with a cake like that was back in high school French class. For our holiday classroom party, our teacher let the students choose a recipe to make and bring in for the class.
I chose a Bûche de Noël, also known as a Yule Log, which is not exactly a beginner recipe, but I didn't know any better, lol! As if the cake and frosting we're enough work, it's also pretty elaborately decorated with things like meringue mushrooms. But it is absolutely beautiful.
Even though my mom was a little frustrated that I chose such a complex recipe, we had a great time making it.
This Gingerbread Cake Roll with Maple Cinnamon Frosting is festive twist on a classic cake – and it's much easier to make! The soft cake is richly spiced and laced with brown sugar, and the maple cinnamon-scented frosting is the perfect accompaniment.
You might be surprised that making this Gingerbread Cake Roll is a lot easier to make than you might think! It was much easier than making that Bûche de Noël for French class back in high school, lol.
The Role That Blogging Played in this Gingerbread Cake Roll
One of the best things about blogging is the people you meet. I can't speak for other blogging industries, but food bloggers are some pretty amazing people. They're creative, inspirational, and community-oriented.
Around the time I first started blogging (back in 2009), I virtually met Evelyne. At that time her blog was called Cheap Ethnic Eats and my blog was called Thought for Food. Her blog is now called CulturEatz!
Back at that time, blogging was a completely different ball game. We shared snippets of our lives, not SEO keywords. Our blogs were a reflection of ourselves, recipes made for and shared with loved ones.
It was all about the backstory.
Eve and I both shared a love of food, culture, travel, and everything related so of course we hit it off. We participated in a couple cooking groups together, but it wasn't until last spring – just about 10 years later – that we finally met in person!
She lives in Montreal, and last spring (right before the pandemic hit) she came down to Florida to visit me. We had a great time eating local food (and she brought me Montreal bagels, which I appreciate, but fully admit that I'm ruined for other bagels now, lol!), exploring the local parks, beaches, and natural springs. Eve and I even saw a mom alligator and about 10 of her babies!
It's made me really happy that Eve and I have remained in touch regularly since last spring. She and I chat over video messenger, remotely watched a bit of a Netflix series together, and spent a four hour Zoom call making homemade Russian dumplings called Pelmeni together! (I shared a picture of my Pelmeni on Instagram.)
The Backstory for this Gingerbread Cake Roll Recipe
Mine and Eve's latest collaboration idea involved holiday desserts. We decided that I would choose a festive American dessert for her to make, and she would select a Canadian holiday treat for me to make.
I took a few days to research it, and I was thrilled when I messaged her with my idea: Pumpkin Cake Roll with Cream Cheese Frosting! The next day she messaged me back with her dessert of choice: Gingerbread Cake Roll with Maple Frosting! It was a match made in heaven, lol.
We set up a Zoom call for a Sunday afternoon in November and made our respective cakes. Since we can't travel now, it was the next best thing to actually being in the kitchen together. Both our cakes turned out beautifully and in years to come when I make it, I'll think of my dear friend Evelyne.
Be sure to check out the Libby's Pumpkin Roll on Evelyne's blog!
And not only is Eve a pretty fabulous person, but she's also a great content creator with her love of food, culture, and travel. Follow her on her social media channels for excitement and inspiration:
What is a Sponge Cake?
The cake used for this Gingerbread Cake Roll is a type of sponge cake.
A sponge cake is a cake that is leavened with beaten eggs and has a light, spongy texture. Traditionally, sponge cake only contains eggs, flour, and sugar. This type of cake doesn't contain butter or oil.
Sponge cake is commonly used to make a cake roll because it's easy to roll and mold.
The Best Gingerbread Cake Roll Recipe
This Gingerbread Roll Cake Recipe features a brown sugar-sweetened, gingerbread-spiced sponge cake and a maple cinnamon frosting. It slices up beautifully and you can see the cake and frosting swirl. You won't believe how easy it is to make it. It really is the best gingerbread cake recipe!
Tips for Making a Gingerbread Cake Roll
Prepare your pan properly. I know it might seem like overkill to butter and flour the pan, and then line it with parchment paper, and then spray the parchment with cooking spray, but I promise you'll thank me when your cake is baked!
Make sure your eggs are whipped enough. They really do need to be tripled in volume.
Don't over-mix the batter. When you mix the dry ingredients into the egg/sugar mixture, be careful not to over-mix and deflate the eggs.
Know when it's done baking. When it's done baking, this cake will spring back when you touch of the center of it.
Don't wait to roll it up. Your cake needs to be hot when you roll it up in a tea towel. And don't forget to dust your tea towel with powdered sugar before rolling up the cake.
Which end you roll from matters. Roll the cake from one of the short ends. You'll get a better swirl that way.
Let it cool before you frost it. Make sure your cake is completely cooled before you unroll it and frost the inside.
Give it time to set. To get the cleanest cuts, wrap your cake in plastic wrap, refrigerate overnight, and then slice it. Let it sit at room temperature for about 15 minutes before serving.
Dust it with snow. Cover up any blemishes on the outside with a generous dusting of powdered sugar!
More Festive Gingerbread Recipes to Make for the Holidays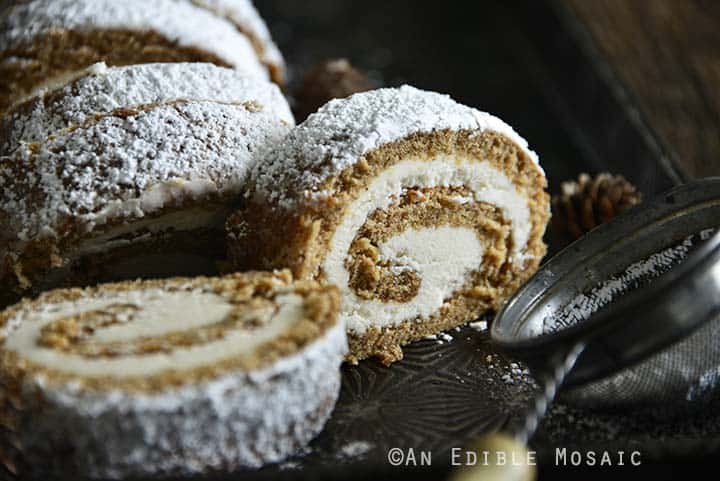 Did you make this recipe? Please rate it and leave a comment below because I love hearing from you! You can also tag @anediblemosaic on social media. To stay up-to-date FOLLOW ME on Instagram, Twitter, and Facebook. Xoxo, Faith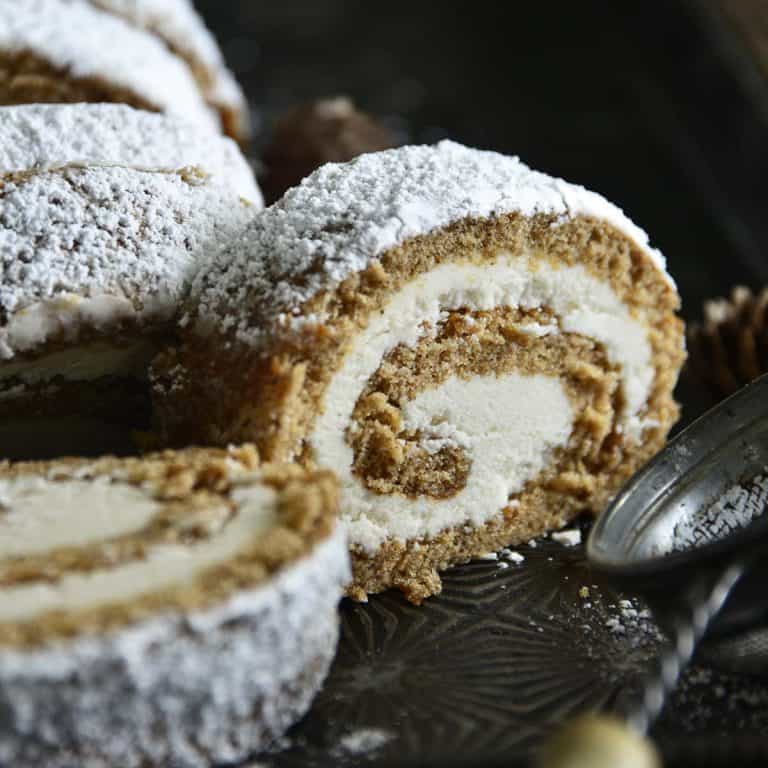 Gingerbread Cake Roll
Soft cake that's aromatic with warm spices and brown sugar is swirled up with a rich, creamy maple cinnamon frosting to make this Gingerbread Cake Roll recipe something truly festive and special.
Instructions
For the Cake:
Preheat the oven to 350F.

Butter the inside of a half sheet pan (18″ x 13″ x 1″ high), and flour the sides, tapping out the excess flour. Line it with a piece of parchment paper on the bottom, and spray cooking spray on the parchment. Set aside.

Lay a clean tea towel out on the counter and evenly sprinkle the top with powdered sugar.

Whisk together the flour, cornstarch, ginger, cinnamon, allspice, nutmeg, cloves, black pepper, baking soda, and salt in a medium bowl.

Beat the eggs in a large bowl until tripled in volume. Add the brown sugar and beat until thick, about 2 minutes.

Add the dry ingredients to the egg/sugar mixture and stir just until combined, being careful not to over-mix.

Pour the batter out onto the prepared pan and spread it out evenly.

Bake until the cake springs back when you touch it, about 10 to 12 minutes.

Turn the cake out onto the prepared tea towel and peel off the parchment paper. Starting at one of the short ends, roll the cake up in the tea towel into a log shape.

Transfer the cake to a wire rack to cool completely, about 2 hours.
For the Frosting:
Use a handheld electric beater to cream together the butter, maple syrup, vanilla, cinnamon, and salt.

Alternate between beating in the powdered sugar and the milk until all the powdered sugar is added and the buttercream is smooth and creamy.
To Assemble the Cake Roll:
Carefully unroll the cake and spread the frosting on the interior, leaving a 1-inch gap around the edges.

If desired, dust the top with powdered sugar before slicing.

You can slice it now, but I like to wrap the cake in plastic wrap and chill it before slicing to get clean cuts. When you slice it, cut it horizontally into 12 slices.
Nutrition
Nutrition Facts
Gingerbread Cake Roll
Amount Per Serving (1 slice)
Calories 245
Calories from Fat 63
% Daily Value*
Fat 7g11%
Cholesterol 70mg23%
Sodium 170mg7%
Potassium 56mg2%
Carbohydrates 43g14%
Protein 3g6%
Vitamin A 254IU5%
Calcium 30mg3%
Iron 1mg6%
* Percent Daily Values are based on a 2000 calorie diet.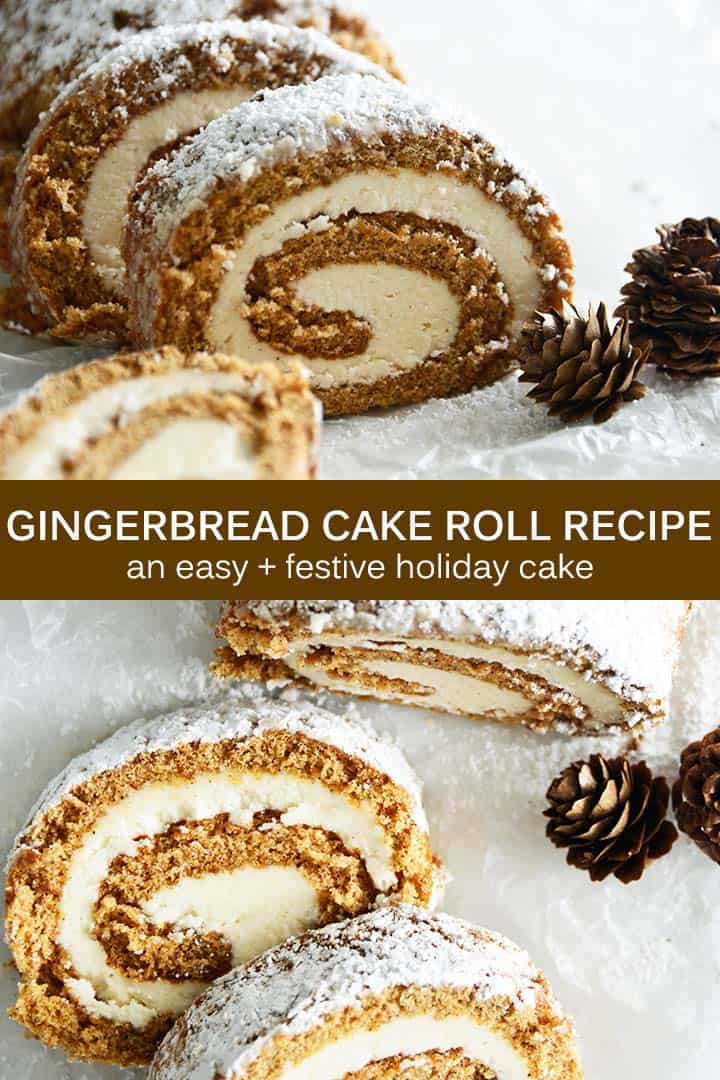 Disclosure: This post contains Amazon affiliate links to products I believe in, which means that even though it doesn't cost you anything extra, I will receive a small amount of money from the sale of these items. Thank you for helping to support An Edible Mosaic!