Rich and flavorful Moroccan-Spiced Chicken Stew is a wonderfully delicious nourishing comfort food that's perfect for warming up with on a cold evening.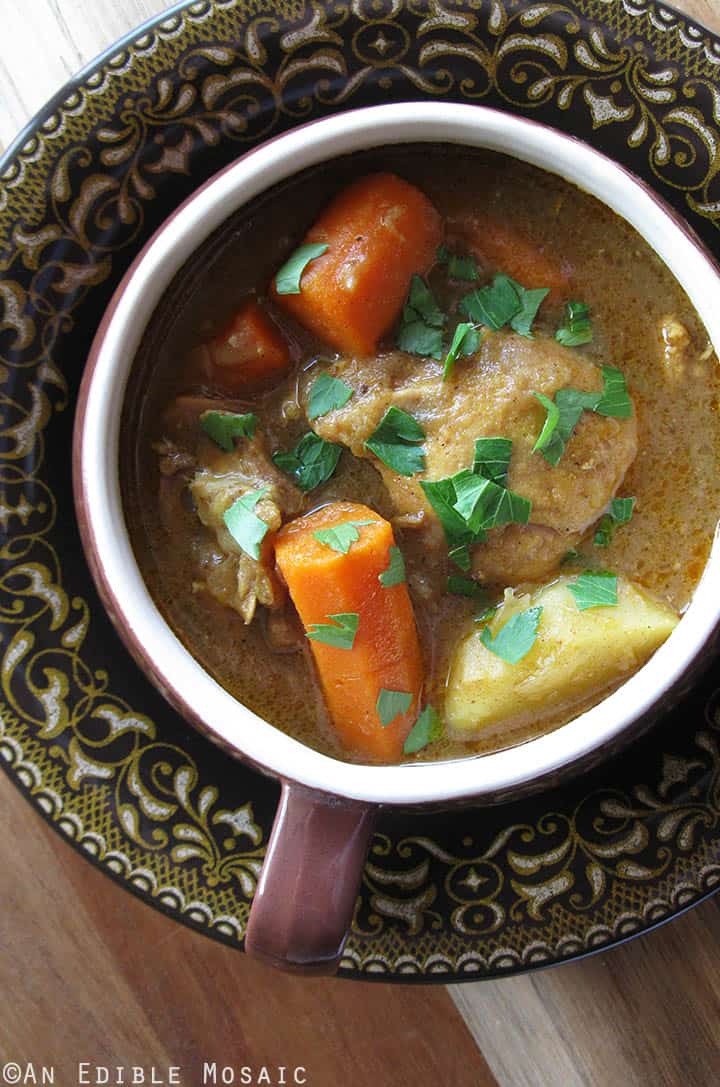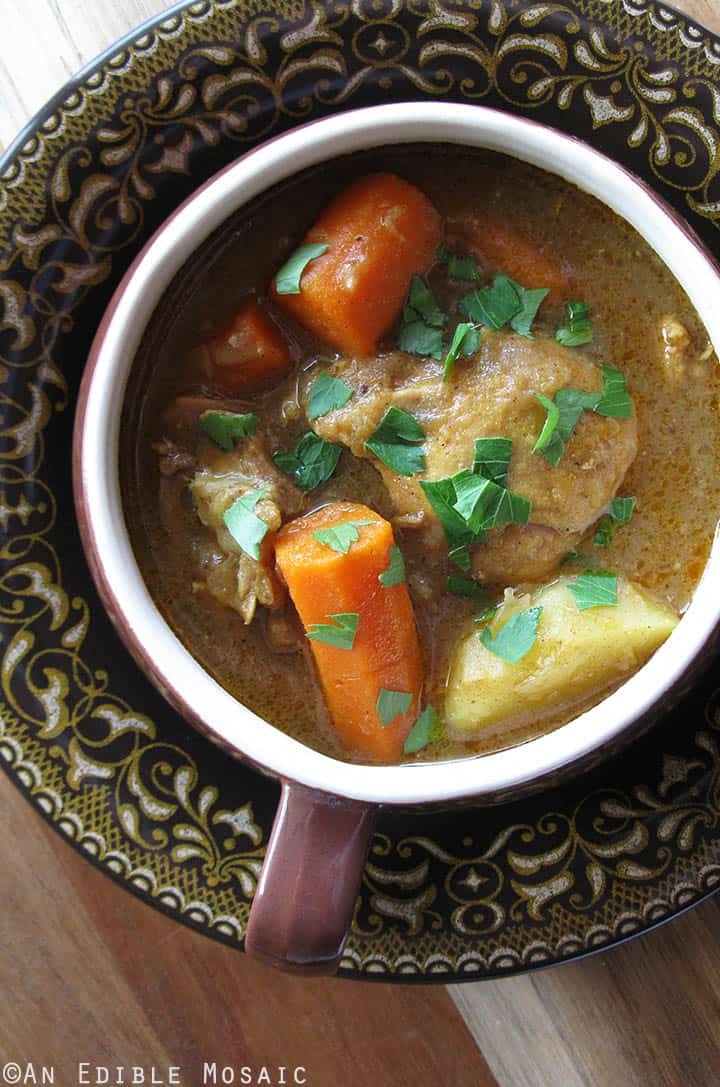 When I was thinking of making this dish it started out in my mind as Moroccan-Spiced Chicken Stew with Quince. Until Mike informed me that he doesn't like quinces, with the too-similar resemblance in flavor and texture they bear to apples (yes, he doesn't like apples either). So I improvised and added potato and carrot (both Mike-approved) instead. We both enjoyed the end result so it was worth the substitutions I made; Mike said it reminded him of a Kuwaiti dish he used to eat as a child (that he forgot the name of!).
The broth of this dish is really incredible and is actually more like gravy. It's richly spiced and thick, mostly because of the onion, which just melts into the liquid. The thing about this broth is the longer it simmers, the more the flavors marry and the more delicious it becomes. This is why I used chicken thighs, which stand up better to longer cooking than chicken breasts. Bone-in chicken would also be fantastic here, just be sure to take off the skin, since it adds a tremendous amount of unnecessary fat and would end up rubbery after stewing in this dish.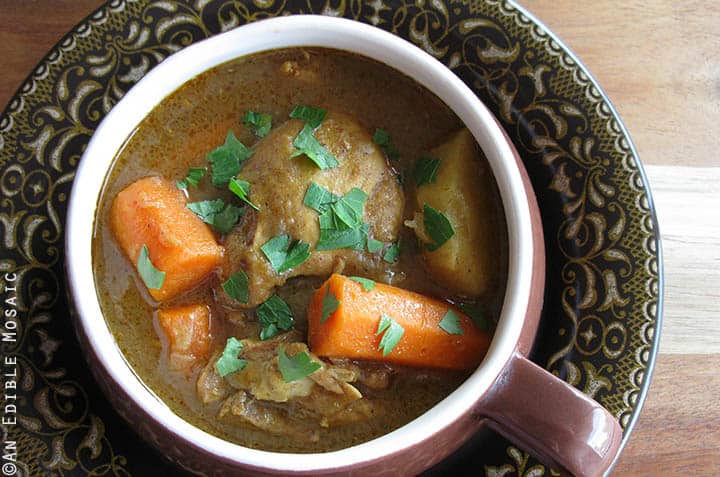 Moroccan-Spiced Chicken Stew
Prep time:
Cook time:
Total time:
Rich and flavorful Moroccan-Spiced Chicken Stew is a wonderfully delicious nourishing comfort food that's perfect for warming up with on a cold evening.
Ingredients
2 tablespoons olive oil
8 boneless, skinless chicken thighs (about 1½ to 2 lbs total weight), trimmed of fat
1 tablespoon all-purpose flour
2 medium-large onions, diced
1 tablespoon ras el hanout spice mix (see Note)
½ teaspoon ground turmeric
1 bay leaf
3 cups chicken stock
2 medium (about ¾ to 1 lb) potatoes, peeled and cut into 1-inch cubes
3 medium-large carrots, peeled and cut into 1 to 2-inch pieces
Salt and black pepper
Fresh minced parsley, for garnish (optional)
Instructions
In a large Dutch oven or thick-bottomed soup pot, heat the oil over medium-high to high heat. Dredge the chicken in the flour and gently shake off any excess; add the chicken to the hot oil and sear until browned on both sides, about 2 to 4 minutes per side. Transfer the chicken to a plate and set aside.
Add the onion to the Dutch oven. Turn the heat down to medium and sauté until the onion is softened, about 7 minutes, stirring occasionally. Add the ras el hanout, turmeric, and bay leaf and sauté until fragrant, about 30 seconds.
Add the chicken stock, ½ teaspoon salt, and ¼ teaspoon black pepper, and use a wooden spoon to scrape any brown bits that have formed on the bottom; add the chicken (with juices).
Bring to a boil, and then turn down to a gentle simmer and cover the Dutch oven, leaving the lid slightly ajar. Cook 45 minutes, stirring occasionally.
Add the potatoes and carrots, turn heat up and bring back up to a gentle boil, and then turn heat down to a simmer and cook about 30 minutes (covered, but with lid slightly ajar) until the veggies are tender, stirring occasionally. (You can remove lid for a bit if you want the sauce to thicken more.)
Taste and add additional salt and black pepper as desired. Serve the stew garnished with fresh minced parsley.
Notes
Ras el Hanout:
This is a Moroccan spice blend that's common across the Middle East. You can buy it at Middle Eastern grocery stores, or you can
make your own at home
. To make a small batch for this recipe (approximately 1 tablespoon), combine the following ground spices: ¾ teaspoon cumin, ¾ teaspoon paprika, ¼ teaspoon allspice, ¼ teaspoon cinnamon, ¼ teaspoon coriander, ¼ teaspoon turmeric, ¼ teaspoon black pepper, ¼ teaspoon cayenne pepper, 1 pinch cloves, 1 pinch nutmeg, and 1 pinch cardamom.
Reheating:
Like many stews, this is even better the next day. It thickens quite a bit upon standing, so you may need to add a splash of water before reheating. To reheat, cook over medium-low heat on the stovetop until warm throughout.