The Islamic fasting month of Ramadan is upon us again! This is a time for prayer, reflection, giving charity, and fasting. During Ramadan, fasting includes not only abstaining from food and water, but it also includes abstaining from swearing, gossiping, arguing, etc. During Ramadan fasting is done from sunrise to sunset to teach you patience, discipline, and empathy for others who aren't as fortunate.
Each day at sunset the fast ends with prayer and then the fast is broken with dates and water. This is followed by a meal called iftar, which usually starts with a first course of soup (traditionally Red Lentil Soup) and then a main course. During Ramadan Mike likes to have substantial meals, usually involving rice. You might remember last year when I made Beef Biryani Stuffed Inside Basmati Rice…this year I'm sharing a different (but equally delicious) form of biryani.
Ramadan Kareem (Generous Ramadan)!
I'm sending this recipe off to Chaya of Sweet and Savory for My Meatless Mondays!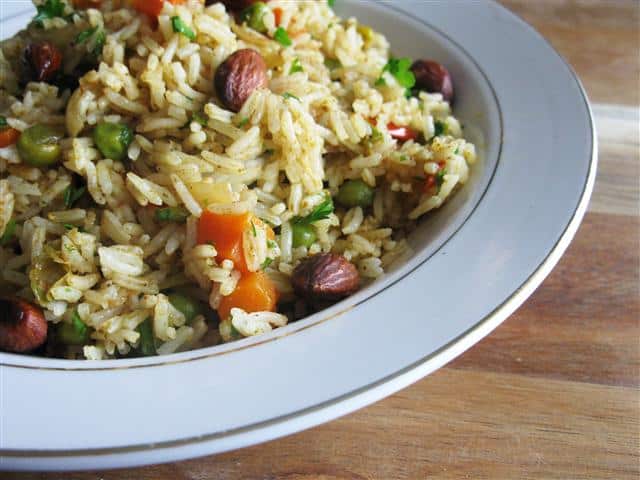 Pilaf-Style Biryani
(Yield: About 10 servings)
4 ½ TB canola oil, divided
3 c basmati rice
1 bay leaf
2 cloves
1 pod cardamom, crushed
2 medium onion, diced
1 red bell pepper, diced
1 green bell pepper, diced
2 medium carrots, peeled and diced
4 cloves garlic, grated
1-inch piece fresh ginger, grated
¼ c biryani paste (or more to taste)
2 c frozen peas, thawed
½ c fresh minced parsley or ⅓ c fresh minced cilantro
½ c unsalted almonds or peanuts
Salt and pepper
Optional Things to Serve With This:
Roasted Spiced Chicken
Cucumber-Yogurt Sauce (Raita)
Soak the rice in cold water for about 10 minutes, then drain (alternatively, you can rinse the rice in a colander with cold water until the water runs clear). In a medium pot with a lid, heat 2 TB of oil over medium heat; add the bay leaf, cloves, and cardamom pod and toast until fragrant (about 1-2 minutes). Add the rice and toast until fragrant (about 2 minutes), then add ½ teaspoon of salt and the amount of water specified on the rice's package, and cook the rice according to the package directions. When the rice is finished cooking, let it sit with the lid on for about 10 minutes before fluffing.
In a large skillet with a lid, heat 2 TB of oil over medium to medium-high heat. Add the onion, red and green pepper, carrot, and a dash of salt and pepper, and sauté with the lid on (stirring occasionally) for about 12 to 14 minutes, or until the veggies are tender but not browned. (You might need to add a splash of water to the veggies while cooking if the pan gets too dry.) Turn down the heat to medium-low and add the garlic, ginger, biryani paste, and a splash of water; sauté about 2 minutes (stirring constantly) until everything is fragrant. Add the frozen peas and heat another minute or so, just to warm the peas.
In a small skillet, heat the remaining ½ TB oil over medium to medium-high heat; add the nuts and sauté until golden (about 3-4 minutes), stirring frequently.
To serve, combine the fluffed rice, cooked veggies, and parsley (or cilantro if using), and top with the toasted nuts. If desired, serve with roasted spiced chicken, cucumber-yogurt sauce (raita), and/or Salad Shirazi.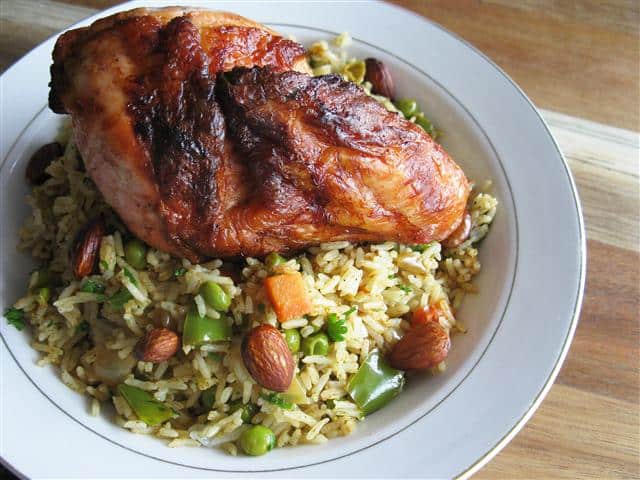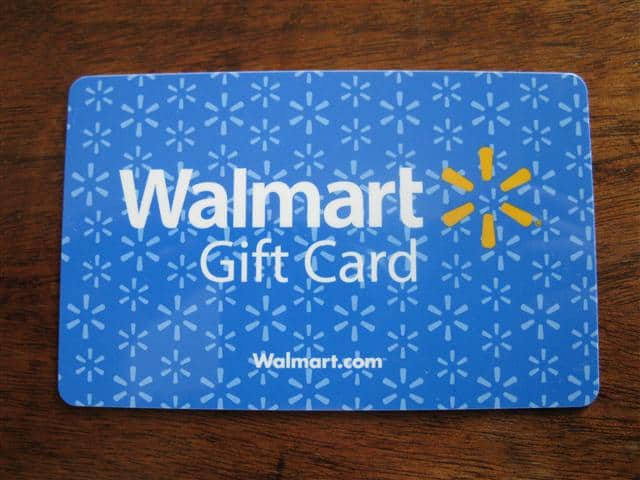 I want to thank everyone who participated in my recent Walmart giftcard giveaway! It looks like tomatoes, corn, and berries are a few favorites this time of year! I used a random number generator to determine the winner…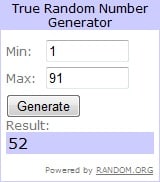 A huge congrats to Nicole of Geek Turned Athlete! Please email me your address and I'll have your giftcard mailed out.