This recipe for Savory Cheesy Pumpkin Stuffed Shells has three types of cheese and marries the savory flavor of onion, garlic, and Italian herbs with subtly sweet pumpkin for a beautifully balanced tasting dish.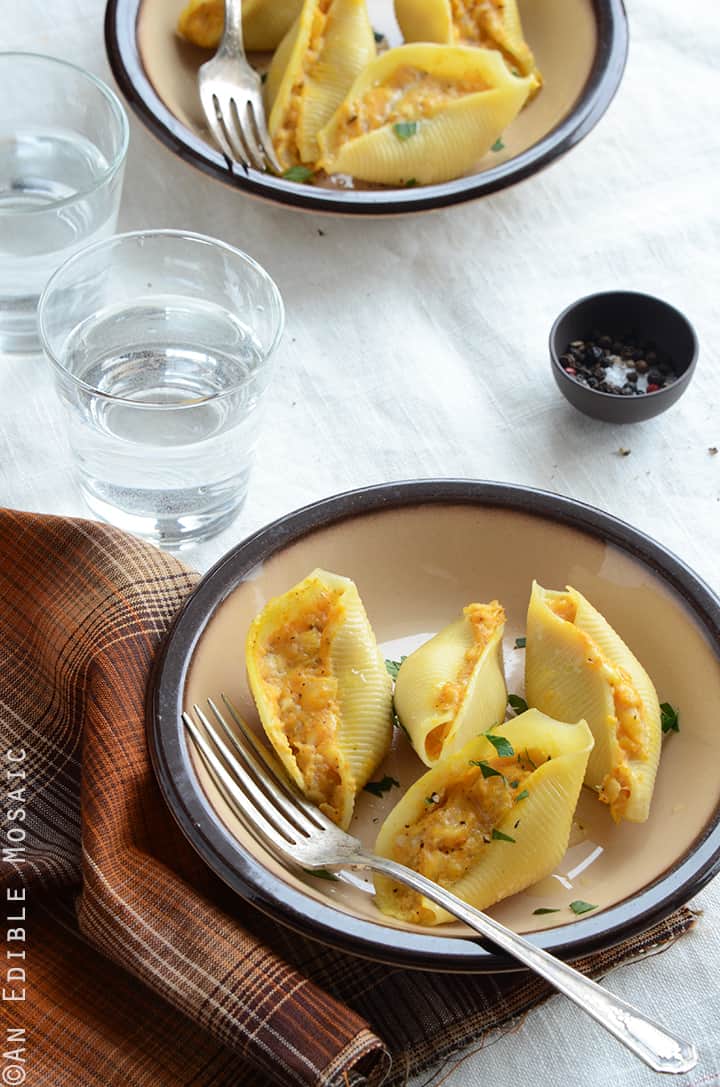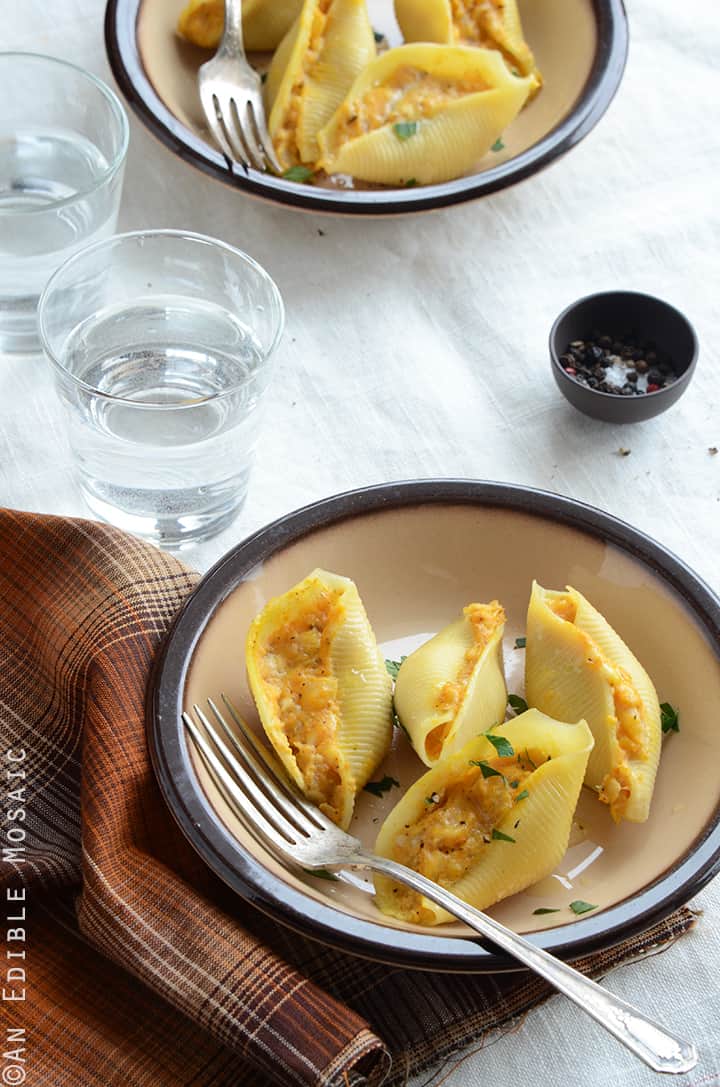 Back home, Friday nights used to be my girls'-night-in sleepover night with my niece Autumn Rose.
She's all of ten now (wow, where did the time go?!), but you'd think she was at least fourteen from the way she looks (tallest in her class!) and the way she acts.
I've always been proud of my niece for being such a healthy eater. Her mother drilled it into her from the very beginning and it has done wonders for her in every way. Which is why when I made this for dinner one Friday night late last winter I was completely surprised at her response: I don't eat stuffed shells…they're not my thing and I just don't like them.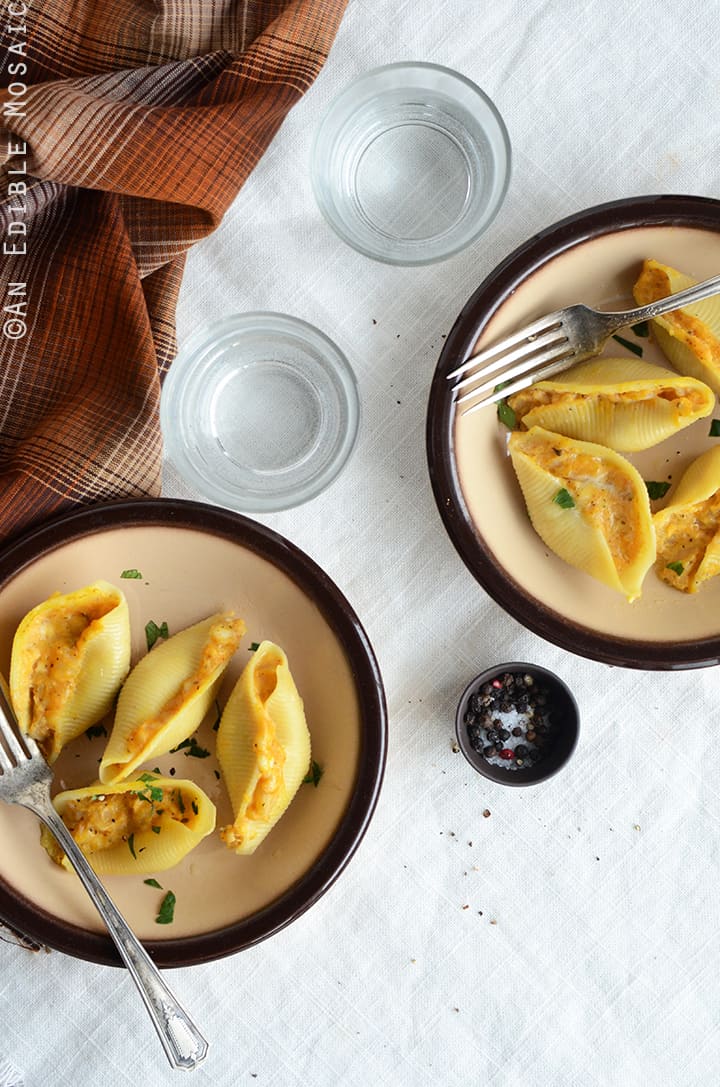 Ok, first, see what I mean? Ten going on fourteen, lol.
And second, this was coming from the girl who voluntarily orders pan-seared fish when eating out (in Disney, nonetheless!), drinks kombucha with me, and laughs in the face of savory green smoothies before gobbling them up. (Honestly, I don't know many adults who can handle savory green smoothies. They really are an acquired taste!)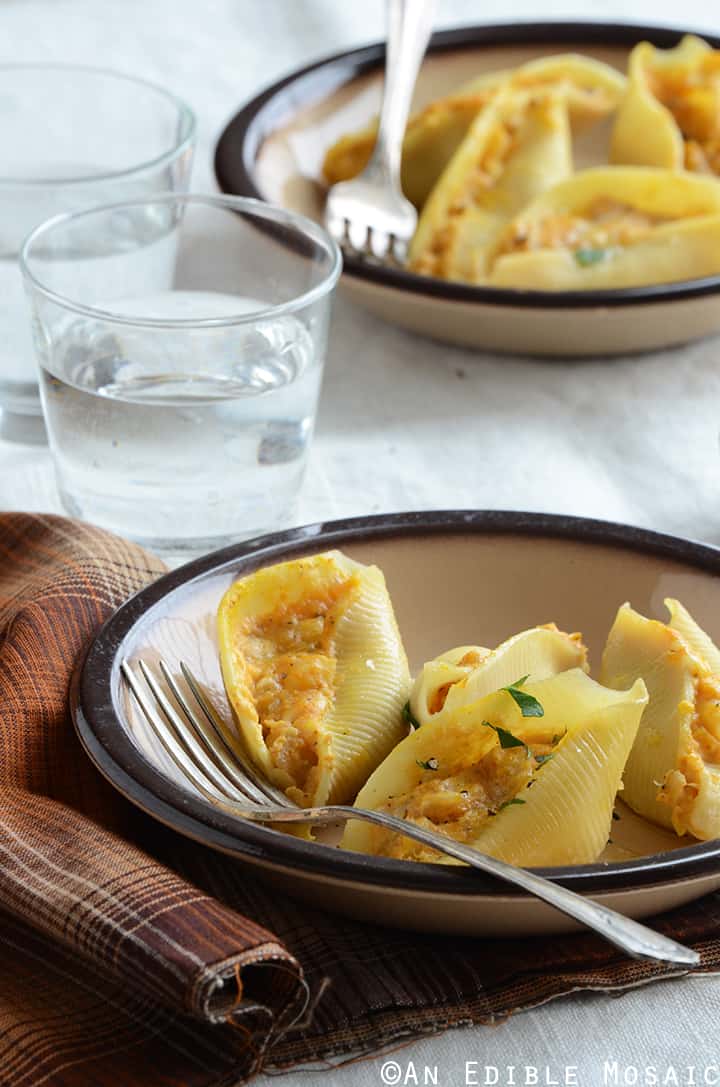 She and I have a one-bite rule. If something is new she has to at least try one bite before writing it off. So she tried a bite. And then another. Finished one shell, and another. And then asked for seconds. Whew. For a minute there I was scared she was turning into a normal kid, lol.
Cheesy Pumpkin Stuffed Shells
This recipe is completely different from regular stuffed shells with a mixture of ricotta cheese inside and tomato sauce outside. Get ready for your new favorite!
Cheesy Pumpkin Stuffed Shells are full of savory flavor. Garlic and onion cook down in butter and then get mixed with three types of cheese, pumpkin, Italian herb seasoning, and a hint of nutmeg. Don't skip the nutmeg, it's the secret ingredient that takes the flavor over the top!
Pumpkin is so delicious (and nutrient-dense), I don't see any need to save this recipe just for fall. Use this dish to convert adults who claim to not like pumpkin, and kids who claim to not like stuffed shells.
What Goes Well With Stuffed Shells: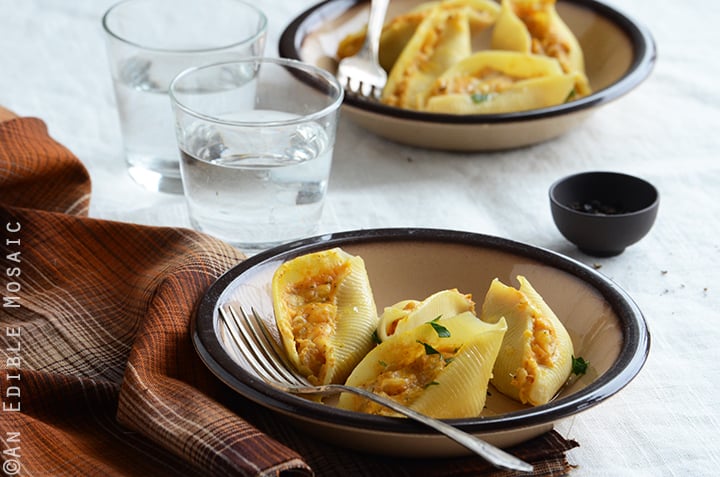 Did you make this recipe? Please rate it and leave a comment below because I love hearing from you! You can also tag @anediblemosaic on social media. To stay up-to-date FOLLOW ME on Instagram, Twitter, and Facebook. Xoxo, Faith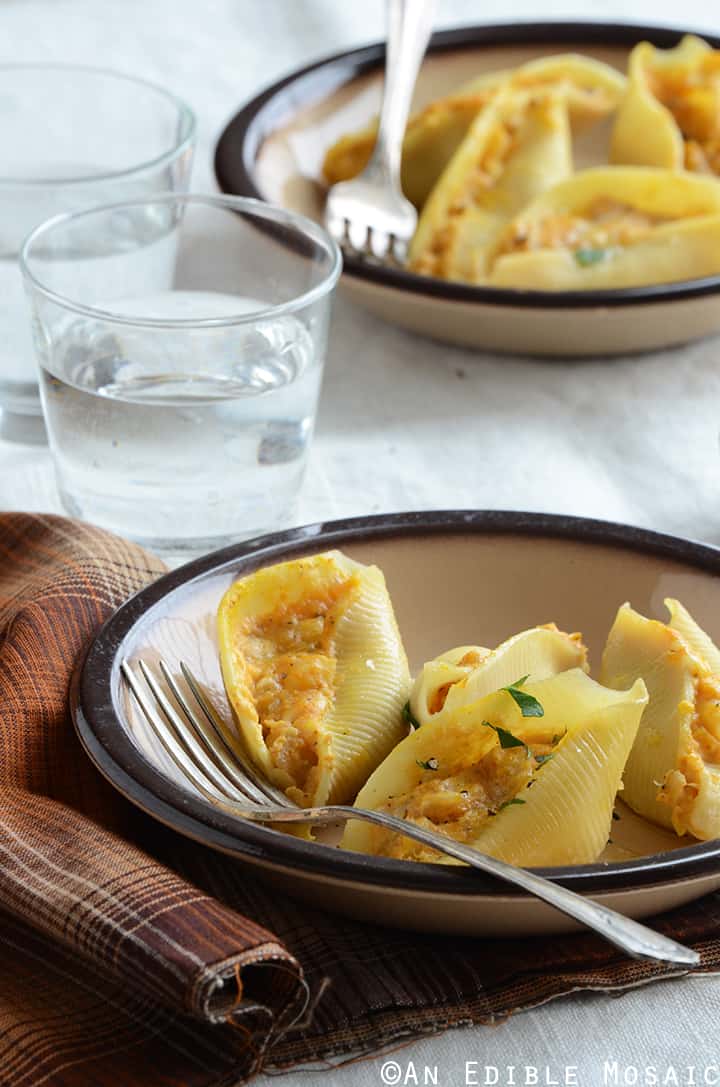 Savory Cheesy Pumpkin Stuffed Shells
This recipe for Savory Cheesy Pumpkin Stuffed Shells has three types of cheese and marries the savory flavor of onion, garlic, and Italian herbs with subtly sweet pumpkin for a beautifully balanced tasting dish.
Instructions
Preheat oven to 375F; generously grease a 9 by 13-inch casserole dish with butter.

Cook the pasta shells to al dente according to the package directions in salted water. (I like to add a splash of olive oil to the shells as they cook to help prevent them from sticking to together since shell-shaped pasta can is pretty delicate and once it breaks is nearly impossible to stuff.)

Melt 1 tablespoon butter in a medium skillet over medium heat; once hot, add the onion, ¼ teaspoon salt, and ¼ teaspoon black pepper and cook until softened and just starting to brown, about 5 minutes, stirring occasionally.

Add the garlic, Italian herb seasoning, and nutmeg, and cook 1 minute more, stirring constantly. If any browned bits have formed on the bottom of the pan, add a splash of water and scrape them up with a wooden spoon. Turn off the heat and cool slightly.

Combine the onion mixture, ricotta cheese, pumpkin puree, Cheddar, Parmesan, and eggs in a large bowl.

Fill the shells with the cheesy pumpkin filling (be careful not to fill them too full or the filling will ooze out when cooking), and arrange the shells in the bottom of the prepared dish. Cut the remaining 1 tablespoon of butter into small pieces and dot the tops of the shells with it.

Cover the dish and bake until the cheese is melted, about 30 to 35 minutes. Remove the cover during the last 5 minutes so the shells can brown a little.

Serve hot, with fresh minced parsley sprinkled on top.
Faith's Tips
Leftovers keep well stored covered in the fridge for 3 to 5 days.
Nutrition
Nutrition Facts
Savory Cheesy Pumpkin Stuffed Shells
Amount Per Serving
Calories 355
Calories from Fat 135
% Daily Value*
Fat 15g23%
Cholesterol 84mg28%
Sodium 388mg17%
Potassium 261mg7%
Carbohydrates 38g13%
Protein 17g34%
Vitamin A 5287IU106%
Vitamin C 3mg4%
Calcium 263mg26%
Iron 2mg11%
* Percent Daily Values are based on a 2000 calorie diet.
This post was first published on An Edible Mosaic on October 3, 2013. I updated it with more information on October 19, 2020.
Disclosure: This post contains Amazon affiliate links to products I believe in, which means that even though it doesn't cost you anything extra, I will receive a small amount of money from the sale of these items. Thank you for helping to support An Edible Mosaic!