I usually plan out a menu for the week and take it with me when I go grocery shopping. But sometimes I get to the market and all my good intentions fall to the wind because I see something (usually some form of fresh produce) that just calls to me. That's exactly what happened when I saw these pretty snow peas. They cook up in a matter of minutes and form a fantastic summer meal paired with grilled teriyaki chicken and jasmine rice.
I'm sending this recipe to Reeni of Cinnamon & Spice for her Side Dish Showdown. June's theme is Anything Goes!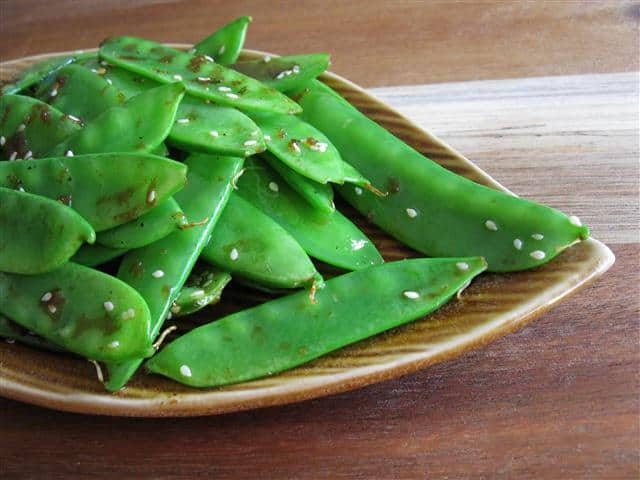 Snow Pea & Sesame Sauté
(Yield: 2 servings)
2 tsp olive oil
1/2 tsp each fresh grated ginger and garlic
2-3 c snow peas
2 tsp soy sauce
1/4 tsp honey
1/2 tsp sesame seeds
Dash pepper
In a wok or medium skillet over medium heat, heat the ginger and garlic until fragrant (about 1 minute), stirring constantly. Turn the heat up to medium-high and add the snow peas, soy sauce, and honey. Sauté 1-2 minutes (until just slightly softened), stirring constantly. Turn off the heat and stir in the sesame seeds and pepper to taste.