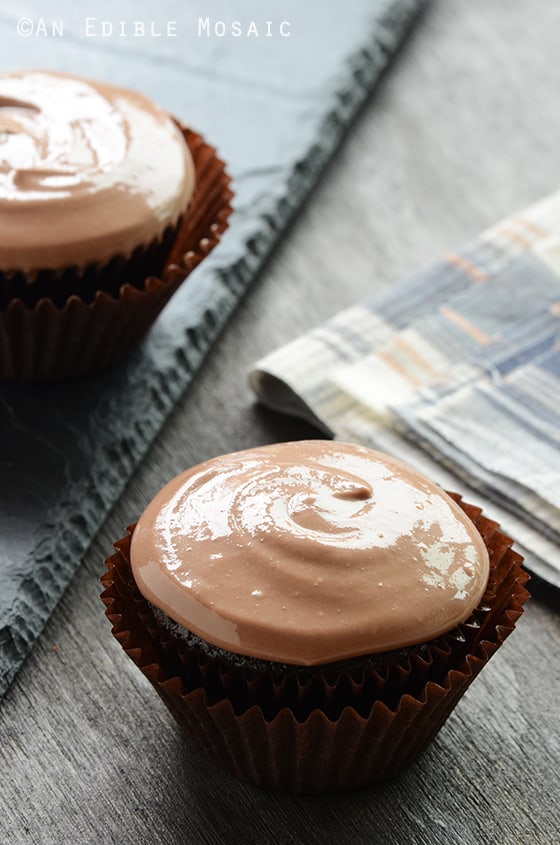 There's something about me you need to know.
I can't do dry cake. Or gummy cake. Or bland cake.
I'd rather eat celery sticks.
Even if I'm dying for a chocolate fix.
I've tried just about every single-cupcake recipe (or recipes that make two single cupcakes) known to man. (Ok, not really, but I've tried a lot…upwards of half a dozen different ones.) I was hard-pressed to find even one that I considered to be worth the calories. I knew this needed to change.
This recipe is what I came up with, and it is everything a cupcake should be; not just a quick fix of chocolate, but a legitimately decadent, delicious cake in both flavor and texture. That also happens to satisfy a serious chocolate craving.
Just a quick tip for making cake; the most common problem I've discovered from people who ask me what they're doing wrong because they end up with a rubbery/gummy-textured cake is that they're over-mixing. Be careful not to over-mix, and your cake should have a moist, tender crumb.
This beautiful fluffy frosting you see on these cupcakes is none other than my Fluffy Walnut Spread made into mousse. You can use any frosting you like or feel free to just sprinkle on a light dusting of powdered sugar – they are so moist, no frosting required!
Ingredients
3 tablespoons all-purpose flour
2 tablespoons sugar
1 tablespoon natural unsweetened cocoa powder (not Dutch-processed)
1/8 teaspoon + 1/16 teaspoon baking soda
1/16 teaspoon salt
1/16 teaspoon instant coffee powder (optional, but recommended)
3 tablespoons milk, any kind you like (be sure to use a vegan "milk" if keeping this recipe vegan is a concern)
1 tablespoon canola oil, or other neutral-flavored oil
1/2 teaspoon pure vanilla extract
Fluffy Walnut Mousse, or any frosting you like
Instructions
Preheat oven to 350F; line a muffin tray with 2 paper liners.
Whisk together the flour, sugar, cocoa, baking soda, salt, and coffee powder in a medium bowl. Add the milk, oil, and vanilla, and stir just until combined, being careful not to over-mix.
Divide the batter between the 2 lined muffin wells and bake until a toothpick inserted inside comes out clean, about 18 to 22 minutes.
Cool 5 minutes in the tray, then transfer to a wire rack to finish cooling.
Sprinkle a little powdered sugar on top, or frost with your favorite frosting, nut butter, or jam.
Notes
Measurement Tip: Note that 1/16 teaspoon is about 1 pinch.
http://www.anediblemosaic.com/chocolate-cupcakes-for-two-vegan/