Not too long ago, I made a huge batch of bison, bean, and vegetable soup. It was, if I do say so myself, pretty fabulous.
Naturally, I completely expected my hubby not to like it.
(He's one of the ones who won't eat anything that his mom didn't make while he was growing up. And yes, that behavior is the bane of my existence.)
Knowing full well that he had never had the soup before, I thought there was no way he'd like it.
So I was a little tricky. He works a 12 hour shift so I usually pack him a couple meals or a meal and a couple snacks, so he didn't think anything of it when I sent him off to work one day with a bag that had two Tupperware bowls in it. One was a huge salad and the other was a big bowl of bison soup.
When I talked to him later he said, What was that soup? When I saw it I really wasn't expecting to like it, but it was great. Forget the salads for this week, I want to have that. Little did he know, I had just individual-portioned out the rest of the soup and froze it to re-stock our bare freezer with quick meals for busy nights. My little trick had totally backfired on me, and I ended up making batch number two of the soup the next day.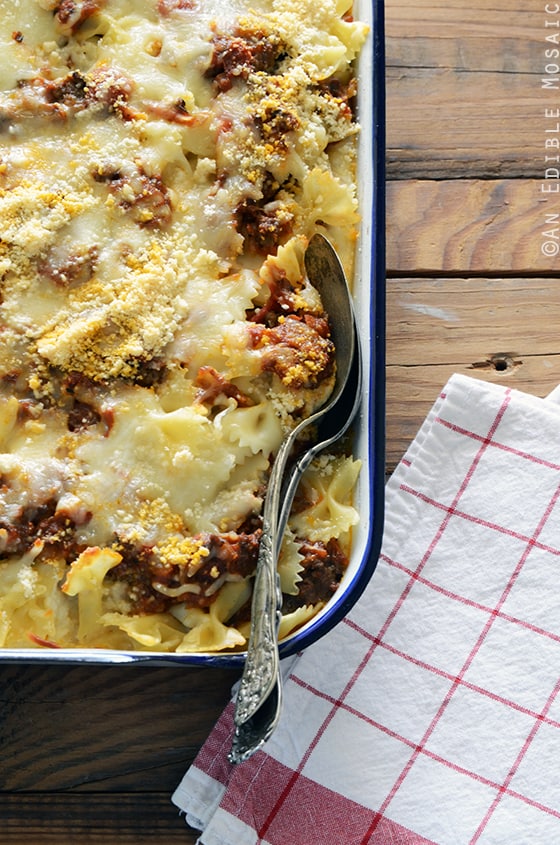 He never stops surprising me though.
Like, for example, who doesn't like lasagna? It's one of the most feel-good comfort foods out there. Picky kiddos and sophisticated parents alike are pleased when a steaming hot tray of lasagna is set down on the dinner table, which is why I thought it was a pretty safe bet serving it to company who came with kiddos in tow. The company (parents and kids) adored it, but Mike ate what amounted to a "no thank you" helping.
I guess the bison soup was the anomaly and now he's back to normal…but with anyone who likes lasagna, they'll be sure to like this. Plus it has the added bonus of being completely weeknight-friendly, requiring only a fraction of the time to throw together as regular lasagna. Toss together a quick salad, slice up some fresh bread, and dinner is done. And if they offer, I think it's totally acceptable to let the guests to bring dessert. ;)
And for more lasagna inspiration, check out 25 Healthy Lasagna Recipes on Cooking Light!
Ingredients
Butter, to grease the dish
2 tablespoons olive oil
1 lb (450 g) lean ground beef
1 large onion, diced
4 large cloves garlic, minced
2 teaspoons Worcestershire sauce
1 teaspoon dried Italian Herb Spice Mix
1/2 teaspoon salt
1/4 teaspoon black pepper
4 cups (32 oz) chunky marinara sauce (homemade or store-bought)
1 lb (450 g) bowtie (farfalle) pasta, cooked to al dente according to the package directions
1 lb (450 g) ricotta cheese
1 lb (450 g) mozzarella cheese, shredded
2 tablespoons grated parmesan cheese
Instructions
Preheat oven to 375F; grease a 9 by 13-inch casserole dish with butter.
Heat the oil in a large, deep skillet over medium-high heat. Once the oil ripples, add the beef, onion, garlic, Worcestershire sauce, Italian Herb Spice Mix, salt, and black pepper. Cook, stirring occasionally, until the meat is browned and the onions are softened, about 8 to 10 minutes. Turn off the heat and stir in the marinara sauce.
Spread 1/4 of the beef sauce in the bottom of the prepared dish.
Top with 1/3 of the cooked pasta; dollop 1/2 of the ricotta cheese around; sprinkle on 1/3 of the shredded mozzarella; and top with 1/4 of the beef sauce. (Repeat this full step one time.)
Top with the remaining 1/3 of the cooked pasta, then the remaining 1/4 of the beef sauce, and finally 1/3 of the shredded mozzarella.
Sprinkle the grated parmesan on top.
Bake until the cheese is melted and the casserole is warm throughout, about 20 minutes, and serve.
http://www.anediblemosaic.com/quick-lasagna-casserole-aka-lazy-lasagna/