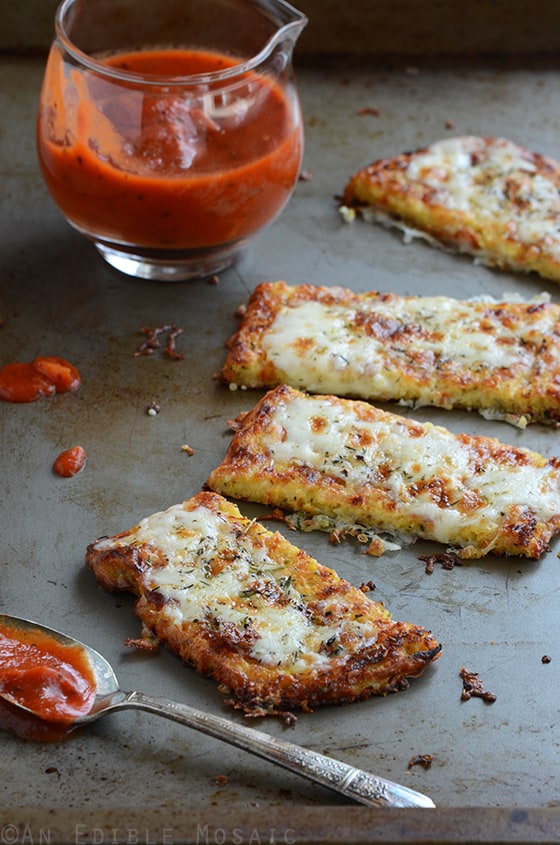 Please note that there is no bread in these "breadsticks"! They just taste like bread. :)
I made this recipe a couple weeks ago and it was so good that just looking at the pictures now is making me giddy about it all over again. And I'm not really the giddy type, lol (unless I'm antique shopping for blog props…yes, really!).
Let me back up a sec…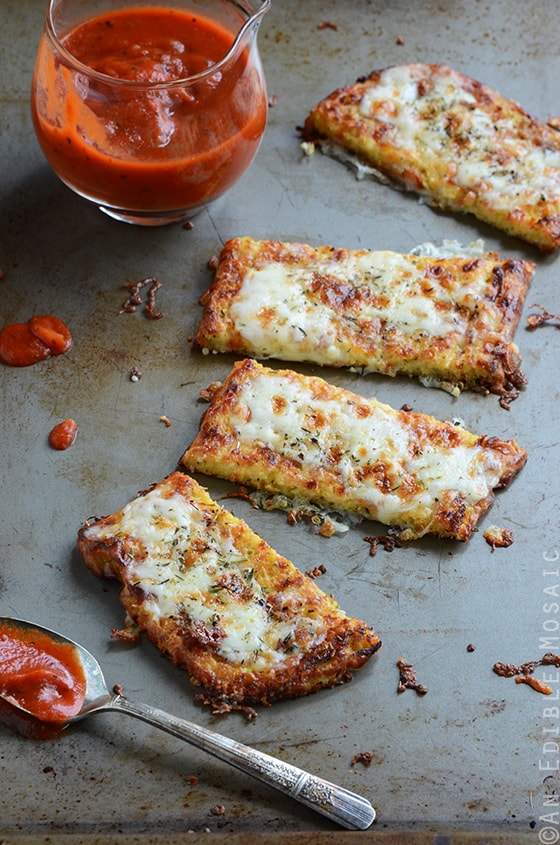 Lately I've been seeing cauliflower crust pizza recipes pop up all over the place. It seemed like the new fad, so of course I didn't want to make it. When it comes to food, I'm drawn to the real deal with things like pizza and breadsticks, and I didn't see how a "crust" made out of cauliflower could be good, let alone reminiscent of a real crust.
The other day when a friend called asking if I'd tried cauliflower crust pizza and I said no, she insisted I do so in no uncertain terms…she even threatened to not make her veggie-stuffed-and-smothered chicken breasts for me again until I try it. (Her veggie-stuffed-and-smothered chicken breasts are killer, so this is huge in my world.) She was as giddy about cauliflower crust then as I am now.
I agreed to make cauliflower crust, but as breadsticks instead of pizza. (As far as I'm concerned, pizza, specifically New York-style, holds a special place in my heart and a cauliflower-crusted imposter has no place masquerading there.)
So I made the breadsticks.
I took my first bite and had to stop and really enjoy what I was eating. Never would I have thought that a simple mixture with cauliflower as the base ingredient could actually taste like bread. It's mind-blowing, really. For someone who eats low-carb or can't eat regular bread because of allergies or for any other reason, I can see this recipe being a go-to.
Mike ate his fair share too, admitting that it actually did taste like bread. (And he is one tough critic.)
Something I noticed about this recipe is that if you let it cool for about 10 minutes after taking it out of the oven, the crust will harden a bit so it's easy to hold like a thin-crust pizza. Straight out of the oven it's delicious too, just much softer.
In random order, here are some recipes from around the web for more cauliflower crust inspiration:
Cauliflower Crust Hawaiian Pizza by Recipe Girl
Cauliflower Pizza Crust by One Good Thing by Jillee
Cauliflower Bread Sticks by Sandy's Kitchen
Cauliflower Crust Pizza by Stick a Fork in It
Cauliflower-Crust Vegetarian Pizza with Mushrooms and Olives by Kalyn's Kitchen
Cauliflower Crust Garlic "Breadsticks"
Prep time:
Cook time:
Total time:
Ingredients
Cooking spray
¼ of a large fresh head of cauliflower (about 5½ oz/160 g)
1 teaspoon olive oil
2 cloves garlic, grated or minced
1 large egg, lightly beaten
4 oz (115 g) mozzarella cheese, freshly grated and divided (low-fat cheese is fine)
½ teaspoon dried Italian herb seasoning, divided
1 pinch each salt and pepper
Marinara sauce, for serving (optional)
Instructions
Preheat the oven to 350F and line a 9 by 5-inch loaf pan with parchment paper so that the excess paper hangs over the sides; lightly spray the parchment paper with cooking spray.
To "rice" the cauliflower, grate it on a cheese grater; you should have about 1½ cups (lightly packed) of riced cauliflower. Put the riced cauliflower into a microwave-safe bowl and microwave (uncovered) until softened, about 6 to 8 minutes, stirring occasionally (don't add water or anything else); cool slightly.
While the cauliflower cooks, heat the oil in a small skillet over low heat; add the garlic and cook until fragrant, about 30 seconds to 1 minute, stirring constantly; cool slightly.
To the bowl with the softened cauliflower, add the garlic, egg, ¾ of the cheese (reserving ¼ for topping later), ¼ teaspoon of the dried Italian herb seasoning (reserving ¼ teaspoon for topping later), and a pinch of salt and pepper. Stir to combine, and then spread in the prepared loaf pan.
Bake until the loaf is set and starting to turn golden, about 30 minutes. Line a baking sheet with a piece of parchment paper; use the parchment paper to lift the loaf out of the loaf pan and carefully flip it over onto the lined baking sheet (so the bottom is on top). Bake until golden, about 10 minutes.
Preheat the broiler. Cut the loaf cross-wise into 8 pieces. Slightly separate the pieces and sprinkle the remaining ¼ of the cheese on top, along with the remaining ¼ teaspoon dried Italian herb seasoning.
Broil a couple minutes until the cheese is melted and golden in spots. Serve hot or warm. (Note that if you let it cool for about 10 minutes after taking it out of the oven, the crust will harden a bit so it's easy to hold like a thin-crust pizza.)
Notes
Nutrition Information for This Recipe:
After receiving many emails asking about the nutrition info for this recipe, I calculated it using the values on the
USDA's National Nutrient Database for Standard Reference
. However, please note that I am not a nutritionist and I cannot guarantee the accuracy of the nutritional information given. Also, please note that I calculated the nutritional information without the dried Italian herb seasoning, salt, pepper, cooking spray, and marinara sauce. Lastly, I calculated the recipe using low-fat mozzarella cheese.
Nutrition info for 1 serving (1/4 of recipe): 58.25 calories, 4.16g protein, 3.56g fat, 2.79g carbs, 0.83g fiber, 0.91g sugar