These weeknight ground beef casserole recipes are an economical way to nourish your family and get a fuss-free dinner on the table fast.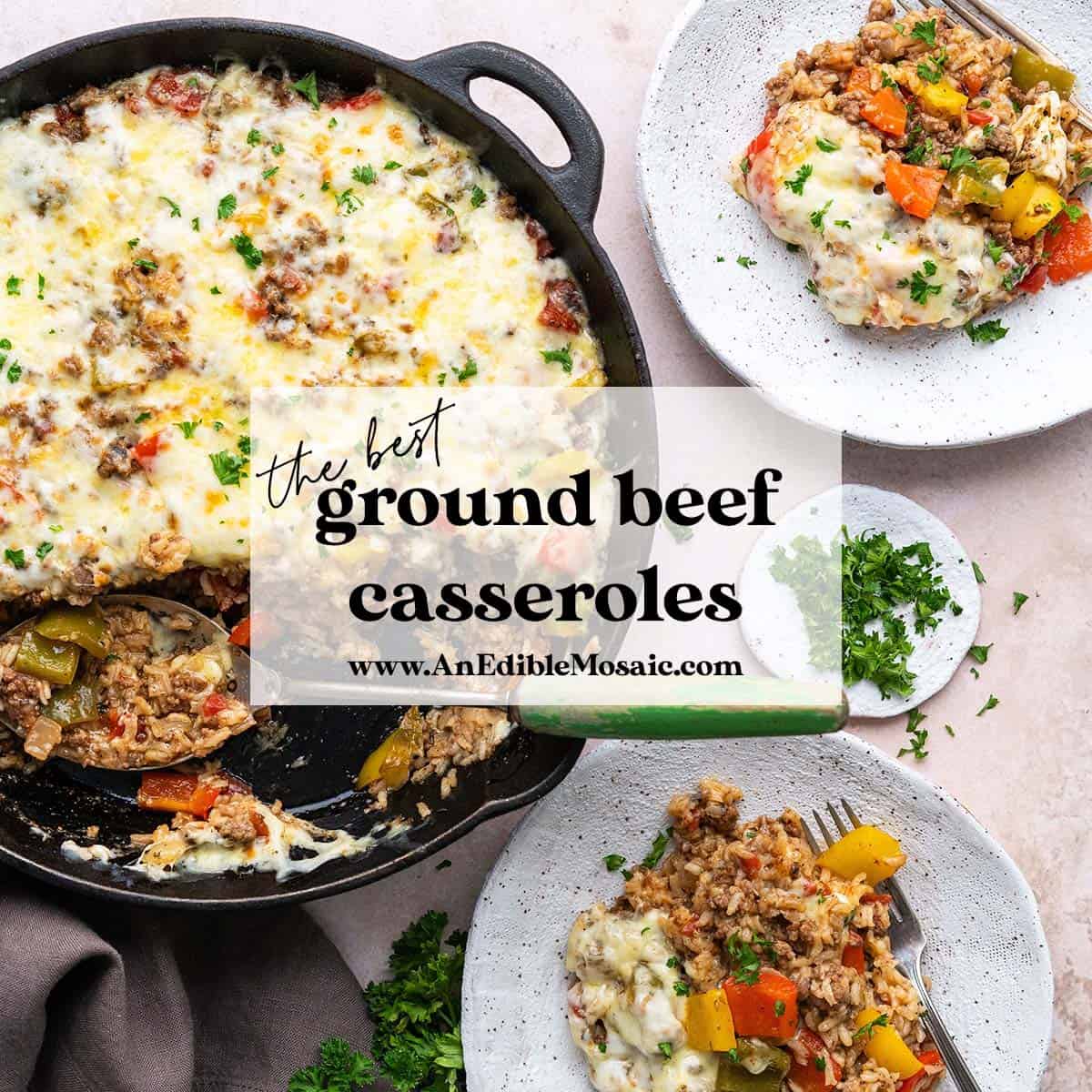 What can I make with ground beef?!
This question is usually in my head when I'm looking into my freezer trying to decide last-minute what to make for dinner. I always have ground beef stashed in there, usually portioned into 1-pound packages.
A lot of people tell me they're sick of burgers, tacos, or spaghetti. But the ways to use ground beef don't end there! There are so many different meals you can make with this budget-friendly freezer-staple ingredient.
And because they're an all-inclusive one-stop-shop for weeknight dinner, let's talk about casseroles!
Compared to other cuts of meat, ground beef is quick-cooking and cheap. Ground beef lends itself well to family-friendly casserole recipes. And it's incredibly versatile! The sky is the limit when it comes to what you can make with ground beef.
Here you'll find a variety of different ground beef casserole recipes to inspire to you try something new. We're spanning the globe with everything from Mexican, Irish, Italian, and Greek-inspired flavors. And there are tons of fun American classic casseroles as well!
A few of these casserole recipes are gluten free, and others are low carb and/or keto friendly. Most are kid-friendly, so they're great for family dinners. And some of them use the slow cooker to make your life even easier.
Thaw out a pound of ground beef and try something new for dinner tonight!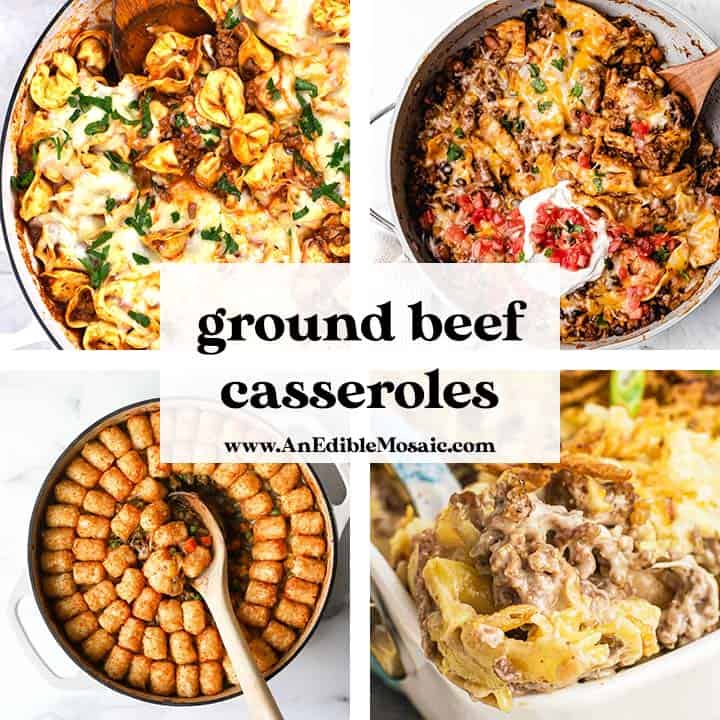 Ground Beef Slow Cooker Enchilada Casserole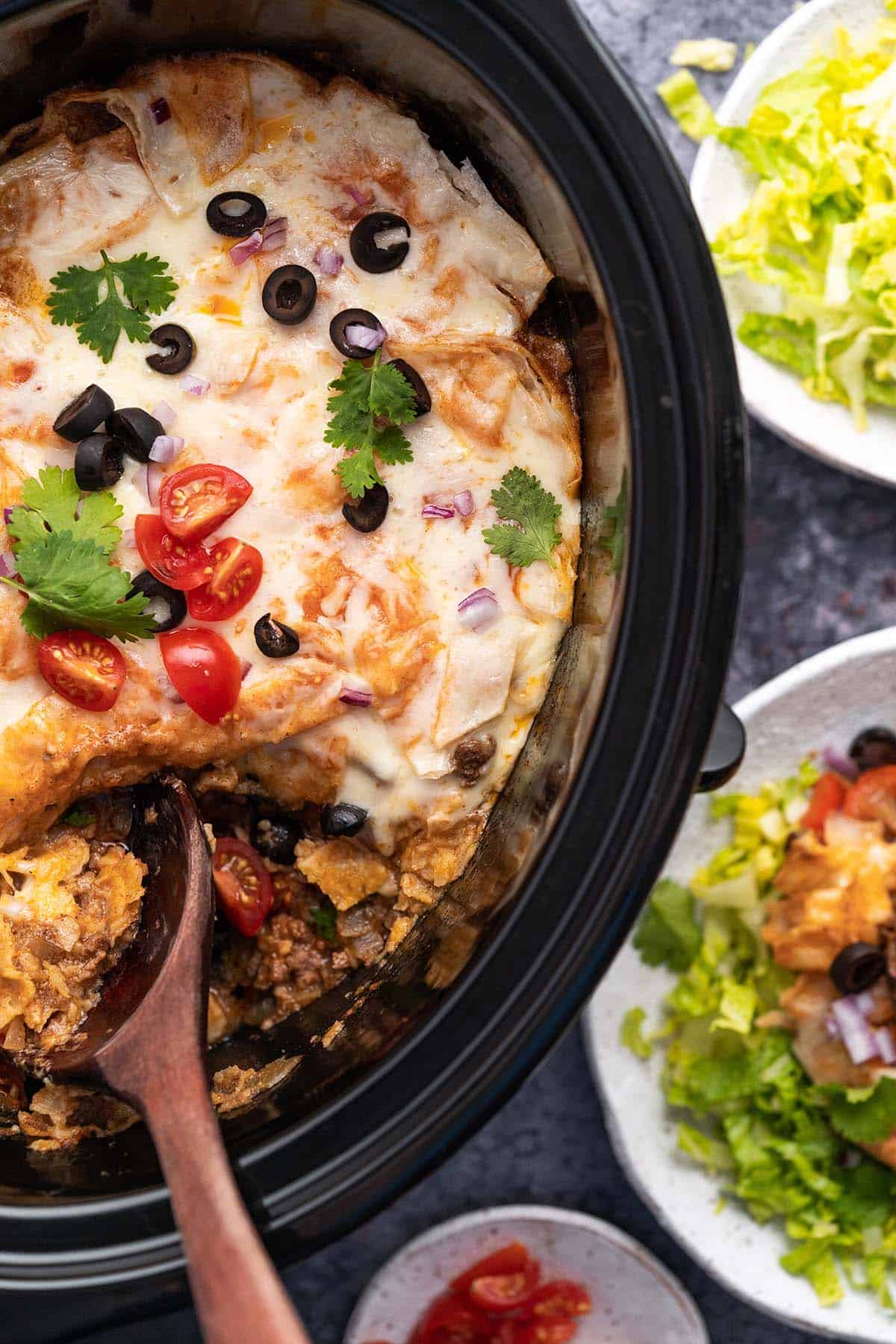 Friends, the only surefire way I know of to make a casserole even easier is to make it in the Crockpot. These Crockpot Enchiladas have all the flavor of enchiladas, but are simplified in the slow cooker.
And they're absolutely delicious. Cheesy, flavor-packed, and satisfying. I like to serve this meal with a bunch of different toppings so everyone can customize their own plate.
Pro Tip: If you have picky eaters, setting up a toppings bar and letting them customize their dish is the way to go!
Get the Ground Beef Slow Cooker Enchilada Casserole recipe.
Cheesy Tortellini Bake
This Cheesy Tortellini Bake is an easy, one-skillet dinner that's loaded with meat, sauce, and melty cheese. It's a family favorite that feeds a crowd!
Get the Cheesy Tortellini Bake recipe on Gypsyplate.
Tater Tot Casserole
Try a Midwestern classic! This simple Tater Tot Casserole has no "cream of" soup. It's made entirely from scratch, and really easy to put together.
It has loads of mixed veggies and lean ground beef in a savory sauce, and then a layer of gooey cheddar cheese, and finally crispy tater tots on top!
Get the Tater Tot Casserole recipe on The Healthy Epicurean.
Low Carb Noodle Free Meat Lasagna
This gooey, cheesy low carb casserole features homemade meat sauce, savory spiced ricotta mixture, and a blend of both mozzarella and parmesan cheeses.
It's a great keto meal, and if you're making it for keto and non-keto-eaters, you can serve it with a side of garlic bread!
Get the Low Carb Lasagna recipe.
Stuffed Pepper Casserole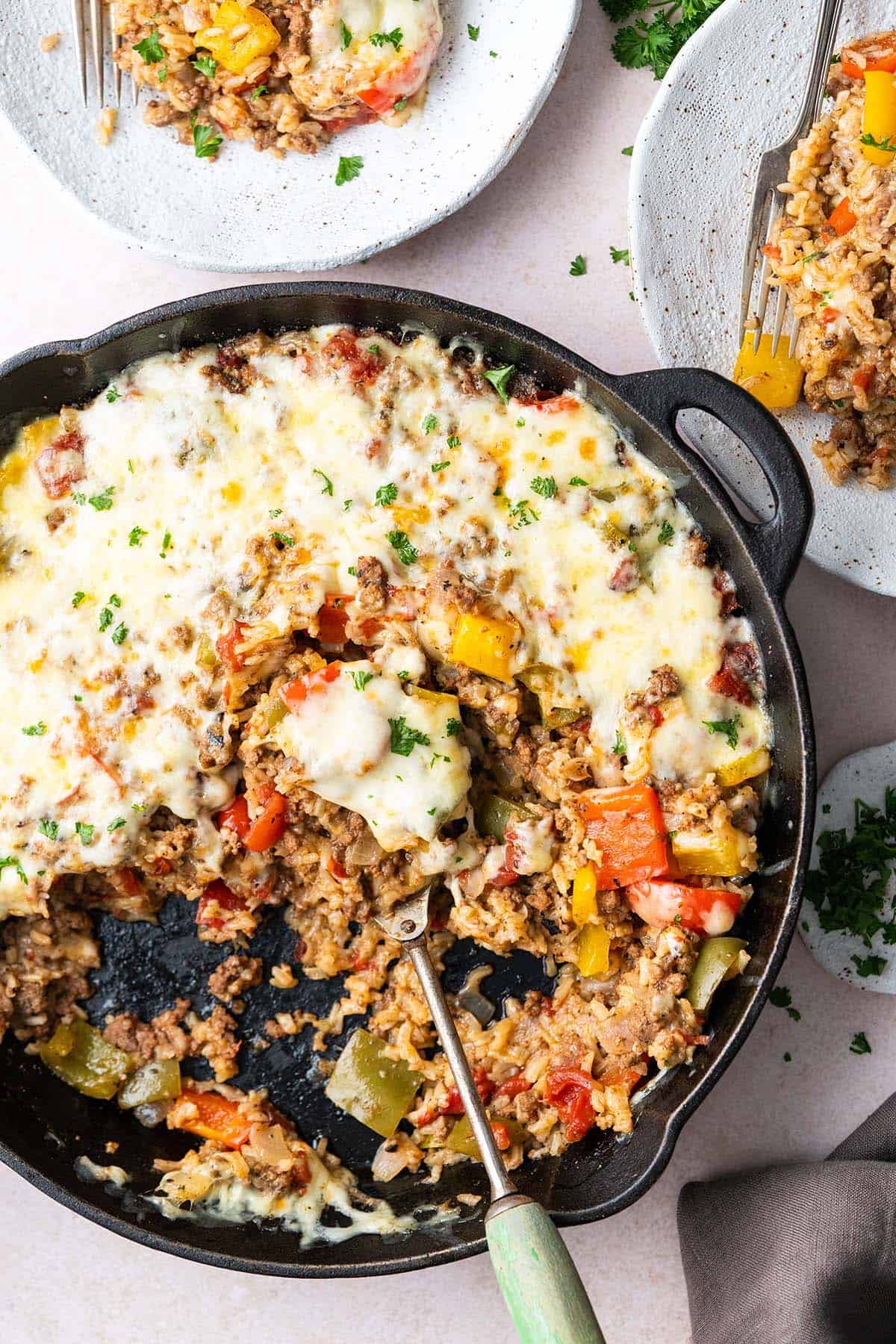 Also known as Unstuffed Peppers, this delicious dinner features the same flavors as regular Stuffed Peppers. But with much less effort!
Ground beef, bell peppers, rice, classic spices, and generous sprinkle of cheese make this a meal the whole family will want seconds of.
Get the Stuffed Pepper Skillet Casserole recipe.
Polenta Casserole with Beef
This nourishing Polenta Casserole contains ground beef, cornmeal, savoy cabbage, carrots, and more! It's easy to make ahead and it's an inexpensive way to feed a crowd.
Get the Polenta Casserole with Beef recipe on All That's Jas.
Vegetable Beef Guinness Casserole
Similar to Shepherd's Pie, this dish features a rich, hearty stew-like filling with ground beef, vegetables, and Guinness with a buttery mashed potato topping.
But it's not just regular mashed potatoes on top - it's champ! Champ is a classic Irish dish of mashed potatoes with scallion and a hefty dose of butter.
This ground beef casserole recipe is real-food comfort food at its finest.
Get the Vegetable Beef Guinness Casserole recipe.
Kid-Friendly Taco Pie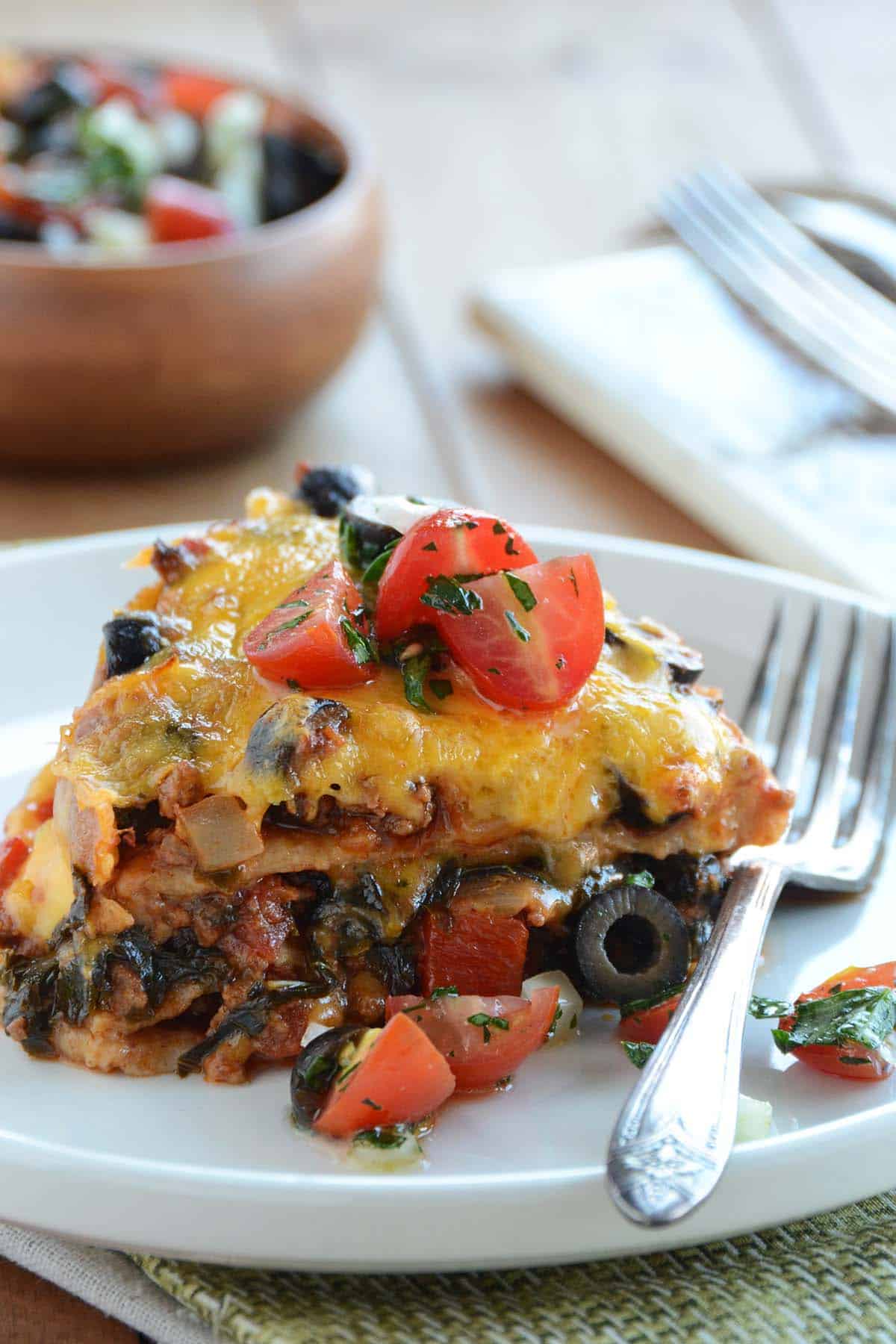 You won't believe how many vegetables are stuffed into this Taco Pie! And kids devour it because all they know is that it tastes like tacos.
Get the Taco Pie recipe.
Moussaka (Greek Beef Eggplant Casserole)
Moussaka is a layered casserole with eggplant or potato, spiced ground beef, and white sauce, such as béchamel. This version is gluten free and low carb, and has a couple secret seasonings that really take it over the top.
This delicious Moussaka recipe takes a bit longer to make than the other ground beef casseroles here. But if you have an afternoon free or want to do some meal prep on the weekend, then this is perfect. And it's well worth the effort!
Get the Low Carb Moussaka recipe.
Ground Beef Hash Brown Casserole
Ground Beef Hashbrown Casserole makes a great dinner when you don't know what to make! Made with freshly-shredded potatoes or frozen hash browns, you can serve it for breakfast or brunch.
Get the Ground Beef Hash Brown Casserole recipe on The Typical Mom.
Weeknight Sloppy Joe Casserole with Easy Cornbread Topping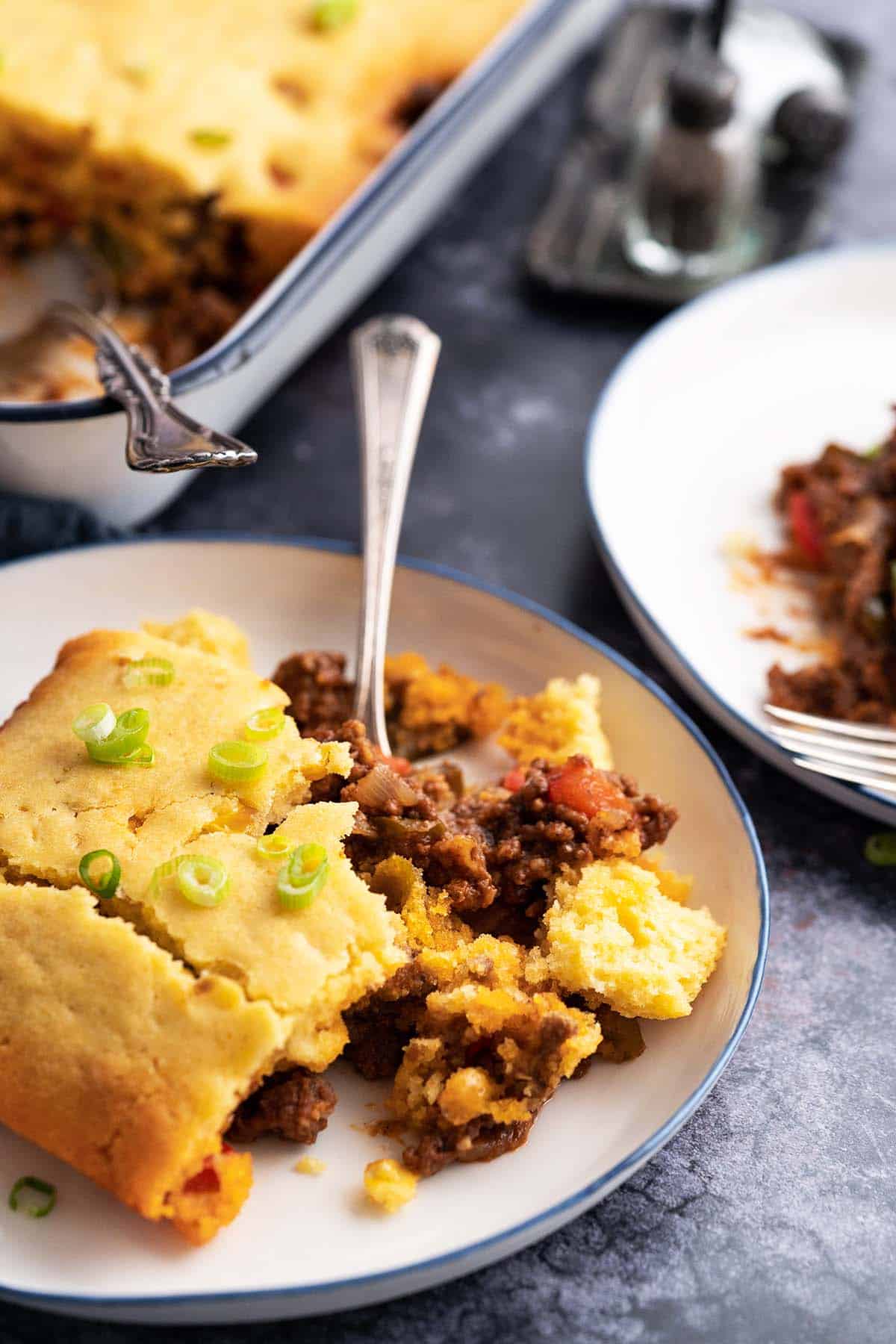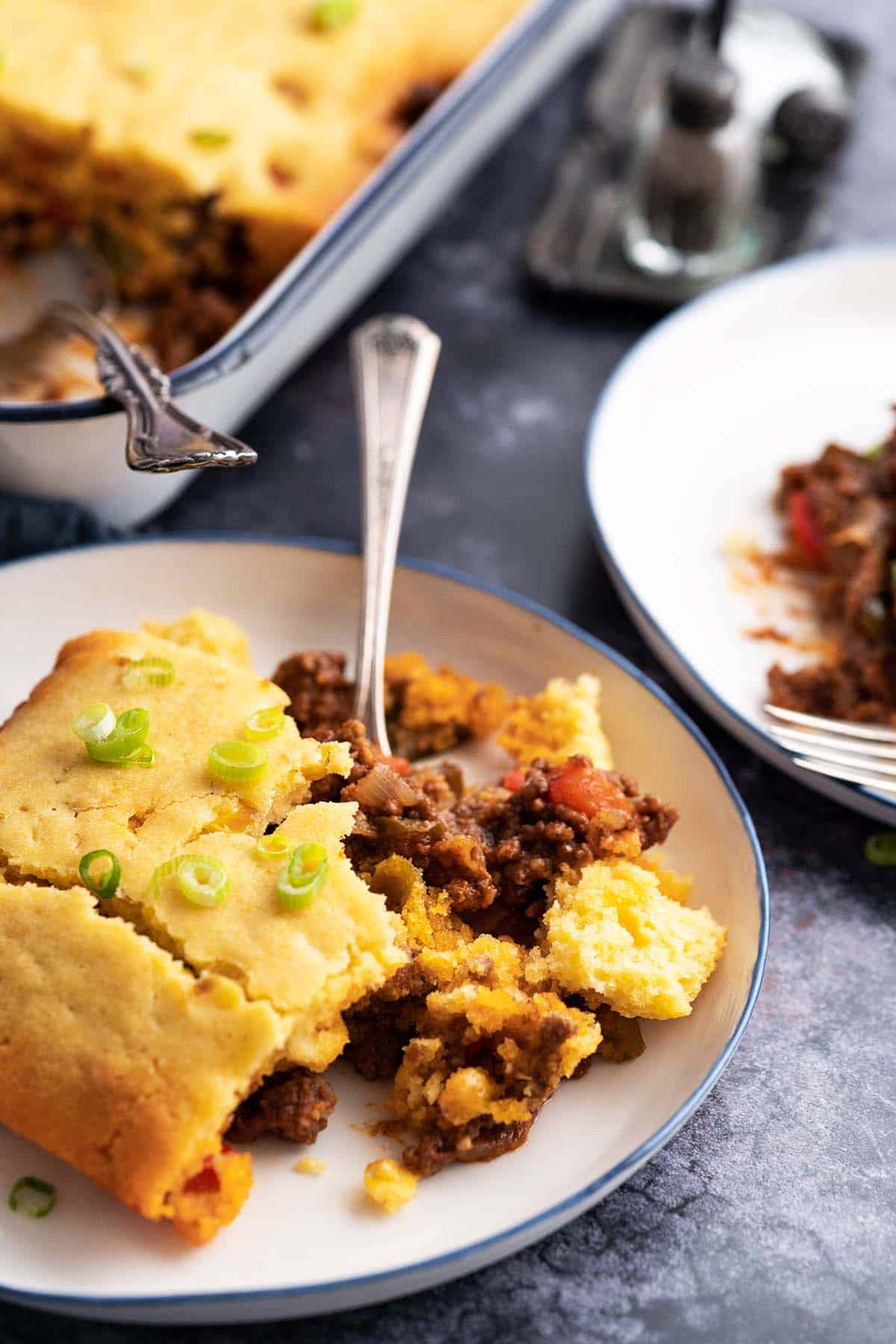 This recipe takes what everybody loves about Sloppy Joe meat - the sweet and tangy sauce - and uses it as the base for a casserole.
With a layer of fluffy, moist, from-scratch cornbread on top, this Sloppy Joe Casserole is a cozy and satisfying cold-weather meal.
Get the Sloppy Joe Casserole recipe.
Cheesy Beef-Stuffed Poblano Peppers
Think of this casserole as a cross between Beef Enchiladas and Stuffed Peppers!
This Cheesy Beef-Stuffed Poblano Peppers recipe features an easy roasted tomato chili sauce. It's full of Tex-Mex flavors without too much spicy heat, so it's a real crowd-pleaser.
Get the Cheesy Beef-Stuffed Poblano Peppers recipe.
French Onion Beef Casserole
French Onion Beef Casserole couldn't be easier to make, and it's packed with flavor.
The ingredient list includes simple pantry-staple ingredients, such as egg noodles, cream of mushroom soup, and onion soup mix, which you can keep on hand for last minute dinner ideas!
Get the French Onion Beef Casserole recipe on Fantabulosity.
Quick Lasagna Casserole
Also lovingly called Lazy Lasagna, this quick and easy version of Lasagna is simplified to make it weeknight-friendly. Tomato beef sauce pair with cheese and pasta, which means this minimal-effort Lasagna still has all the flavor!
Get the Quick Lasagna Casserole recipe.
Dorito Casserole
This weeknight casserole is filled with layers of nacho Doritos, ground beef, red and green salsa, and shredded cheese. It's baked until golden, melty, and delicious. Inspired by Mexican flavors, this recipe is vibrant, bold, and always a crowd-pleaser!
Get the Dorito Casserole recipe on Grandbaby Cakes.
Ground Beef Burrito Skillet
If you're looking for a new favorite 30-minute dinner, this is it. Ground Beef Burrito Skillet has all of the flavors of a ground beef burrito - made into an easy, one-skillet meal!
Get the Ground Beef Burrito Skillet recipe on I Heart Eating.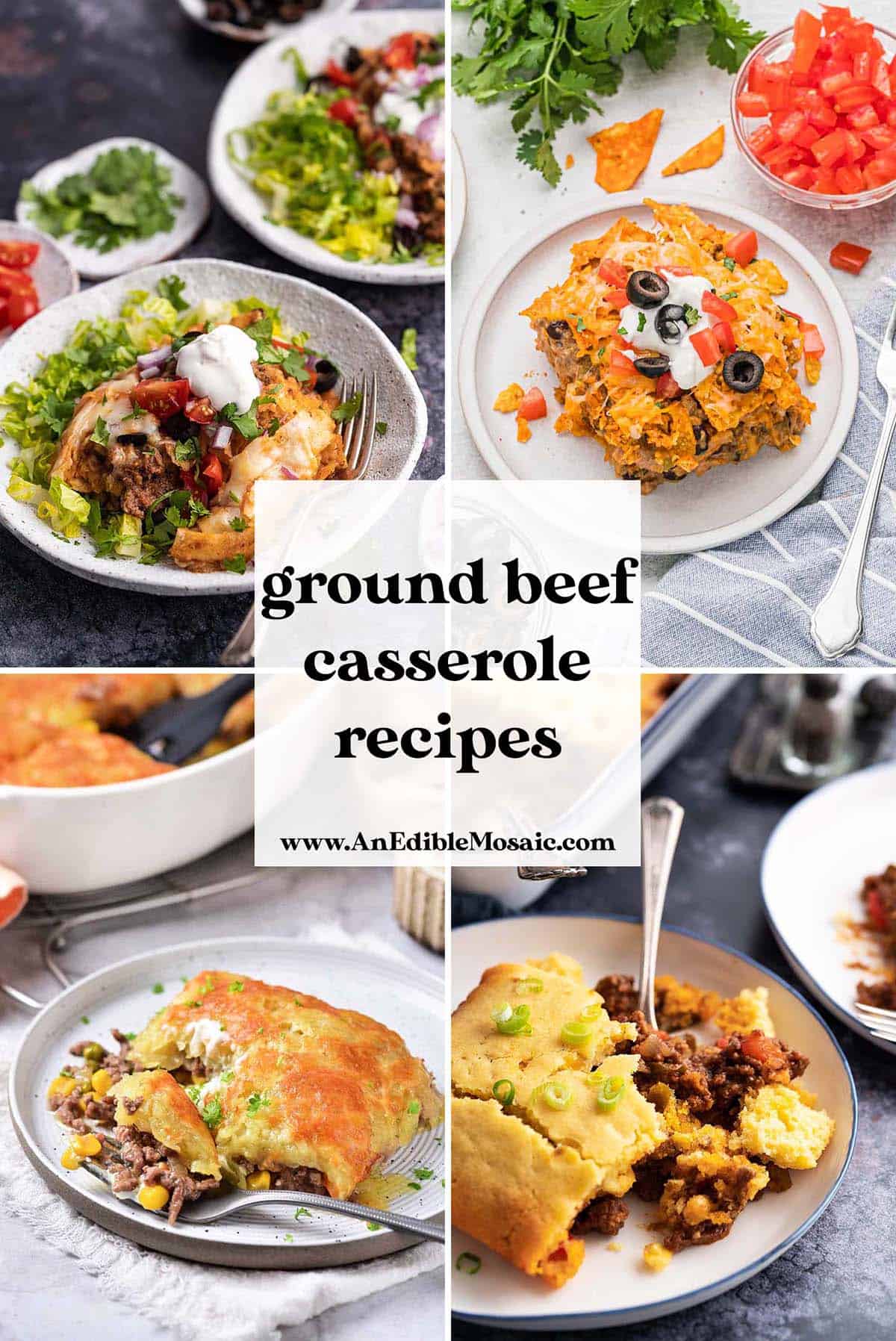 Let's Connect


Did you enjoy this post? Please let me know in the comments below. You can also tag @anediblemosaic on social media.
To stay up-to-date, follow me on Facebook, Instagram, Pinterest, and Twitter!