Some things drive you completely wild with desire as they cook.
Roast chicken.
Apple pie.
Any recipe that starts out with sautéed onion and garlic.
Chocolate chip cookies.
And I can say with confidence that this recipe should be added to the list.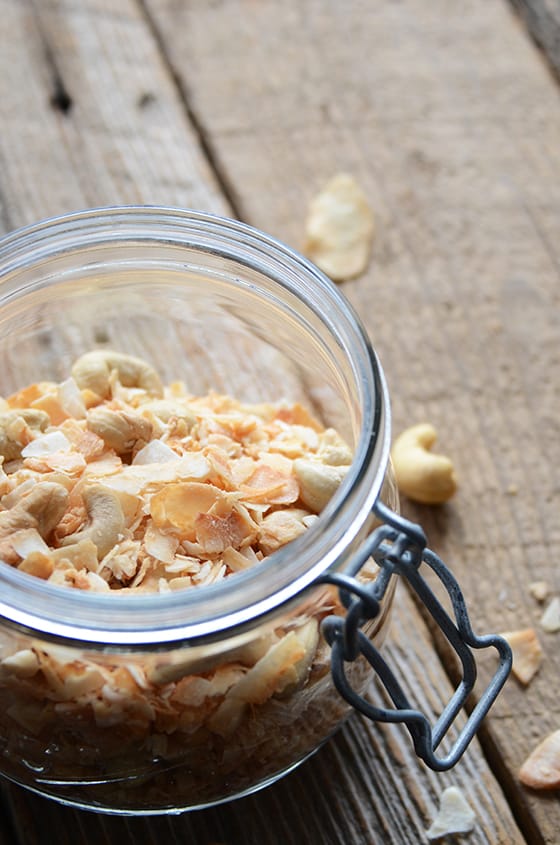 The aroma of vanilla and toasted nuts permeates the house and it smells like you have a batch of the best cookies baking.
I'm telling you, your roommate, hubby, or kiddos will be asking you what you're making that smells so tantalizing. And you'll be able to sit back and smile because you know it's something that is as healthy for them as it is delicious.
If you're trying to make a few healthy changes (and who isn't this time of year?), this recipe will help with a resolution that's probably on your list (at least it has been on everyone's list who I've talked to in the past week or so): taming the sugar beast.
Munch on a handful of this along with your afternoon tea or while you're watching a movie in the evening, and you might realize that a batch of chocolate chip cookies doesn't sound so good. Ok, scratch that, chocolate chippers always sound good. But you might realize that you just don't need them.
Ingredients
12 oz (340 g) unsweetened flaked coconut
12 oz (340 g) raw, unsalted whole cashews
2 tablespoons coconut oil, melted
1 tablespoon pure vanilla extract
1/2 teaspoon sea salt (optional)
Instructions
Preheat oven to 325F; line a large baking sheet with parchment paper or a silpat liner.
Dump the coconut and cashews onto the prepared baking sheet and drizzle on the coconut oil, vanilla, and salt. Toss with 2 spoons to combine.
Spread the mixture out in an even layer and bake until fragrant and light golden, about 15 to 20 minutes, tossing the mixture every 5 minutes.
Cool completely, and then transfer to an airtight container and store at room temperature.
http://www.anediblemosaic.com/5-ingredient-vanilla-scented-toasted-coconut-cashew-mix-paleo/