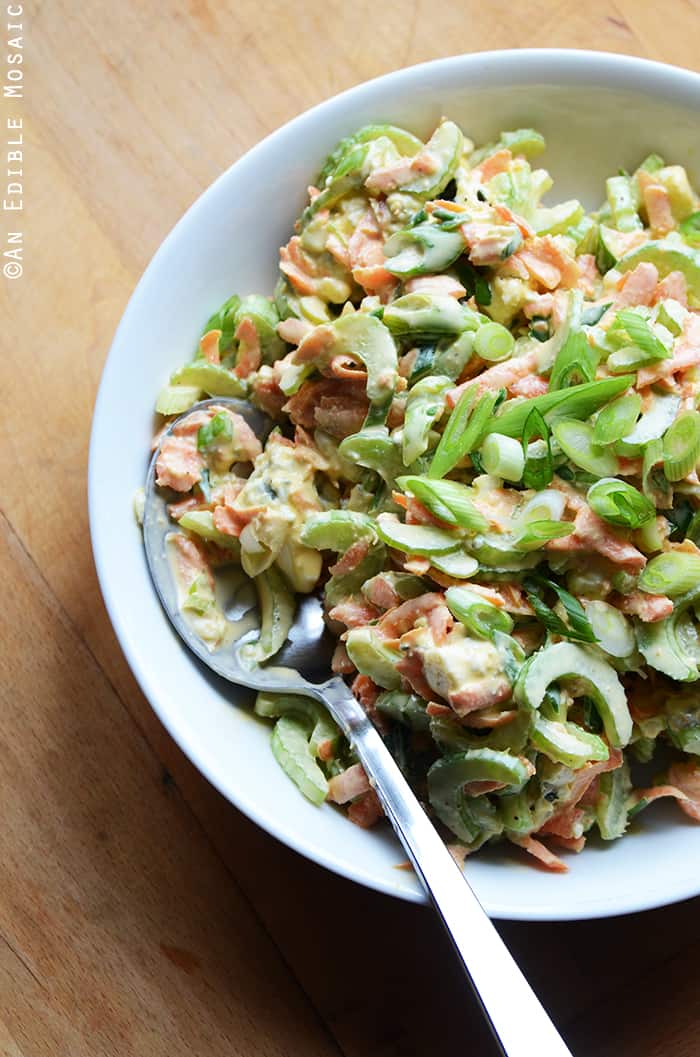 When I was younger I hated celery, of all things.
As the perfect vessel for things like peanut butter, cream cheese, or French onion dip, celery is such an odd vegetable to hate on. But I wouldn't have been caught dead munching a celery stick…not even along with a chicken wing and blue cheese for dipping.
Since then I've changed my crazy ways and learned to appreciate celery, not only for its ability to serve as a vessel for other yummy foods, but also for its crunch factor. And I love the fact that it's a little bit like both chicken and tofu in that it absorbs the flavors around it.
Blue Cheese makes this salad!
This salad features the crunch I love about celery, along with the flavor of creamy blue cheese dressing that's laced with a subtle spiciness. It is wonderful, addictive even, and will have you wondering whether or not you ever want to use cabbage or broccoli stalks for slaw again (and yes, I love both of them too). Make it and you'll be hard-pressed not to eat the entire batch. By yourself, before dinner.
Ingredients
1/4 cup (52 g) mayo
1/4 cup (62 g) Greek yogurt
1-3 teaspoons hot sauce (more or less to taste)
1/4 teaspoon garlic powder
1/8 teaspoon salt
1/8 teaspoon black pepper
3 large stalks celery, thinly sliced
1 large carrot, shredded
4 scallions (white and green parts), thinly sliced
3 oz (85 g) blue cheese, crumbled
Instructions
Stir together the mayo, Greek yogurt, hot sauce, garlic powder, salt, and black pepper in a large bowl.
Add the celery, carrot, and 3/4 of the scallion (reserving 1/4 for garnish) and stir until the veggies are coated.
Gently fold in the blue cheese crumbles; taste and add additional salt, black pepper, and hot sauce as desired.
Transfer to a serving bowl and sprinkle on the remaining scallion; serve.
http://www.anediblemosaic.com/spicy-blue-cheese-celery-slaw/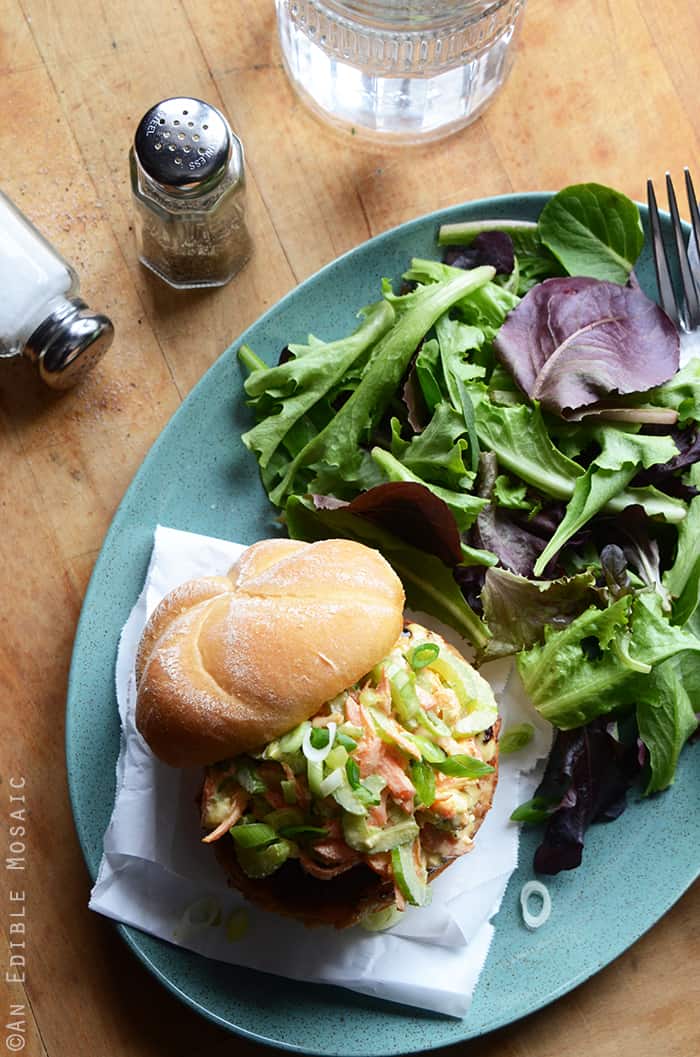 Spicy Blue Cheese Celery Slaw is the perfect topping for Buffalo Chicken Burgers!