Using the pilaf cooking method to make this Red Rice Recipe with Grapes and Pistachios brings out the natural nuttiness in rice; this recipe features a balance of sweet and savory flavors, as well as various contrasting textures.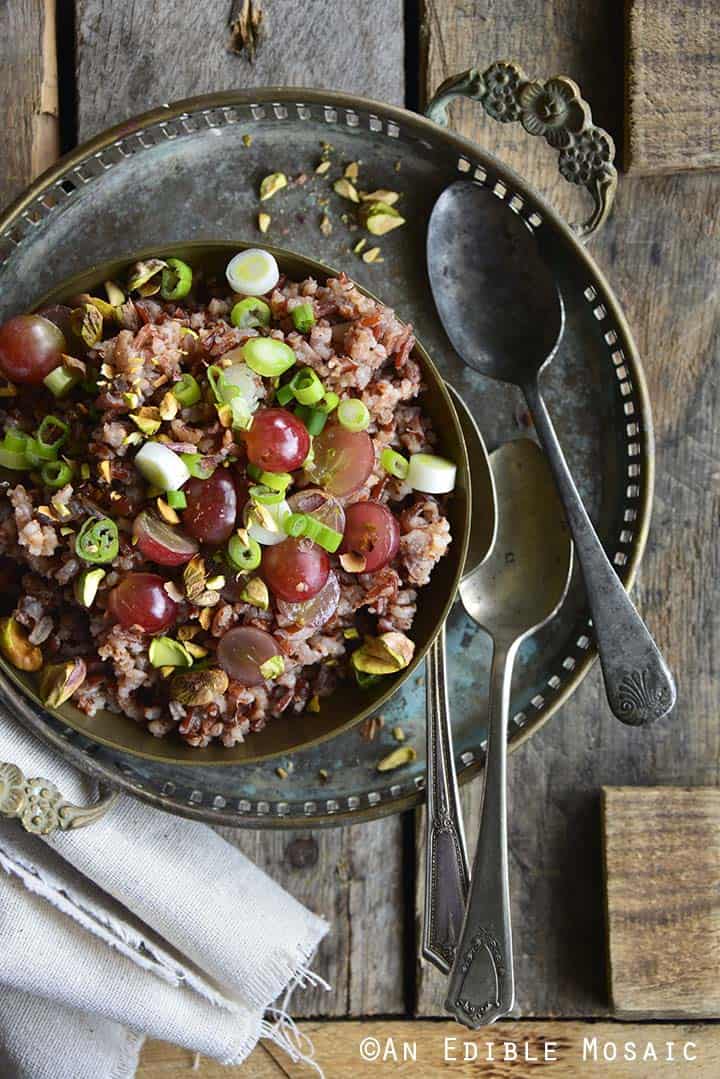 When I lived in the Middle East, I learned the pilaf method of cooking rice. In this method, before cooking rice is soaked in tepid water to remove the excess starch, and is then toasted in ghee (clarified butter). Sometimes onion and/or small thin pasta is also toasted along with the rice (think Rice a Roni-style). The rice is cooked in salted water or seasoned chicken broth, which lends depth of flavor. Once you try rice prepared this way, you'll be surprised at how flavorful it can be. (I included several rice recipes that use the pilaf cooking method in my cookbook.)
In this pilaf-style red rice recipe, I garnish with fresh red grapes for sweetness, scallion for savory flavor, and pistachios for nutty crunch, resulting in a well-balanced side dish that's great for serving up with anything from roast chicken to broiled fish to grilled steak.
How to Make Perfect Rice
Rice Cooking Tips
I have a few easy tips to help you cook up the perfect pot of rice:
Soak the rice before cooking it to help remove some of the excess starch coating the grains (so the rice is fluffier, and not as sticky), and to help ensure the grains cook up as long as possible without breaking.
Toast the rice in a little ghee before cooking to give it a slightly nutty aroma and flavor.
Once it's cooked, turn off the heat and let the rice sit (covered) in the pot for 15 minutes before fluffing and serving.
Ratio of Water to Rice When Making White Rice
The typical ratio of water to white rice is 2:1; however, if you follow the tip about soaking the rice, the ratio is a little different. As the rice soaks, it absorbs some of the water and so less water is required during the cooking process, which helps the rice cook up fluffier. After soaking, I use a ratio of water to rice of 1.25:1 instead of 2:1, meaning for every 1 ¼ cups of water, I use 1 cup of white rice.
The ratio of water to rice varies depending on what kind of rice you're making. White rice requires less water than brown or red rice. For this red rice recipe I use a ratio of 2:1 liquid to rice (after soaking the rice) for perfect results. Also, here I use chicken bone broth instead of water to add depth of flavor.
How Long to Cook Rice
White rice usually takes about 15 minutes to cook if you soak it in water first. Red and brown rice take a bit longer to cook, about 35 minutes on average if you soak it first.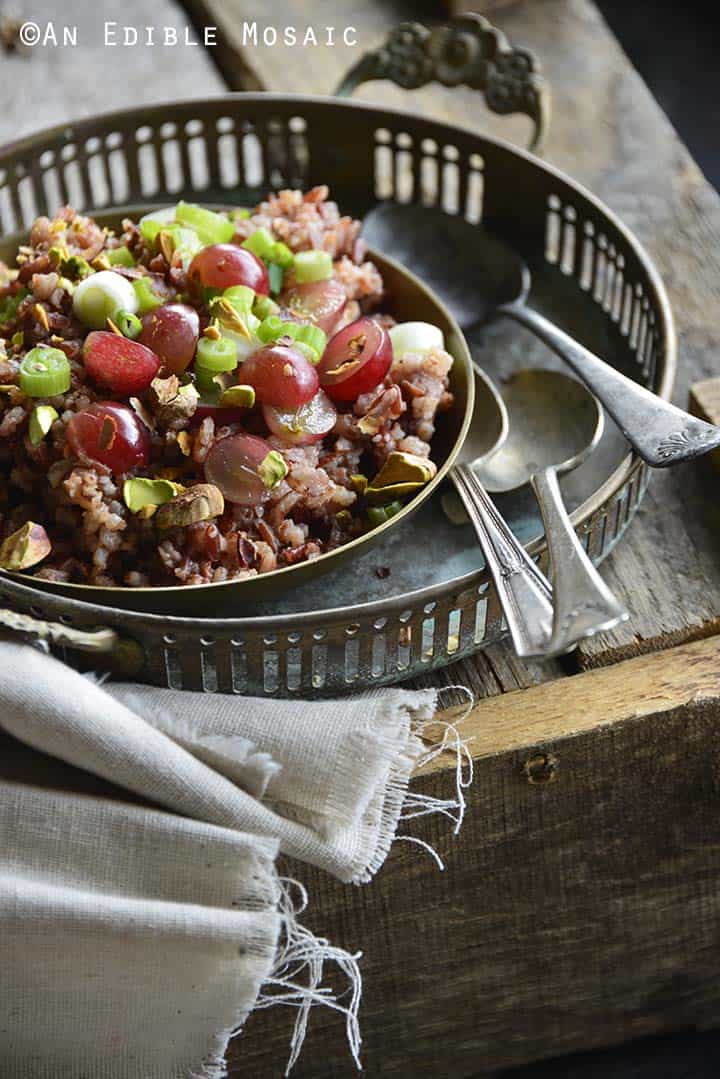 Is Rice Healthy?
White rice is more refined than brown rice because its bran and germ are removed during the milling process, which removes iron, B vitamins, and fiber. On the other hand, brown rice is considered a whole grain because its bran and germ are retained. Brown rice contains more fiber, vitamins, minerals, and antioxidants than white rice. However, brown rice also contains an antioxidant called phytic acid, which is considered an antinutrient because it impairs the body's absorption of zinc and iron from the digestive tract. There are a few methods that reduce the amount of phytic acid, including, soaking, sprouting, and fermenting. (Read more about the nutrition of rice on CNN and Medical News Today.)
What is Rice Pilaf?
Rice pilaf is an Indian dish in which rice grains are toasted in ghee or oil until they take on a nutty aroma. Subsequently, the rice is cooked in hot broth. This cooking method results in fluffy, less sticky rice with separated grains.
I like to add onion when I'm toasting the rice; aromatics, such as garlic, are also common additions. Sometimes I add other vegetables, such as carrot, bell pepper, or peas. Dried fruit is also a common addition, and toasted nuts like cashews or almonds are frequently used as a garnish.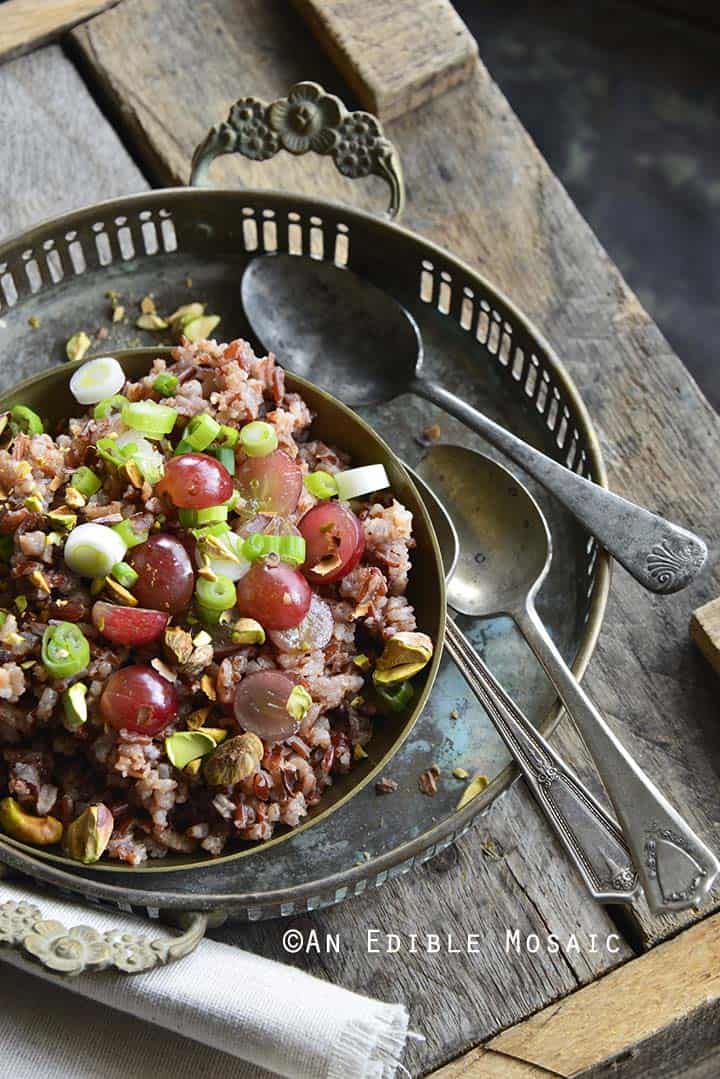 Grapes
My inspiration for this red rice recipe was pilaf. Instead of adding dried fruit, such as raisins or currants as the rice cooks, I added a little bit of fresh red grapes right before serving. This adds a fresh component, and a touch of sweetness to balance the savory flavors in this red rice recipe.
Grapes Nutrition
Grapes are rich in several phytonutrients, including polyphenols, which may help fight cancer, heart disease, lung disease, diabetes, and Alzheimer's disease. Raisins are dehydrated grapes; because the water is removed, they have a higher concentration of antioxidants, however, raisins are also higher in sugar than grapes. (Read more about the nutrition of grapes on HealthLine, LiveScience, and The World's Healthiest Foods: Grapes.)
According to the USDA Food Database, 100g (about 1 slightly heaping cup) of grapes has the following nutrition:
70kcals
1.41g protein
0g fat
18.31g carbohydrates
1.4g fiber
Other Savory Grape Recipes: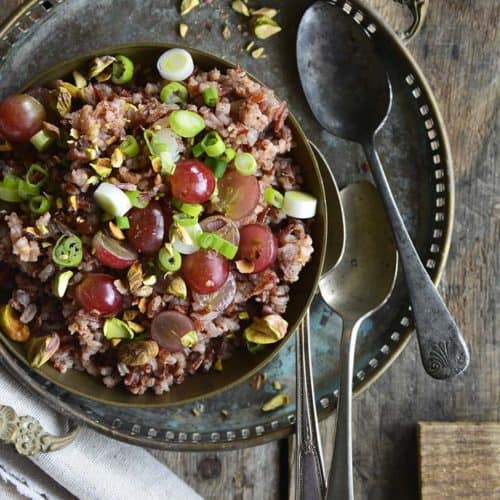 Red Rice Recipe with Grapes and Pistachios
Using the pilaf cooking method to make this Red Rice Recipe with Grapes and Pistachios brings out the natural nuttiness in rice; this recipe features a balance of sweet and savory flavors, as well as various textures.
Instructions
Soak the rice in tepid water for 15 to 20 minutes, changing the water once; rinse the rice in a fine mesh sieve under cool running water and drain well.

Heat the ghee in a medium saucepan over medium heat. Add the onion and cook until softened, but not browned, about 3 to 5 minutes, stirring occasionally.

Once the rice is done soaking and is drained, stir it into the saucepan with the onion; turn the heat up to high and cook until the rice smells nutty, about 2 to 3 minutes, stirring occasionally.

Stir in the salt, cardamom, black pepper, cloves, and broth. Immediately put a lid on the saucepan, turn the heat down to very low, and cook 30 to 40 minutes (only open the lid if you need to add a splash more liquid).

Turn the heat off and let the rice sit with the lid on for 10 to 15 minutes before fluffing with a fork.

Transfer the rice to a serving platter and top with the grapes, pistachios, and scallion. Serve.
Nutrition
Nutrition Facts
Red Rice Recipe with Grapes and Pistachios
Amount Per Serving (0.25 of recipe)
Calories 279
Calories from Fat 90
% Daily Value*
Fat 10g15%
Cholesterol 14mg5%
Sodium 753mg33%
Potassium 297mg8%
Carbohydrates 41g14%
Protein 6g12%
Vitamin A 50IU1%
Vitamin C 10.6mg13%
Calcium 18mg2%
Iron 0.7mg4%
* Percent Daily Values are based on a 2000 calorie diet.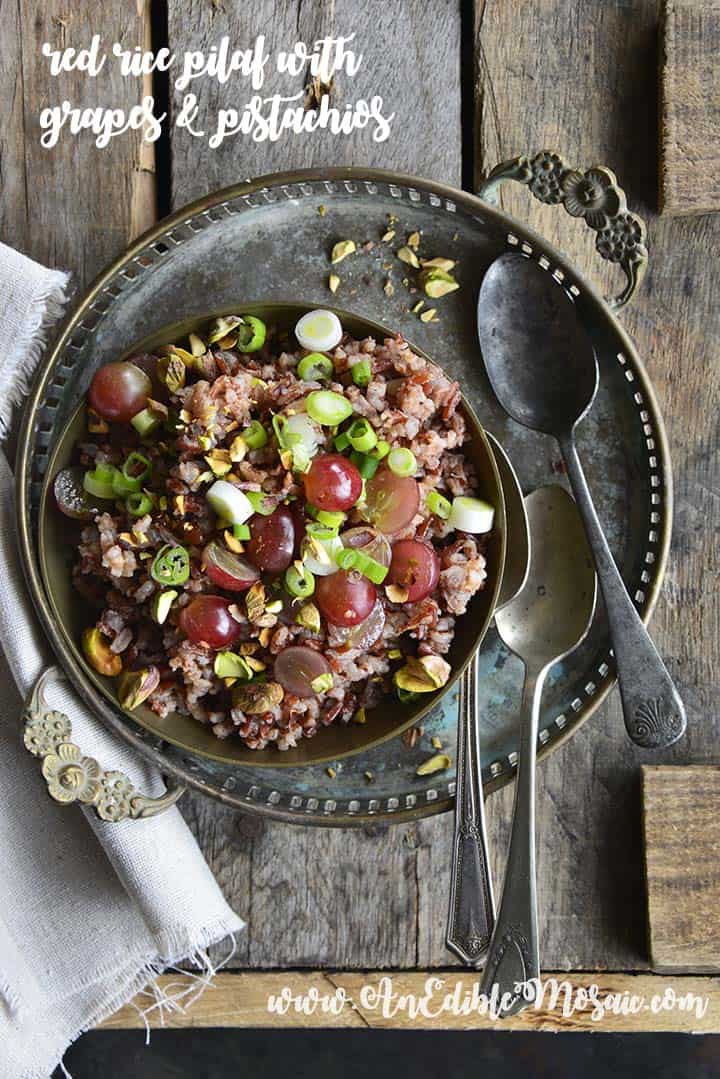 Disclosure: This post contains Amazon affiliate links to products I believe in, which means that even though it doesn't cost you anything extra, I will receive a small amount of money from the sale of these items. Thank you for helping to support An Edible Mosaic!