If you're a fan of classic Southern fare, you won't want to miss this Keto Low Carb Biscuits and Sausage Gravy Recipe! Flaky, tender, and flavorful biscuits paired with a rich, creamy Italian turkey sausage gravy make for a delicious meal any time of day.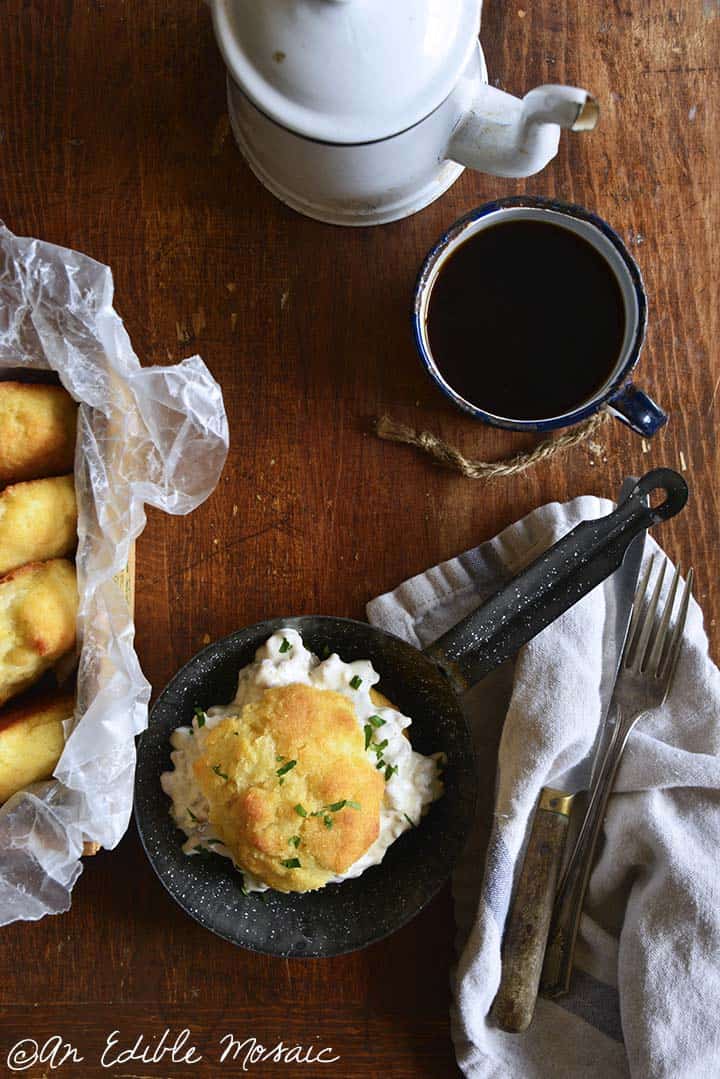 Being born and raised in the Buffalo area, my first foray into Southern biscuits didn't come until I was in my early twenties.
My mom, brother, and I drove down to visit my sister who was living in North Carolina at the time. On the way home my mom was jonesing for biscuits so badly she asked the toll collector on the highway "How far until the nearest Biscuit World?"
Ok, I'm kidding.
What actually happened was my brother and I had heard that Tudor's Biscuit World was pretty fabulous. Unfortunately, we didn't have the chance to check it out during our visit, so we were relentlessly nagging my mom to stop on the way home and she was resisting.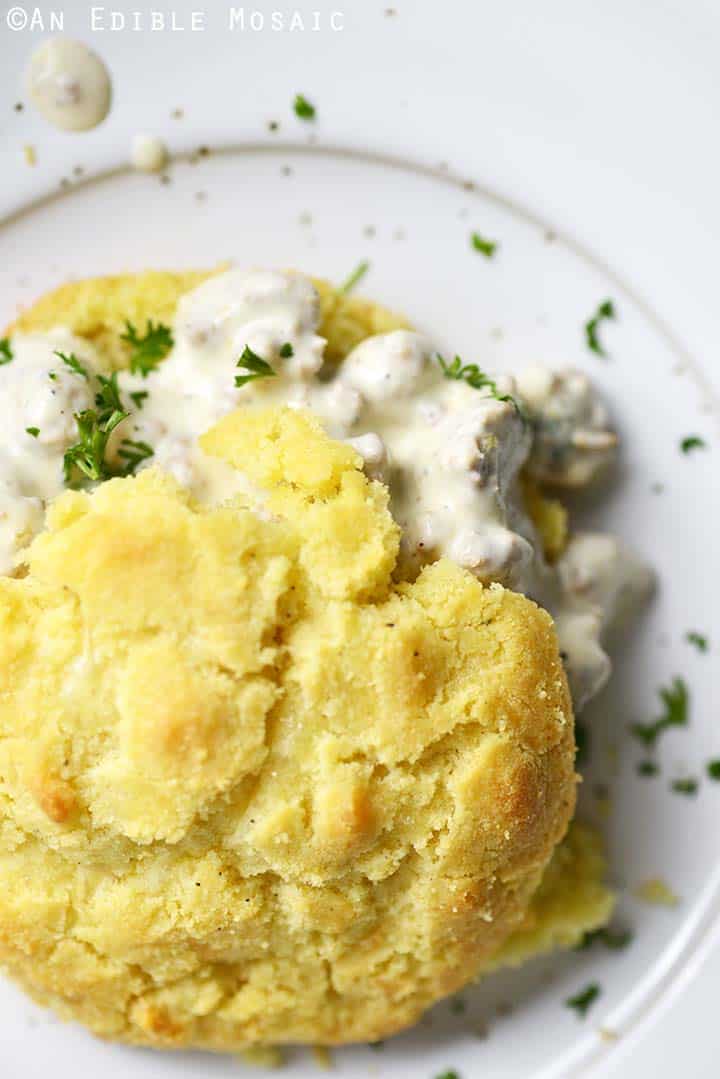 Mom eventually caved and got directions to the nearest Biscuit World from the toll collector. She finally took us to Biscuit World and it was sadly anticlimactic.
I don't know what I was anticipating, but it certainly wasn't the dry, slightly hard, and somewhat flavorless biscuit I got. Maybe it was just an off day for them at that location?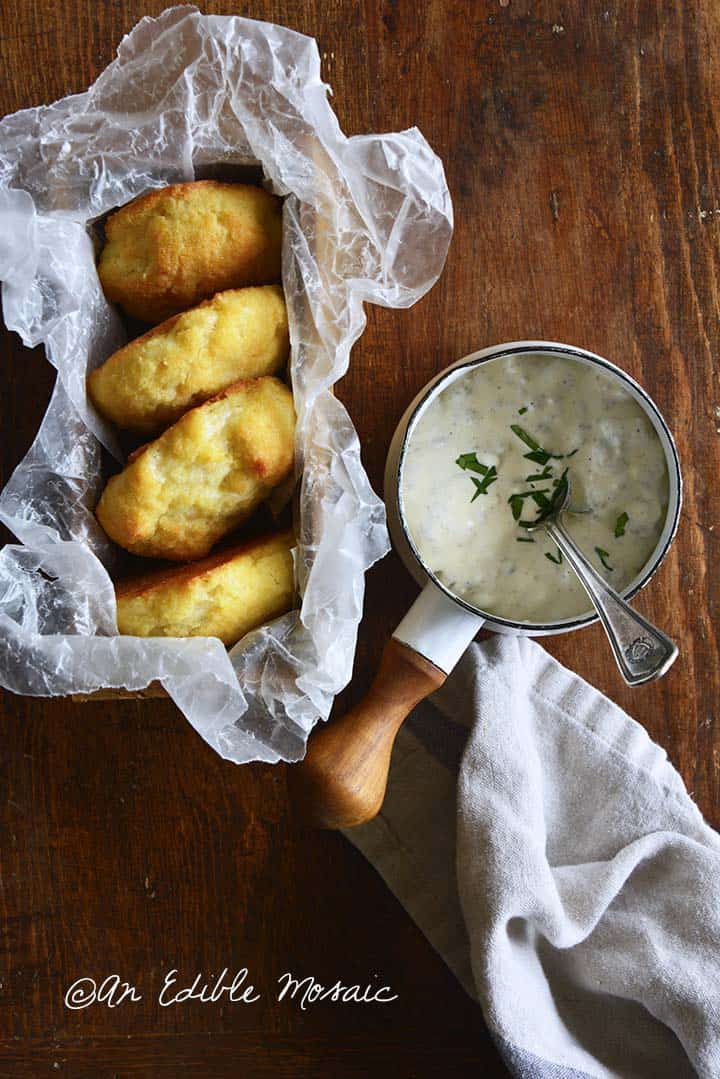 That little escapade was before my low carb days and looking back, I don't miss regular biscuits at all! This Low Carb Biscuits and Sausage Gravy Recipe is much more delicious with tender, flaky, and flavorful biscuits and rich sausage gravy.
And this Low Carb Biscuits and Gravy Recipe has just 7g net carbs per serving!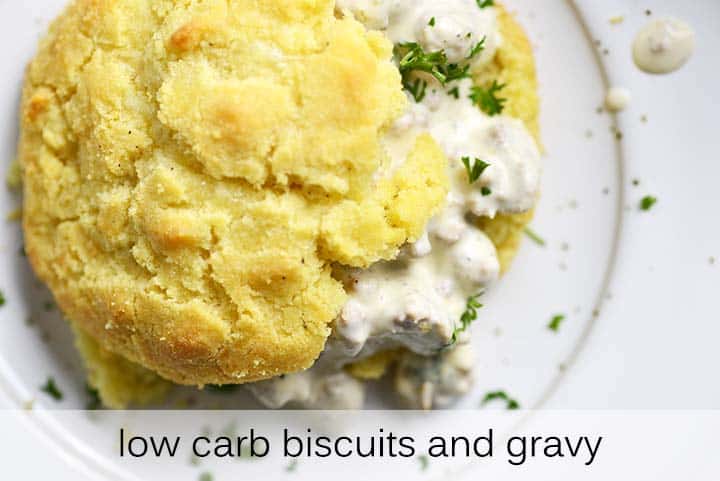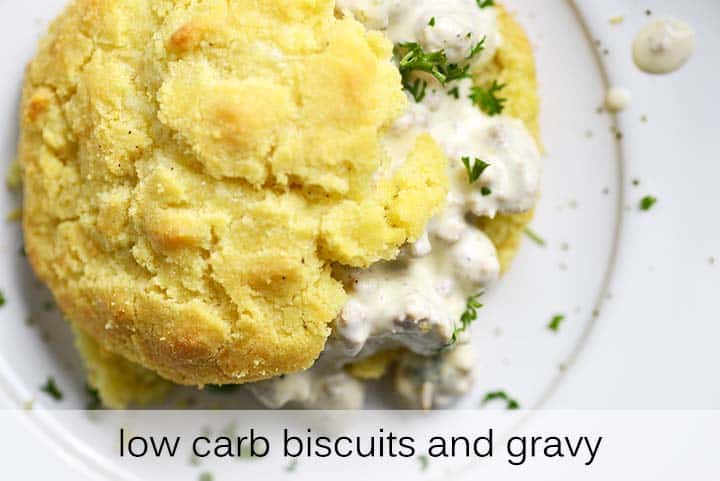 Low Carb Biscuits and Gravy Recipe
For this Low Carb Biscuits and Gravy Recipe, I remade the classic Southern recipe into a low carb meal. Instead of using regular biscuits, I made a couple small tweaks to my recipe for Low Carb Biscuits.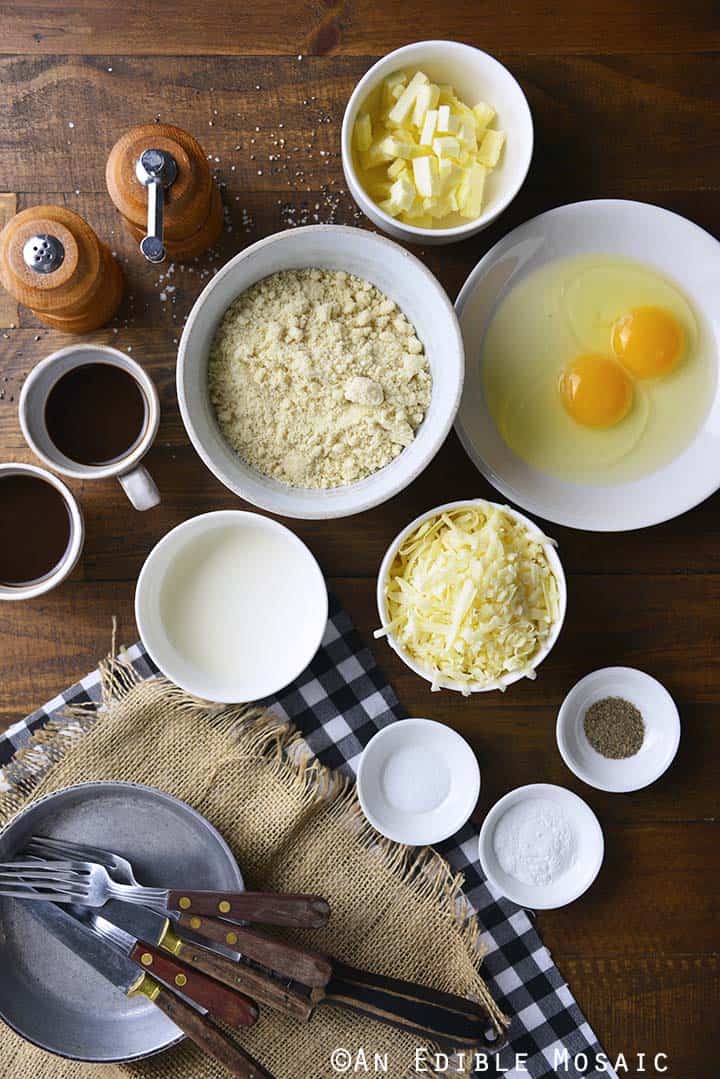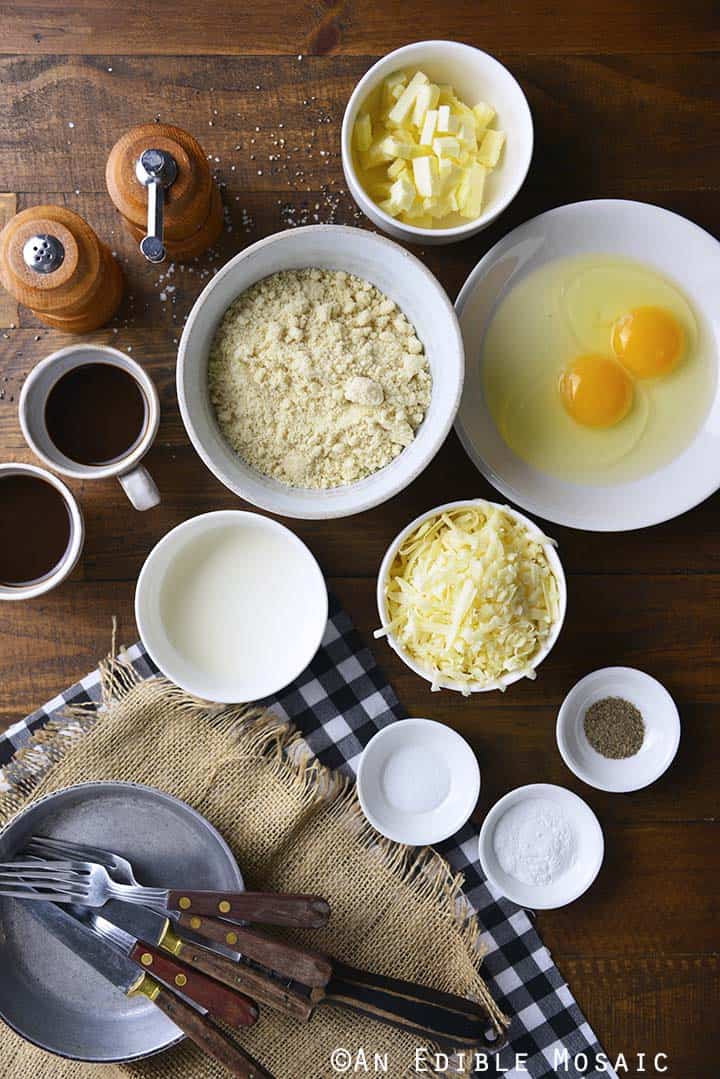 In this biscuit recipe, I use almond flour as the base and add butter, heavy whipping cream, and sharp white cheddar. You won't believe how light, fluffy, and flavorful these biscuits are!
I also kept the sausage gravy for this recipe low carb. To do so, I skipped the flour and milk, and instead made gravy from heavy cream, chicken broth, and cream cheese. The gravy is rich, creamy, and flavorful.
You definitely won't miss the carbs here!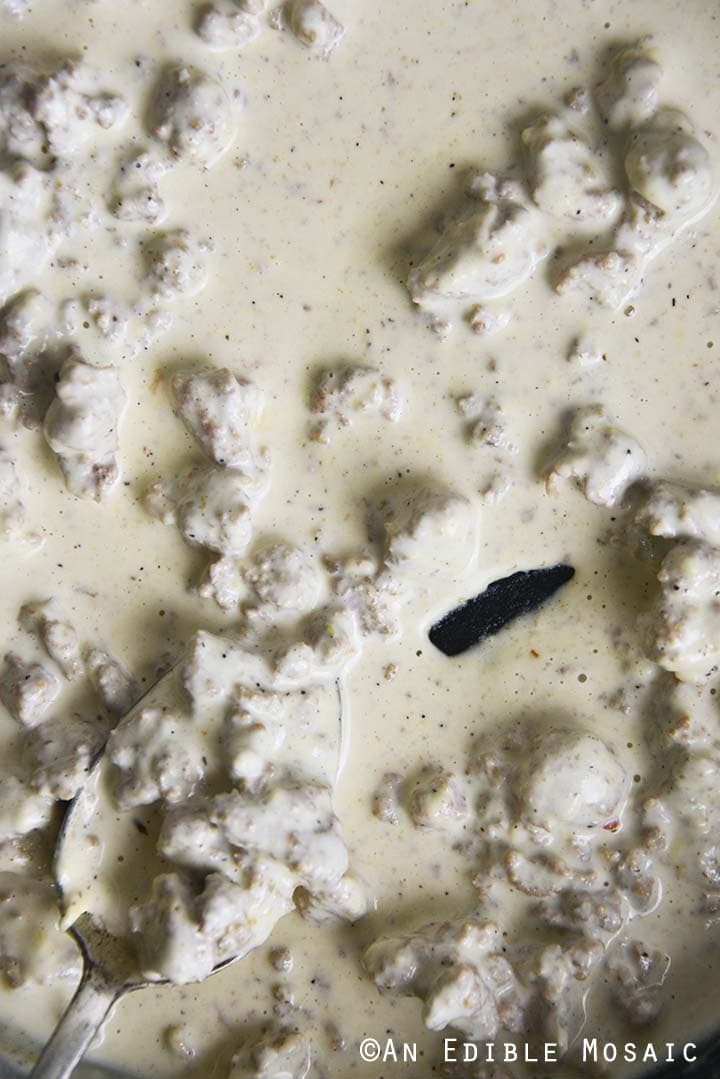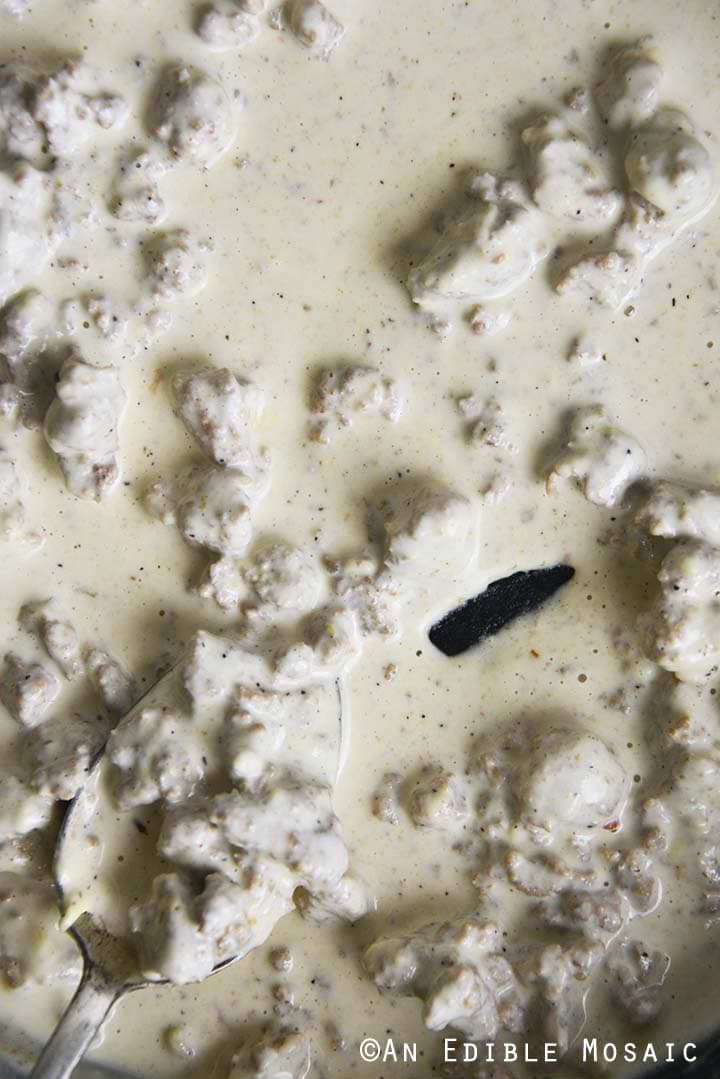 All About White Sausage Gravy
There are so many different names for white sausage gravy! It's also called biscuit gravy, white gravy, sausage gravy, and Southern gravy. Whatever you call it, I call it delicious.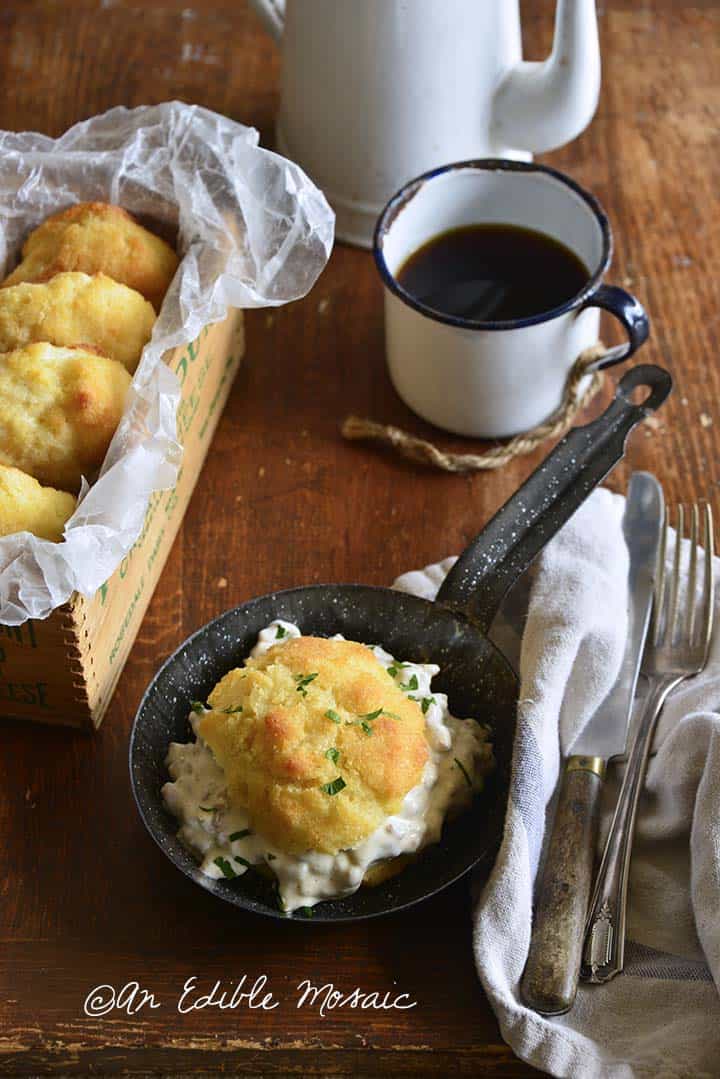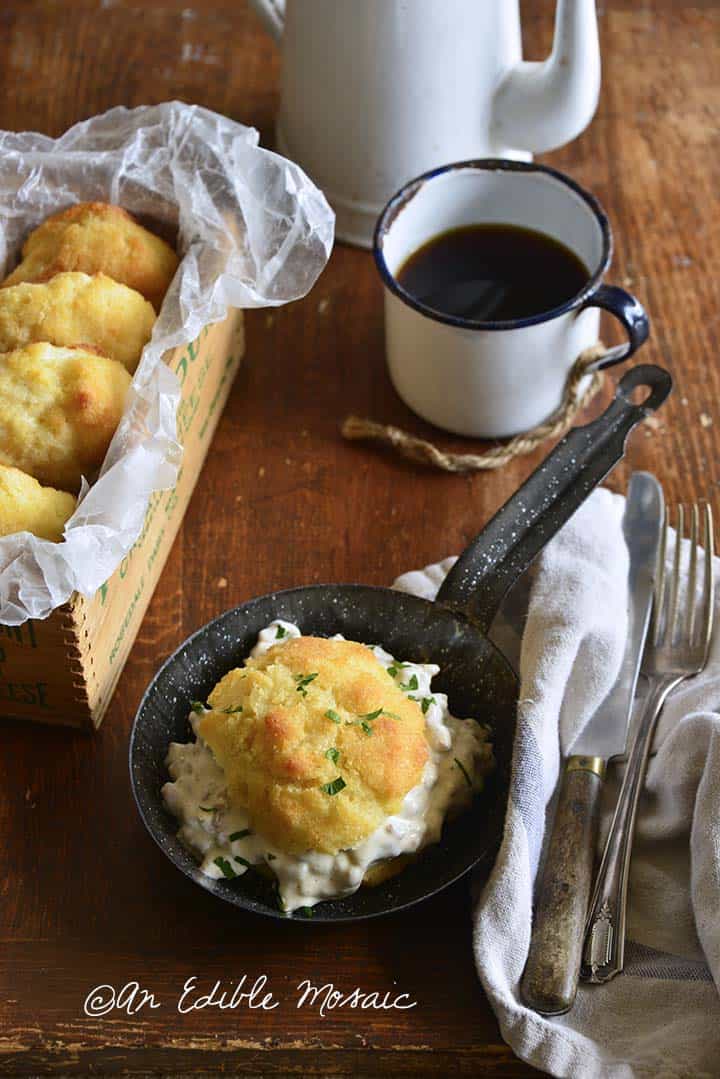 How Do You Make the Best Sausage Gravy?
To make the best Southern sausage gravy for my Low Carb Biscuits and Gravy, I first brown a good quality sausage. I like to use a mild Italian chicken or turkey sausage for this, but you can use whatever your favorite sausage is.
Look for sausage in bulk, but if you can only find links, you can squeeze the meat out of the links and discard the casings.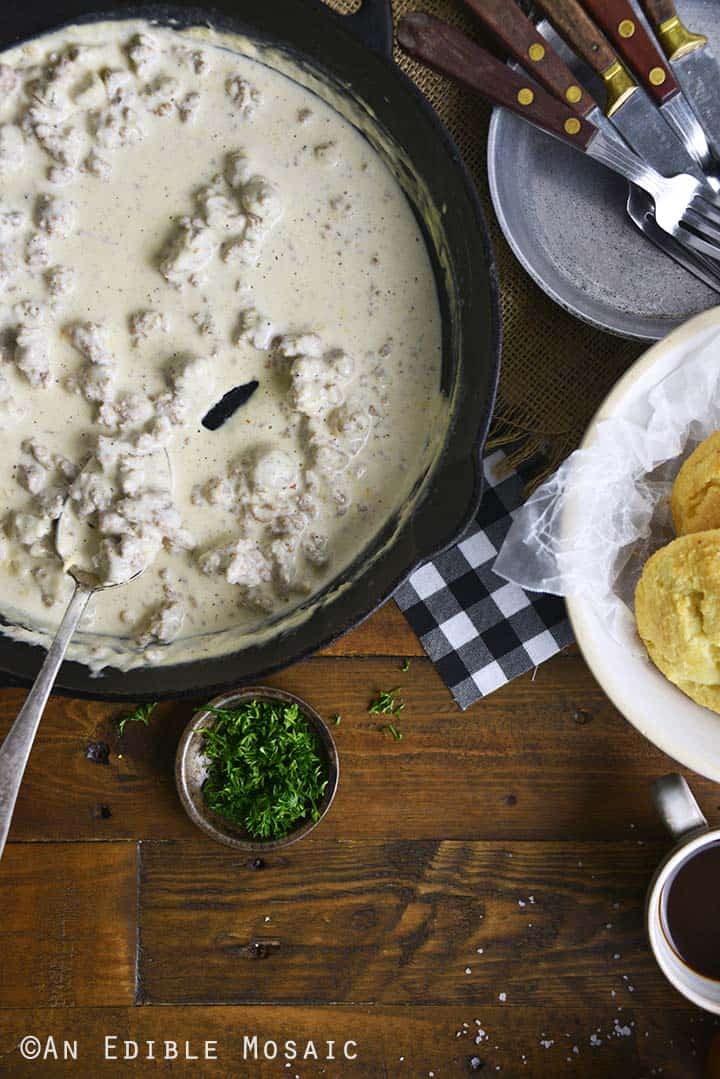 Pro Tip: Make sure you get raw sausage for this recipe, not pre-cooked sausage.
Once the sausage is browned, add liquid and thickener, as well as seasonings, such as salt and pepper, or other spices.
After that, simmer the gravy so the flavors can blend and the sauce can thicken.
What is Biscuit Gravy Made Of?
Regular (i.e., not low carb) biscuit gravy is made of browned sausage, all-purpose flour, milk, and seasonings. This low carb biscuit gravy is made from browned sausage, chicken broth, heavy cream, and cream cheese.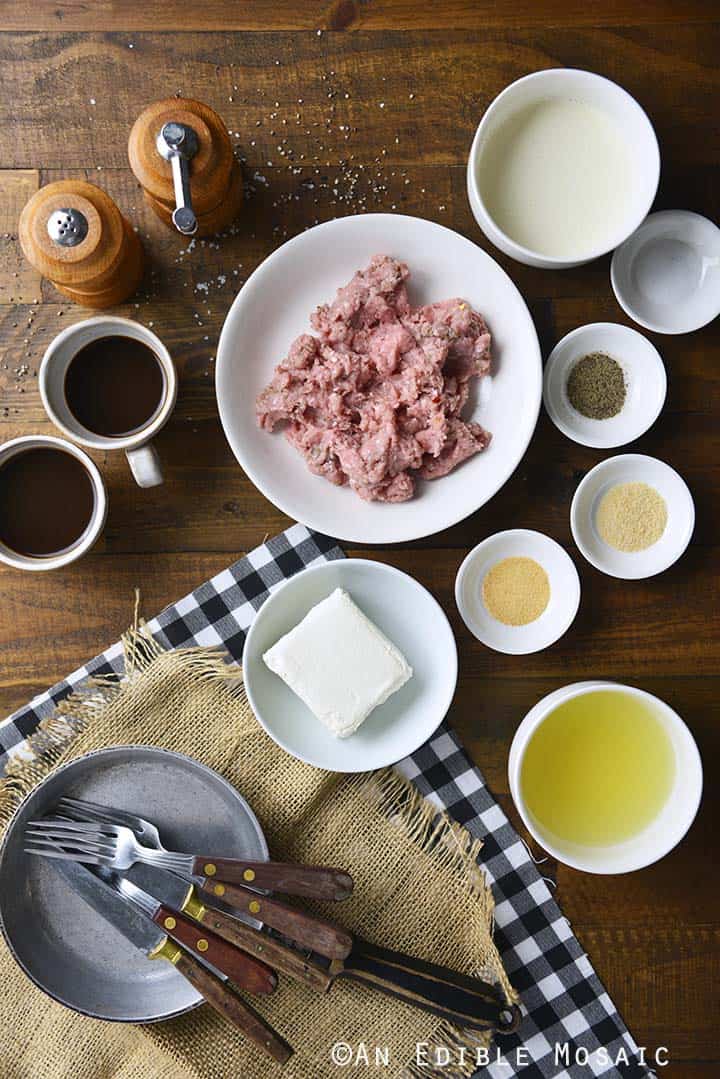 Ingredients in Low Carb Southern Sausage Gravy:
Mild Italian chicken or turkey sausage
Cream cheese
Heavy cream
Chicken broth
Garlic powder
Onion powder
Black pepper
Salt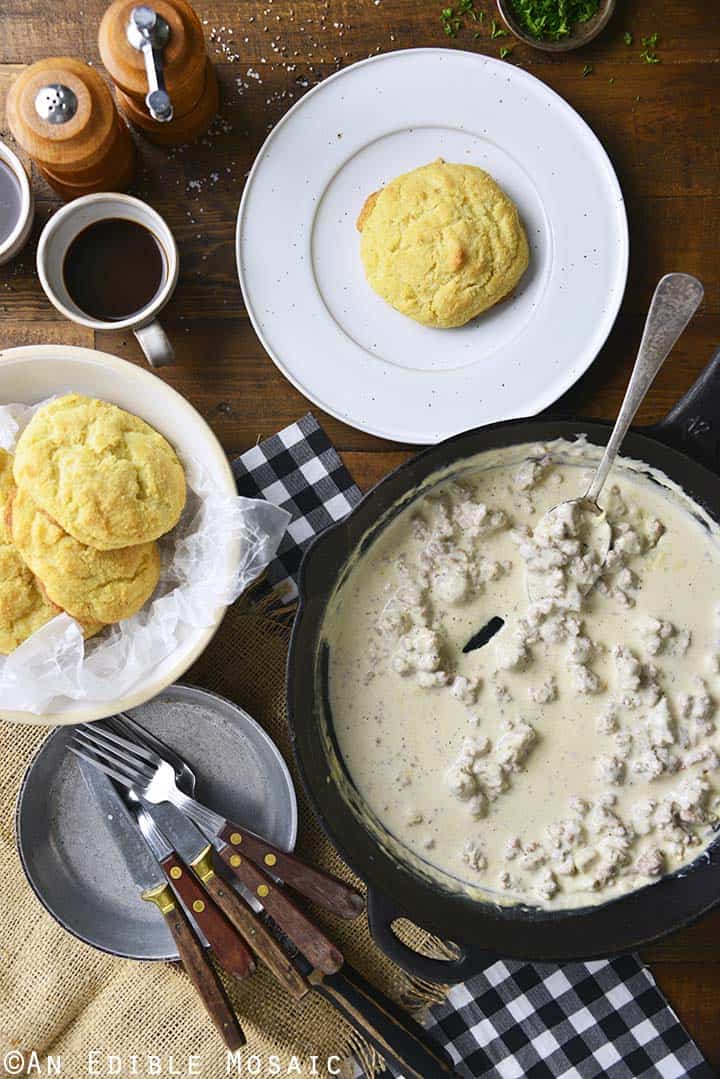 How Do You Thicken Sausage Gravy?
Depending on whether you're making regular gravy or low carb gravy will determine what thickener you use.
Regular (Not Low Carb) Sausage Gravy
Regular sausage gravy uses all-purpose flour or cornstarch as a thickener.
This Low Carb Sausage Gravy
In this recipe, cream cheese acts as the thickener instead of flour.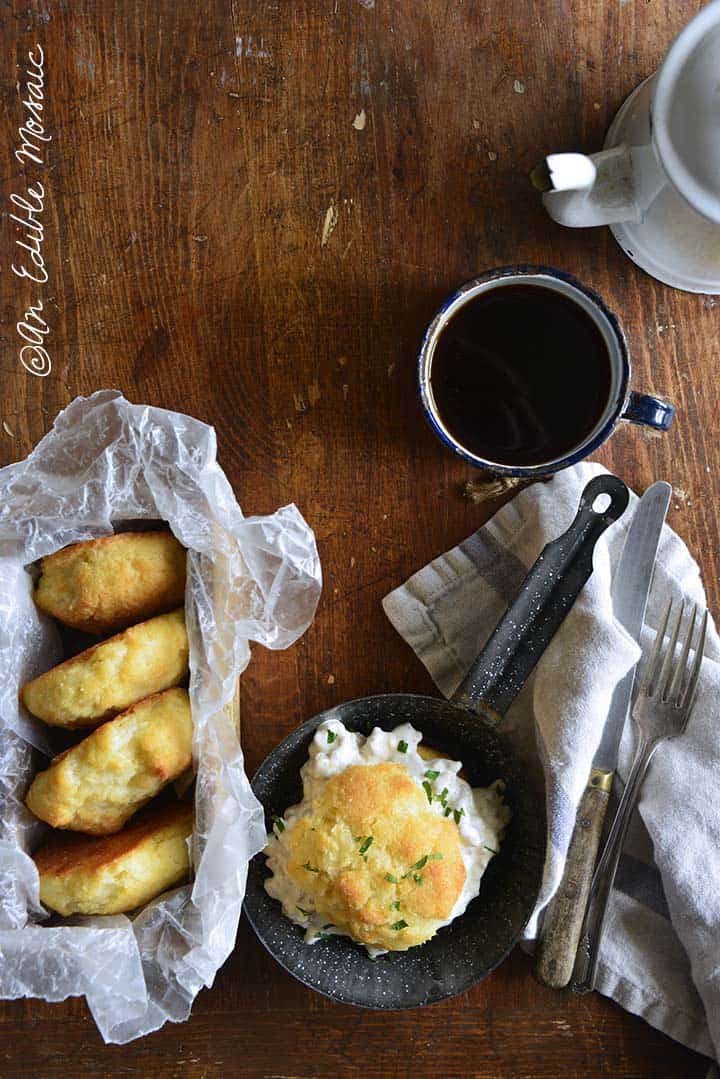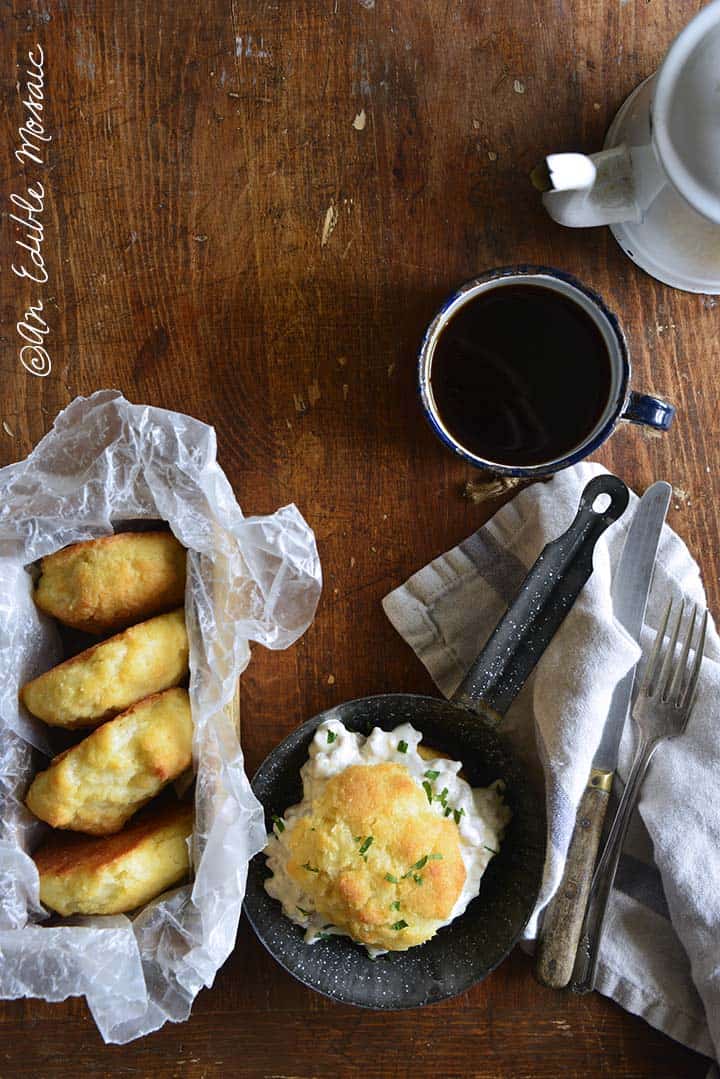 Keto Biscuits and Gravy Without Xanthan Gum
A lot of keto recipes (both baking recipes and cooking recipes) use xanthan gum as a thickener or emulsifier to help improve the overall texture of the final dish.
I don't use added xanthan gum in my recipes because it can cause tummy troubles for a lot of people, unfortunately, myself included.
However, there's no need for an additional thickener in this recipe. If you let the gravy simmer for a few minutes, it will thicken up perfectly!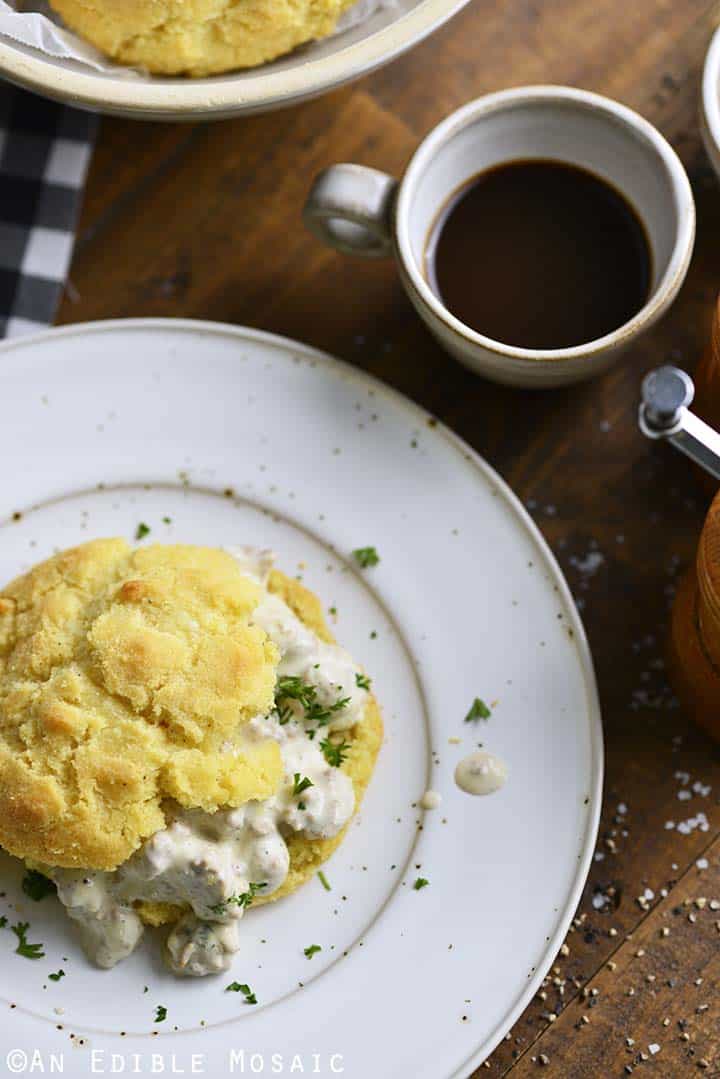 More Low Carb Breakfast Recipes: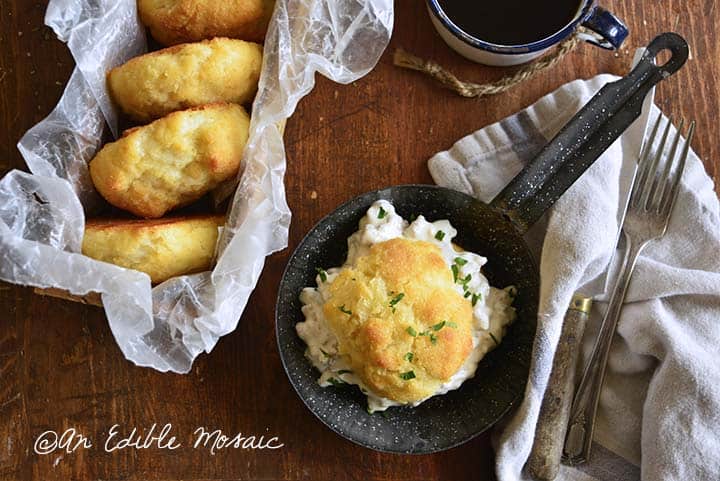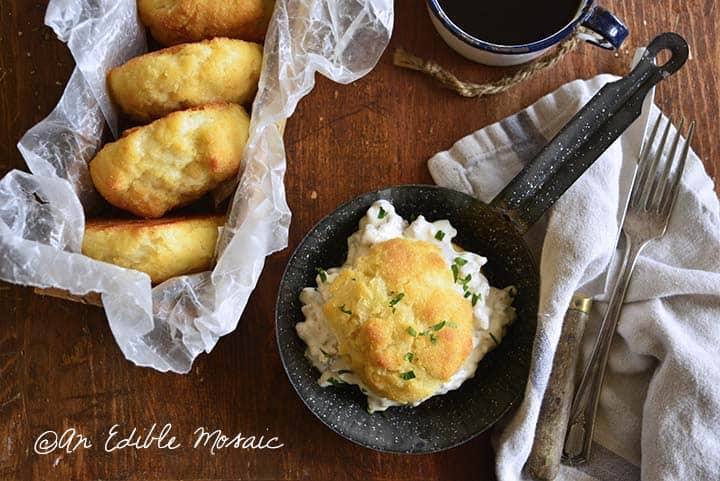 Did you make this recipe? Please rate it and leave a comment below because I love hearing from you! You can also tag @anediblemosaic on social media. To stay up-to-date FOLLOW ME on Instagram, Twitter, and Facebook. Xoxo, Faith
Low Carb Biscuits and Gravy Recipe
This Keto Low Carb Biscuits and Sausage Gravy Recipe pairs flaky, tender, and flavorful biscuits paired with a rich, creamy Italian turkey sausage gravy!
Print
Pin
Rate
Ingredients
Biscuits:
2

cups

almond flour

2

teaspoons

baking powder

1/2

teaspoon

salt

1/4

teaspoon

black pepper

4

tablespoons

unsalted butter

chilled and diced

4

tablespoons

heavy whipping cream

2

large eggs

beaten

4

oz

sharp white cheddar cheese

shredded
Other:
1

tablespoon

fresh minced parsley

for garnish
Instructions
For the Biscuits:
Preheat the oven to 350F; line a large baking sheet with parchment paper or a sipat liner.

Whisk together the almond flour, baking powder, salt, and black pepper in a large bowl. Cut in the butter with a fork until it looks like coarse meal. Use a fork to mix in the heavy whipping cream a little at a time, and then mix in the eggs. Cut in the white cheddar until it forms a dough.

Divide the dough into 8 equal portions and roll each into a ball. Arrange the balls on the prepared baking sheet and bake until golden on bottom, about 20 minutes.

Serve warm or at room temperature. Store leftover biscuits covered in the fridge up to 3 days or wrapped well in the freezer for up to 3 months. To reheat, toast them in a toaster oven (if frozen, thaw them first).
For the Sausage Gravy:
Add the sausage to a medium saucepan over medium-high heat. Cook until browned, about 5 minutes, using a wooden spoon to break up the meat.

Add the cream cheese, heavy cream, chicken broth, garlic powder, onion powder, and black pepper. Turn the heat down to medium and bring to a simmer, whisking to break up the cream cheese.

Simmer until the sauce is thickened, about 5 to 10 minutes, stirring frequently.
To Serve:
Serve each biscuit warm, split open with a scant 1/4 cup of sausage gravy spooned inside. Garnish with parsley if desired.
Video
Helpful Tips
Net Carbs: 7g per serving (each serving is 1 biscuit and a scant 1/4 cup of the sausage gravy)
Biscuit recipe was adapted from my Low Carb Biscuits recipe.
Nutrition
Calories:
466
kcal
|
Carbohydrates:
9
g
|
Protein:
16
g
|
Fat:
42
g
|
Saturated Fat:
16
g
|
Cholesterol:
137
mg
|
Sodium:
648
mg
|
Potassium:
178
mg
|
Fiber:
2
g
|
Sugar:
1
g
|
Vitamin A:
1040
IU
|
Vitamin C:
2.1
mg
|
Calcium:
241
mg
|
Iron:
1.8
mg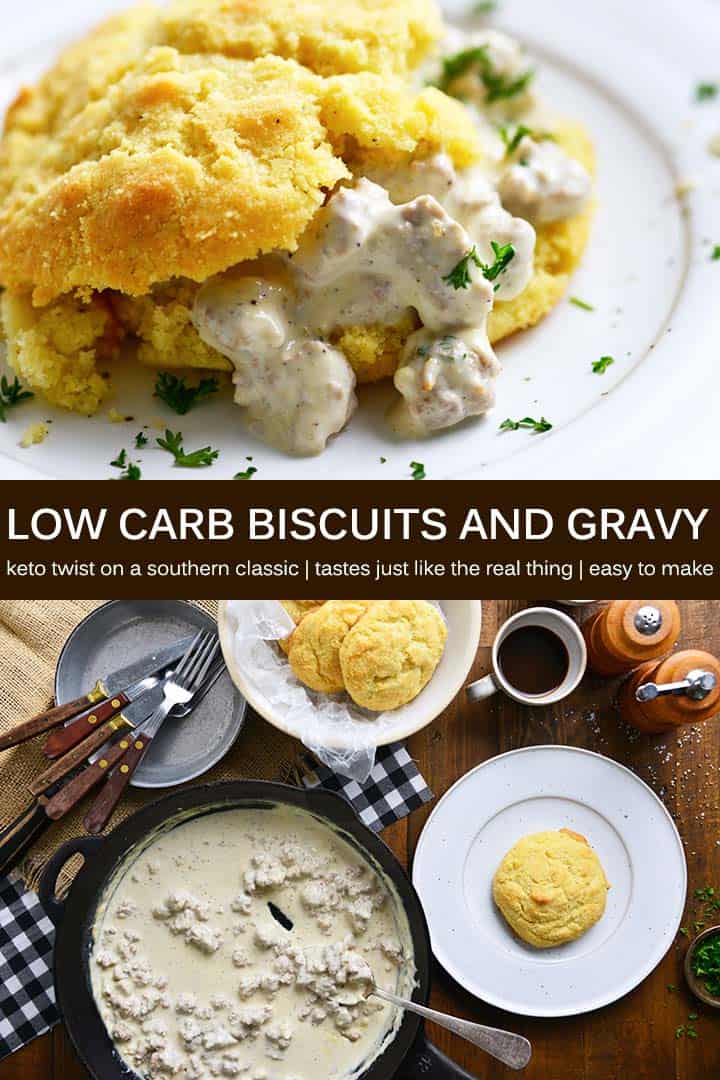 This post was first published on An Edible Mosaic on January 7, 2019. I updated it with more information on March 31, 2021.
Disclosure: This post contains Amazon affiliate links to products I believe in, which means that even though it doesn't cost you anything extra, I will receive a small amount of money from the sale of these items. Thank you for helping to support An Edible Mosaic!