From Valentine's Day cakes to cookies, ice cream, and chocolate fondue, there is a recipe for everyone with these easy 10+ Chocolate Valentine's Day Desserts For Two! They're all small-batch, and a lot of them whip up in a matter of minutes.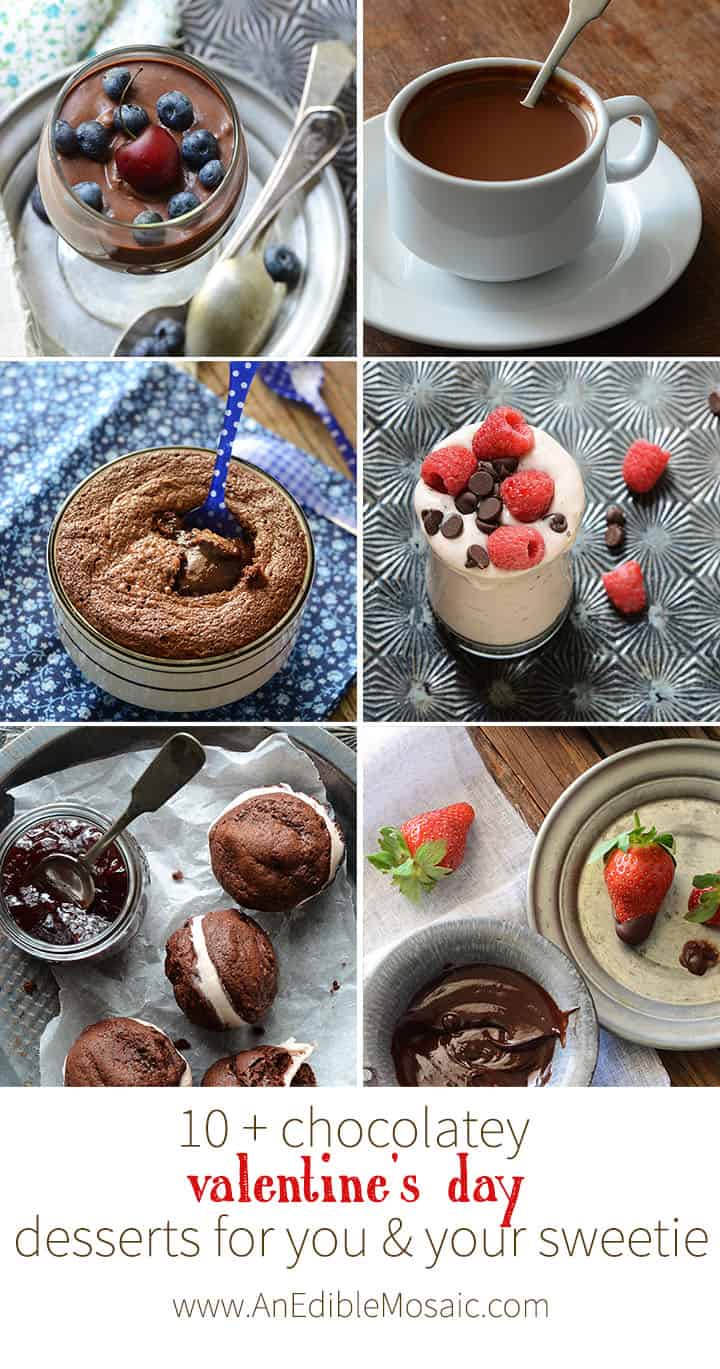 I'm not sure where it started, but there seems to be an unwritten rule that Valentine's Day dessert requires chocolate. I might not understand its origin, but you'll hear no argument from me!
Why look a gift horse in the mouth, right? Because any excuse to eat chocolate (legit or otherwise) is welcome, lol.
I'm sharing something chocolate-related for everyone in this collection of Chocolate Valentine's Day Desserts for Two. If you're a baker, I have you covered. If raw batter is more your thing, you're good there too. Drinkable, check. Fruity, double check. I even include vegan, paleo, and low carb recipes, so no one is left out!
I aim to satisfy all chocolate cravings, especially on Valentine's Day.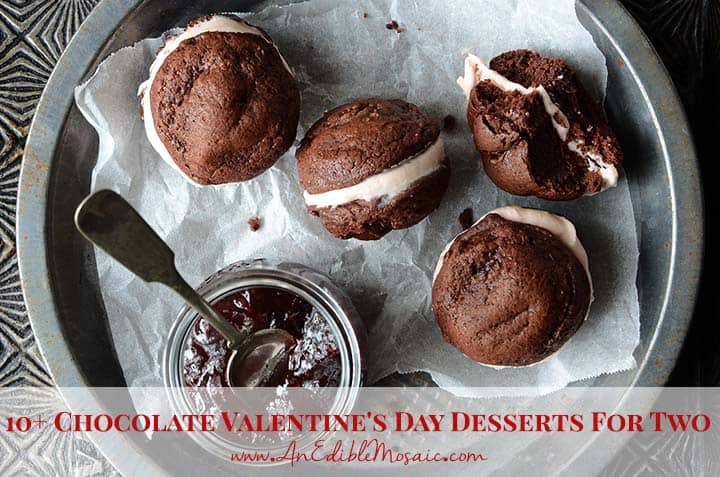 All the recipes I'm sharing here are romantic desserts for two (read: small-batch). Most make two servings, but there are a couple single-serving recipes that you can easily double for you and your Valentine's sweetie.
So go indulge in some chocolate!
Valentine's Day Ice Cream and Milkshakes
What better way to say Valentine's Day than a pretty pink raspberry, strawberry, or cherry ice cream topped with chocolate? These Valentine's Day desserts are so easy that your husband or boyfriend can whip them up!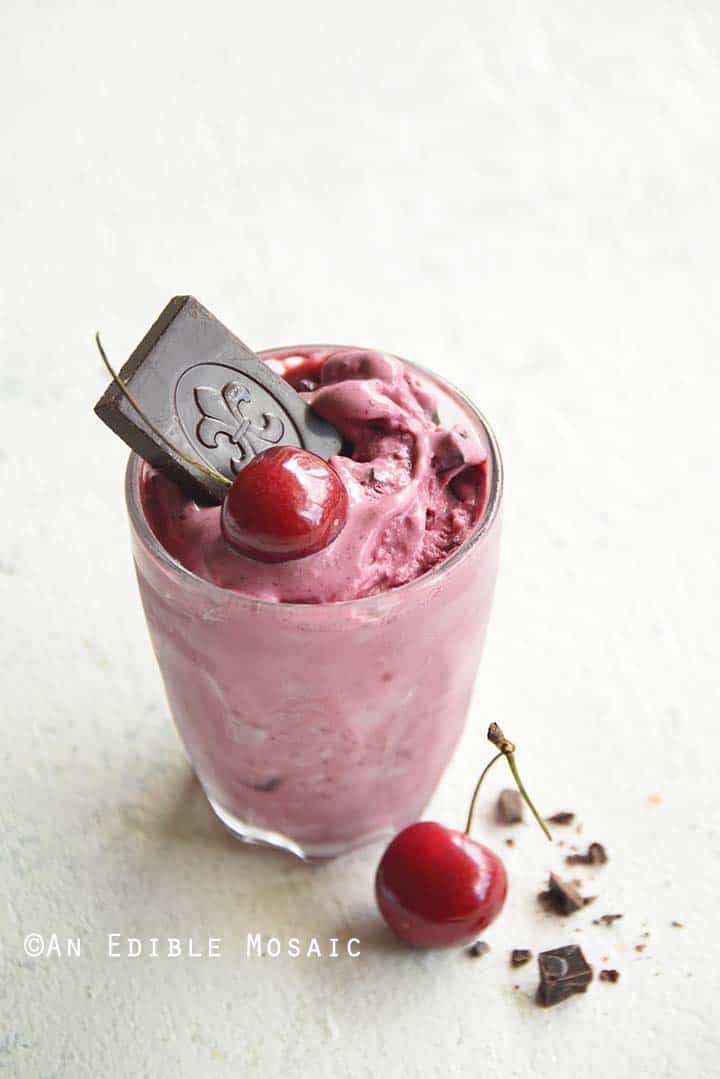 Healthy Cherry Garcia Ice Cream Recipe (No Ice Cream Maker!)
Skinny Raspberry-Chocolate Cheesecake Milkshakes
Easy Chocolate Pudding Recipe and Chocolate Mousse Recipe
Rich, creamy, and completely decadent, these easy chocolate pudding and mousse recipes are actually healthy too! And they're both no-cook, so they whip up quick and easy with no need to plan ahead. Just pick up the ingredients from the grocery store on your way home and you're all set!
Easy Chai-Spiced Dark Chocolate Orange Mousse
Chocolate Avocado Pudding (Vegan)
Valentine's Day Cake and Cupcakes
If you thought you'd have to whip up a whole big batch of cupcakes or a full-sized cake in order to be able to have cake with your sweetie on Valentine's Day, you'll be pleasantly surprised! Here are two of my favorite chocolate Valentine's Day treats: Molten Chocolate Lava Cakes for Two and Yellow Cupcakes with Chocolate Frosting for Two.
Yellow Cupcakes with Chocolate Frosting for Two
Molten Chocolate Lava Cakes for Two
Valentine's Day Cookies
This recipe is the holy grail of all Valentine's Day cookies! Fudgy cookies sandwiched together with a pretty pink raspberry buttercream. They're decadent and sure to satisfy chocolate lovers, and their pink color is just so festive.
And bonus, it makes just enough for two people! This is truly one of the best romantic desserts for two that I can think of.
Fudgy Dark Chocolate Cookie Sandwiches for Two with Raspberry Buttercream
Chocolate Fondue for Dipping and Drizzling
If a bowl full of chocolate fondue and a plate of strawberries sounds like your idea Valentine's dessert, look no further! My Healthy Dark Chocolate Fondue takes just two ingredients and two minutes to make!
Or if you want to make something ahead of time, my Healthy Candy Apples are the way to go.
Two-Ingredient Healthy Dark Chocolate Fondue (Paleo)
Healthy Candy Apple Wedges (Paleo)
Valentine's Day Brownies
Ok, so this recipe actually for brownie batter, not brownies. But as far as easy Valentine's treats, this it! This edible brownie batter is not only eggless, but also paleo and actually full of healthy ingredients. The batter is the best part anyway, right?
Easy Hot Chocolate Recipe
Are you looking for a thick, rich, and lusciously decadent hot chocolate chocolate? Well then you need French Hot Chocolate! It literally tastes like you're drinking a melted chocolate bar.
Or do you want something that's still indulgent-tasting, but low carb? And whips up in five minutes? I have you covered there too.
Drinking Chocolate (French Hot Chocolate)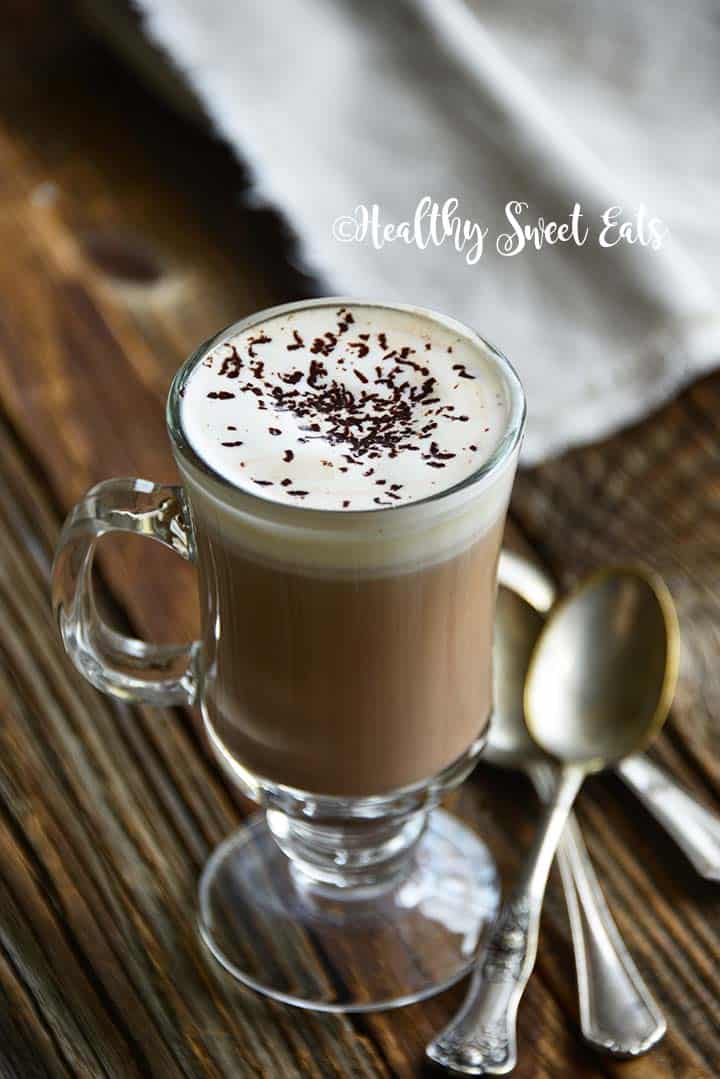 5 Minute Low Carb Hot Chocolate Recipe
More Chocolate Valentine's Day Desserts to Try:
This post was first published on An Edible Mosaic on February 8, 2016. I updated it with more information on February 7, 2020.
Did you enjoy this article? If you made any of my recipes or liked this article, please rate it and leave a comment below because I love hearing from you! You can also tag @anediblemosaic on social media. To stay up-to-date FOLLOW ME on Instagram, Twitter, and Facebook. Xoxo, Faith